La Fortuna is small town and region that's popular with tourist because of its proximity to Costa Rica's most popular, and active volcano, Volcan Arenal. If you are really lucky, you might see hot lava erupting from the top of the volcano during your visit! But, even if you don't (we never have 🙁 ) there is still so much to see and do that you'll have a wonderful time. There are so many options that putting together a "best of" list is a bit silly, but here are 4 activities that we loved that we'd recommend to do while in La Fortuna/Volcan Arenal.
1. La Fortuna Waterfall
This might be Costa Rica's most famous waterfall and a must see! Located just 6 km from La Fortuna, it's an easy activity to complete in a half day. Try hiking to the waterfall or pay for a horseback tour. The hike consists of a 400 step staircase that is carved into the hillside. Once down, cool off by swimming in the beautiful emerald pool below the 70-meter crashing waterfall. You can also rest along the rocks near the pool and even have a picnic!
On a side note, we actually took a bit of a back way to the waterfall which consisted of a longer, more difficult route. We first rented bikes in La Fortuna and rode them to Arenal Mundo Aventura. We paid an entrance fee. Here, we walked through some beautiful gardens with lots of butterflies. Then we made the mistake of trying to continue riding our bikes along a path to the waterfall. The path quickly became covered in large boulders, which required us to walk our bikes up the steep and long trail. It was not our finest moment, but something we laugh about now.
We quickly realized that we probably took the wrong path or perhaps misunderstood or mistranslated the worker at the entrance booth. We thought he said, "yes, you can ride your bikes to the waterfall." Nonetheless, it was a beautiful path, we got to cross a pretty thrilling suspension bridge, and it eventually led us to the most beautiful waterfall we've ever seen. So needless to say, please don't take bikes. But do visit the park's website as it appears they now offer a lot of fun tours and ways to access the waterfall (even a trailer ride up!).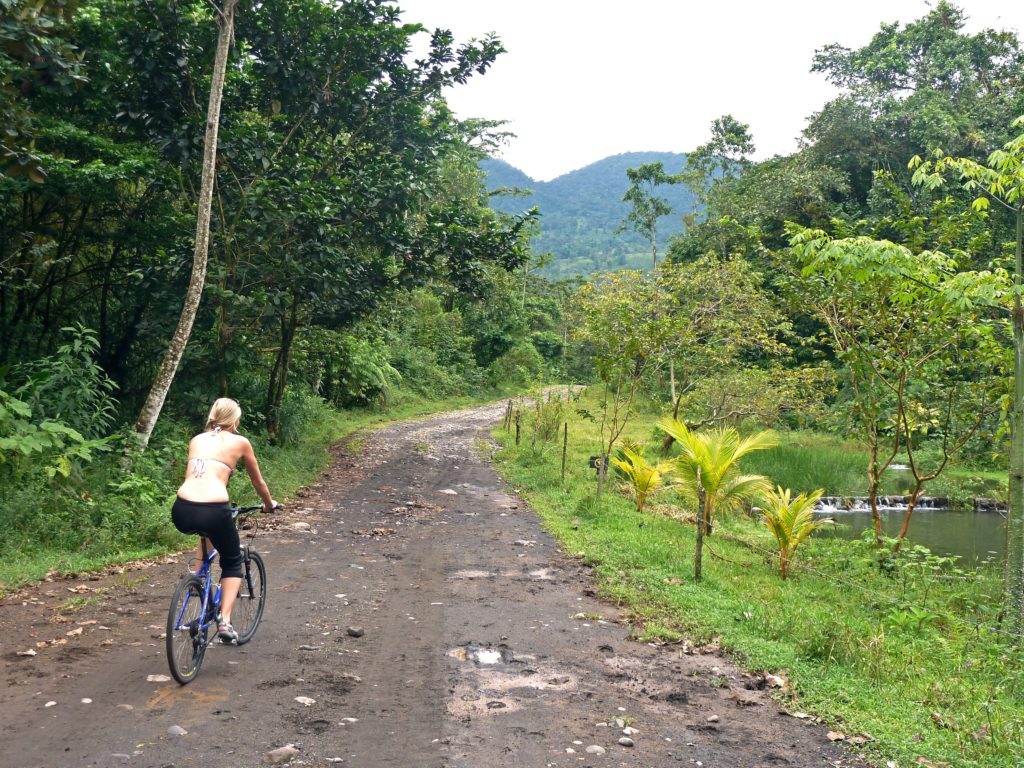 2. Relax in Thermal Hot Springs
You can't visit La Fortuna without soaking in the hot springs. There are different options, depending on your preference and budget. Many hotels, such as Baldi, Tabacon, The Springs, Kioro, Paradise, and Nayara have private hot springs, making them convenient to enjoy if you choose to stay there. Most of these hotels also offer day passes so you don't have to stay there to enjoy them. There are also separate hot springs not on hotel property that you can just pay an entrance fee to enjoy. These include Ecotermales, Titoku, and Kalambu (which would be a great place for families since it is more of a water park with slides and play areas!).
There are also some free options as well. Located outside of The Tabacon Resort entrance, you can park along the road (the road actually goes over the river), and follow the short gravel path down and you'll see a bridge where you can go left or right. There are some large rocks you can climb up and over to soak in a big pool of water heated by the volcano! When we were there, it was only something the locals knew about and something we just stumbled upon. But now, it seems as though the secrets out so it may be a little crowded. Click here for the exact Google location.
3. Explore Arenal Volcano National Park
Head to the national park to get great views of the volacano and to get in touch with nature. The parks filled with hiking trails which provide visitors many opportunities to see amazing plants and animals. If you're there on a clear day, it's a beautiful site to see the volcano and Lake Arenal. If desired, you can hire a guide to experience the park with, or just enjoy the peaceful tranquility on your own. Whatever you choose, dont leave the area without visiting the park!
Spend a day on Lake Arenal
This man-made lake is the largest in Costa Rica and a great place for recreation. Lake Arenal offers fishing, stand up paddle boarding, sunset boat rides, jet skis, water skiing, etc. Find yourself on the water for a truly unique experience.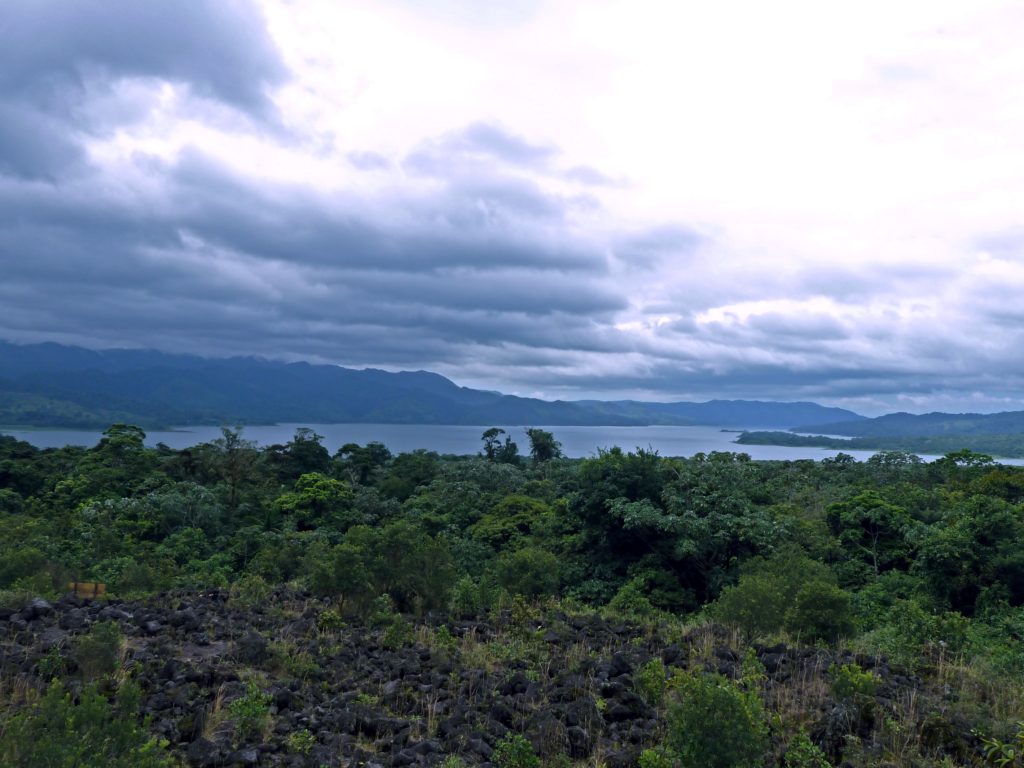 You tell Us!
Arenal is a special place and we hope that you'll enjoy it as much as we did. Be sure to try these 4 activities, but there are other great options as well. From ATV tours to zip lining, there is no shortage of fun options. Tell us below what your favorite thing to do is on the Arenal/Fortuna area.
Daniel McKenzie
Dan is a near Colorado native that loves to experience new places, cultures, and adventures. He considers himself a pretty laid back kind of guy and loves to enjoy a refreshing beverage on a patio.