*Disclaimer: This post is part of a content series sponsored by Camping World. All opinions are our own.
Visiting a new city is exhilarating – new sites, restaurants, etc. A major draw back of visiting the big city is the expense of the hotels. Most people typically think of camping out in nature, but there are RV parks all across the country that can be convenient alternatives to pricey hotels.
If you are looking for an affordable way to visit some of America's most popular cities, RVing is the way to go. Check off your travel bucket list without breaking the bank! Here are six urban camping experiences that'll make you a happy camper.
New York City
It may be surprising, but yes, you can camp right in the heart of America's most famous city. You truly can't find a more convenient, yet affordable, way to visit "The Big Apple". Staying at Liberty Harbor Marina & RV Park will put you just a short ferry ride away from downtown Manhattan. You can enjoy views of the skyline and even Lady Liberty from your site! What an experience!
Liberty Harbor is open year round and offers all the amenities you need at an RV park – hookups, WI-FI, and even an onsite restaurant and bar. There are plenty of transportation options to enjoy the surrounding area of both New York and New Jersey.
Washington D.C.
Cherry Hill Park is the perfect place to stay when visiting and exploring our nation's capital. It's not only the closest campground to D.C., but it also offers luxury amenities for you to enjoy when you aren't sightseeing. Two heated pools, a splash park, miniature golf, fishing ponds, a café, and so many more family friendly amenities and events make this RV park worth a visit by itself.
But of course, you'll want to visit the monuments and museums, so you can conveniently hop aboard either a tour bus or express bus that will take you right to the National Mall in D.C. It doesn't get much better than that! Sounds like the perfect vacation.
New Orleans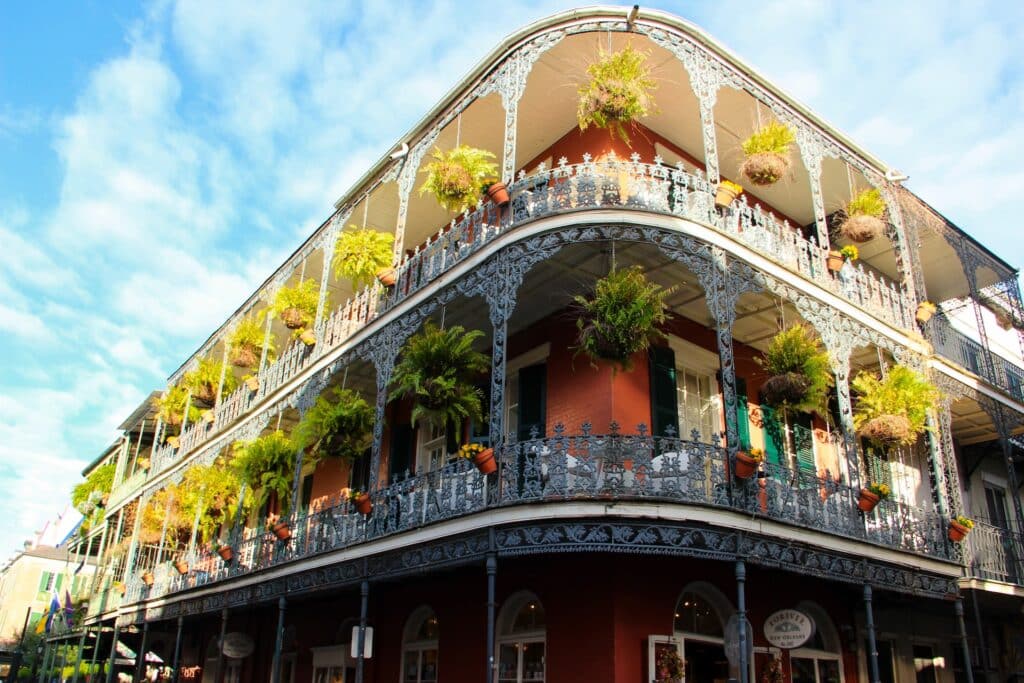 Jude Travel Park is New Orleans' most convenient and affordable RV park and campground. The park is located just five miles from the French Quarter! Plus, they offer a shuttle service making it even more convenient for you to explore all that New Orleans has to offer without the hassle of finding parking.
Jude Travel Park even sells tickets for city tours, swamp tours, boat cruises, and other attractions. Many reviews for the park mention how friendly and helpful the owners are. They offer to be your full-service concierge! You can't beat that southern hospitality.
When you aren't eating the delicious cuisine, learning about the interesting history and culture, and dancing in the streets to jazz music, you can relax back at the park and enjoy their pool and hot tub!
Austin
Austin has blown up in popularity the past several years because of its quirky vibe, Tex-Mex restaurants, music, and beauty. This destination has such much to offer, including outdoor adventures and opportunities to enjoy nature without even leaving the city!
Oak Forest RV Resort is the perfect spot to camp because it's only ten minutes from downtown but gives you the feel that you are in a secluded forest. It's a bit tucked away, yet close and convenient to all the fun. You can relax at the campground and enjoy their luxury amenities some days, then take day trips to nearby attractions like Texas Wine Country, McKinney Falls State Park, Barton Springs Pool, and more. And of course there is plenty to do downtown like watching the bats fly at dusk at Congress Bridge, kayaking or stand up paddle boarding on Lady Bird Lake, and enjoying the nightlife on Sixth Street.
San Francisco
We know we don't have to sell you on a visit to San Francisco. The Golden Gate Bridge, riding the trolly, Alcatraz – the city is full of iconic attractions! In fact, an RV road trip up the Pacific Coast Highway starting in Dana Point, California and going as far north as you can is an absolute dream. There are so many incredible stops along the PCH and San Francisco is obviously one of them.
Marin RV Park is the closest RV Park to San Francisco and only ten miles north of the Golden Gate Bridge. If you'd like to avoid driving into the city, you can walk just ten minutes from the park and catch a bus or ferry. Staying here will also put you in a convenient location to visit Napa Valley and even the famous redwood trees. There's so much to enjoy along the California coast, you'll want to schedule plenty of time!
Nashville
Nashville Shores Lakeside Resort is it's own vacation destination and just also happens to be ten minutes from one of the most popular tourist cities in the U.S. Win win! This resort has it all, located on Percy Priest Lake, you can enjoy all the water activities your camper heart desires. But it also has a huge water park and zip line park. It's a family's camping paradise!
If you can pull yourself away from the adventures that the resort has to offer, you can easily take their on-site shuttle into downtown & the Grand Ole Opry. Nashville isn't called Music City for nothing – there is live music everywhere! A stroll along Broadway will give you lots of opportunities to hear great country music, eat delicious barbeque, and do some shopping.
Las Vegas
A trip to Vegas is always a good idea. But staying in your RV at Las Vegas RV Resort will give you a totally different experience. Check out those views, that pool, and those palm trees! Much different than the crowds of staying in the hotels on the strip. Yet, the Las Vegas RV Resort is just a short drive away so you can still enjoy the vibrant nightlife, gambling, and shows!
Many people are so caught up in the bright lights that they miss out on everything else that Sin City has to offer. Staying here will allow you to experience the unique desert landscape and outdoor adventure. This RV resort puts you in the perfect location for a quick trip to Lake Mead where you can spend a full day of hiking, swimming, and boating. You can also walk or dive over the Hoover Dam while you're there!
Closing
Most of the RV parks listed are Good Sam Parks, meaning Good Sam Members receive a discount on their nightly stay. If you aren't a Good Sam member, be sure to join today and save 10% on campground fees!
Also, Good Sam now offers RV rentals so if you don't have an RV or don't want to drive or tow your RV too far, you can fly to the destination and rent an RV for your stay. Check out their RV rentals and start planning your urban camping trip!