*Disclaimer: This post is part of a content series sponsored by Camping World. All opinions are our own.
What items should you pack or bring in your new RV is a common question we've been asked over the years. Packing your RV can be overwhelming. There are plenty of unknowns when you are starting out and you want to be prepared for anything – we totally get that and did the exact same thing when we purchased our first RV! We stocked ours to the brim. Any storage space that was usable got loaded with something, anything. We brought kitchen gadgets, extra bedding, office supplies and tons of tools and repair items!
The simple truth is that most new RVers tend to pack way too much stuff in their RV, just like we did.
You certainly want to be prepared, but you're better off keeping things to a minimum for a couple of reasons. First, you don't need as much as you think you will. Second, the expense of stocking a new RV can add up and you'll be happy to keep the cost as low as you can. And third, like your junk drawer at home, your RV will likely begin to "collect" things with each trip. If you've already used all of your space, you won't have a place to put the things that you will actually use.
To make things easier for you, we're putting together a basic list of must haves for each room that you should stock before you leave for the campground. This list is not comprehensive and your situation (full timer, weekend warrior etc.) may dictate other "necessities", but generally speaking this list should get you well on your way.
Bedroom
Bedding for All Beds
Naturally you're going to need bedding for all of the beds that you plan to use in the RV. This sounds incredibly straightforward, but RVs can present some unique challenges when it comes to bedding.
For starters, RV beds don't come in standard sizes. The dinette, sofa sleeper, loft beds, or bunks very well might be "custom". Even the beds listed as a queen or king may have some oddities. For example, in our Winnebago Navion, we have a queen Murphy bed where the mattress was actually broken into two parts to allow the bed to lower and raise.
You want to figure out the right solution for your beds and ensure you have bedding for each bed you want to use. Maybe for you it's extra blankets, maybe it's sleeping bags for all the beds or maybe it is more traditional bedding. Depending on your RV situation, you may decide that you need to pack extra bedding, but for most weekend warriors, bringing extra bedding is a waste of space.
Pro Tip: ↑ Our all-time favorite bedding solution for RV bedding is called Beddy's ↑. Beddy's is like a sleeping bag for your mattress and it is super convenient and comfortable. Be sure to check out our review and use our coupon code so you get the best deal.
Phone Charger
Considering our entire lives pretty much live on our phones, you want to make sure you don't forget the charger. We recommend getting separate or additional chargers specifically for the RV so you don't risk forgetting them or leaving them in the RV when they should be in the house. Luckily, many newer RVs have USB ports built in near or around the beds, so you can use one of those many, many cords you've amassed over the years.
Clothing
Ever notice that you have a closet full of clothes, but you tend to wear the same things over and over again? It is the same in the RV, but clothes are probably the thing most people overpack the worst. When traveling in an RV, you can find yourself in lots of different weather, doing lots of different activities and that can make it easy to pack many options. We can assure you, however, you don't need as much as you think you do.
Still, there are some things you want to make sure you do have:
Rain jacket
Heavy Jacket (depending on location and season)
Hiking shoes (waterproof footwear)
Sandals or Crocs
Swimsuit
Sweatshirts
Sweatpants
Quick drying apparel (think Under Armor)
Hat
Jeans
Shorts
T-shirts
Underwear
Socks
Pro Tip #1: If you can and it makes sense for you, we recommend keeping a set of clothes in the RV at all times, so you don't need to pack for each trip. You may not be able to keep everything you need (i.e. rain jacket), but the more you can "set it and forget it", the easier it is to hit the road.
Pro Tip #2: The below products can help you make the most of your bedroom space in your RV and are highly recommended.
Finding a place to store our shoes is always a problem and this canvas organizer is a convenient way to store our shoes without compromising our living space!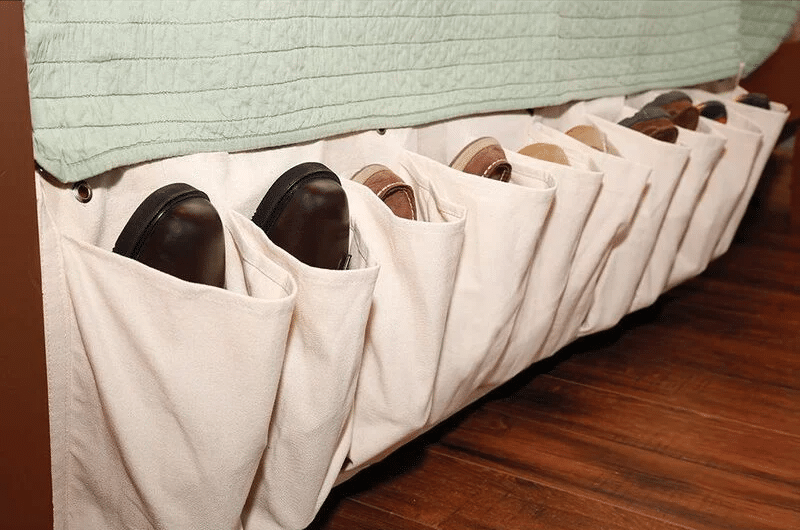 If your closet space allows it, you might find an organizer helpful to make the most of your closet space.
We tend to use our nightstands for a lot of important items. Unfortunately, not all of our RVs have had nightstands with space to store those items. In those situations, we really like the bedside caddy to keep a few things close by when you're getting your beauty rest.
Laundry Bag or Hamper
When purchasing your RV, you probably didn't really think about where you are going to put your dirty clothes. Before you hit the road for your first trip, you'll want to make sure you have a plan in place so that your clothes don't end up all over the bed or floor!
We recommend using a laundry bag or a closet hamper rather than a more traditional laundry hamper. The bag is great because you can put your dirty clothes in there and then shove it wherever you need to and the hanging hamper is great because it is out of sight and easy to access. Also, once your trip is over (or if you are using a campground laundromat), it is really easy to transport the bag of dirty laundry.
Bathroom
The bathroom can be a challenging place to pack, especially for those that use lots of products. Now that we no longer full-time RV, it's less of a problem, but I think Lindsay would still tell you that she wishes our RV had more storage for some of her things that she uses regularly.
You will want to bring the items that you use most in your day-to-day life and be sure you find a place to put them. This will vary dramatically from person to person. If you can't live without a curling iron or a hair dryer, make them a priority and a find a place for them.
That being said, there is one item that is an absolute must for your bathroom. You'll absolutely need holding tank chemicals. These chemicals go into your holding tanks and break down waste and reduce odors. You'll 100% need chemicals for your black tank, but there are products out there for your gray and freshwater tanks as well, that may be worth exploring for you. Our favorite is by Unique Camping + Marine, but most will be fine.
Other than the personal care products of your choice and the essential holding tank treatment, here's a small list to help you remember the essentials:
Pro Tip: Make the most of your shower with a mesh organizer. These can hold all your products and can be attached via command hooks or on a shower bar if you have one.
Kitchen
RV kitchens come in all shapes and sizes. Smaller RVs are not going to offer lots of space in the kitchen which means you are not going to have a lot of kitchen equipment. Larger RVs provide more opportunity in this area.
Regardless of your kitchen layout, we've found over the years that for us, less is more. Initially when we set out as full timers, we brought a lot of different kitchen staples we thought we'd need. We had cake pans, mixing bowls, and multiple serving trays that we never, ever used. After a few months of full-time RVing, we got rid of a lot of the things that we had packed in the kitchen.
Every person is different and how they will cook/prepare food in their RV will be different, but for us, here is the list of bare kitchen essentials. For ease, we've linked to as many products as possible.
2 saucepans
a few good options for: coffee/tea, wine, beverages
wine opener
can opener
key spices (garlic, salt, pepper, onion powder, chili powder, seasoning blends)
coffee maker
dish towels
Living Room / General
You've likely purchased an RV to get away and make memories with your family being outdoors. Sometimes mother nature doesn't cooperate, and you need to make sure you are set up to be comfortable and entertained while indoors as well.
For us, we typically use our living room storage to keep games and movies and for things that don't really make sense to go anywhere else, but we want easy access to. The following list are things we recommend making sure you have at the ready in your RV.
board games / cards
DVD's – most RVs still come with DVD players and they can be really useful when you are out of service.
streaming device i.e. Apple TV, Firestick etc. – Why disconnect from your favorite steaming platforms just because you are in your camper?
headlamp / flashlight / lantern
sunscreen
bug spray
space heater
fan
kid's toys (if applicable)
pet supplies (if applicable)
Outdoor Storage
Now that we've covered the basics of what you should pack for the inside of your RV, now let's cover what we consider the minimum equipment/gear you should have stored for the outside of your RV. Naturally, larger RVs have more outdoor storage and smaller RVs have less, but all of these items should be considered, regardless of RV size. As before, we linked to our favorites for convenience.
Other Essentials
We've spent a lot of time talking about the essentials you need for your RV, but there are a couple items that you don't need to pack but are super important and can save you lots of money and time so, therefore, should be things to have "ready" before embarking on your first trip.
Lastly, don't forget to make room for the fun stuff as well. Bring along all those items that help you make the most of your camping adventures. After all, enjoying the things you love and making memories are why we all camp in the first place.
firewood / propane firepit (and of course s'mores ingredients)
fishing gear
Closing
Being prepared and having all the necessary equipment is the first step to a successful RV trip. If you're new to camping and RVing, we hope this post helps you feel ready to hit the road and enjoy your adventures.
Related Posts: