Let's be honest, what did RVers do without smart phones? When it comes to life on the road, technology helps in so many ways – not just for convenience but it can also help us stay safe, save money, and make the most of our travels. There are so many different apps out there geared towards full-time RV living, but we've got a list of the absolute must-haves!
Pin this for later:
Here Are 30 Apps Every RVer Should Have:
1. AllStays
This app costs you $9.99, but it offers much more than just helping you choose where to park/stay. With over 60,000 points on an interactive map, it shows you everything you'll need on the road – gas stations, rest areas, stores, low clearance areas along the road, RV dealers, etc.
Download:
iTunes ($9.99) | Not available on Google Play
2. Passport America
Passport America is a membership that gives you 50% off nightly stays at over 1,900 quality campgrounds across the country. We are Passport America members and wrote a review with details about how we saved $700 in just 6 months…that's a 1,420% return in investment! If you want to read our review and see the great Passport America campgrounds and RV parks we stayed at, click here. But this app is must for members because it makes it much quicker to find RV parks than using their website.
Download: FREE
3. Ultimate Campgrounds
Ultimate Campgrounds is a great app with over 32,000 public camping locations – both formal sites and free dispersed spots! We use UC especially for finding free boondocking sites. You can get directions right to the camping spots from the app!
Download:
4. iExit
The iExit app tells you what's ahead when driving on the interstate! It finds you automatically, shows you the exits ahead and what gas stations, restaurants, hotels, etc. are at that exit. This is super helpful if you are looking for a specific business (Starbucks!) or need to see where the nearest truck stop is. What makes this app even more helpful is that it is integrated with Yelp, Gas Buddy, and Travel Coupons – so it tells you the ratings of the upcoming restaurants plus gas and hotel prices!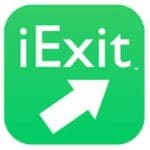 Download: FREE
5. Google Maps
Google Maps truly helps you navigate roads like a pro, even when you're visiting a new city! You can easily search for businesses and tourist spots, get directions, helps you find the best route, re-routes if necessary, and even gives you real-time traffic information. Ok, we get it, you already know how great Google Maps is. But, what makes it even better for RVers is that you can see a satellite view of a business or street. This is always helpful in determining if our RV will fit in certain parking lots.
Download: FREE
6. Yelp
When you're visiting an area, it's hard to know which businesses, restaurants, shops, etc are the best! Anytime we are exploring a new city and don't already have recommendations for the top places to go and foods to eat, we check out Yelp for reviews. You can also leave your own photos and reviews of the places you visit to help out other travelers!
Download: FREE
7. National Parks by Chimani
This free app doesn't require WiFi or cellular data to use, which is so important since most National Parks are dead zones! Not only does the Chimani app serve as a travel guide for your Park visits, but it is the ultimate source for information and photos of the National Park System, including national monuments, seashore, historic sites, and more. The app has a variety of other features including maps, the option to receive important notifications and updates, a badge earning system, etc. It's truly a powerful tool to have in your pocket during your visit.
Download: FREE
8. AllTrails
AllTrails has the largest collection of detailed, hand-curated trail maps so whrever you are exploring you can quickly find the a hike, bike ride, or trail run that's perfect for you based on length, rating, and difficulty level. You can also add filters to find trails with certain views, or that are dog or kid friendly. The app's GPS tracker is what makes it really awesome though – it will follow your trail so you don't get lost, plus record your pace, distance, elevation, and max speed (then share it with friends if you're the competitive type!).
Download: FREE
9. BringFido
If you're a dog lover like us, you know how important it is to find dog friendly activities and places. BringFido is the ultimate resource for finding pet-friendly hotels, businesses, attractions, and restaurants. You can also search for nearby dog parks, trails, or beaches!
If you are an RVer who travels with their dog/s, check out the posts our dogs Kyla and Pepper wrote. You might find them helpful: A Dog's of View of Full-Time RVing: Tips, Tricks + Products For Having Dogs on Board & Why Pet Friendly Bar Harbor, Maine was Our DOGS' Favorite RV Destination.
Download: FREE
10. Campendium
Campendium is our go-to app for finding the most popular spots to park our RV. When you select a destination, you can filter your results by distance, type of land, price, hookups, recreation, and discount clubs. The best part is that most RV parks have reviews and photos from fellow RVers with details about the grounds, wifi, cleanliness, noise level, etc.
Download: FREE
iTunes | Not available on Google Play
11. Roadtrippers
This app is so helpful for finding historic, scenic points along your drive. But that's not what makes it unique (because, yes Google can do that too!) – you can layer multiple categories onto your trip so you can find an RV park near a brewery, for example! Then when you find that perfect place, you can save it, get directions to it, and share it with your friends. It's a great way to find those hidden gems in the destinations you visit!
Download: FREE
12. Sanidumps
This app is a MUST for boondocking! Sanidumps has the "largest up-to-date RV dump station listings found anywhere". After dry camping, you'll need to find places nearby to empty the gray and black water holding tanks in your RV. The app lists dump station locations at campgrounds, National, State and Provincial Parks, Forest Service sites, military campgrounds, highway rest areas, truck stops, sewage treatment plants, gas stations, fair grounds, RV dealerships and many more.
Download: FREE
13. WeatherBug
Keeping an eye on the weather while you travel is so important for your safety. We often get frustrated by inaccurate weather forecasts and have found WeatherBug to be the most trustworthy. You can also receive severe weather alerts, view live weather conditions from cameras, and visualize your weather with multiple map layers.
Download: FREE
14. WiFi Map
Our jobs depend on us getting good internet on the road so WiFi is our best friend. We can typically get pretty good signal with our AT&T hotspot and Verizon phones, and boosting our signal with our WeBoost but sometimes we have been in a real bind! This app has a list of 100 million free WiFis with their passwords and reviews added by users.
Download: FREE
15. Good Sam
Since we are Good Sam members, this app is also a must in order to locate campgrounds and RV parks that accept their discount. The latest version of the app also offers essential information, attractions and service centers across North America.
Download: FREE
16. RVillage
RVillage was built by RVers, for RVers. Designed to help you find community on the road, it's like the RV world's own social network! Here's how it works: you create a profile and share your travel photos, choose to get notified when someone arrives near you, share your location on an interactive map, engage with people in feeds and private messages, search for people who have similar interests as you, and create events and get togethers!
Download: FREE
17. RV Checklist
One of the biggest newbie mistakes we made during our first few weeks of full-time RVing was not making a checklist! This app could've saved us a lot of stress, repairs, and arguments! It allows you to choose a pre-populated checklists or create your own, then keep track of your tasks to ensure you are well prepared and safe on travel days!
Download:
18. GasBuddy
You might be able to find free spots to park your RV, but you'll never find free gas and boy, can it get expensive driving or towing an RV! GasBuddy helps you locate the gas stations with the lowest-priced gas along your route. You can filter the search results by price, location, brand, and amenities like car washes, restaurants and restrooms. And there's more – you can get price hike alerts so you can fill up before the increase, pay with GasBuddy to earn $.05/gallon on fill ups, see and leave reviews, and more!
Download: FREE
19. Amazon
With an Amazon Prime Membership you get tons of benefits that help with RV life. So not only do you get free shipping and can receive packages from Amazon lockers while on the road, but you also get a variety of other perks with the membership. Some of our favorites are:
Prime Video for streaming TV and movies since we don't have cable in the RV
Prime Photos because we take A LOT of photos on our travels so it's nice to back them up and store them all in one place
Prime Music for all those hours of driving and losing radio signal
Prime Reading because we have no room for books and some have audio recordings so we can listen while we drive
Download: FREE
20. Untappd
If you love beer like us then you likely check out the local breweries in every city you visit. The Untappd app helps you discover and share great beers, breweries, and venues with your friends. You earn badges (and weight…haha) for exploring beers of different styles and countries. We also love that the app lets us keep track of the beers we like because sometimes we forget (no not because we drink too many!). If you want, you can also follow your friends and see what beers they're loving too.
Download: FREE
21. US Public Lands
This app is a boondocker's best toolkit- by turning on the Satellite view map, you can scout out trails, roads and boondock camping locations within the boundaries of the public land resources. This app is great to use in combination with Ultimate Campgrounds or AllStays because the boundary maps with satellite imagery allow you to scout out ahead of time.
Download: $2.99
22. State Lines
Someday's with RV life, we forget what day it is and what state we're in. As if that's not confusing enough, every time we cross into a new state, we have to be mindful of it's laws and regulations, because every state is different. This app is a traveler's guide to highly variable state laws and regulations and contains 55 pieces of information for each of the 50 states. You'll know every state's specific bans, laws, state sales tax exemptions, gas/diesel taxes, time zone, towing & RV specific laws, rest area overnight parking limits, state park camping entrance fees, radar detectors, highway emergency numbers, etc. etc. etc.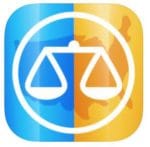 Download:
23. Coverage?
This app allows you to overlay and compare cellular coverage maps for AT&T, Verizon, Sprint, and T-Mobile. So before you travel to a new location, you can research whether or not you'll have signal. For us, we use a combination of Verizon and AT&T so rather than looking at both of the carriers websites, we can access it in one spot with the Coverage? app. There's also no internet needed to use the app – the coverage maps are saved for quick access!
Download:
24. Moment
Staying productive while working from the road is a constant challenge. Not only do we have nature calling our name everyday, we also have deadlines, virtual meetings, and work work work to finish before we can explore. The last thing we need to do is waste time on our phones. The Moment app helps you monitor your phone usage by tracking the time you spend on your phone and in apps and set daily limits on yourself. It also helps coach and train you to lower your screen time because I think we'd all be shocked to find out how many times we pick up our phone in a day! The best part about this app is that a fellow RVer and friend of ours built it and he's awesome (and so is his app).
Download: FREE
iTunes | Not yet available on Google Play
25. Roadside America
Sometimes the random attractions and "weird wonder's of America" make for the best memories and adventures. The Roadside America app helps you find these quirky spots and sites that you may have otherwise never knew existed. So if you have time for a fun detour, pull out the app and see what crazy things are nearby – like the World's Largest Pistachio Nut or the World's Smallest Park, or perhaps the America's Most Artistic Giant Toilet (what?). We haven't used this app yet but you better believe we will now.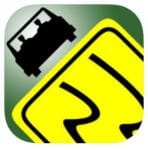 Download: $2.99
iTunes | Not yet available on Google Play
26. Harvest Hosts
Harvest Hosts is a fun and unique option for short-term RV stays. With a membership, the Harvest Host website connects you to people who have large amounts of land (farms, museums, vineyards, ranches, etc.) who are willing to "host" you for free in your RV. Some even have hook ups! Harvest Hosts just requires you to support their hosts, meaning you need to purchase the host's services, such as a bottle of wine or other products. They recently launched their app to help make connecting with harvest hosts even easier!
*Harvest Host is offering our readers 15% off! Click here to get the discount and sign up!
Download: FREE
27. Prayerful
One of the hardest things for us living on the road full-time is that we really miss our church home. We love checking out different churches all across America, but we miss the community and fellowship. The Prayerful app helps us connect with people globally and locally through prayer. All you do is type in a quick prayer request and people can click the little prayer hands icon to tell you they are praying for you! Then you can scroll through other prayer requests and do the same. It's a much more positive and uplifting social networking tool and you can even join their 5-day FREE prayer challenge!
Download: FREE
iTunes | Not yet available on Google Play (but it's coming soon! If you join the prayer challenge, you'll get updated when it's released!)
28. Instagram
Okay, okay, before you roll your eyes about this app or the next one, hear us out! Instagram is not only a fun way to document and share your travel photos, but it's actually been the number one way that we have made friends on the road. We wrote about how Instagram is one of our favorite RV tools and how to use it for RV life in a WinnebagoLife post you can read here.
Download: FREE
And while you're at it, follow us on Instagram and say hi!
29. Facebook
Again, we were surprised to find that Facebook has become one of our best resources for full-time RVing. Not only do we connect with other RVers, engage in various RV groups that offer tips and advice for the lifestyle, but there's one huge benefit to using Facebook that we couldn't RV without.
When we first purchased our Winnebago Navion, we were invited to a Facebook group for Navion owners only. Some of the members of this group have owned Navions for years and know the models inside and out. Anytime we have an issue or concern, we post it in the group and within minutes we have advice from people who have had similar issues and resolved them. We can't even begin to tell you how helpful this group has been so we highly recommend searching for a group specific to your RV model. Just search your RV make in the search bar and see what you find!
Download: FREE
Head over and like and follow our Facebook page too!
30. Star Chart
One of our favorite things about boondocking is the star gazing. When you get away from all the city lights and find your own spot out in the middle of nature, you're amazed when you look up! This app is like "having your own planetarium" in your pocket. When you point your phone at the sky, Star Chart will tell you exactly what you are looking at and it accurately identify over 120,000 stars! So, no more wondering if it's a star or a planet.

Download: FREE
---
We hope these apps keep you safe, entertained, connected, and a happy camper during your RV travels and road trips! If there are other must-have apps you'd like to share, let us know in the comments.