Tips, Tricks + Products For Having Dogs on Board
Hello, Kyla and Pepper here with our second blog post!
We are full-time RVing dogs who love adventure. You may have read our first piece, "Why Pet Friendly Bar Harbor, Maine Was Our Dogs' Favorite Destination". Well, we're back for more!
We want to share all the benefits, tips, and advice we have for living full-time in an RV. We'll start by saying, we LOVE it! Our parents used to leave us behind when they'd travel and now we get to come along in our home! We love experiencing new places, sights, and sniffs. We get to have exciting adventures alongside our parents and they are always prepared to ensure we're safe and happy.
Here are our tips for RVing with dogs:
Safety First
Our parents are proactive and do everything they can do avoid emergency situations that could ruin our RV adventures.
Before hitting the road, they made sure to bring:
A first aid kit
Our vaccination records
Our medications (flea, tick, and heart worm prevention)
They also never let us leave the RV without wearing our collars with identification tags and made sure we were both microchipped. We used to be really good at navigating our way home in our old neighborhood, but the wilderness is a different story!
Our parents can't take us everywhere, so sometimes they have to leave us alone in the RV. We are usually tired from walks, hikes, and swims anyway. If your dog doesn't like being alone, you could hire a pet sitter to stay with your dog in the RV if you plan to be away for an extended amount of time, just like you would with a house.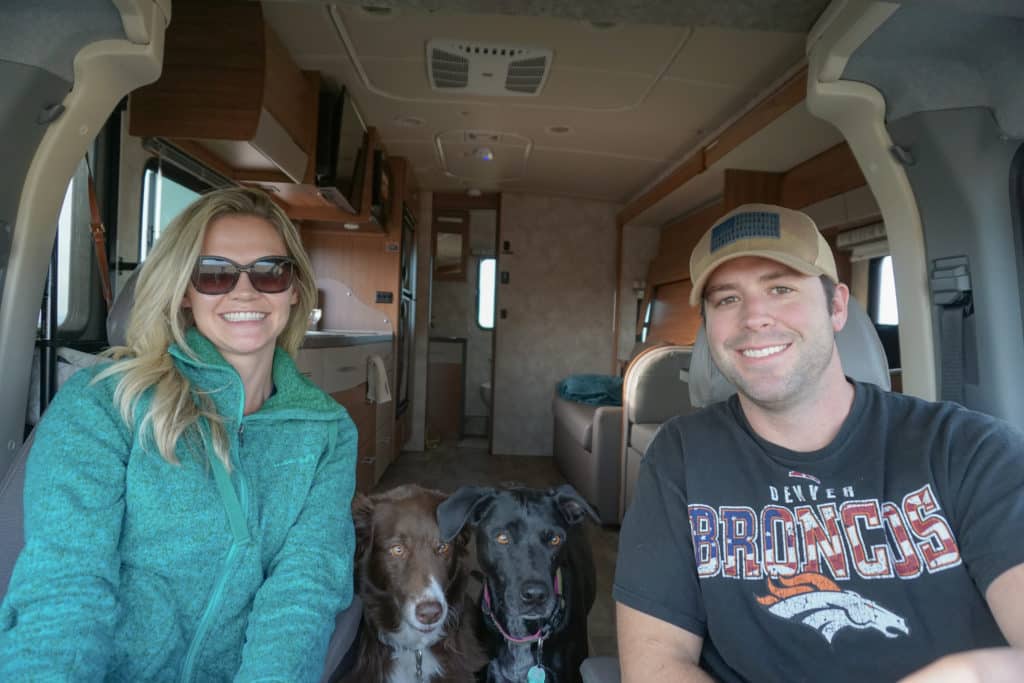 Here's what our parents do when they leave us alone in the RV:
They hide a key to the RV somewhere in case an emergency comes up and they are unable to get back to us. Someone from the park's office would then be able to let us out of the RV and keep us safe until they returned.
They put a sign on the door that says "2 dogs on board. If there's any issues or an emergency call: (phone number)".
They make sure to leave the windows open or air conditioning/heat on, give us plenty of water, and turn the radio on and any fans or noises to block out the sound of our neighbors because we like to bark at them.
"Doggy proof" the RV. When you're gone, we sometimes get nervous and like to sit in the driver's seat to look out the window and guard our home. We've been known to step on the horn, roll down windows, and hit buttons we probably shouldn't hit. Make sure there's nothing that can harm us or that we can get into that we shouldn't!
Plan and research ahead of time
RV Parks & Campgrounds
Our parents like to take us to pet friendly destinations, so we can all have a great time. Before they make reservations, they check the park or campgrounds website to ensure that they allow pets before showing up. Can you believe that some RV parks don't allow pets at all? Or some have breed and weight restrictions so some of our pit bull friends wouldn't be allowed!
One time we were allowed to stay at a park because they only allowed dogs under 40 lbs! So make sure you check ahead and understand the rules and regulations for pets. It's also not uncommon for parks to allow pets only on certain sites and/or charge our parents a few extra dollars per day for us.
National Parks
When we first hit the road, we were surprised to discover that many National Parks do not allow us on the trails. Although we are always well behaved, this is always for good reason in order to protect the environment of the park and ensure the safety of everyone. We're allowed in the park and campgrounds, just not on most trails so unfortunately, we can't explore with our parents, but they sure do have fun and get us exercise ahead of time so we aren't bored when we're left behind.
We stay busy!
Just like our parents, we sometimes start to feel a little "cooped up" when they are busy working all day. When us canines get bored, we can be naughty and destroy things! We like to get out of the RV every couple hours to go for a walk or run. Our parents also give us chew toys or bones to keep us busy when we're inside the RV!
Be mindful of others
Our parents never fur-get these important rules, which makes everyone a happy camper:
Keep bags on hand at all times so when we poop, they scoop
They always tempt us with treats so we stop barking at people or dogs walking by our RV
Even though we love being outside, they don't leave us tied up unattended
We never get to go outside without a leash because apparently not everyone loves us as much as our parents do
Dog Approved Gear
Here are the products our parents bought us that we love and can't imagine not having with us in the RV!
Dog Pen
We love having a little freedom and fresh air. This pen gives us a safe, enclosed area to walk around in and spend time outside without being leashed up, which keeps us from getting "stir crazy" in the RV.
Retractable Dog Chain
It's always nice to sit at the campfire next to our parents and have a little extra leash to walk around our campsite. But, since we always run up to dogs and people walking by, we have to stay tied up!
Geigerrig Hydration Pack

Our parents never hit the trails without these! The whole family stays hydrated during hikes because these packs have pressurized water lines, unlike CamelBaks. This means that you can spray water instead of having to suck it out. So, instead of having to carry extra water bottles for us, and a water bowl, our parents spray water and we love catching it right in our mouth!
Natural Waterless No-Rinse Dog Shampoo
We always look for puddles to jump in, we love rolling in smelly things, and swimming in lakes and oceans is our favorite. Sometimes we even get dirty enough to get a full bath using the outdoor shower on our RV, but sometimes our parents just rub this stuff on us for a quick cleaning and to make us smell better!
No Pull Harness With Handle
Our parents are slow on walks and hikes so we like to help pull them along. These harnesses slow us down a bit, which we hate. But we love them when we're swimming because when we jump off docks and need some help out of the water, our parents can grab us and pull us out! They also like having a place to grab us and hold us close when we aren't being good listeners.
Pet Temperature Monitor
Our parents are so crazy about us that they actually have TWO pet temperature monitors. Temperature monitors allow them to remotely check the temperature of our RV and will send them a text/email alert when the temperature exceeds a safe level.
We'll let them share the differences and pros and cons of each. All we know is that this is a great product to have in the RV because even if you are hooked up to electricity, it's not uncommon to experience brief power outages at campgrounds. This may turn the A/C off and if our parents aren't home to turn it back on…well, we'd be a couple of hot dogs!
This wireless temperature monitoring device from RVPetSafety.com will let you monitor your pet's safety wherever Verizon 4G goes. Therefore, you don't need Wi-Fi, but you have to purchase a subscription plan. It will send a text/email alert when there is temperature excursion. It also has an Android and iOS application for remote monitoring, which allows for real-time updates on temperature, humidity, and heat index. *USE COUPON CODE FYD60 FOR $60 OFF*
This Govee Temperature Monitor connects with 2.4 GHz WiFi or Bluetooth to remotely monitor temperature and humidity. Alerts are sent to the "Govee Home" app rather than by text. This is a great option if you have access to WiFi and don't have Verizon or don't want to purchase an additional subscription.
We prefer to have both monitors so that anytime we're out of Verizon coverage, we have back up with our AT&T Wi-Fi hotspot and this monitor. Also, we can keep this monitor in the RV hooked up to Wi-Fi and take the RVPetSafety monitor with us in the car for when we run errands with the dogs.
Pet Camera
Our parents would love to keep an eye on us while they're away from the RV. This camera is similar to a baby monitor. It has night vision capabilities and can connect to your phone through an app! Even better, our parents would be able to talk to us while they're away AND throw treats at us. Bow-wow that sounds fun!
Pet Hair Eraser Cordless Hand Held Vacuum
We shed…a lot! We also track in lots of dirt, leaves, sticks and other stuff that belongs outside! We don't have a lot of carpeted areas but our parents like to keep the RV fur free and clean. Since we don't have much storage space for a full sized vacuum, we've got our eyes on this little hand held one!
Light Up Collar
Wish summer approaching, we're going to be outside a lot more! Campgrounds and parks are super dark at night and sometimes we wander off and our parents can't see us! We also want cars to be able to see us if we get too far away!
If you ask our parents what it's like bringing us along in the RV full-time, they'll tell you it's not so "ruff". In fact, they love having us with them. We hope you and our four legged friends enjoy your RV adventures together and use these tips to be prepared and stay safe. You might be surprised how quickly your dog adjusts to life on the road,it didn't take us long at all. Happy trails…or "tails…to you!