When you live in an RV full-time, you're bound to run into freezing temps at some point. Whether you choose to escape them or embrace them is up to you! If you don't live in an RV, we still encourage you to consider taking RV trips in the winter and are here to help you choose where to go and how to survive the cold temps, should you choose to endure them!
We know a thing or two about winter RVing…
Here's Your Ultimate Guide to Winter RVing
Escaping the Cold
Warm winter weather destinations
RVing gives you the freedom to go wherever and whenever you please. So if your goal is to chase  warm temperatures all year long, we understand! Here are some destinations we suggest.
Florida
Key West
The Keys are the ultimate destination for those who would rather be sitting on white sandy beaches instead of skiing white powder covered mountains. There's no shortage of state parks with beach-front camping and RV resorts with unbelievable amenities. You're sure to have a relaxing vacation in paradise. Each key has their own unique subculture, too, so you'll have lots of exploring to do.
Panhandle
If going to Key West is too far south for you, no problem. While the weather won't be quite as warm, it's still comfortable and equally as beautiful in the panhandle. The panhandle is full of great state parks, like the ones we recommend in this post. We loved spending winter in the panhandle and couldn't believe how beautiful the white sandy beaches, nightly sunsets, and how lush and tropical the parks were!
To see our Florida RV route with suggested stops and RV parks/campgrounds, click here.
---
California
California's winters are mild and the beaches are beautiful and accessible all year long. We found that nearly every stop along the coast from San Diego up to Monterrey was a great RV destination. While the water may be a bit too cold to fully enjoy, the views and opportunities for whale watching are incredible!
To see our California RV route with suggested stops and RV parks/campgrounds, click here.
---
Arizona
Arizona as a whole is a great place to RV in the winter. Head there in February to enjoy Spring Training and you'll also be able to witness the beautiful wildflower season and see the flowers on the saguaros bloom!
We especially loved the Tucson area. We enjoyed it's desert vibes and beautiful sunsets, plus the average daily temperature there in January is 66 degrees! We stayed at Picacho Peak State Park, which offers beautiful hikes and is conveniently located about 30 minutes from Tucson. Tucson has a charming downtown to explore and you can also take a drive through beautiful Saguaro National Park.
To see our Arizona RV route with suggested stops and RV parks/campgrounds, click here.
---
Texas
Austin
Good food, good music, and good weather…need we say more? Average daily temperatures stay in the 60's all winter long and along with eating, drinking, and dancing your way through the city, there's also many outdoor activities to enjoy.  You can get on the water at Lake Travis and Lady Bird Lake or find lots of hiking trails at McKinney Falls State Park, which also has a great campground.
Fredericksburg
Fredericksburg is in the heart of Texas Hill Country's wine region, which is home to over 45 wineries and vineyards. Fredericksburg is also known for its German heritage and offers a variety of restaurants and activities to experience it! We recommend staying at Camp Jellystone RV Resort, where you'll be within close proximity to some of the best wineries, and have great amenities like a pool, hot tub, game room, dog park and various family activities. We also recommend a hike to nearby Enchanted Rock State Park at sunset!
Big Bend National Park
Winter is actually the best time to visit Big Bend because temperatures stay in the 60's and 70's, as opposed to the high 90's in the summer months. The park has 200 miles of trails, offers both mountain and desert terrain, and is bordered by the Rio Grande River. Whatever your favorite outdoor activity is – biking, hiking, canoeing – you're guaranteed the chance to do it all year long at Big Bend!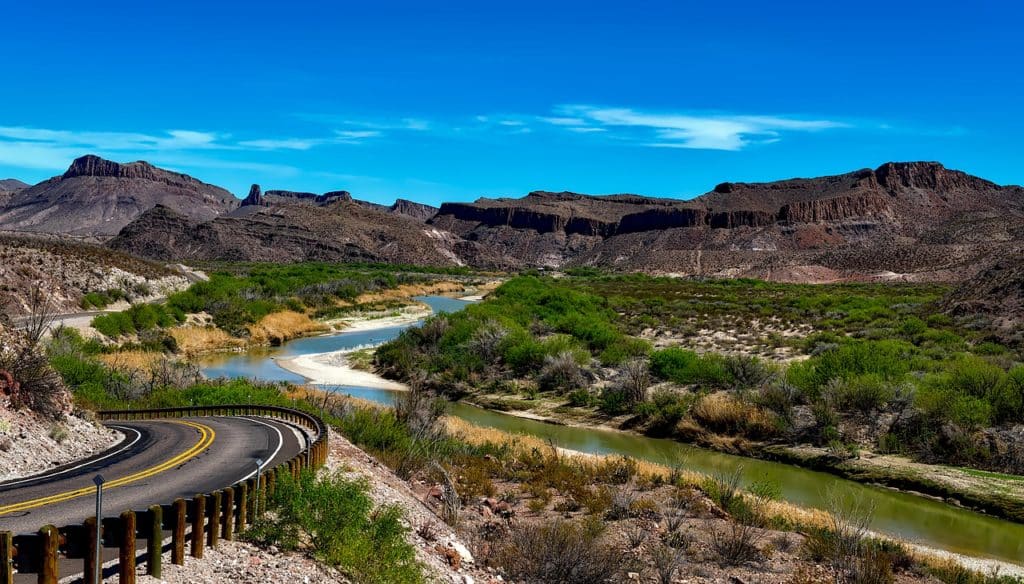 ---
Embracing the Cold
There are also many benefits to RVing in the winter temperatures, including less crowds, skiing, and celebrating the holidays somewhere you're guaranteed to have a white Christmas. Here are great cold weather destinations for you ski bums out there.
Wyoming
Jackson Hole
With incredible views of the majestic Teton Range along with some of the best skiing in the nation, Jackson Hole may just be the perfect winter RV destination. You can camp year-round at Jackson Hole Campground, which will put you only 5 minutes from the ski resort. You can also enjoy other winter adventures, like snowmobiling, dog sledding tours, snow tubing, or snowshoeing. Not to mention the nearby national parks: Grand Teton and Yellowstone!
---
Colorado
Breckenridge
Breckenridge is one of Colorado's most popular winter destinations and mountain towns. Not only is it known for it's skiing and other outdoor activities, but it also has a charming downtown with great restaurants and shopping with beautiful scenery everywhere you look. Breckenridge is also a short drive from Vail, Keystone, and Copper – other popular Colorado mountain towns. In the winter, these towns offer ice skating, ice fishing, and every other winter activity you can think of! Staying at Tiger Run RV Resort in Breckenridge will put you right in the all the action!
---
4 Tips For Surviving Winter in Your RV
1. Use a heated water hose
To prevent the water in the hose from freezing, we recommend buying a heated hose like these from Amazon. If you don't want to purchase a heated hose, another option is to simply fill your fresh water tank and rely on that for your water supply. Or, you could make your own heated water hose, using a DIY tutorial like this. But, whatever you choose, just be sure that you don't leave your regular fresh water hose connected in below freezing temperatures!
2. Use a heat lamp in compartments with water lines
Even if all your plumbing is inside your coach, like ours is, you can't assume those lines won't freeze. We discovered that we have exposed water lines that run behind the un-insulated water tank fill-up compartment when Dan woke up in the middle of the night to use the toilet. To prevent these lines from freezing the remainder of our stay, we put a 150W heat lamp in the water compartment. This provided just enough heat to keep it from freezing, without melting any of the plastic. We turned that lamp on and let it run through the night and didn't have any more issues with our water lines freezing.
3. If all else fails, use a hair dryer.
If you experience freezing of any kind on your RV, typically just thawing out will resolve your problem. A heat gun is a great tool to quickly unthaw freezes, but most RVers are more likely to have a hair dryer than a heat gun. We found that ten to fifteen minutes of concentrated heat on the pipes was enough to be back in business! Outdoor propane heaters can also be great to thaw out larger areas (especially for trailers that have water lines running under the subfloor).
4. Don't find out what a "poopsicle" is…waste tanks can freeze too
Through a real "crappy" situation and abnormally cold temperatures, we learned that tank heaters are not always enough to keep your black tank from freezing. Although they may do a great job of keeping the actual tanks from freezing, the pipe extending from the tank along with the valves, can easily freeze. One way to remedy this is to purchase a few boards of insulation and skirt just the back end of the RV. Then, place a heater inside the insulated enclosure to thaw out the valves in order to dump, and prevent them from freezing up again.
Don't let winter stop you from going on your RV adventures. Just choose your destination accordingly and have the right equipment and preventative measures in place! We hope our ultimate guide to winter RVing helped!