While we weren't able to go as far south as we'd wished and winter in Key West, we still very much enjoyed Florida for the entire month of January. Free camping, or "boondocking" is much harder to find in Florida and in the winter months it can be challenging to get reservations at the state parks and RV parks. So, if possible, book your stay well in advance.
Otherwise, it's not impossible to get a few consecutive week days at the state parks. We jumped from state park to state park every 3-4 days, which wasn't ideal but also allowed us to see a lot during the month. Anyway, here is our Florida RV route. We hope it inspires you and helps you plan your RV adventures, too.
Our Route
WHERE WE STAYED AND WHAT WE DID

Anastasia State Park – St. Augustine, FL
Anastasia State Park is beautiful and surprisingly exotic feeling. The park has camp sites that are tucked between lush foliage, offering shade and privacy. Within the park are a variety of wildlife, birds and plants along the nature trails. The park is also within walking distance to the beach, which stretches for miles and miles. You can also walk or ride your bike to Highway A1A, where you can find a strip of great restaurants and local hang outs. We enjoyed lunch at Ospry Tacos paired with a beer right next door at Old Coast Ales.
Staying at Anastasia State Park will also put you within 3 miles of historic downtown St. Augustine. Anyone you ask who's been there will tell you how incredible St. Augustine is. It's the oldest city in the U.S., yet so vibrant and lively. The lights, the city plaza, the trolleys, and the Spanish colonial architecture make it so unique and charming. You can get lost strolling along the old city alleys, browsing through the boutique shops, and there are more restaurants than you can even imagine!
Here are a few activities we recommend near the park:
The St. Augustine Lighthouse
The Farmer's Market (every Saturday morning from 8:30 am – 12:30 pm)
The Alligator Farm
The St. Augustine Amphitheater
St. Augustine Distillery
Castillo de San Marcos National Monument
Cap's on the Water (a beautiful waterfront restaurant to enjoy happy hour and/or dinner for sunset)
Florida State Fairgrounds – Tampa, FL
We parked a few days here to attend the Florida RV SuperShow, which takes place every year in January. Here's the website with all the details, in case you want to attend next year! It's considered the greatest RV show in the nation and we sure had a lot of fun checking out all the new models of RVs, including our own 2018 Winnebago Navion 24D!
We didn't stay in the Tampa area long, but we did stop by the Manatee Viewing Center, which we highly recommend. It's free to enter, and fun to see TONS of manatees gathered in the warm waters by the Big Bend Power Station. You can also pet stingrays, and they have a variety of other fun and educational activities.
Side note: On our way from Tampa to Fort De Soto, we stayed overnight at the Manatee County Rest Area and it was unlike any rest stop we've ever been to. Ocean views, quiet, night time security, and yep, FREE! The rest stops in this part of Florida are an experience you actually shouldn't miss!
Fort De Soto Park Campground – St. Petersburg, FL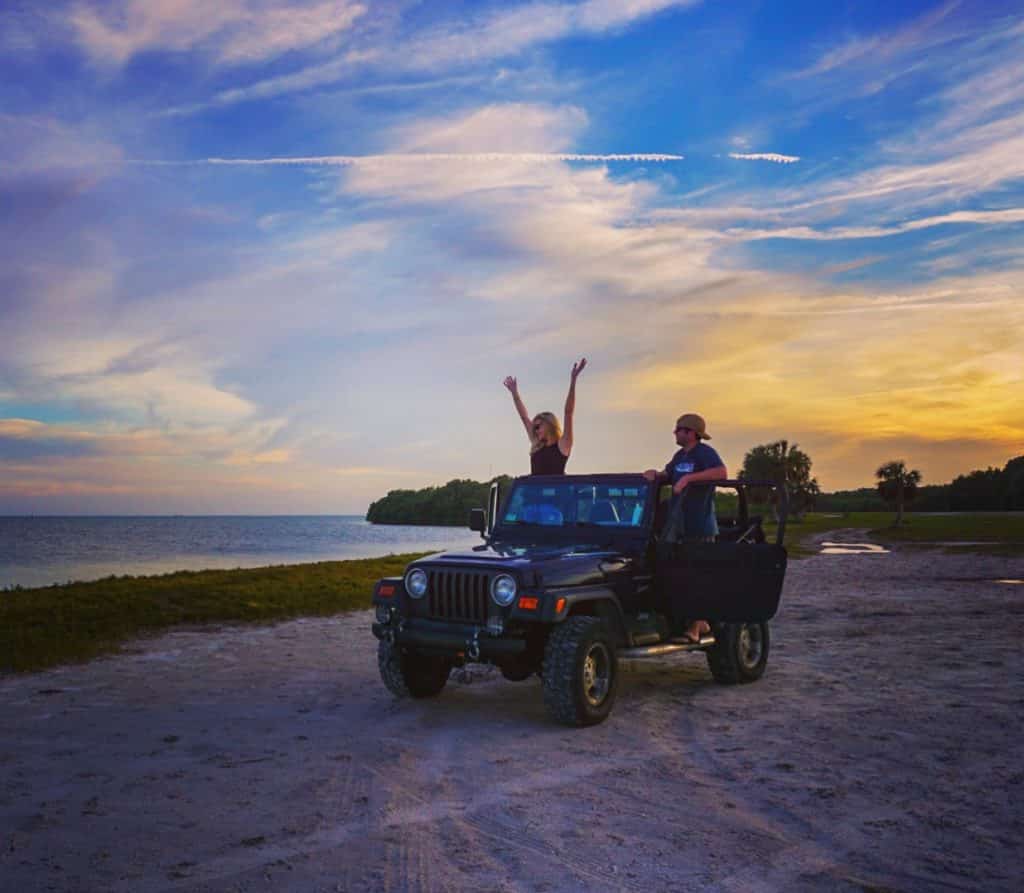 Fort De Soto Park was one of our favorites!  The park consists of five interconnected islands (keys) so there is plenty of water to enjoy! There's a boat ramp, two fishing piers, a ferry service, nature trails, and a dog beach! You can also enjoy the nearby parks and a self guided tour of the fort!
Another thing we loved about staying at Fort De Soto was its proximity to St. Petersburg, Treasure Island, and Clearwater Beach. We took day trips and enjoyed the beautiful boardwalks, white sandy beaches, and laid back vacation vibes these areas offered. Clearwater was one of the most beautiful beaches we've ever seen! We will definitely return to this area!

St. Andrews State Park – Panama City Beach, FL
This park is located in the heart of Panama City beach and right in the action, yet far enough away to find some peace in nature! While winter time is a little sleepy there, we enjoyed the quite and got the sense that there's a pretty wild party scene during certain times of the year there. We were fortunate to get a waterfront site and if the weather had been a little clearer, we could have stepped outside our RV and gotten right on the water in a kayak! St. Andrews also has two fishing piers, a jetty, a boat ramp two nature trails so there's plenty of access to water and wildlife. Then at night, you'll have a plethora of ocean front restaurants and bars to enjoy along the strip!
Topsail Hill Preserve State Park – Santa Rosa Beach, FL
Topsail was another one of our favorites because in comparison to the other state parks we'd been to, it offered way more amenities. In fact, rather than a campground inside the park, you have an RV resort. The resort has FULL hook ups, which isn't usually the case when you stay inside state parks, a swimming pool, and trails that lead to lots of beautiful scenery. You can ride your bike or walk to the 3 rare coastal dune lakes and have a picnic or fish. Or you can take their complimentary tram service right to the beach where you'll be blown away by how white the sand is and how turquoise the water is! You can even find some dunes over 25 feet tall!
Another reason Topsail was one of our favorites was because of it's proximity to Seaside, FL and Santa Rosa Beach. We enjoyed working at Sunrise coffee shop, directly across from Santa Rosa Beach, and had a beautiful walk along the water during our "lunch break". It was some of the bluest water we've ever seen!
A few days later we decided to check out Seaside and had no idea what we were in for. If you only take one recommendation from this page, we hope that it's to GO TO SEASIDE! Someone said it was "eerily perfect" and that's a great way to describe it. The main road along the beach has an adorable strip of food trucks, some of which are in vintage airstreams, have strands of lights in all the trees, lots of great oceanfront restaurants, and everything just looks "perfect". There's really no other way to describe it!
Henderson State Park – Destin, FL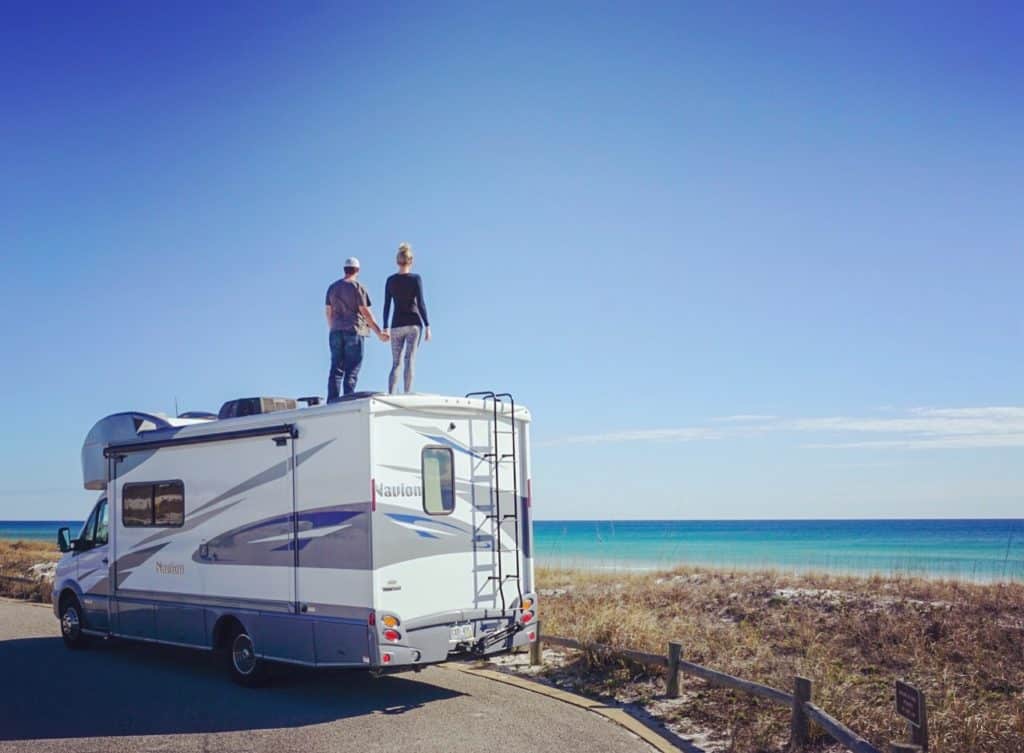 We were only able to stay at Henderson State Park for one night because it was completely booked out for most of the time we were there. That should speak volumes to how awesome this park is. I mean, THIS is the view from their beach parking lot!! The best part about the park though, is that it's in Destin.
Destin is one of Florida's most popular cities and beaches. We had one of our most memorable nights walking along the Destin Harbor Boardwalk, where you'll find many popular restaurants like Margaritaville, fun rides for kids, and shops. We sat along the dock and watched dolphins for almost an hour as the sun was setting! So beautiful! We will definitely go back to explore more of Destin some day. As a popular vacation destination, there is lots to do, including a variety of tours and excursions!
Florida will definitely be in our plans for next winter as well! We couldn't get enough of the beautiful beaches, sunsets, and the ability to be parked right along the water! The state parks feel like a tropical oasis and something we haven't experienced in any other part of the country. Tell us in the comments what parts of Florida we should check out on our next visit…