Hi, we're Pepper and Kyla and we're full-time adventure dogs. We live in an RV and travel with our parents, which means we get to spend even more quality time with them, see new places and smell new smells all the time! We don't get much say in where we go, though. Some places aren't as fun as others because our parents say we aren't allowed very many places or something? But recently we got to visit pet friendly Bar Harbor, Maine and it was totally paw-some!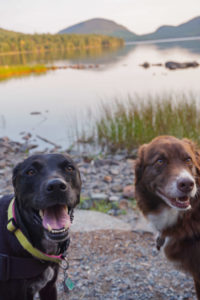 Here's why pet friendly Bar Harbor was our favorite spot so far in the RV:
We got to hike in the National Park.
Most National Parks don't allow dogs and we respect that. But, "bow wow" is it fun when we get to tag along on hikes! Acadia National Park has lots of hikes that allow dogs and it sure is beautiful. We went on the Eagle Lake Loop Trail, Ship Harbor trail, and the Gorham Mountain trail! It was really tiring pulling our parents along the trail…they are so slow. We even got to see some other animals, like a bald eagle and a deer that we really wanted to chase after. Darn leash!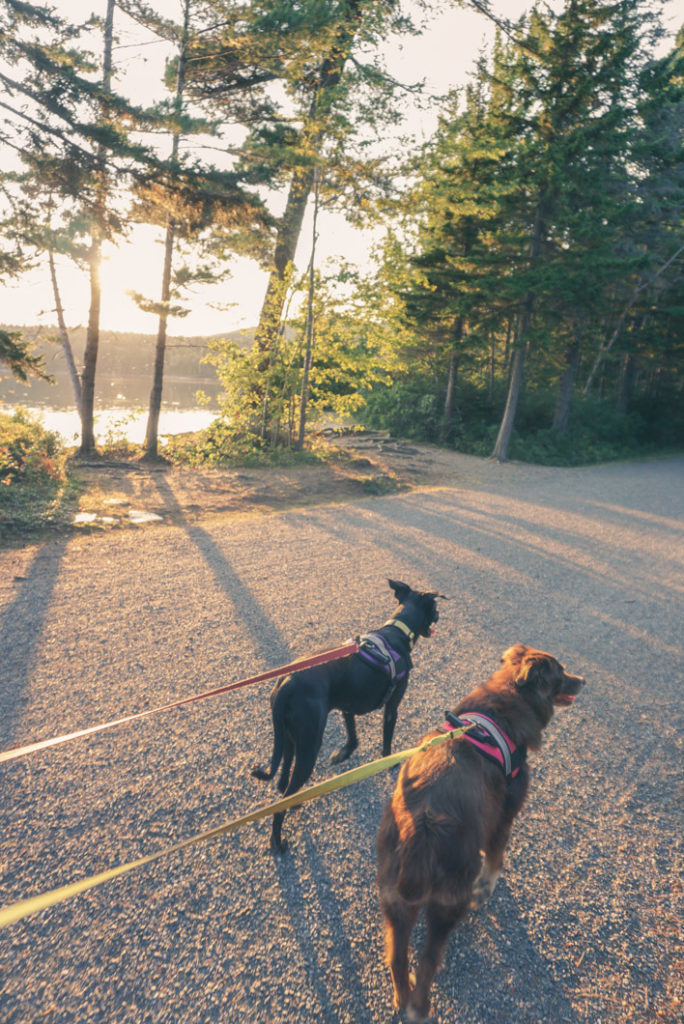 We got to swim…a lot. 
Almost every hike we went on had water that we got to splash in and sometimes even swim in! Water is our favorite but sometimes we aren't allowed to swim because we get too dirty. But, our parents were so blown away by the beautiful views, they forgot how much they hate bathing us!
We got to ride on a boat and a city bus!
Our parents were so excited when they booked a sunset cruise with Downeast Windjammer Cruises and were told that their pets could come too! We didn't know what a cruise was but wherever they go, we want to go. We now want to live on a boat, we loved it so much. It was way better than being left behind, like we normally are.
Usually when we go places, we ride in the backseat of our truck. But Bar Harbor's city bus also allowed us to ride along too. We didn't have cozy blankets like we normally have to lay on, and it was a little scary at first but our parents got to give us attention instead of having to drive. The ride was also free, which means our parents can spend their money on dog toys instead!
We got to go to dinner.
After our cruise, our parents were really hungry. We walked by a restaurant that served their favorite food (thai) and they said what they usually say, "if only we didn't have the dogs…". But then, a friendly waiter told them that we were allowed on their patio. My mom snuck a few bites of chicken under the table for us and we only barked at dogs passing by once! We were told that most Bar Harbor restaurants with patios allow dogs too. If only they had dog food on the menu…
We got yummy ice cream treats!
Well the restaurants didn't have dog food on their menu's but the ice cream stands make special doggy sundaes! After a long hike in the sun, we gobbled down soft serve ice cream with a biscuit on top. It's no "lobstah dinner" like our parents got, but we loved it just as much. We disagreed on what to eat first, the ice cream or the biscuit. Hiking, swimming, and ice cream all in the same day? Bar Harbor is the best!
We got LOTS of attention!
Sometimes our parents worry about being "those dog people" who bring their fur babies everywhere and annoy people. We don't understand who wouldn't love us! And the people all around Bar Harbor surely did. Everywhere we went, we were stopped and told how pretty we were. Everybody wanted to pet us and we even got to sneak in a few kisses. The bus, the boat, the restaurant, the trails….we made friends all over town!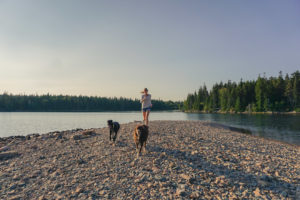 It was really "ruff" when we had to leave Bar Harbor, but that's what RV life is all about. Our parents seemed really sad as we drove away too, so maybe that means they will take us back there someday. "Bark Harbor" was a tail waggin', tongue saggin' good time! To read more about our adventures in Maine, click here. We hope you'll take your canine family members there SOON! They can thank us later!
Where is YOUR pet's favorite destination? Tell us in the comments below!