Starting sometime near my senior year in high school, I became fascinated with books about success and financial achievement. I loved being inspired by Tony Robbins. I loved discovering habits of successful people from authors like Stephen Covey, Thomas J. Stanley and William D. Danko. I must have read Dale Carnegie's How To Win Friends and Influence People 5 times by the time I graduated college.
All of these books are amazing, but it wasn't until I read The 4-Hour Workweek that I knew how I was going to measure my own success. Working 4 hours a week would be great, but what I was most interested in was the idea of location independence. The ability to earn money, no matter where you are in the world has been my biggest professional dream for many years now.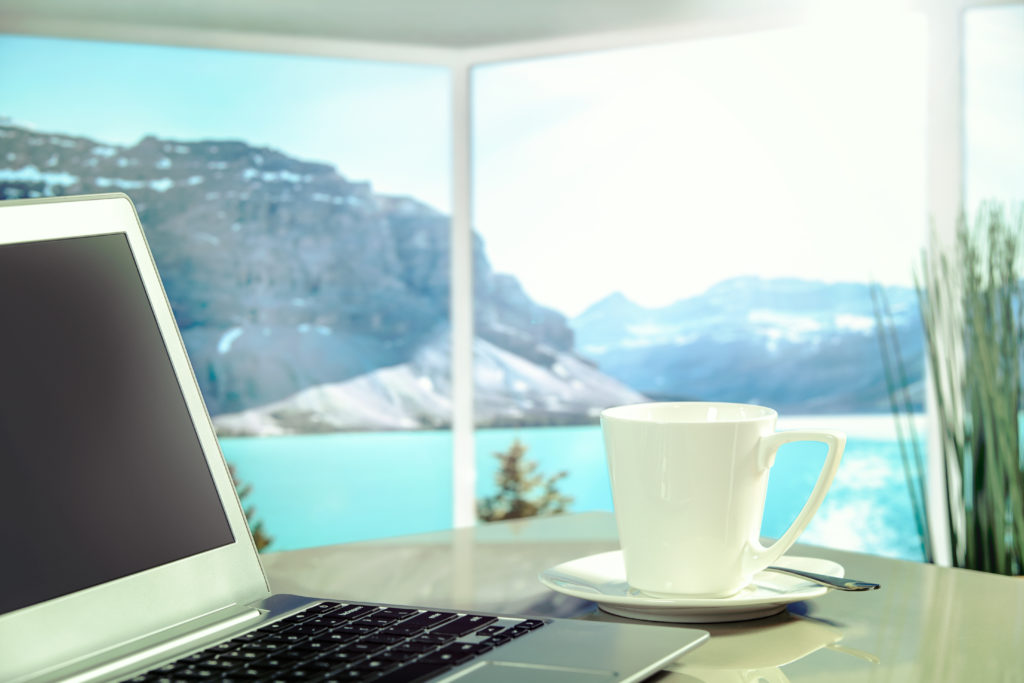 Lindsay and I have finally realized aspects of this dream and it has transformed our lives. Being semi-location independent was a big reason we could move across the country as a step in following our own detour.
Then, most recently, transitioning to complete location independence has allowed us to experience the wonderful lifestyle and world of full-time RVing.
We have seen incredible places, made amazing friends and grown our marriage in ways I wouldn't have thought possible. We couldn't live this lifestyle if either one of us was physically tied to our jobs. We thought to ourselves that this is as good as it can get.
It wasn't until a family situation arose during our RV travels, however, that we realized just how important location independence is to us.
The very day that we arrived in Bar Harbor, Maine to begin 6 weeks of chasing colorful leaves, pumpkin patches, apple cider, and fall festivals, my mother called to inform me that she had received some terrible medical news. She was going to require surgery and treatment to battle her illness and fight for her life. It was likely going to take months, if not longer.
Lindsay and I pulled over and were completely shocked and heartbroken. It felt like all of the air had been sucked out of the vehicle. We sat there, somewhere off I-95 feeling like we couldn't possibly be farther away, feeling lost.
After a week in Maine, we drove the 2,300 miles back to Colorado. During the drive home, we had a lot of time to discuss the benefits of having a house that has wheels. We kept telling each other how blessed we were that we could pick up and be anywhere in a matter of days. And more importantly, how we could stay as long as we needed because we didn't have to get back to a job, school, or house.
I can't tell you how remarkably thankful I was to be there during that time. To support my mom through one of the most challenges seasons of her life. I would never get that time back.
This is all possible because we are location independent.
This to me was the realization of a dream, the reason that I had wanted it for so long. We would have never been able to be home for an extended amount of time if we were still living in Raleigh, NC like we had been the previous year. Even though it required us to take a break from traveling and we certainly missed visiting amazing new destinations every other week, we wouldn't have traded the ability to be home for family for anything.
The beauty of full-time RVing and being location independent is that you're in control of whether your stationary or mobile.
Location independence gives us the ultimate freedom and flexibility and we're determined to continue building a lifestyle that supports that – whether we continue RVing for years to come or not. We may choose to settle again or live abroad…it opens up a world of options.
For most full-time RVers and travelers, location independence didn't happen by chance, nor did it happen overnight. It was the same for us.
We had to make it happen.
We continue to make it happen.
Most importantly, you can make it happen too. Lindsay wanted to be an elementary school teacher ever since she was a little girl. She went to (and invested in) college for 6 years earning her bachelors and masters degrees. She relentlessly pursued her passion, finally getting her chance to be a kindergarten teacher.
Being a teacher was all she knew – and she gave that all up to pursue a different lifestyle that she wanted! And now, she is transforming her self, learning new skills and slowly building out her own path. In fact, she's since been able to replace her teaching income completely on her own.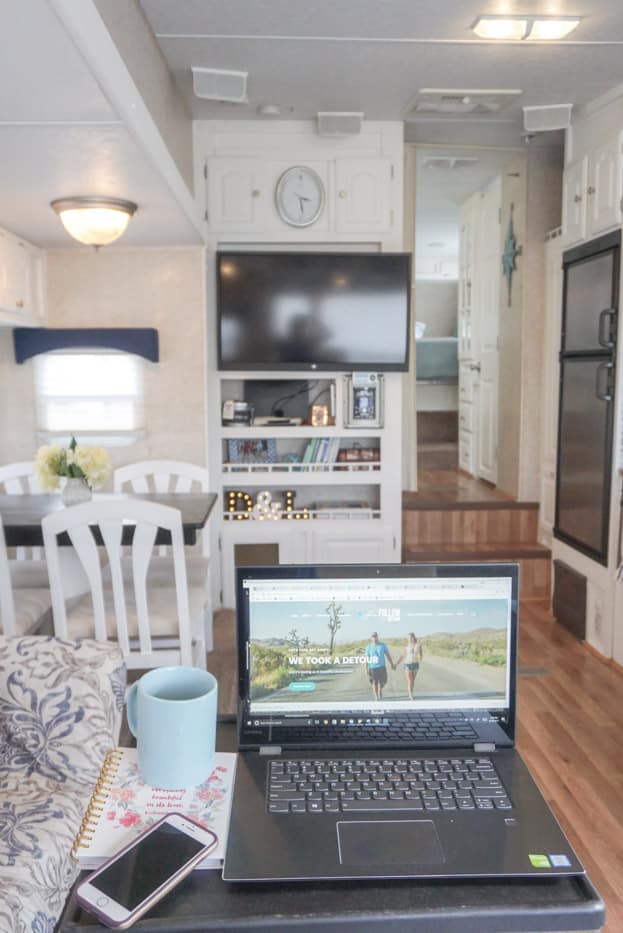 If location independence is something that you want so that you can full-time RV (or not), understand that you can make it happen. There are so many ways to make money online or to build a mobile-based business.
Many employers are willing to have remote employees, even companies that don't have a telecommuting culture. There are tons of other companies that don't think you have to be in an office to do great work. In today's digital world, if you really want it, you can make it happen.
It's worth it!
Here's a couple of ideas/resources to help you if you'd like to become location independent.
1. Think about starting a blog or a web-based business.
Read about one of the ways we make money from blogging and check our blogging resources page for more information. Many people have enjoyed incredible success by going this direction. I also highly recommend listening to the Smart Passive Income Podcast by Pat Flynn, along with his other resources.
We've done a variety of online work to make our dream of location independence work, including starting a membership site, planning an annual online summit, offering online services like web design and photography. Think of the skills you have and can teach and use them to build your own income.
2. Ask if you can make your job remote.
I work as a normal, 40 hr/week employee. I interviewed for a position that was not listed as a remote position. During the interview process, I asked them if they would consider it. I also informed them that it was a condition of employment for me. Luckily for me, they wanted to hire me and made the position remote. I have heard this from many other's as well. They simply asked their boss/organization if they would be ok with it, and they were. They might not be, but you'll never know if you don't ask.
3. If your current job won't work, look for a new one on Flexjobs or Virtual Vocations.
These remote job boards host up to 20K remote/flexible job opportunities and are a great place to start your search. We also recommend our friend Camille's course Remote Work 101, she even offers coaching to help you update your resume, know where to (and where not to) look for positions, interview, etc.
We also often recommend that people wanting to start traveling as soon as possible to consider workamping. This is not so much for location independence but is a great way to have a mobile income that pairs great with full-time RVing. It can also be a great transition until you continue to build your own business and/or look for remote work.
4. Join Nomad Collab!
Nomad Collab is the membership site we created with two other traveling, location independent couples. We wanted a community of like-minded couples who could collaborate and support one another on the journey to a nomadic lifestyle.
We have a growing library of resources related to building location independence, plus groups and forums to engage with other members on topics related to the lifestyle. You can also join in on virtual hang outs weekly, watch expert interviews to learn everything from starting a business to downsizing to photography.
We're unlike any other community out there and there's nothing more powerful than having a support network to help you achieve your dreams. Sign up for Nomad Collab today!
5. Attend Full-Time Freedom Week: The Largest Online Event for RVers
Lindsay alongside three other RV entrepreneurs hosts an annual online summit to help RVers hit the road and sustain a life on the road. It's a 5 day mega event that takes place in November and will give you access to 40+ videos throughout the week on a variety of topics, including making money on the road.
Even just hearing other people's stories throughout the event will inspire you to make it work for yourself! In the meantime, you can grab the Full-Time Freedom Resource Library.
---
Are you interested in location independence?
Has there been a time that you were so thankful to be location independent? Got some other great tips, resources or suggestions to help? Tell us below in the comments section!