It's always been a dream of ours to be in the Northeast for the fall season. However, for whatever reasons, Maine was never really one of the states we considered as being a great fall destination. Truthfully, we didn't know much about Maine but now we have a newfound love for it and a desire to visit again someday. Our trip got cut a little short due to a family emergency, but that just means we left plenty of things to do next time! Although short, here is our Maine RV route. We hope it inspires you and helps you plan your RV trip through Maine.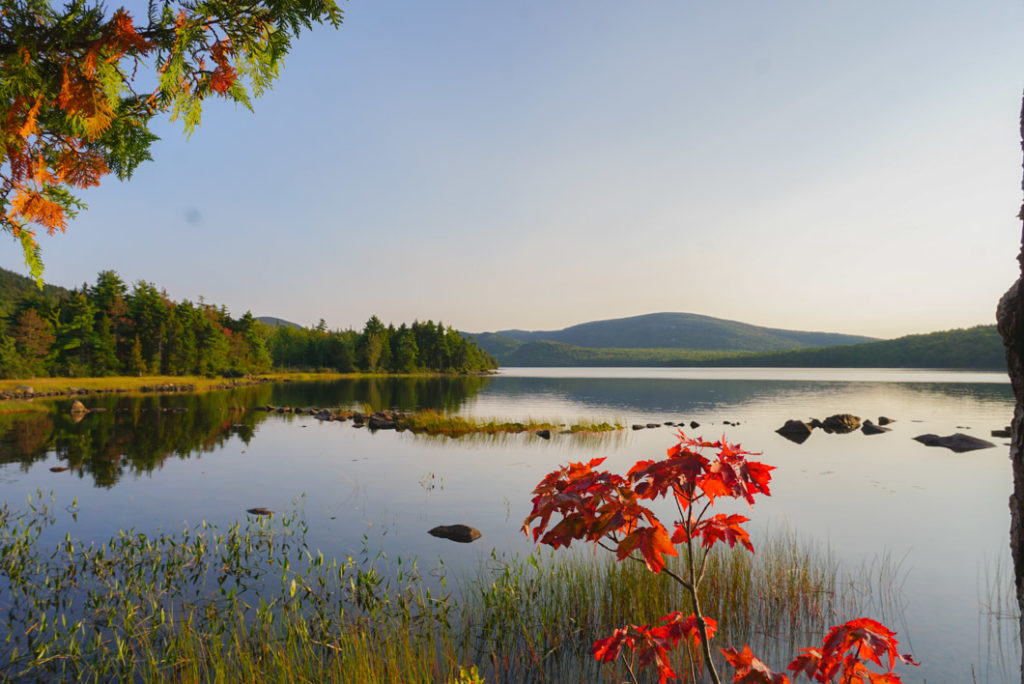 Our Route
WHERE WE STAYED AND WHAT WE DID

Narrows Too Camping Resort- Trenton, ME
There was plenty to love about this campground. The price, with our Passport America discount, the stunning views, and the easy access into Bar Harbor and the national park made us very happy campers. It was really convenient that there is an on site bus stop and it's completely free to ride the bus into town! We had a perfectly fine stay there and would definitely recommend it. If you can afford the extra cost, get a waterfront site! We didn't have this luxury but our friends did. They could watch the sunrise over the water from their front windshield which was pretty incredible!
Acadia National Park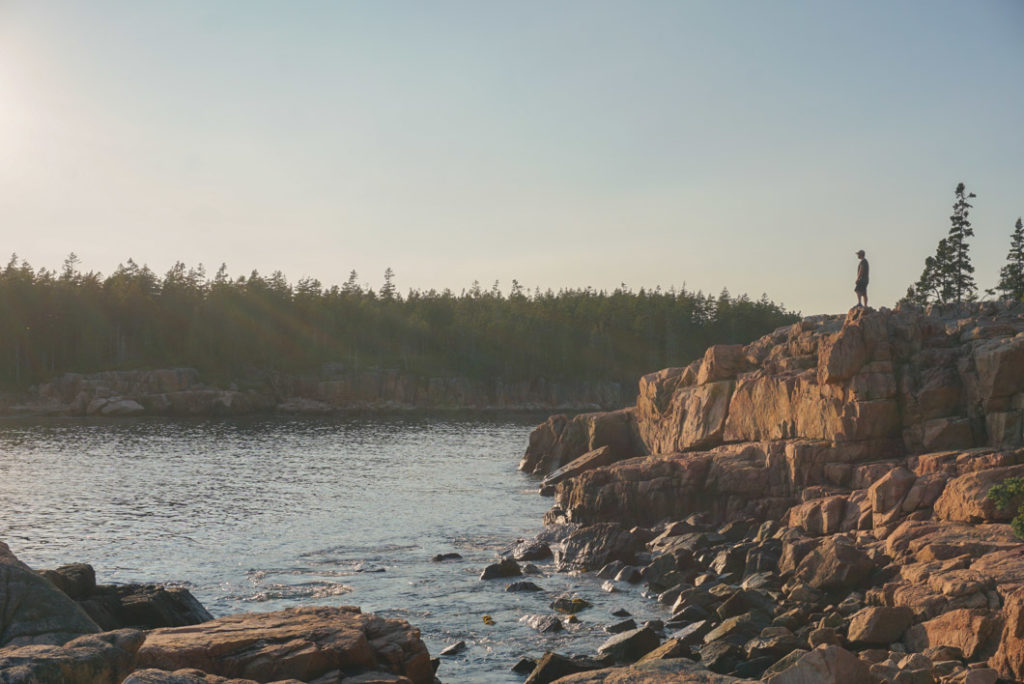 Acadia quickly became one of our favorite national parks. It's unique in that it's a good mixture of mountain and ocean landscape and it's intertwined within the towns. There were probably several times we didn't even know we were in the park because it's hard to know where it begins and ends.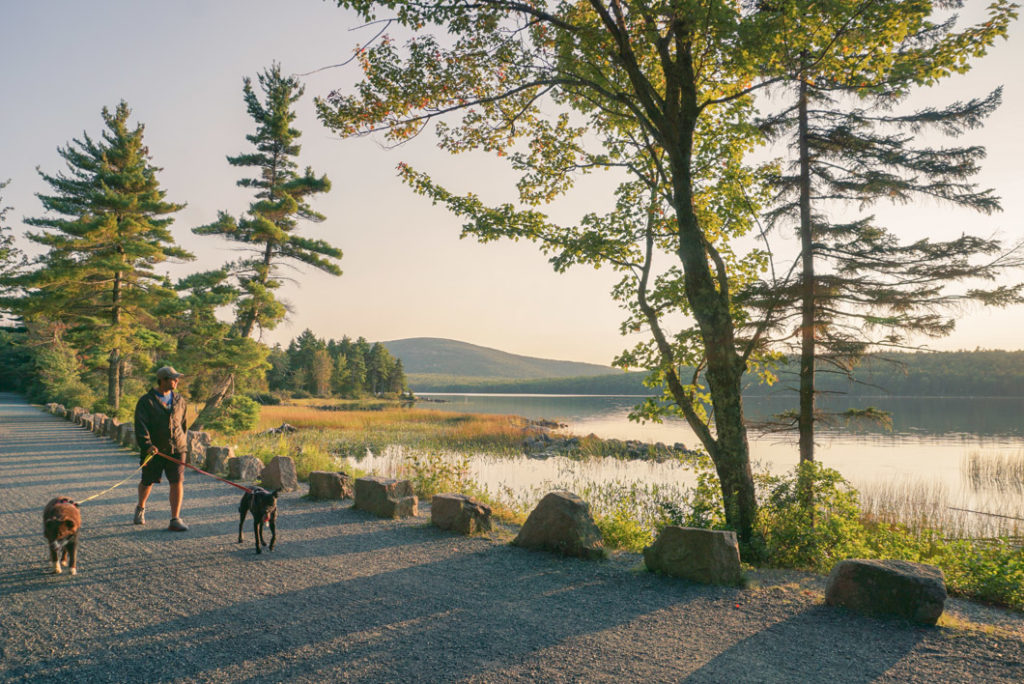 We spent almost every single day of our week stay exploring the park. There are so many walking trails that loop around beautiful lakes and ponds as well as hikes of all levels and distances that take you right along the coast. We enjoyed walking the Eagle Lake Loop, Ship Harbor trail, and our absolute favorite was the Gorham Mountain hike (with a stop at Sand Beach).
Friends of Acadia Volunteering
Friends of Acadia is a non-profit organization that organizes volunteer efforts and private philanthropy for the benefit and preservation of Acadia National Park. They offer drop in volunteering 3 days a week. So we showed up on a Saturday morning, were provided with the equipment we needed, and were given options of what jobs we felt comfortable doing. That day, we helped restore one of the trails in the park and we had such a great experience. It truly inspired us to volunteer in every national park we explore. Speaking of volunteering…have you joined our Voluntour America Facebook group yet? Join hundreds of other travelers who want to "do more than just explore!".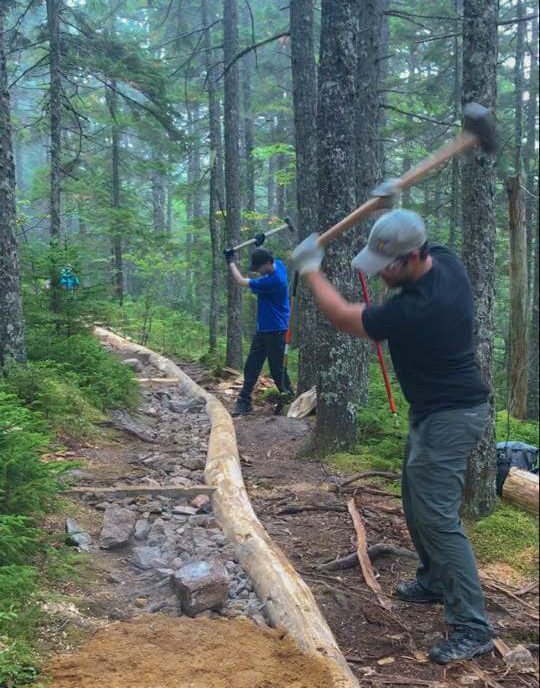 Sunrise on Cadillac Mountain
Being able to say that we were some of the first people in America to see the sunrise is pretty cool. But beyond that, it was hands down the most beautiful sunrise we have ever seen. Getting up at 5:00 am, driving the windy roads up, and fighting the crowds, is 100% worth it! We can't recommend it enough and we'll just leave these photos right here…
Sunset Cruise
We've been on several cruises before but this one was extra special for us. First of all, you truly get the full Bar Harbor experience when you get on the water. Especially when you get to ride Margaret Todd, the last working four-masted schooner in New England. But our favorite part of the cruise was that we were able to bring our dogs along. Downeast Windjammer Cruises is very pet friendly! They also allow you to bring your own beer or wine and have life music on board! Those factors along with the beautiful sunset views made for the perfect night.
Our dogs loved Bar Harbor so much, they wrote their own blog post about it! Read it here!
Ne're Family Campground – Old Orchard Beach, ME
It seems like there are campgrounds and RV parks on every corner of Old Orchard Beach. So you'll have many to choose from. Ne're Family Campground was really just a convenient and affordable place to park for the 2 nights we were there. It was conveniently located for walking to the beach and pier. Other than that, if you're going to have an extended stay, we'd recommend looking elsewhere. Ne're Family Campground was very small with one narrow road to get in and out, very tight spaces, and limited amenities. Just a very basic campground.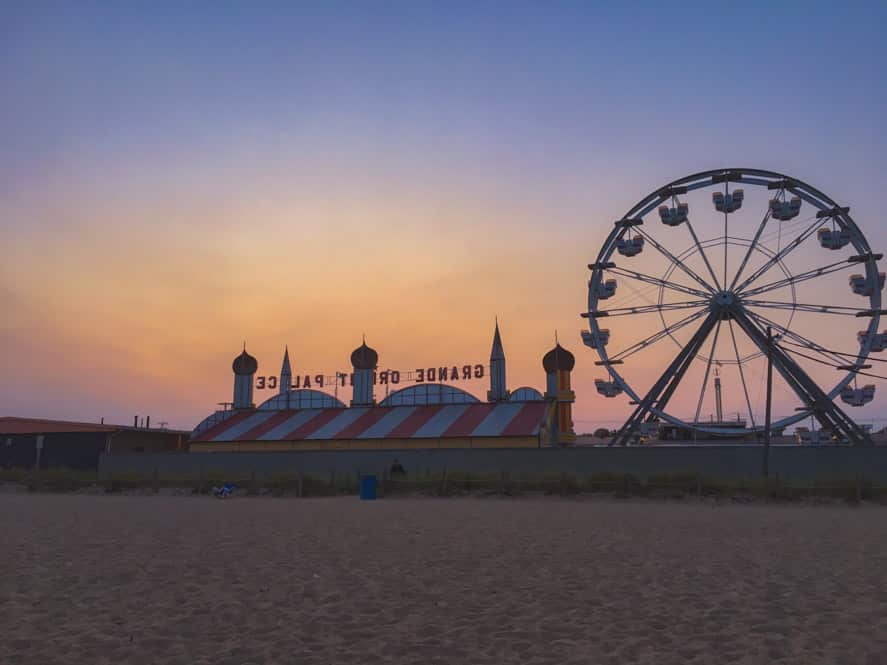 Old Orchard Bay is probably best to visit before Labor Day, since the weather starts to cool down and popular activities close for the season. The main touristy spot of town surrounds it's picturesque pier. All along the main road leading to the pier is filled with shops, restaurants, walk up food windows, and best of all, a small amusement park. There's tons to do in that area and we can imagine it's very lively and enjoyable on a typical summer night. That's about all we can say about Old Orchard Bay, having only spend a short time there.
Day Trip to Portland
Portland is one of Maine's most popular cities and one day is not nearly enough time to spend there. However, we were sure happy we got to experience it. It's filled with history, great food and beer, a waterfront trail, a beach area, and of course, "lobstah"! We loved biking around Old Port. The cobblestone roads and red brick buildings took us back in time. Our favorite stop was Shipyard Brewing!
We also drove over to see the Portland Head Light at Fort Williams Park, but it was pretty foggy and hard to see. However, still beautiful!
Maine was absolutely dreamy!  We loved everything about it. Tell us in the comments what we should do on our next visit…