I struggle to even know where to begin this post. Tears are already filling my eyes. It requires me to go to a place in my heart that is still aching, still healing. But it's a story that's critical to sharing our own personal detour. So here goes nothing.
The News That Changed Everything
I'll never forget sitting in the waiting room for what seemed like an eternity. Feeling so many emotions but ultimately wanting the doctor to come out with good news. I kept wishing I was holding Dan's hand but was thankful to be holding both of my sister's hands. And then it happened. I knew the prognosis the moment the doctor walked into the room from the look of defeat in his eyes. He stumbled a bit as he began to tell me. "Dan is doing great" (phew, this was obviously my greatest concern), and in a lot more words that I don't even remember now, he informed me that they "unfortunately found nothing". That "nothing" being sperm or any cells that could potentially be harvested into sperm. A few days later, Dan was given the diagnosis of Sertoli-Only Syndrome, which is a fancy way of saying, he is infertile and medically speaking, our chances of conceiving a child together are yep, you guessed it, 0%.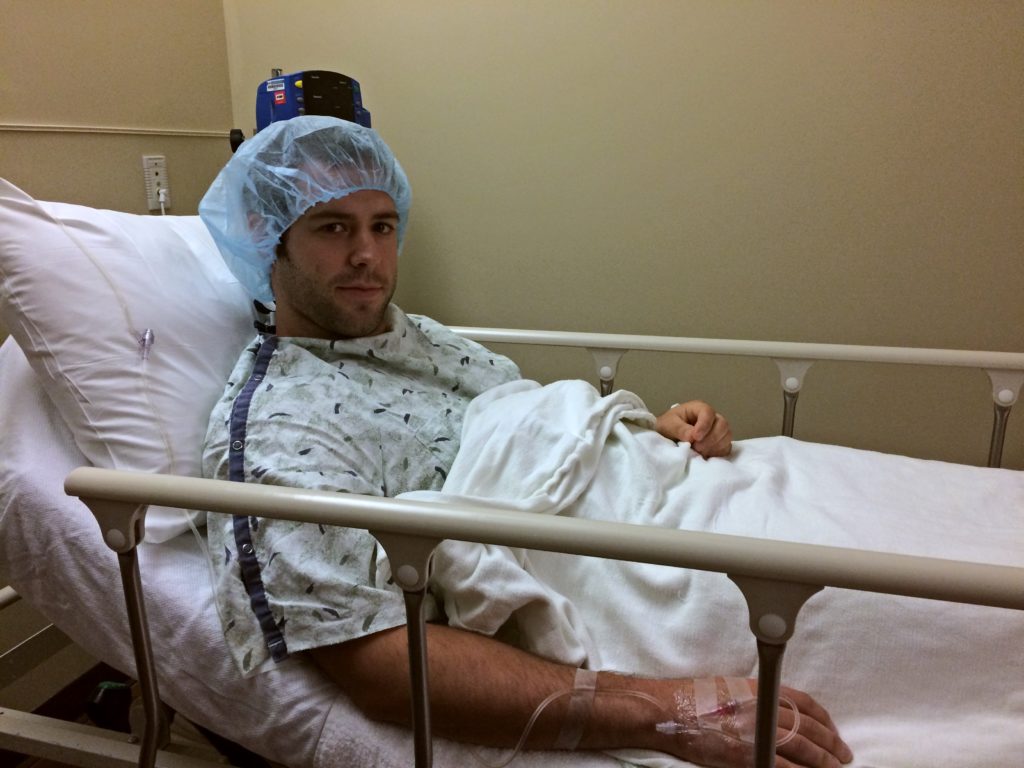 This came as a huge shock to us, as Dan has never had any health issues or symptoms that would have ever given us any suspicion. This also crushed us and completely turned our world upside down. My doctor described it well when she compared it to a death. Dan and I's dream of creating a child together had died. So we grieved, and grief was something that was recently familiar to me (which I'll save for another post) so I was fully buried in it. And to be clear, this wasn't just any dream of ours. It was my greatest dream and the greatest desire of my heart. In those moments, I felt like my life moving forward was going to be completely worthless.
The Detour That Changed Me
I slowly began to pick myself up and remind myself how lucky we were to still have options. Even though our dream was dead, we realized we had the opportunity to give birth to a new dream. A dream of saving a child's life through adoption, or a dream of committing our life to missions work around the world. In a way, a whole new world of dreams had opened up to us. We began to understand that this wasn't at all a dead end. That is when our love story with the term "detour" began.
We found so much peace in knowing that even though the plans we had created for our life had fallen apart, this detour was still going to lead us to a beautiful place. We know that God has placed us on this detour because he has an incredible destination for us that we would have never dreamed of ourselves. We know that when we arrive at this destination, everything will make perfect sense and if we had to do it all over again, we would choose the detour. I really had to remind myself that sometimes the plans we make for ourselves aren't the best plans for us. Maybe this unexpected detour was God's way of protecting us from something even worse happening. It forced me to remember that I am not in control of what happens to me, but I am 100% in control of how I choose to respond to the things that happen to me.
You can call it faith, you can call it whatever you want. But our detour is our own and we are doing everything in our power to enjoy every bit of it. For many of you, it's time you should do the same instead of being stuck in a dead end. Perhaps you're going in circles, a roundabout, if you will. Or perhaps you took a U-Turn because you were too scared and are trying to go back down a dead end road, only to end up in the same place. We hope you'll change your perspective too and begin looking for the new opportunities that can come from following your detour, despite what unexpected roadblocks you're facing.
Don't get me wrong. We tried to fight this detour and immediately started looking for a solution to our roadblock of infertility. We began exploring any and every option of still starting a family. We even found a donor and tried 3 rounds of insemination with no luck. We wanted the closest possible alternative to our dream, but this is not what detours are made of.
We don't know where this detour will lead us, and some days we still feel lost. But we've been on this detour for a year and a half now and as I sit here writing this, looking back, I realize how much I love following this detour. It has completely changed me in the most amazing way. Throughout this detour, we have stopped trying so hard to figure everything out. We've decided to just live and love life and let things unravel in their own timing. We are taking risks, and doing things we've always dreamed of doing, like moving to a new city, getting out of debt, exploring more of this beautiful world, and ultimately taking care of ourselves and each other.
I am so proud of the growth I have made on this detour. I have more confidence in myself. I care less about what other people think of me. I've stopped comparing myself and my life to others. I've completely stepped out of my comfort zone in many ways and it's leading me to exciting things. And that, my friends, is the beauty of a detour! Sure, I still sometimes get anxious about the unknown but I can honestly say, I wouldn't change a thing. I am content in the uncertainty, and I am enjoying each new chapter of this adventure.
Perhaps as you are reading this, you're in the middle of your own unexpected detour or are needing the courage to take an intentional detour. If that's you, start here.
We'd love to hear about your own detours, and/or if you found this post inspirational so don't forget to leave us a comment!
Lindsay McKenzie
Lindsay is a proud Colorado native who loves Jesus, her family (especially her 3 nieces and 5 nephews), and of course, adventures with her husband Dan and their 2 dogs. She's a simple kind of girl. All it takes to make her happy is a cold beer, some country music, a sunset, and maybe a fishing pole!