When we first hit the road full-time in our RV, we had no clue what we needed. Everytime we make a trip back home, we get rid of items we thought we'd use and didn't. We also stock up on other items we wished we had. We wrote our tips for packing an RV for full-time living in this post. But we've since purchased 5 new items that have completely improved RV life for us. We had to share!!
Save this post for later:
We don't know how we ever lived full-time in our RV without these 5 items…
1. Instant Pot
Cooking in the RV helps us save money and eat healthier! It took us awhile to jump on the Instant Pot bandwagon, but we were pretty happy once we did. We used to love using our Crock Pot, but the truth is, we just don't plan ahead as much with RV life and on travel days, we can't exactly have a Crock Pot on for 5-7 hours.
While we don't feel an Instant Pot is quite the same as a Crock Pot (you don't always just throw everything in and viola), we love that it can be a slow cooker OR pressure cooker. Meals are done in 20 minutes and it eliminates having to clean a bunch of pots and pans. We've made some pretty delicious meals with it too! It really is an all-in-one product – it's a slow cooker, pressure cooker, rice maker, warmer, steamer, sauté, and more!
2. Solar Panels
Since getting into our new RV, we've been loving the ability to do more boondocking. However, our propane generator is not only unpleasant sounding like all generators, but it is a propane generator and burns the propane faster than we can keep up with. We are so happy we invested in additional solar panels!
Solar technology continues to improve and the price of solar continues to drop. Our Winnebago Navion came with 200 watts of solar already installed, so we purchased two of these panels and have been really happy. They are super light weight and were a breeze to install. You can get them right from Amazon here.
3. Berkey Water Filter
We have a brand new RV and our water from the faucet still just doesn't quite taste right, even with the filter that came with it. Plus, the water from the hook ups at camp sites to begin with isn't usually great tasting. So, we typically bought bottles and big jugs of water, which felt so wasteful. Recycling isn't always an easy task either. We've been so happy with the travel sized Berkey Water Filter. It's the perfect size – enough for a couple days worth of drinking water without taking up too much counter space.
The Berkey isn't just any 'ole water filter – it's powerful, revolutionary, and actually considered a "purifier". It can remove viruses, bacteria, cysts and parasites, or harmful or unwanted chemicals to undetectable levels. You can put almost any outside natural water source in it and it will turns it into the purest, best tasting water! They have multiple sizes and other products, offer free shipping, and a free gift!
You can read our full product review on the Travel Berkey or go straight to Berkey's website.
4. WeBoost
Our jobs rely on good internet service and staying connected is extremely important to us, no matter where we are on the map. WeBoost's Drive 4G-X is a powerful, professional grade 4G vehicle booster. The Drive 4G-X ensures that we get better voice and data with fewer dropped calls, improved voice quality, faster uploads and downloads, and allows up to 2 hours additional talk time in weak-signal areas.
WeBoost boosts cell signals up to 32x and enhances 4G LTE and 3G signals for Verizon, AT&T, Sprint, T-Mobile, US Cellular, Straight Talk and more. All components needed for installation are included and all you do is plug the Drive 4G-X into the car's power supply and place the magnetic antenna on the roof. Click here to learn more about WeBoost and how it works.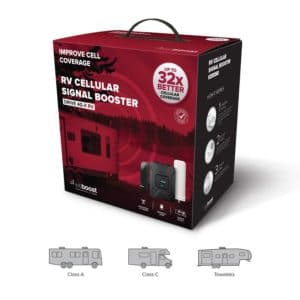 5. Dehumidifier
This may seem like a silly product to say that it improved RV life for us…but it really did. Sometimes it's the little things when it comes to RVing. But think about it…RVs and water just don't go well together. Every time you shower or cook, the moisture collects faster than the fans can push it out. Combine that with a humid climate or a storm and you're likely to see water dripping down the walls!
Also, we were finding that our towels would take forever to dry and inevitably start smelling moldy, which kept us from reusing them as many times as we would like. This meant laundry days came sooner and laundry days mean fussing with quarters, finding a laundromat, waiting…you get the point. Oh and speaking of laundry, sometimes we just can't seem to get our clothes dry with the dryers at parks or laundromats! We get home and realize they are still damp, despite adding additional time. And as we said, anything damp in the RV is a bad thing.
This little dehumidifier and these moisture absorbing hanging bags have been life savers! The dehumidifier sits in the bathroom when needed and the hanging bags hang in our closest and shower. Don't judge a product by it's size – we're always amazed at how much water they both absorb.
Bonus Item: RV Digest It
We used to use the little Camco toilet treatment drop-ins until we discovered RV Digest It by Unique Camping + Marine. We haven't had black tank smells since! Plus, RV Digest It is safe, and all natural (chemical free!) so we feel much better about using it with our brand new RV. We use the tank treatment, toilet cleaner, and sensor treatment….actually we haven't even had to use the sensor cleaner because the treatments work so well!
We used to think black tank clogs and smells were just a part of #RVlife, but it turns out we were using the wrong products. The products are also similarly priced as Camco's so its a win win! Just thought we'd share another one of our favorite RV products to help keep others from any "crappy" situations!
* You can get 15% off your order with Unique Camping + Marine by shopping through our link –> https://uniquecampingmarine.com/discount/FollowYourDetour.
Want to see our full list of must-have RV equipment?
We share all the basics you need for full-time RVing on our resources page. Click here to check it out.
These 6 products solved some of our biggest issues during our first year of full-time RVing and have become our latest MUST HAVE items for the RV. We can't recommend them enough, especially if you relate to some of the pain points they resolve.
What other products do you love for RV life? Tell us in the comments below!
Related Posts: