In case you've never heard the term "boondocking" before, it's just the cool RVer's term for free dry camping (no electric, sewer, or water hook ups). When we first started full-time RVing, we were a little intimidated by boondocking. How do you find free spots? What if you park somewhere you're not actually allowed to? How do you conserve power and water? What about dumping your tanks? It seemed like too much to worry about.
However, the longer we've been RVing, the more we've wanted to boondock. We've realized it's much easier than we ever thought. Plus, it's weirdly addicting. There's nothing quite like parking for FREE because it makes the lifestyle that much more appealing. We've been putting so much more into savings each month, and if you know us, we're extreme budgeters so that makes us happy campers.
If you're wanting to camp for free more often, we hope this guide helps you feel more confident about boondocking.
Pin this for later:
Finding Free Spots
You have 4 options when it comes to finding free RV parking:
Stealth camping. Stealth camping is mainly reserved for vans and smaller more discrete RVs. It's basically parking anywhere that doesn't have a no parking sign and hoping you don't have security knocking on your door in the middle of the night. This obviously isn't a long term parking solution and is best suited for quick overnights.
Dispersed camping. This is the term used for free camping that is allowed on public land, including National Forest Land and Bureau of Land Management (BLM) Land. Each state has other options for dispersed camping, such as State Trust Land, State Forests, Wildlife Management Areas, State Parks, etc. You just need to check ahead of time using the resources we will share below. With dispersed camping, there aren't marked campsites or services/facilities and it's first come first served. You'll need to know the regulations and check for road closures ahead of time. You basically show up and pick a suitable, open spot for your RV within the boundaries and can typically stay up to 14 days (you'll want to verify the limit).
Parking lots. Businesses, such as Walmart, Bass Pro Shop, Cracker Barrel, Cabela's and some casinos, with large parking lots will often allow for free overnight parking. Each store is different and you'll want to call and check ahead of time. These businesses, along with rest stops, picnic areas and truck stops are great options if you just need a place to park for the night in between destinations, but you obviously can't stay much longer.
Moochdocking. If you have friends and family with large driveways and lax (or no) HOA restrictions, you can "mooch" off them! Just be courteous of neighbors!

Who says you can't have great views from a Walmart parking lot?
Here's how to find these boondocking spots:
There's really no one way to find awesome boondocking spots. You'll want to use a combination of resources together to pick a spot that works best for you and your needs. But we use and recommend the following tools:
Ultimate Campgrounds
Ultimate Campgrounds has a great app as well as a webmap with over 33,000 public camping locations – both formal sites and free dispersed spots! This is always the first place we look, because UC has the most comprehensive list of free spots. Once you find a spot, it will also tell you how many miles away it is from you, what services and regulations the spot has, the nearest town and it's current weather, the coordinates of the spot, a link to google images of the spot, and even the option to use Google Maps to direct you to the spot.
All Stays
All Stays is an app that is similar to Ultimate Campgrounds, but it offers even more than just helping you choose where to park/stay. With over 60,000 points on an interactive map, it shows you everything you'll need on the road – gas stations, rest areas, stores, low clearance areas along the road, RV dealers, etc. All Stays is especially helpful when you're looking for a business parking lot to stay overnight at. They have those business on the map along with a color code that shows whether or not they allow free parking. The app also has the ability for RVers to leave reviews and tips for staying in the various RV spots.
Campendium
Campendium is our favorite resource for finding any kind of RV spot, because other RVers leave helpful reviews, photos, and information about the sites. However, Campendium is a little limited in the amount of free spots that are in their database. We usually find a spot on Ultimate Campgrounds or All Stays first then check Campendium to see if there are any reviews of the spot. Since this is such a helpful and free resource for us, we try to pay it forward and leave reviews in the spots we stay in.
Harvest Hosts is a fun and unique option for short-term RV stays. With a membership, the Harvest Hosts website connects you to people who have large amounts of land (farms, museums, vineyards, ranches, etc.) who are willing to "host" you in your RV. Some even have hook ups! One thing to keep in mind is that Harvest Hosts requires you to support their hosts, meaning you need to purchase the host's services, such as a bottle of wine or other products. So, in some cases, you may end up spending even more than you would at an RV park, but you'll likely have a fun and memorable experience and maybe even beautiful views!

*Harvest Hosts is offering our readers 15% off! Click here to get the discount and sign up!
Boondocker's Welcome is another great membership option and requires a $30/year membership fee, but members can dry camp with their RV for free as a guest on a fellow RVers' properties! It's basically just RVers helping RVers. So you can find people all over the country, in rural or metropolitan areas, who are happy to have you park on their driveway or land. What a fun way to meet people!
Sometimes word of mouth is the best way to find awesome boondocking spots. Ask your RV friends, use RVing Facebook Groups, like this one called "Boondocking & free camping USA" with 65,000 members to ask if anyone knows free spots in the areas your visiting. Or keep an eye out on Instagram (follow us while you're at it!) for the spots RVer's post photos of, then message them for details! We're always willing to share the spots we find and I know others are as well.
Google Maps Satellite View
Once you've selected a spot using the above resources, you'll want to scope out the land before driving there. Using the coordinates provided by Ultimate Campgrounds, Campendium, or AllStays, you can find the exact location on Google Maps. Then using the satellite view, you can get a better picture of the roads and space, to determine if the spot will work for your RV. It's also helpful to know exactly how to get there, since it's not uncommon to have unmarked dirt roads leading to the spot. It can be hard to tell the terrain or condition, but this will atleast give you a better idea.
The downfall to boondocking is that you can't reserve spots, so it's possible that you will show up after a long drive, and the area will be too full. Typically if this happens though, you'll be able to find a nearby RV park or campground. In fact, you should always have a plan B.
Water
Conserving water
Water conservation really depends on the holding tanks sizes on your RV. The larger your tanks, the less conserving you'll have to do. Smaller RVs tend to be a little more "boondock friendly" in terms of maneuverability, however, the smaller the RV the smaller the holding tank sizes are. And regardless of tank sizes, it's not exactly easy to find free water to refill your tanks so knowing some basic water conservation tricks will definitely be necessary.
Showering
Ultimately, you just can't shower very often. Baby wipes, Epic Wipes, and dry shampoo are great products for staying clean without taking a shower. When you do finally break down and need a shower, there are tricks to using less water.
The most important thing is to make sure you have a low flow shower head that uses less water per minute. These types of shower heads increase the velocity of the water so you still get good pressure but reduce the amount of water used. You'll also want to make sure the shower head has a shut off valve. The detachable head with hose is also helpful because it allows you to move the water around you quickly to speed up your shower time.
How to take a water saving shower: First, while waiting for the water to get warm, don't let that water go to waste. Capture it in a pitcher or bucket – that water can later be used for drinking, flushing the toilet, making coffee, etc. Once the water is warm, do a quick rinse then turn it off using the shut off valve. This will keep your water at the same temperature without wasting water while you lather up. Only turn the water on when you need to rinse. If your shower has a small tub, you can let it fill up and use that water for shaving. Low suds soaps and shampoos are helpful for quicker rinsing!
Our Winnebago Navion has a Truma tankless water heater which is great for boondocking since the water heats instantly. We love this feature because it keeps us from wasting water since we don't have to wait for it to heat up. Then, when we are plugged in to water hook ups, we can take as long of showers as we want without worrying about running out of hot water! You can read more about the Truma in this Winnebago article.
Lastly, our friends Jon and Nadia wrote a post on their blog called "5 Ways to Find Showers on the Road" that you can read here. This is a helpful read if your RV either doesn't have a shower, or you want to save water for other purposes and shower elsewhere.
Dishes
When conserving water, the last thing you want to use water on is dishes. You'd much rather have a clean body than clean dishes. Therefore, utilizing paper plates and plastic cups and silverware is your best bet. Then, just be sure to recycle.
But, unfortunately paper or plastic pots and pans don't exist so if you cook your meals like us, you can't avoid dishes entirely. That's why we've come to love the Instant Pot. The Instant Pot makes delicious meals in usually 30 minutes or less and typically only requires you to clean one dish. Otherwise, there are plenty of one pot recipes out there! When doing dishes, fill a dish pan with soapy water so you don't have to have the water running the whole time.
Refilling water
The easiest way to find water to refill your tanks is to go to an RV park or campground and pay for it. You can also pay a storage facility, RV dealership, state park, or maybe find a local church or friendly home owner you could offer to pay. Some large truck stops may have fresh water available for a fee as well. Pilot Flying J Travel Centers often have water available and we've even found water at smaller gas stations, but you'll need to verify that it's potable. There's also many water kiosks where you can pay about 25 – 30 cents a gallon.
A few products we recommend for your water supply are:
Having an additional water container, even just 7 extra gallons, can make a huge difference. It's much easier to drive your car to fill up 7 gallons, than have to take your entire RV. If you're worried about finding storage for a water container, there's collapsible ones too.
Even with filters on your RV's water lines, it's hard to find tasteless water. Sure, you can buy gallons or bottles at the store, but that feels wasteful and it's hard to find a spot in the RV to put all that water. The Berkey filter is the ultimate water purification system, you can even drink river or lake water, if you're brave enough! And hey, sometimes with boondocking, you might be that desperate!
Dumping Tanks
Finding a spot to dump tanks is a similar process to finding water supply. Again you're best bet is to find an RV park, campground, dealership, or truck stop and pay a fee. The Sanidumps website and app, as well as the AllStays app allow you to search for RV dump stations nearby. Truck stops and gas stations sometimes have RV dumps as well.
Power
If you're planning to boondock for more than just a few days, you'll need a power source. If you're boondocking in extremely cold or hot temperatures, you'll need to run a space heater or the air conditioner to stay comfortable. If you work on the road like us, you'll need to charge your computer and other devices. There are three basic ways we recommend getting enough power for extended boondocking stays:
Generator
Your RV may come with an onboard generator, Our first RV was a fifth-wheel and we had to purchase one separately. Our current motorhome came with an onboard propane generator, but we chose to bring along our gas powered one for additional power. The propane tends to burn quickly, so we like having the additional generator for back up. Plus, it's much easier to take the gas generator in our vehicle to refill it than it is to take the whole RV to refill the propane. This may be something you consider doing as well.
We highly recommend Champion brand generators. We've owned 2 different Champion generators and they are not only high-quality and affordable, but the company is unbeatable. We had a part break that they not only replaced it, but they also overnight shipped it to us all for free! They stand behind their product!
We purchased this one at Costco for a great price:
Amazon has a large selection of Champion generators as well.
Upgrade your RV's batteries
We're not experts and we haven't tried this on our RV yet, but many people have recommended upgrading your RV's batteries for longer usage. There's lots of options, but we've heard that golf cart batteries are a great and affordable option!
Solar panels
Solar panels are a great environmentally friendly way to increase your power supply while boondocking. RV batteries can only supply so much power and generators are loud and as we mentioned, can burn through propane and gas quickly!
Solar technology continues to improve and the price of solar continues to drop. Our Winnebago Navion came with 200 watts of solar already installed, so we purchased two of these panels and have been really happy. They are super light weight and were a breeze to install. You can get them right from Amazon here.
Other things to consider
Safety
We've never felt unsafe while boondocking. However, boondocking in desolate spots can put you at risk for encountering wild animals, put you out of cell phone service and far away from help in the case of an emergency. It's always good to take extra precaution. We recommend carrying bear spray, knowing where the nearest services are, telling loved ones your exact location, etc. We haven't heard a single boondocking horror story, so as long as your smart and careful, you'll be fine!
Pets
The same tips we wrote in this post apply to boondocking with pets. However, caring for pets while boondocking in extreme temperatures does add an additional challenge. You'll want to avoid leaving your pets behind in the RV unless you're able to leave your air conditioning or heat on the whole time.
Cellular service
Another challenge that boondocking presents is finding spots that still have good cellular service. Because, if you're like us, you don't want to be that off the grid. We work from the road and our jobs rely on good signal. Campendium reviews will sometimes have the cell signal listed, but that's not always the most reliable source.
The Coverage? app allows you to overlay and compare cellular coverage maps for AT&T, Verizon, Sprint, and T-Mobile. So before you travel to a new location, you can research whether or not you'll have signal. For us, we use a combination of Verizon and AT&T so rather than looking at both of the carriers websites, we can access it in one spot with the Coverage? app. There's also no internet needed to use the app – the coverage maps are saved for quick access!
If having good signal is important to you as well, we recommend getting WeBoost's Drive 4G-X, which is a powerful, professional grade 4G vehicle booster. The Drive 4G-X ensures that we get better voice and data with fewer dropped calls, improved voice quality, faster uploads and downloads, and allows up to 2 hours additional talk time in weak-signal areas.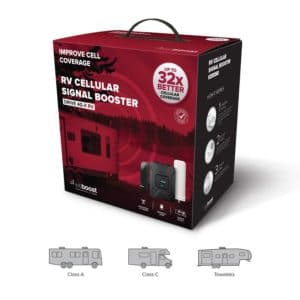 WeBoost boosts cell signals up to 32x and enhances 4G LTE and 3G signals for Verizon, AT&T, Sprint, T-Mobile, US Cellular, Straight Talk and more. All components needed for installation are included and all you do is plug the Drive 4G-X into the car's power supply and place the magnetic antenna on the roof. Click here to learn more about WeBoost and how it works.
One final tip…
A helpful trick for boondocking is to reserve 1-2 nights at an RV park or campground in between your boondocking adventures. This allows you to dump, fill up, and also scope out a spot using your tow vehicle so you don't spend all your time drying the RV around looking for a spot. If you have to pay for water or to dump anyway, you might as well take advantage of a night or two with hook ups to get prepared to go back into the wild!
We hope this guide helps beginner boondockers feel a little better about giving it a try! You can really save a lot of money while finding some beautiful spots with some peace and quiet. We'd love to know what awesome boondocking spots you've found or want to check out, as well as any other boondocking tips and tricks you have! Leave them in the comments below!
Here are some other posts you may like:
30 Must-Have Apps For Full-Time RV Living
5 Items That Improved RV Life For Us!
Learn From Our Mistakes: 4 Tips for Newbie RVers
Or sign up for our FREE 7-Day Email Course "How to Get Started Full-Time RVing"!