Enjoying the Sunny Shores of San Diego
When you think of San Diego, you may not immediately think of RVing. But, with nearly perfect weather all year round, beautiful beaches and plenty of family-friendly activities, San Diego is a great destination for an RV vacation.
What to Do in San Diego
Visit Balboa Park and the San Diego Zoo
Balboa Park spans a massive 1,200 acres and is home to 16 museums, beautiful monuments, and the world-famous San Diego Zoo. Opportunities to be outside and enjoy nature are nearly endless and it is a really cool experience to walk through the home of the 1915 Panama – California Exposition.
The best part? You can visit most of the park for free, which makes it a great place to spend time with the family. We really enjoyed the Museum of Man and encourage you to visit the top of the California Tower for amazing views of San Diego. Be sure to check the status of the tower, however. At the time of this writing, the tower was closed due to renovations.
Hit the Beach
San Diego's biggest attraction is its 70 miles of pristine beach and coastline. No matter your interest, the area's beaches likely offer something for you.
For us, we were huge fans of the opportunity to surf the perfect beginner breaks at Pacific Beach. We took lessons from Robb at San Diego Surf School and he showed us everything we needed to know in order to have fun and stay safe.
If you're traveling with your pooch, make sure you swing by Ocean Beach. Your dog will thank you for the chance to play alongside other dogs at the leash-free dog beach! You love the beach, why should your four-legged friend be kept out of the fun?
La Jolla Cove is another one of our favorites. The cliff walls and sea rocks make for beautiful photos and the manicured green space makes you want to spend as much time as possible outside.
Visit in the morning, then head to The Cottage La Jolla for brunch where you can enjoy the patio and delight in one of the best breakfast meals we've had in a long time.
Visit Coronado Island
No trip to San Diego would be complete without a trip to Coronado Island, the home of the famous Hotel del Coronado.
Hotel del Coronado is famous for being one of the last surviving wooden Victorian beach resorts and still is the second largest wooden structure in the country. The architecture is down-right beautiful and was designated as a National Historic Landmark in 1977.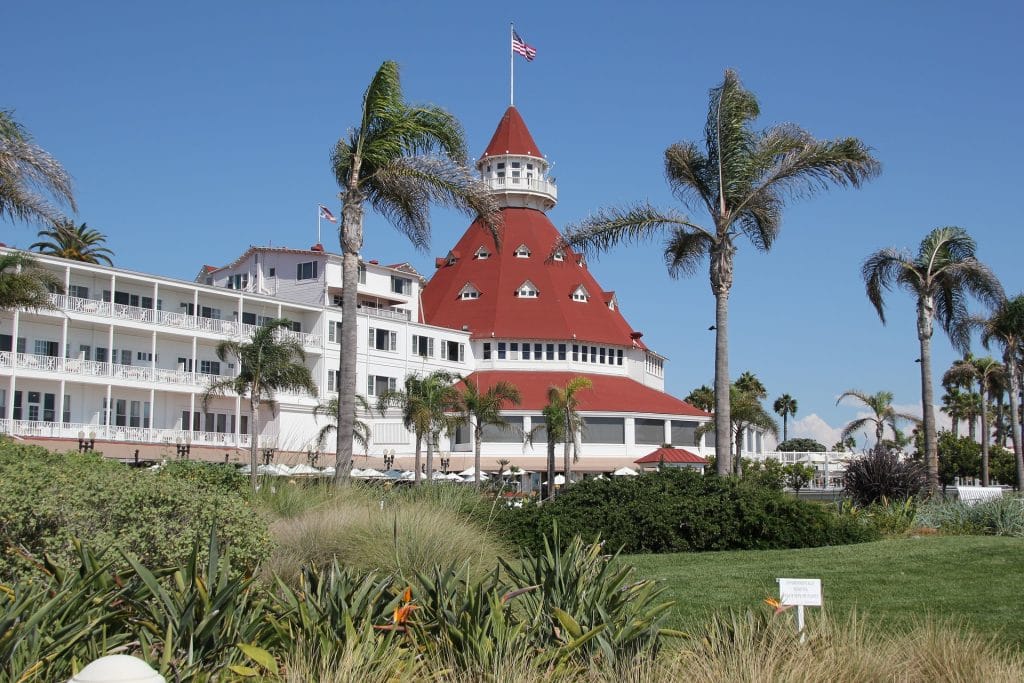 Coronado Island has a lot more to offer than just the hotel. There are beautiful beaches, great restaurants, shopping, galleries, etc. The neighborhoods are so well kept that simply strolling around the island is a treat. We recommend bringing or renting a bike as it is the best and most fun way to get around.
Watch the Sunset at Sunset Cliffs Natural Park
There is no shortage of great places to watch the sunset in and around San Diego. But if you enjoy being outside, Sunset Cliffs Natural Park is a great place to close out the day.
There are many trails to walk along and you can make your way down to the water. We really enjoyed standing on the cliff edges and soaking in the golden rays while listening to the soft breeze and the waves crashing in the distance.
Additional Activities to Enjoy
San Diego Brewing Culture
San Diego is home to some of the best craft breweries in the country, which makes it a perfect destination for beer enthusiasts like us.
You can find pioneering and award-winning breweries Stone, Ballast Point, and Karl Straus along with so many others. San Diego County has over 150 breweries, tasting rooms, and brewpubs and was named a "Top Beer Town" by Men's Journal. So yeah, if you love to experience a town by tasting the local brews, San Diego is a dream come true.
Downtown | Gaslamp Quarter | Embarcadero
Downtown San Diego is vibrant, beautiful and a great place to spend time day or night. Walk along the Embarcadero and visit the US Midway Museum and the famous Unconditional Surrender statue.
During the winter, hop on board a whale watching tour and see incredible gray whales in their natural environment.
Head over to the Historic Gaslamp Quarter in the evening for a night on the town. With restaurants, bars, clubs and everything in between, downtown San Diego has something for everyone.
If you're visiting during the summer, consider taking in a Padres game at Petco Park; it's one of the best places to enjoy a game!
Where to Camp
Unlike a lot of major metropolitan areas, there are great RV parks within the city limits. For this episode, we stayed at Campland on the Bay, which was great for several reasons. First, the location is really hard to beat. They have sites right along the waters of Mission Bay where you can experience incredible sunsets. They also have a small beach which is wonderful for the kids.
Secondly, you're centrally located which is really convenient. Campland on the bay is a 10-minute drive to Pacific Beach, 12 minutes to Seaworld, 15-20 minutes to the Embarcadero, and 20 minutes to La Jolla.
And lastly, the park itself is well maintained and has a lot of amenities. If the beach isn't your thing, enjoy the pool or spa, the rec room, beach volleyball or get adventurous at the skate park.
San Diego's a Great Place for an RV Trip
San Diego has a lot to offer RVers and is one of our favorite cities to visit by RV. With no shortage of great attractions for people of all ages, a great food scene, lots of cultures and famously good weather, consider San Diego as your next RV destination or check out our other RV routes and destinations.
More from the Happy Camper Bucket List
The Happy Camper Bucket List Ep. 1 – America's Historic Triangle