Our Route
We originally planned to stop in Idaho just as a midpoint between Oregon and Montana. But, when we heard about Coeur d'Alene, we decided to stay awhile and were pleasantly surprised by how much we loved it. You'll see from the map that this was our only stop in Idaho, but we will definitely be returning someday. We entered Idaho through Oregon and continued north when we left, which took us into Montana. If you're interested in seeing our stops and activities in those states, click on the state to be taken to their individual pages.
Camp Coeur d'Alene – Coeur d'Alene, ID
Where We Stayed
We couldn't believe we had never heard of this beautiful city or its incredible lake. We enjoyed it so much that we searched online for real estate properties! If we were ever able to purchase a lake house, we would definitely consider buying one on Lake Coeur d'Alene. Lake Coeur d'Alene is 25 miles long and absolutely beautiful!
We stayed at Camp Coeur d'Alene campground, which is 15 minutes from downtown Coeur d'Alene, steps away from the lake,  and around the corner from one of our most favorite hikes (see below). They have cabins, full hook up RV sites, tent spots, and lots of activities, including paddle boats, canoes, a pool. They also have free firewood so you can have as many campfires as you want! One thing to keep in mind, be honest about the length of your RV when making a reservation because some of the spots are a little tight.
What We Did and Loved
1. Kayak on Lake Coeur d'Alene
During our stay, we got to enjoy many of Coeur d'Alene's most popular activities. Obviously, in the summer months, getting on the water is a must. We rented a tandem kayak from Kayak Coeur d'Alene and we couldn't have had a better experience. They are located downtown so you can enjoy a meal before or after. Best of all, they shuttle you right to the shore, carry all of the equipment, and pick you back up when you're ready. They even include a waterproof bag for you to use! We loved the area of the lake that they recommended. It was so peaceful and calm and offered great views of nature and wildlife. We highly recommend renting from them if you're in the area and are looking for an easy, convenient, and affordable way to get on the water.
2. Take a Lake Cruise on Lake Coeur d'Alene
Since a paddle boat and a kayak couldn't get us all around Lake Coeur d'Alene, we wanted another way to see all the different unique parts of lake. Therefore, taking a scenic cruise with Lake Coeur d'Alene Cruises was the perfect solution! We cruised around for 2 hours while hearing interesting history and facts about the area and seeing some of their famous sights and houses (including the world famous floating green at the Coeur d'Alene Resort Golf Course). While soaking up the sunshine and scenery, we could also enjoy a beverage from their full service bar. Next time we're in town, we want to try their sunset dinner cruise or Sunday brunch cruise. They also have summer concert cruises with bands on the boat! Another fun and enjoyable way to get on the water!
3. Enjoy a Scenic Hike
The Mineral Ridge Scenic Trail hike was one of our favorite hikes we've ever done. The trail head was around the corner from our RV park of Hwy 97. The trail was easy to follow and the views were fantastic! We loved it so much we did it twice just so we could see the views during sunset! We decided to have a picnic at the top during sunset and that was a really fun experience. The 3.3-mile trail is easy, although a little steep, and dog-friendly. There are benches at the top to rest and take in the views. If these photos don't convince you, we don't know what will!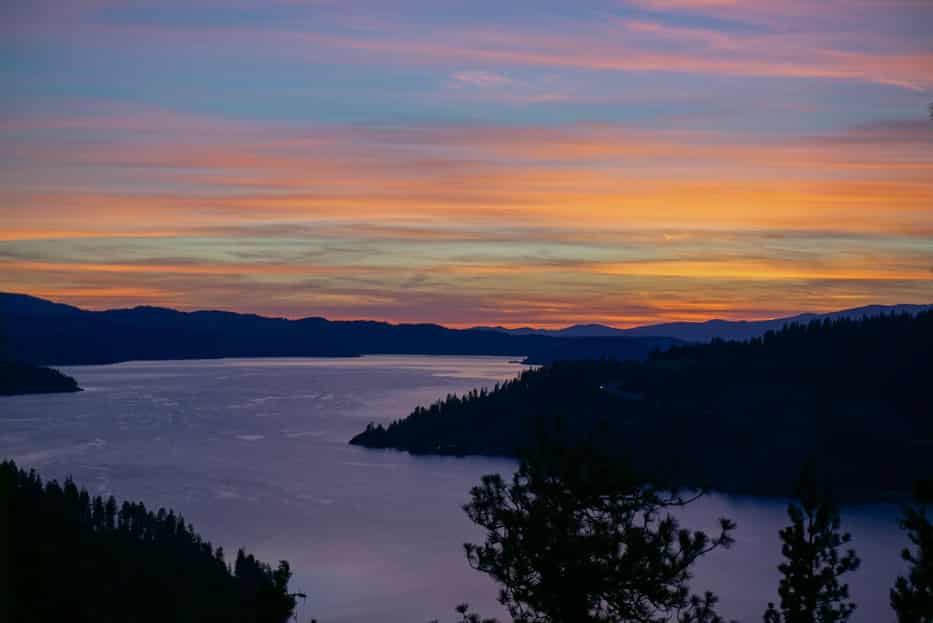 4. Go Fly Fishing on the Coeur d'Alene River
We love to incorporate fly fishing into our travels and Coeur d'Alene is a fisherman's paradise! Clearly, Lake Coeur d'Alene offers great lake fishing, but travel 15-20 miles east of town and you can fly fish the North Fork of the CDA river. This beautiful river flows through the Coeur d'Alene National Forest and offers anglers the chance to experience incredible "dry fly" fishing. Dry fly fishing is great from Memorial Day weekend all the way through October. We caught some fish, but more importantly, we enjoyed the crystal clear water, seeing a bald eagle swoop over our heads and being outside in the Idaho mountains. There are plenty of guided tours available, or you can head out on your own. The River Fly Shop is a good place to stop at before hitting the river to get the latest fishing report. It's right by the river and also next to the Snake Pit, which is a unique place to stop for a beer and a piece of pie after you catch some trout!