New Mexico is such a unique state. It's full of beauty and open spaces, but also it's own culture. It truly has something for everyone, whether you love outdoor adventure, food, or art. We visited the state two separate times, which is why the map shows points, rather than a route like our other RV destination pages.
Our Stops
WHERE WE STAYED AND WHAT WE DID

White Sands National Monument
We stayed over night at the Walmart in Alamogordo (which was one of our favorite Walmart stays) and took a day trip to White Sands, and highly recommend spending at least 2 days in the park. While you can drive through most of the park, like we did, you miss out on a lot. Go sledding on the dunes, stargaze, explore the trails, and get the full experience. We definitely will next time we go back. The sand really is as white as snow and with the mountains in the distance, you won't believe how beautiful it is!

Carlsbad Caverns National Park
We didn't know quite what to expect to see in Carlsbad Caverns, and this national park wasn't really on our radar to visit. But the moment we stepped inside, we wished we had seen it sooner. Don't expect to spend less than 3 hours in the caverns, because there's something unique and beautiful around every corner that you will have to stop to "ooh and ahh" over.
You can take an elevator 850 feet down into the caverns and/or back up to the ground. Or, you can walk the trail both ways. Keep in mind the trail up is strenuous, which is why the wait for the elevator back up can be as long as 2 hours! The trail inside the caverns is paved and easy to walk, but also dark, so it's slow moving. But you won't want to rush your experience anyway because you can't believe that it's even possible to be where you are!
In the spring and summer months, you can watch the bats fly out all at once right at dusk! There's camping inside the park or plenty of boondocking right outside the park. We parked here which was super convenient and easy to access. However, Carlsbad Caverns could also be a stop along your route, since you won't really need more than 1/2 a day at the park.

Santa Fe
Santa Fe is one of our favorite U.S. cities. Our first visit to Santa Fe was for the Burning of Zozobra Festival in September. The event seemed so interesting because of its long history and it ended up being such a unique, memorable experience. Zozobra, or "Old Man Gloom" is a 50-foot-tall marionette stuffed with hundreds of bags of shredded paper. The locals and attendees place any forms or documents that represent their bad luck, such as divorce papers or police reports, into the "gloom box". This is then shredded, placed inside Old Man Gloom, and burned for all to see!! Witnessing the many sorrows go up in smoke along with Zozobra himself is creepy, but a fascinating sight to see! Watch our quick video to get the whole effect and visit the event's main website for more details. If you can plan your travels to Santa Fe during this festival, we highly recommend it!
It wasn't just this event that made Santa Fe so memorable, though. The entire city itself has so much to offer! You can get lost for hours enjoying the charming art culture, delicious food, and history. Even just the sight of the adobe architecture backdropped by the Sangre De Cristo mountains and its southwestern style makes this place a must-see!
On our return trip to Santa Fe in our RV, we stayed for FREE at the Camel Rock Casino. It had a separate lot for RVs and was nice and quiet! It was about a 20-30 minute drive to Santa Fe, which wasn't a problem for us, but there are plenty of RV parks closer to town.
Here are a few other activities we enjoyed and recommend:
Cross of the Martyrs at Sunset
Accessible via a mild hike along a walkway or by car, this beautiful and historic cross sits atop a hill on the historic Eastside. It offers incredible west-facing views of the city, making it the perfect place for sunset.
Loretto Chapel's Mysterious Staircase
This former Roman Catholic church was featured on Unsolved Mysteries and is therefore now mainly used as a museum. The church's unusual helix-shaped spiral staircase is called "The Miraculous Stairway" because of its unknown means of support. It can be a quick stop to snap a photo, or you can explore the museum in depth, depending on your time and interests.
Santa Fe Brewing Company
The state's oldest microbrewery features a tasting room, a fun patio, and offers tours of its facilitates once a week. It's a bit of a drive from the center of town, but worth it! You'll enjoy delicious beer, a laid-back crowd, and wide-open space to enjoy the weather, corn hole, and Santa Fe sunsets.
Santa Fe Farmer's Market
Voted one of the "Top Ten Farmers' Markets" by Sunset Magazine, it's also one of the oldest, largest, and most successful markets in the country. With over 150 farmers and producers, you're bound to find something you love! We rode our bikes there, strolled through the stalls, ate lunch, and had a great time. Best part – the market is open year round! Be sure to check their website, though, because the days and times vary throughout the year.
Frank S. Ortiz Park
This is a beautiful public park close to downtown where you can enjoy lots of walking trails with beautiful views. Plus it's dog-friendly! The park's off-leash areas allowed us to get the dogs some exercise too. It's approximately 135-acres so there's lots of roaming and exploring for your whole family to enjoy!
Exploring Downtown on Bikes
Whether you bike or walk, there's so much to see in downtown Santa Fe. We loved the Santa Fe Plaza, which is the central gathering place and truly the "heart" of the town. It's filled with cultural shops, a variety of restaurants, and also hosts a variety of events and festivals throughout the year. Before you plan your trip, we suggest checking out the events that the Plaza hosts and choose one to plan your visit around.
Meow Wolf
Not even sure how to describe Meow Wolf. Google's describes it as a place with "unique & immersive art installations with multimedia elements & a mysterious narrative throughout". We would describe it as an escape room meets an imaginary fantasy fun house. Basically, you walk around and get lost going from room to room (sometimes through secret passageways like the refrigerator or dryer) and get to enjoy incredibly unique and interactive art exhibits. You really have to experience it to believe it! Hopefully the photos help paint a picture for you though.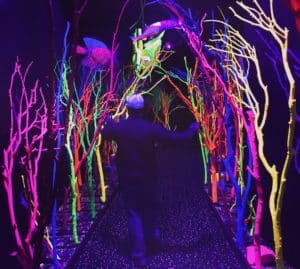 Ojo Caliente Mineral Springs Resort & Spa
Everyone needs to treat themselves sometimes. We couldn't believe that this resort also had an attached campground! Staying at a campground that is steps from a mineral springs spa is true glamping! But these aren't just your typical hot springs…
Ojo Caliente is one of the oldest natural health resorts in the country the only hot springs in the world with four different types of mineral water – including lithia, iron, soda, and arsenic. They have 12 different pools, some of which are private pools with fire places that you can rent to have all to yourself.  You can lay by the main, large pool and sun tan all day and then soak in the smaller, hotter pools under the stars at night!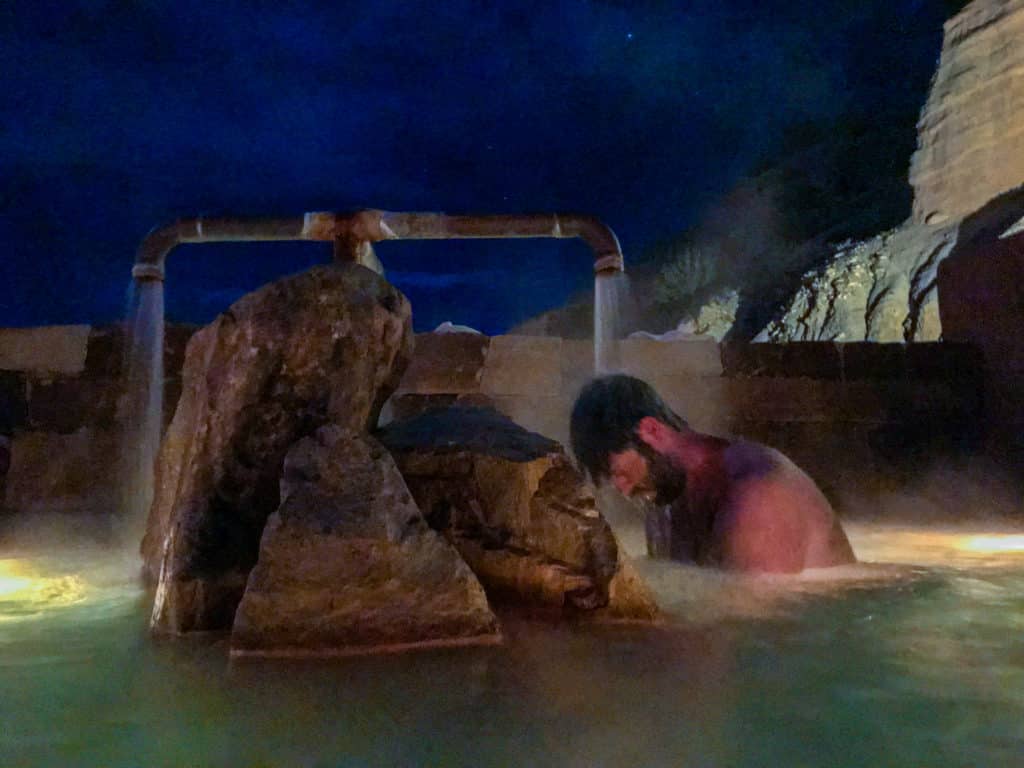 Along with the mineral pools, the spa offers a variety of other services – massages, skin care therapy, and restorative body therapies. And yet there's still more. The resort has a wine bar + lounge and an on-site restaurant that was ranked #2 on USA Today's list of "Ten Best Restaurants in the Santa Fe Area". The food is made with farm-to-table ingredients from the resort's own 2-acre "Ojo Farm", which that has been under cultivation for centuries. This place really has it all and you'd be crazy to visit New Mexico without a visit there!
Visit the resort's website to book your stay.