Texas is a wonderful state to take your RV. It's such a huge state that there is definitely something for everyone. From world-class cities to beaches to plains and deserts, you can pretty much find anything in Texas. We spent almost two months in the Lone Star state, and we feel we only scraped the surface of everything this wonderful state has to offer. Below you will find our RV route, the places that we stayed and some activities that we really enjoyed!
Pin this for later:
1. Lake Livingston State Park

The main reason we went to Livingston was to change our domicile. Escapees RV Club is located in Livingston, TX, and therefore so is our new address. We traveled to Livingston to register our vehicles and get our drivers licenses in person. Click here if you want to learn more about changing your domicile to TX. Although we visited Livingston on official "business", we really enjoyed Lake Livingston State Park.

The park offers lots of camping and water activities. After arriving at the park, we decided to upgrade our site to one of their waterfront sites, which was really beautiful.  Unfortunately, the weather was pretty bad during our time so we didn't get the opportunity to do very much. Nonetheless, the lake and campground are beautiful, and if you're headed to Livingston, this is a great place to stay!
2. Austin
Austin is one of the fastest growing cities in the U.S. for a reason… well for many reasons. On a trip to Austin, you'll no doubt experience great food, great music, and great people. We have visited Austin many times over the years, but this was the first time bringing the RV. Some of our best friends live in Austin. They allowed us to park our RV at their house, which was nice because Austin doesn't have an abundance of places to park your RV. While not plentiful, there are some great options that we want to try on our next trip.

Pecan Grove is an RV park right in the heart of things near Zilker Park that we'd love to stay at in the future. The location of this RV park is one of the best we've ever seen for exploring a city. It is literally right next to a brewery and BBQ restaurant and only minutes away from some of Austin's most popular activities. From what we've been told, it can be difficult to get a spot there, though. If you're heading to Austin and you want to be in the city, definitely give this place a call.

Another option for RV parking near Austin is McKinney Falls State Park. McKinney is a beautiful state park and is only about 20 minutes away from downtown Austin.
What We Did and Loved
Kayak on Lady Bird Lake
Lady Bird Lake runs right through downtown and is a must visit when in Austin. There are great trails for walking, running and biking, but it is also really easy to get out on the water, too. We rented kayaks and made our way up and down, taking in the city skyline. It's really peaceful and a great way to get a slightly different perspective of the city. You can rent kayaks, paddle boat, canoes or SUPs.
Swim at Barton Springs
Barton Springs is a great place to cool down during the Austin heat. This three-acre pool is located within Zilker Park and is a must visit while in Austin. The pool maintains an average temperature of 68-70 degrees Fahrenheit which makes it incredibly refreshing during the summer. Be aware, tops are optional so you may see more than you bargained for :). There is an entrance fee and the pool is closed once a week. Check here for all of the information.
Enjoy Zilker Park
New York City has Central Park, Los Angeles has Griffith Park, and Austin has Zilker Park. Zilker Park is a fabulous place to enjoy the weather, get some exercise or just relax outdoors. It runs along Lady Bird Lake so you can stroll along the river banks or enjoy the vast expanses of open area. One of our favorite things about Zilker Park is that it's off-leash park so your dogs will have just as much fun as you do. On any given day, you will see thousands of people running, biking, playing fetch with Fido, sunbathing and walking along Lady Bird Lake. It's hard to explain, but each time we visit Zilker Park, it just makes us happy.
Watch the Sunset at Lake Travis
Lake Travis is a reservoir on the Colorado River about a half hour drive from downtown Austin. There are tons of activities to do that are worth researching such as boating, hiking, fishing, etc. But, we didn't have a lot of time so we simply drove to the lake to enjoy the sunset and it was AMAZING. There are a couple of wonderful places to sit back, relax and enjoy the show. The Oasis and Oasis Texas Brewing Company are two good choices.
Grab Drinks at the White Horse
There are so many great bars, restaurants, and venues in Austin that recommending just one seems a little silly. But, we're going to do it anyway! We love The White Horse and don't consider a trip to Austin complete until we visit and enjoy a "Texas Two Step" (shot of whiskey and a Lone Star) and hear an awesome band. We rarely go dancing, but we always find ourselves two-stepping the night away at the White Horse!  We can't tell you that the White Horse is the best bar in Austin, but it is definitely our favorite.
3. Fredericksburg
Where We Stayed
We stayed at the Texas Wine Country Jellystone RV Resort. This RV resort is one of the best that we've stayed at. Its location is fantastic. The resort is located on Hwy 290, right in the heart of wine country, which makes it the perfect home base for exploring the area. The resort grounds are really well maintained and there are tons of amenities. There's a resort style pool and hot tub, large off-leash dog area, a beautiful club room with pool tables, and much more. Most importantly, and the thing that you'll notice right away, is how nice and friendly the staff is. They take pride in their resort and work tirelessly to make you feel comfortable – they even give you sample Wine-o-ritas when you check in!
What We Did and Loved
Wineries
Fredericksburg is in the heart of Texas Hill Country's wine region, which is home to over 45 wineries and vineyards. We really enjoyed our experience at Hilmy Cellars, Grape Creek Vineyards, and Messina Hoff. Don't think to much about it, just go and have fun and enjoy the beautiful country-side!
Old Tunnel State Park
Old Tunnel is popular spot because it is home to more than 3 million bats. From May to October, you can see the bats up close and personal. If you're not there during those months, it's still worth visiting because of the Alamo Springs Cafe. This eclectic eatery features homemade dishes, an honor system for beverages and an outdoor patio with a stage for live music. This place gets really busy so expect a wait, but it's a fun experience.
Enchanted Rock State Park
Enchanted Rock State Park is Located 30-40 minutes from Fredericksburg but is well worth the trip. Enchanted Rock is a giant pink granite dome that rises out of the earth, seemingly from nowhere. The hike to the top is a little strenuous, but the views make it all worth it. We did the hike near sunset and it was amazing.

From the top, the 360-degree panoramic views of the hill country will blow you away! Just don't stay up there too long soaking in the views, you wouldn't want to hike back down in the dark. Also, FYI – dogs are not allowed to the top of Enchanted Rock so it is best to leave them in the RV for this one :(.
4. San Antonio
What We Did and Loved
We took a day trip to San Antonio from Fredericksburg, which was about an hour and a half away. Like most first time visitors, we headed straight towards the River Walk and the Alamo. We only had a couple of hours but we can't recommend it enough. We were blown away by the beautiful trees, flowers and bridges that stretch the length of the River Walk. Certainly, there are great restaurants and bars to enjoy and there is a vibrancy in the air that is hard to ignore. Our only regret is that we didn't plan more time to spend a couple of days in the area.
5. Bolivar Peninsula
Where We Stayed
The Bolivar Peninsula is great for RVers because you can camp directly on the beach! And, what's even better is that it's free! Each vehicle must have a beach camping permit, but other than that, there is no charge. The permit is $10 per vehicle and is good for the entire year!  Here is approximately where we camped for the week.
What we Did and Loved
Relaxed at the Beach
What would be the point of parking your home on the beach if you don't take the time to enjoy it? We enjoyed letting the dogs play in the water, watching beautiful sunsets and catching some rays while listening to the sound the waves crashing.
Day Trip To Galveston
You can go to Galveston easily by taking the free ferry from Bolivar. We really enjoyed driving up and down Seawall Blvd and visiting the historic Downtown Strand. If the weather had been better, we would have gone to the Galveston Island Historic Pleasure Pier because the ferris wheel looked really fun!
6. Big Bend National Park
Where We Stayed
We spent more than a week in the Big Bend National Park area and loved it. Several of those nights were spent inside the park, while others were spent outside in some really unique little towns.
Rio Grand Village Campground
We highly recommend staying in multiple locations within the park. Big Bend is large and you have to drive a lot if you want to see everything. We were lucky to divide our nights between two of the three developed campgrounds. The first was Rio Grand Village and was great because it is the only place in Big Bend where you can run your generator for specific hours during the day. We have dogs so it was important for us to know we could leave them in the RV with power and air conditioning. This campground is the closest to the hot springs and to the Boquillas Crossing so it's very convenient for those activities.
Chisos Basin Campground
We spent two nights at the Chisos Basin Campground. This campground has to be one of the most scenic campgrounds that we have ever been to! There are no hookups and you are not allowed to run your generator (according to the ranger), but this is the most convenient campground for visiting this section of the park. We really enjoyed the Window and Lost Mine Trails, both of which were super easy to get to. Be aware, RVs over 24 feet or trailers over 20 feet are not recommended due to the narrow, winding road to the Basin and the small campsites in this campground.
Study Butte RV Park
Study Butte RV park is the closest RV park to Big Bend National Park. The park is fairly basic, but it does offer full hook-ups. The location is great, though. We found it extremely convenient for visiting Terlingua, Lajitas, and the west side of the National Park (Santa Elena Cayon). There is a fully stocked grocery store across the street and the cell service is pretty good which were welcome sites after spending five nights in the park!
What We Did and Loved
Boquillas Crossing
At the Boquillas Crossing, you can cross the Rio Grande to visit the small Mexican town of Boquillas. This was a perfect way to spend an afternoon and we really enjoyed our experience. First, you go to the Boquillas Crossing Port of Entry. Once you pass through, you walk towards the Rio Grande River where you cross via boat or by walking across (we walked). Once across, you will have the option of renting a donkey, paying for a ride in a pickup truck or walking the 1/2 mile to the town. We opted to ride the donkey on the way there and walked on the return.

Once you arrive in Boquillas, there are souvenir shops, a couple restaurants, and a B&B.  We ate and drank margaritas at Boquillas Resturant and it was really good (strong margaritas 🙂 ). If you plan to do this activity, be sure to check all of the details and information here so you know the hours, requirements, etc.
Hot Springs at Sunrise
We hiked in darkness along the trail to the hot springs. We thought it would be cool to watch the sunrise while soaking in the springs, and we were not disappointed! The hot springs are perched on the edge of the Rio Grande. The sound of the river makes soaking in these springs even more enjoyable!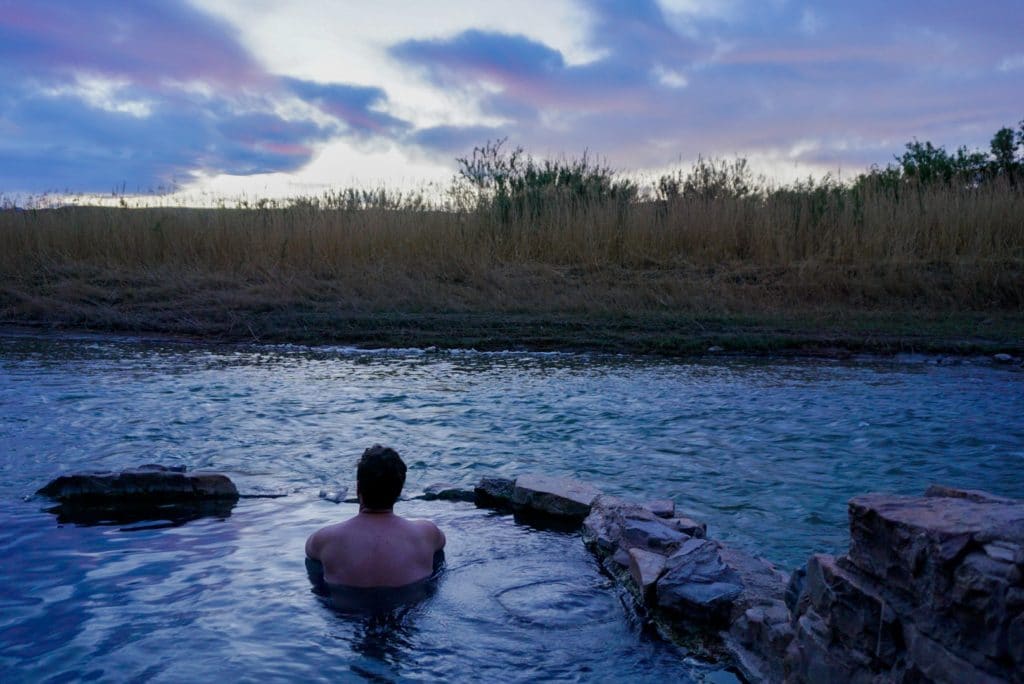 Lost Mine Trail
The Lost Mine Trail is one of the most popular trails in Big Bend. Those that hike this trail are rewarded with spectacular views throughout, but especially when you reach the top. This trail is a bit strenuous, but it's totally worth it!
The Window Trail
The Window Trail is a fun hike that leads you to a narrow pouroff, which overlooks the surrounding Chihuahuan Desert. This pouroff is the "Window" and is very narrow, but the views are incredible. The trail is pretty easy, although it's entirely downhill on the way to the Window and entirely uphill on the way back. We chose to do this hike so that we would arrive at the Window at sunset. This was beautiful but meant that we hiked back in the dark. We didn't encounter any problems, but there was definitely evidence of coyotes or mountain lions on the trail, which made us very nervous (Dan especially). Whenever you choose to do the hike, it will be very enjoyable, but be prepared that you may encounter wildlife.
Ross Maxwell Scenic Drive to the Santa Elena Canyon Trail
The Ross Maxwell Scenic Drive has been named one of the best drives in Texas. This 40ish mile stretch takes you through the area's most scenic landscapes and ends at the breathtaking Santa Elena Canyon. The canyon was incredible and we loved hiking the short trail which takes you up the canyon and leads you down to the water of the Rio Grande. Once we arrived, we felt like we had found a little oasis. We sat and admired the beauty of the river and the canyon walls. It was really nice!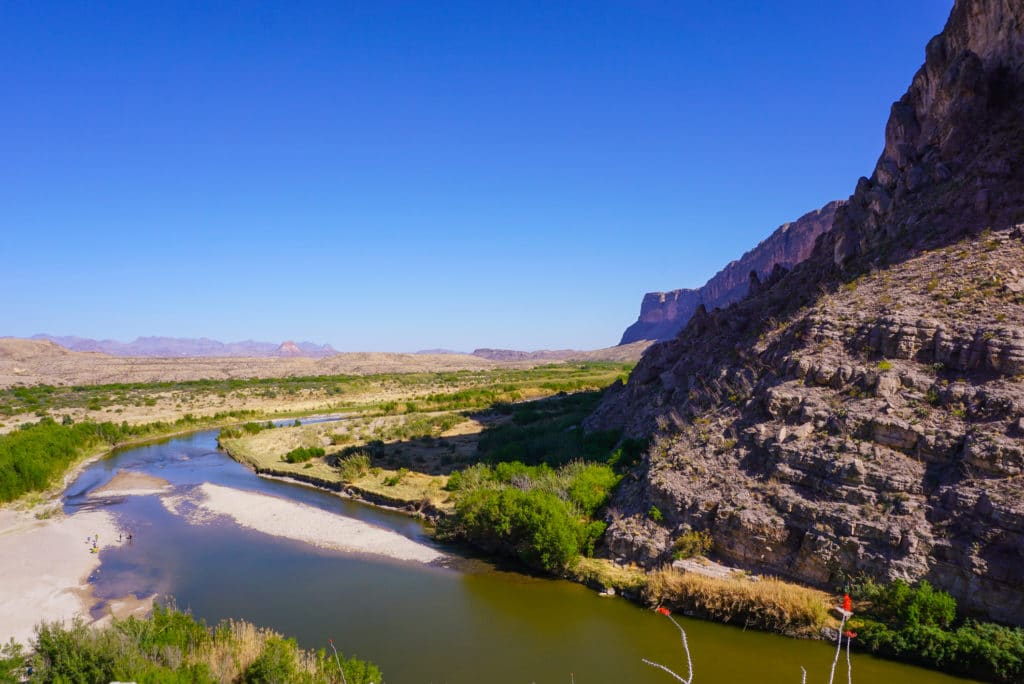 7. Marfa
Marfa Lights Viewing Area
We spent one night at the Marfa Lights Viewing Area and it was really fascinating. It was also free, so that was great! We'd never heard of the Marfa Lights but found ourselves fascinated by the mystery of it all. In addition to being a great spot to view the lights, this rest area was a wonderful location to explore Marfa, which truly is one of the most interesting places that we've been to. Marfa is a small town, seemingly in the middle of nowhere, that is home to amazing artist and gourmet restaurants. We didn't really do much other than just walk around and explore, but it was well worth the trip. Also, on the way from Marfa to Fort Davis, we stopped at the famous Prada Mafa display which was pretty neat. The whole thing just adds to the strangeness/uniqueness of the entire area!
8. Fort Davis
Where We Stayed
We stayed at the Historic Prude Ranch and found it to be a really beautiful and relaxing place to park. We didn't really do much at the ranch but they do offer lots of activities and they have a restaurant on site. They also accept Passport America for one night which makes staying there extremely affordable!
What We Did and Loved
We went to Fort Davis for one reason and one reason only… STAR PARTY! During our time in Texas, people kept telling us that we should visit the McDonald Observatory and attend a star party. We (especially Dan) were immediately interested because we figured that we like parties and we like stars so it had to be a great time. Although the star party wasn't exactly what we had hoped (let's just say it wasn't really a party 🙂 ), it was still a good experience and something that we would recommend. This part of Texas is absolutely beautiful and a place that we would like to return to since we only spent one night in the area.