Since we started full-time traveling in our RV, we have noticed that everyone loves Colorado! Since Colorado is our home, we already know it's AMAZING so this doesn't surprise us. What does surprise us, however, is when our home state manages to outdo itself, even after all of these years. Which is exactly what happened when we recently took the RV to Estes Park, CO for 4 days. We stayed at Jellystone of Estes Park, which was really nice and provided us easy access to everything that Estes has to offer. Even though we had visited years earlier, we had forgotten about how beautiful the scenery is and how quaint and charming downtown is.
Estes Park is approximately an hours drive northwest of Boulder. The city is most famous for its close proximity to Rocky Mountain National Park and for being the home of the Stanley Hotel. The Stanley Hotel is often referred to as America's most haunted hotel and was the inspiration for Stephen King's The Shining. Both of these "attractions" are incredible and are must do's while in Estes, but the city and surrounding areas have even more to offer, especially for RVers!
Here are 5 reasons why you should make Estes Park part of your Colorado travel plans!
1. You can drive to the top of the mountains!
Trail Ridge Road in Rocky Mountain National Park is the highest continuously paved road in the United States. It connects Estes Park to nearby Grand Lake and reaches an elevation of 12,183 feet! During the summer months, visitors can drive this road and experience unforgettable panoramic views! There are many turnoffs along the way that provide amazing photo opportunities as well as trails and hikes right from the road!
2. You can see wildlife up close and personal
Spotting wildlife in Estes Park is extremely common. Elk, moose, deer, bears and big horn sheep all make their home in the surrounding forest. Many people specifically come to Estes Park because they want to see the large herds of Elk. Elk play a prominent role in Estes Park. Each fall to celebrate the annual elk rut, the town hosts Elk Fest, a weekend full of educational and fun activities. If you're interested in elk, the fall is a wonderful time to visit Estes Park!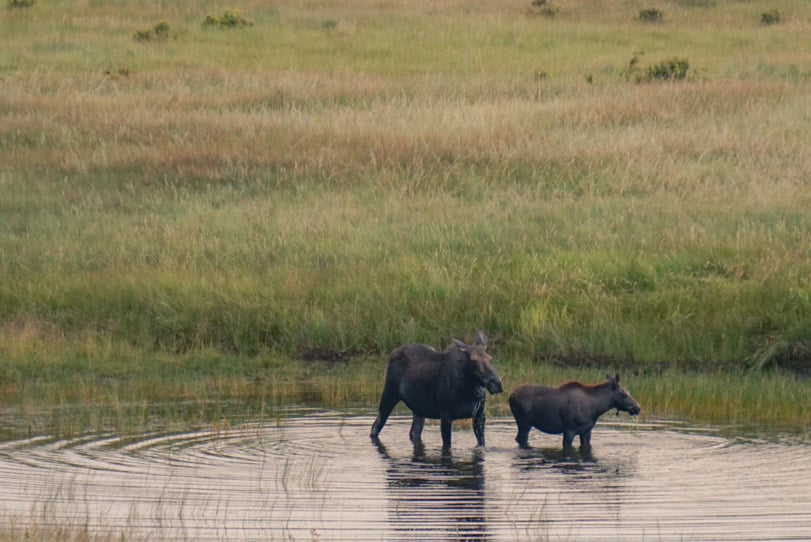 3. You can experience the supernatural
The historic Stanley Hotel is one of the most interesting hotels in America. The hotel came to pop culture prominence after Stephen King wrote The Shining, which was inspired by a stay at the Stanley. Many people (Jim Carrey) have said that they have experienced the supernatural while staying in the hotel, especially room 217. Should you be interested, the hotel offers night tours where you can find out for yourself if it is haunted!
Another great reason to visit is the Whiskey Bar. Besides the whiskey, you can visit the bar where Jim Carrey's character gets stood up by Mary in Dumb and Dumber. This was WAY more appealing than the ghost for us (although Lindsay claims she captured a spirit in some of her photos 🙂 )Oh, and the amazing views might are pretty cool too!
4. You can enjoy a drink with a view, buy a souvenir or eat candy till your stomach hurts
Estes Park is a charming mountain town, largely because of the vibrancy of the downtown area. Downtown has everything any visitor could need. There's a beautiful river walk where you can grab coffee, shop or eat. The main drag is lined with stores, restaurants, and most importantly, lots and lots of candy and ice cream shops. Seriously, there are so many, our mouths were watering the whole time!
5. You can hike for days!
Outdoor enthusiasts will love exploring Rocky Mountain National Park. The park covers 415 square miles and features over 300 miles of trails so finding a great hike is really easy. Our favorite was the hike to Emerald Lake. This 4 mile (ish) hike will take you to/by 4 beautiful alpine lakes as well as offering sweeping mountain views. Be advised that this hike is very popular and draws many visitors each day. Get there early or consider using the parks shuttle services.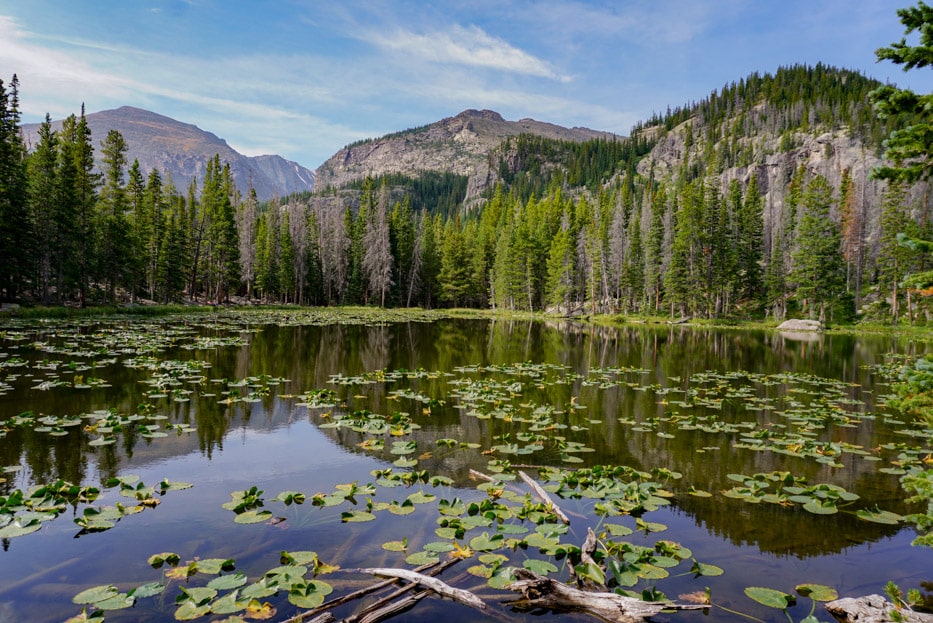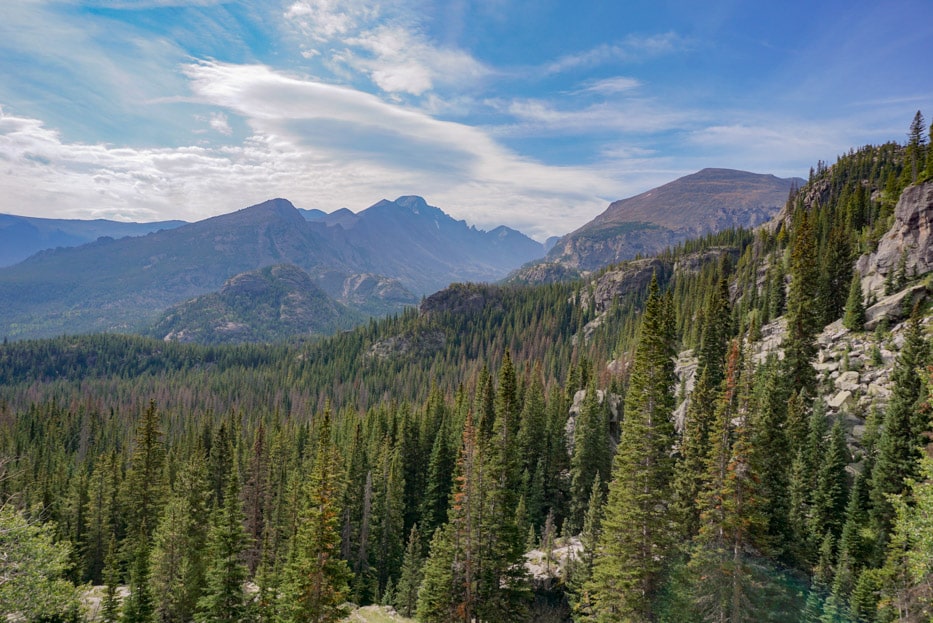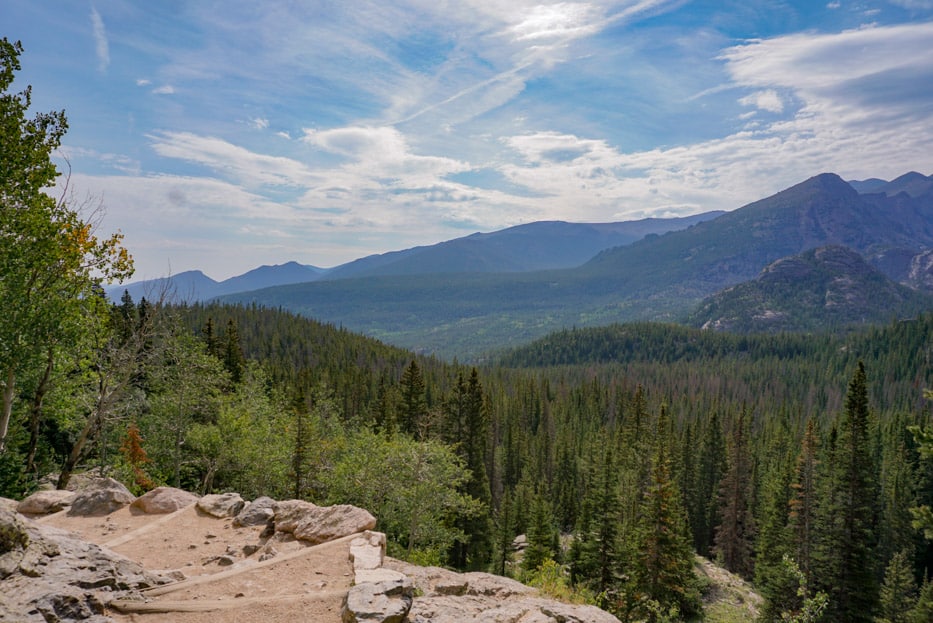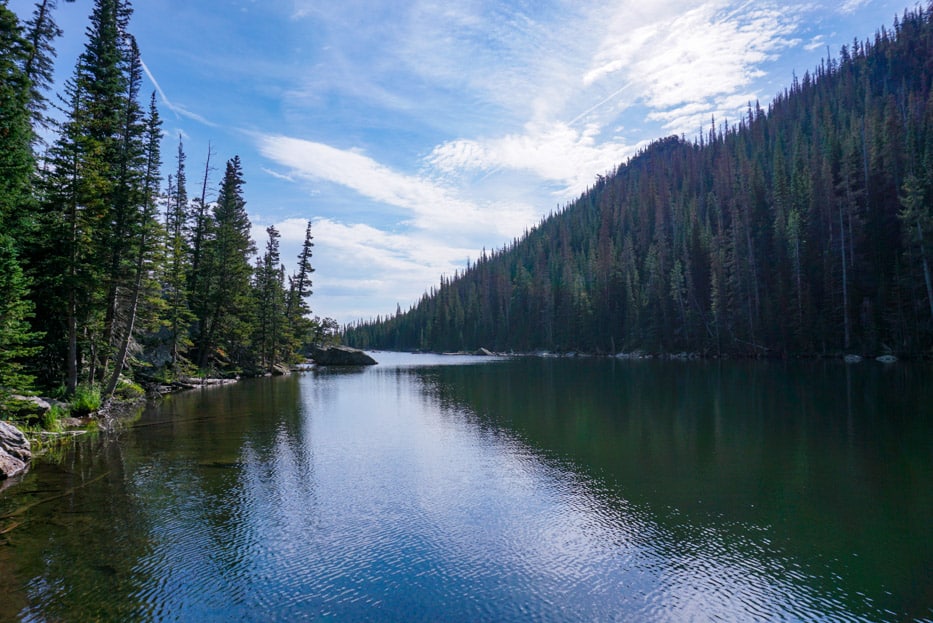 After our visit to Estes Park, we decided that it was one of our favorite places in Colorado! We truly believe that it offers something unique and is different from many of the other towns in Colorado. If you are thinking of visiting Colorado, especially during the fall season, consider putting Estes Park at the top of your list!
Have you been to Estes Park or to Rocky Mountain National Park? Did you enjoy it as much as we did?Tell us below what was your favorite activity or feel free to ask us a question.
---
Pin this for later! Click here or on the pin below to be taken to Pinterest!