Disclosure: This post is a paid partnership with Travel Iowa. While we received complimentary or discounted services during our stay, all opinions expressed in this article are our own.
The first thing we noticed when we pulled into Charles City was the town's slogan, "America's Hometown". It's right there on the sign that welcomes you. It adorns each of the banners hanging from the light fixtures lining Main Street.
I'll admit it. The nickname seemed like a big claim for a small town in Iowa.
What we found, however, is that Charles City is exactly what should come to mind when thinking of small-town America in the 21st century.
The characteristics that are often romanticized in movies and country songs are alive in and well in Charles City. The people are friendly and welcoming, there's an evident sense of pride in the town's appearance, and emphasis seems to be placed on a good quality of life.
Rather than holding on to the past and idealizing the "way things used to be", Charles City is pushing forward, blending old ways and values with a constantly changing world.
The result is a charming small town that has a lot to offer, especially for visitors looking for a weekend getaway.
6 Great Things to do in Charles City
1. Charles City White Water Park
One of our favorite things about Charles City is the Whitewater Adventure Park. Located in the heart of downtown, Iowa's first whitewater park has three features that open a world of possibility for kayaking, river surfing, tubing, and stand-up paddleboarding. There is no charge to access the park and it is open to people of all skill levels (just make sure to wear proper equipment). You can even rent equipment if needed by contacting the Charles City Chamber of Commerce.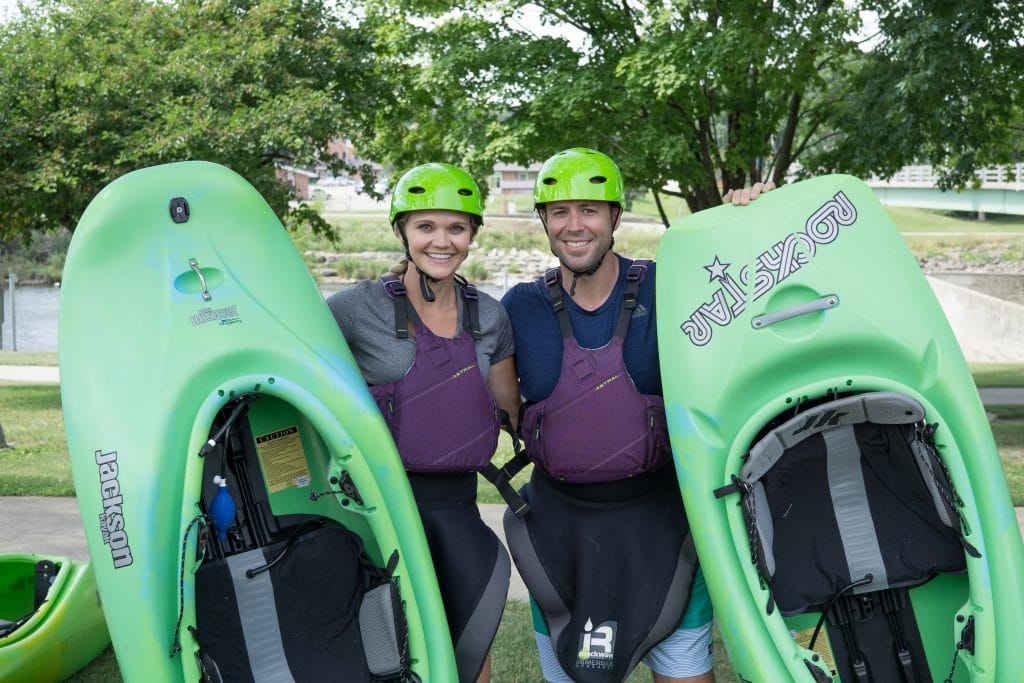 2. See a Movie at The Charles Theater
The Charles Theater is a beautiful, Art Moderne style theater built in 1935. The colorful faced building is wonderful and is an icon on Main street.
There's more to the theater than beautiful aesthetics, however. The theater offers daily showings of current movies. It might be home to the best deal in America, too. Ticket prices are just $2 and the concessions are incredibly reasonable. Don't miss your chance to relive history and see a great movie while in Charles City.
3. Take a Stroll Along the Cedar River
For such a small town, we were really impressed by the trails, parks and open spaces, especially along the river. Start at the Charles City Suspension Bridge and walk towards town. From here, you can enjoy a beautiful paved trail for nearly a mile, ending at Merten J Klaus Park. It's a really nice and a great way to pass the time.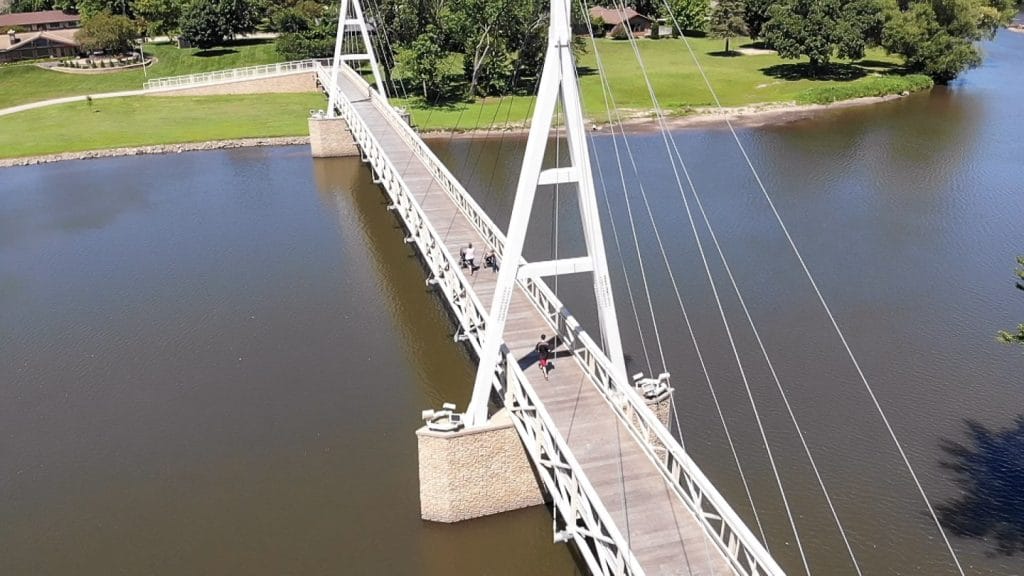 4. See the Mooney Art Collection
Tucked inside the public library is a fantastic art collection with original prints from some of the world's most renowned artists. Arthur Mooney spent his childhood in Charles City and bequeathed his impressive art collection to the city. Works by Picaso, Dali and Rembrandt can all be found in the Mooney Art Collection.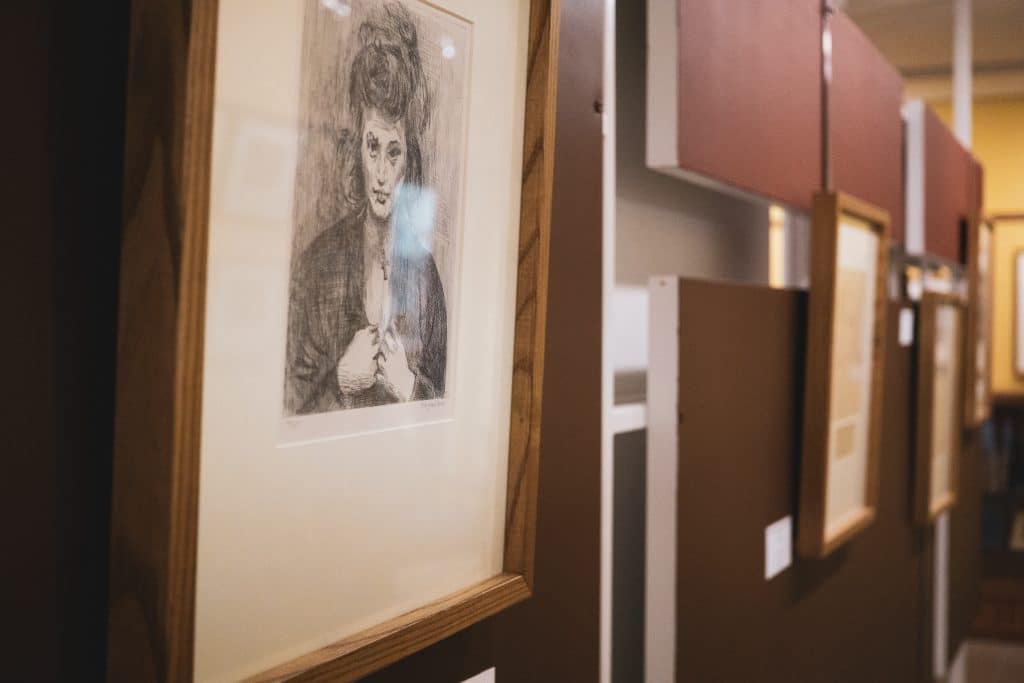 5. Play Tennis at the All Iowa Lawn Tennis Club
What would you say if I told you that there was an all-grass tennis court that resembles Wimbledon's Centre Court in the middle of an Iowa family farm? You might say that I was telling you the plot of Field of Dreams, but that I got the sport wrong. You'd be wrong, though. There is a grass tennis court in the middle of a family farm and it's one of the most remarkable stories we've come across.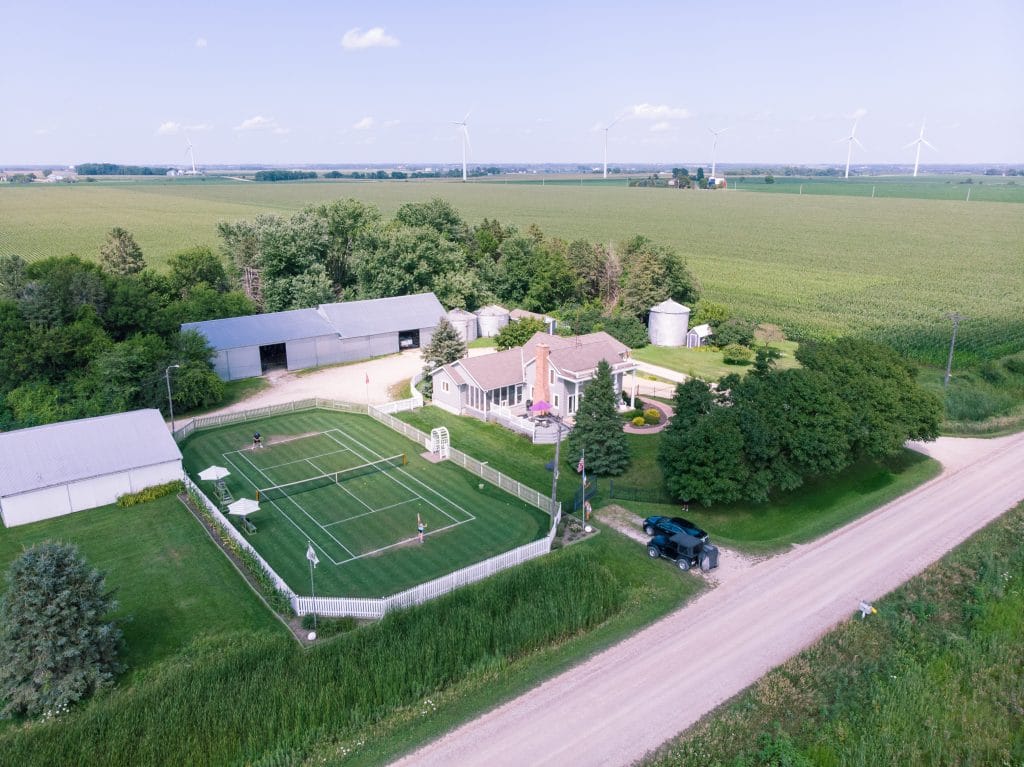 Mark and Denise Kuhn established the All Iowa Lawn Tennis Club in 2003 on their family farm. As a young kid, Mark and his grandfather would listen to BBC's live broadcasts of tennis matches at Wimbledon on his grandfather's short-wave radio. He dreamt up the idea of building a grass tennis court modeled after Wimbledon on their family farm. After the unexpected passing of a neighbor and friend, he knew he couldn't wait until "someday" to do it and the AILTC was born.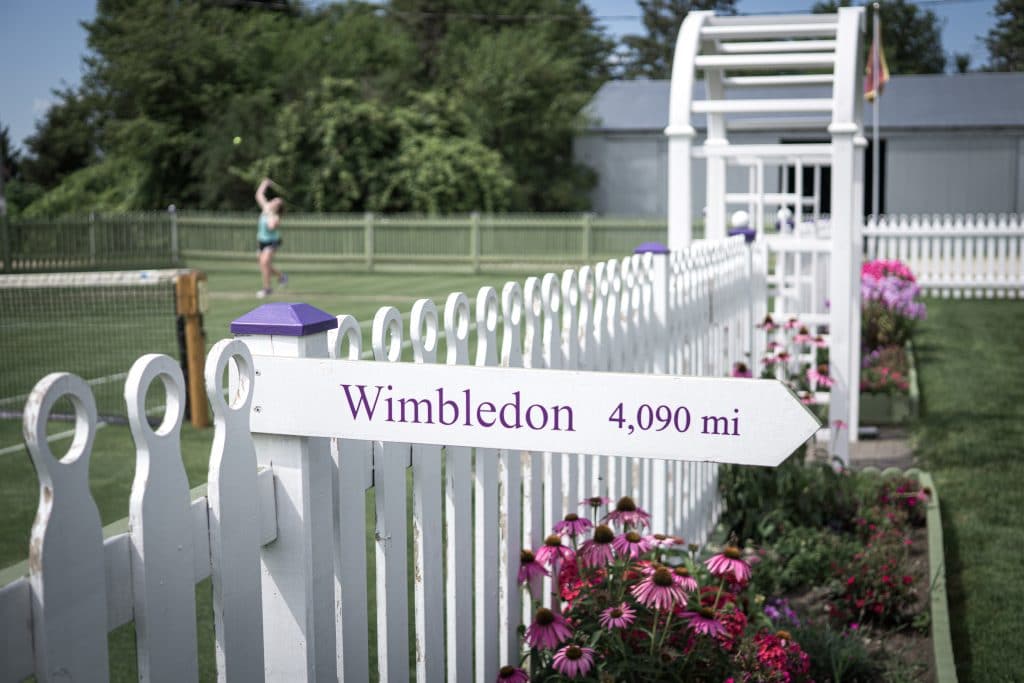 The decision to build the court would dramatically change Mark's life and allow him to achieve things he could have only dreamed about. The court is also changing others' lives as well.
In 2016, Mark lost his son Alex tragically and decided to name the court in honor of him. He and his wife now host an invitational and use the court to raise money for causes their son was passionate about.
The court is open to the public (reservation required) and Mark never charges anyone to play on the court (he does accept donations to support local causes). Even if you don't play tennis, it's worth visiting the court as it is truly remarkable.
6. Eat and Drink Like a Local
One of our favorite ways to experience any town is to eat and drink our way through it! Charles City is no exception. Below are some of our favorites:
Saint Charles Brewing Company
The town's first brewery is a great place to catch a pint and meet new friends.
Dave's Restaurant
We recommend stopping by Dave's for the all you can eat breakfast buffet. Just FYI – they have a table full of breakfast desserts – so yeah, there's that. 🙂
Aromas Coffee
Aromas Coffee is more than your traditional coffee shop. They make excellent coffee and it's a great place to spend some time, but they also roast their beans onsite, which means the coffee is about as fresh as it gets.
The Pub on the Cedar
The Pub on the Cedar has a great patio overlooking the Cedar River. They've got a good beer selection and full kitchen. If you'd prefer, Cedar River Pizza Co. will deliver a pizza right to the restaurant, which is fantastic.
Where to Stay
We stayed at R Campground and it was truly one of the nicest privately owned campgrounds we've stayed at. It's on twenty-six acres, 18 of which are right along the Cedar River! R Campground is also within a mile (or less) from everywhere you need to go – Riverfront Park, Main Street, and the brewery and restaurants we mention in this post.
---
There are many reasons that Iowa is a great travel destination and Charles City is definitely one of them! Have you been to Charles City? Tell us about your experience in the comments below. We'd love to hear it.
Pin This for Later: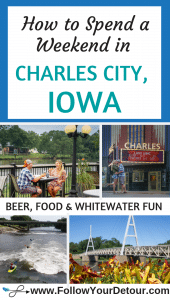 Related Posts:
4 Unique RV Camping Experiences in the North Georgia Mountains