A couple of years ago, we visited Hood River on a whim. We hadn't heard of Hood River at the time, but it was only an hour from where we were staying in Portland. We decided to book a night at the Best Western Hood River and headed up the gorge to check it out. The hotel was great and we highly recommend it since it is right on the water and was close to everything. Click to reserve your stay through our Hotels.com affiliate link.
The trip turned out to be an amazing experience. Actually, it was one of our favorite places that we had ever been to. We loved it so much that we wrote about it as one of our top 5 unexpected cities to visit. So, when we started mapping our RV route through Oregon, we knew that Hood River had to be on the list.
Once we arrived in Hood River this time around, we found it to be exactly as we remembered! Nestled nicely against the Columbia River with scenic views featuring Mt. Hood in the background.
This time though, we discovered a part of Hood River that we only briefly touched upon during our previous visit. We'd spent so much of our time on the river that we didn't experience the unbelievably beautiful, lush and all-around awesome Hood River Valley!
The main attraction of the Hood River Valley is the 35-mile Fruit Loop. The Fruit Loop is made up of different farms and businesses that offer a little something for everyone. Interested in picking strawberries, blueberries or blackberries? No problem! Drinking wine or craft beer more your thing? Don't worry you can do that too and much more!
There are 29 stops along the Hood River Fruit Loop as you travel south on Hwy 35 and loop back around north on Hwy 281. Here is a .pdf map for 2017
We didn't have the opportunity to stop at every spot along the Fruit Loop, but we did visit quite a few.
Here our favorite places along the Hood River Fruit Loop!
According to their website, the Gorge White House is "situated in a beautiful 1908 Dutch Colonial home in the heart of the Hood River Valley" and "has been a landmark on Highway 35, the Mount Hood Scenic Byway, for over 100 years." This working farm offers wine tastings, craft beer, a farm-to-table food truck, a gift shop and more. They also offer u-pick opportunities where you can grab a basket, head out to the farm and pick your perfect strawberry, blueberry or raspberry! We had always wanted to pick our own fruit and it was just as fun as we'd hoped it would be!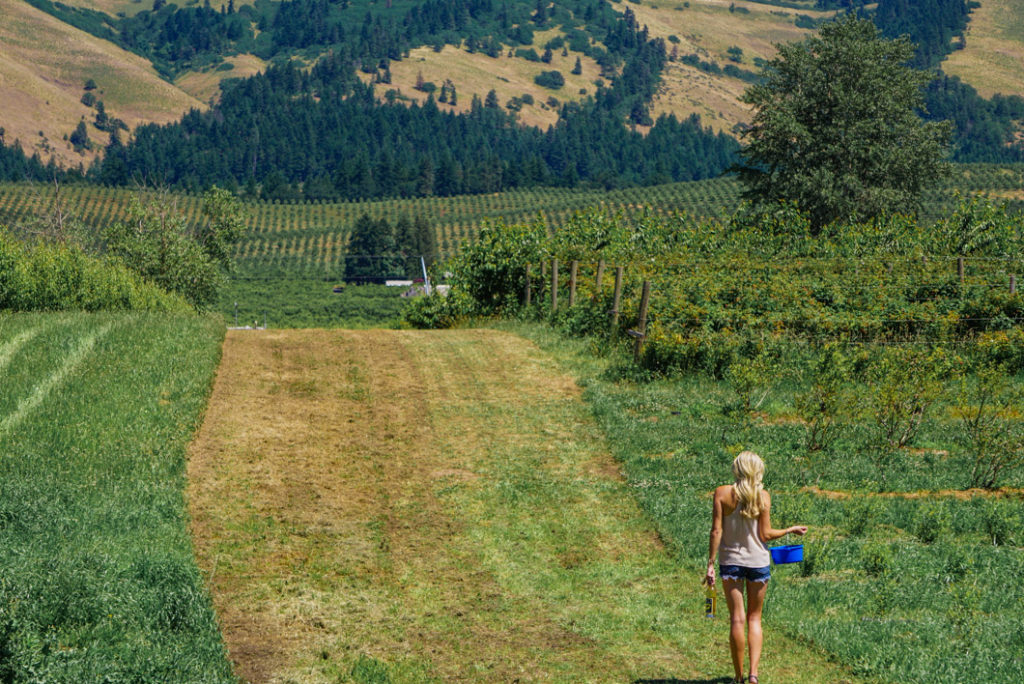 With all the fresh fruit grown in the region, it would be a shame if some of it wasn't used to make some good ol' hooch! Just kidding! I don't think cider qualifies as hooch, but it was good all the same! Fox-Tail is a cool stop where you can shop a variety of fresh fruits, jams, honey, etc. as well as grab a refreshing cider. They offer several different sampling options so you can try more than one if you can't decide!
Hood River has two lavender farms on the Fruit Loop. We visited Hood River Lavender Farms and loved it. While in bloom, the lavender fields are so beautiful! You can just pinch the flowers and smell the lavender oil right on your finger. You are free to stroll through the lavender fields and gardens at your leisure. If interested, you can purchase a variety of products from the little shop also. Get your camera ready because you are about to be overwhelmed by color and beauty!
We had such a fun time visiting this place and feeding the Alpacas. These animals were full of personality and made us laugh the whole time. In addition to feeding the animals, there is a store onsite where you can learn all about alpacas and purchase a variety of different alpaca products. Lindsay got a pair of hiking socks that are so soft! You can say I'm a bit jealous! This will likely be a quick stop on the Fruit Loop, but one you shouldn't miss!
If you have read any of our other post about wineries, you know that Lindsay and I are suckers for wineries with amazing outdoor spaces. Marchesi Vineyards offers just that, but factor in authentic Italian charm and this place is downright fantastic. We visited Marchesi two years ago and wondered if it would be as memorable the second time as it was the first. It totally was. Do yourself a favor and go have a glass of win, an antipasto platter and let time slip away!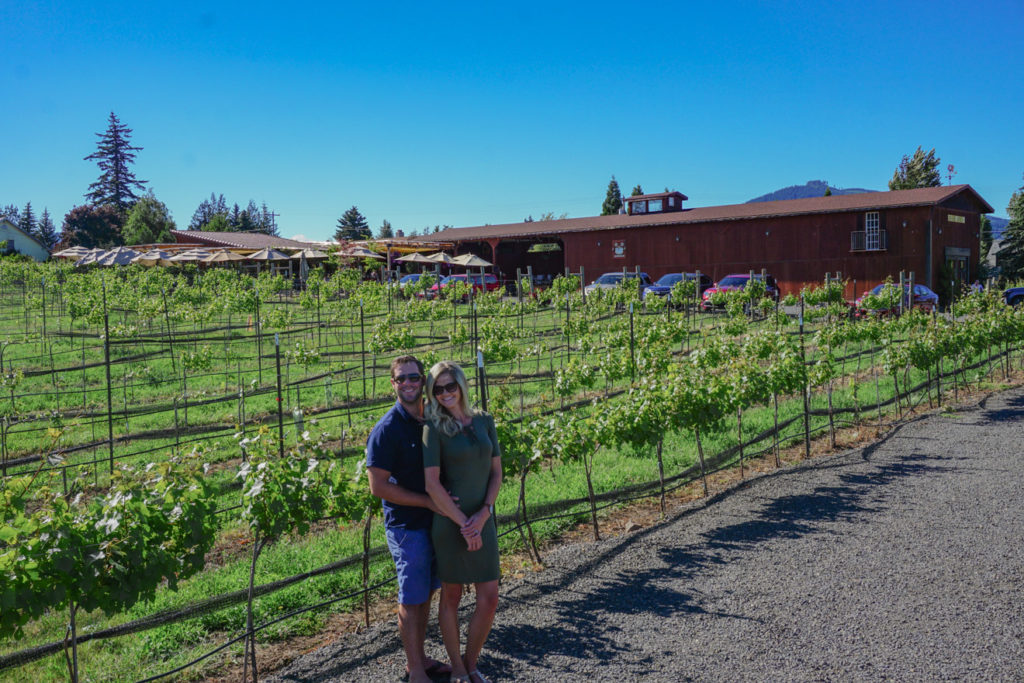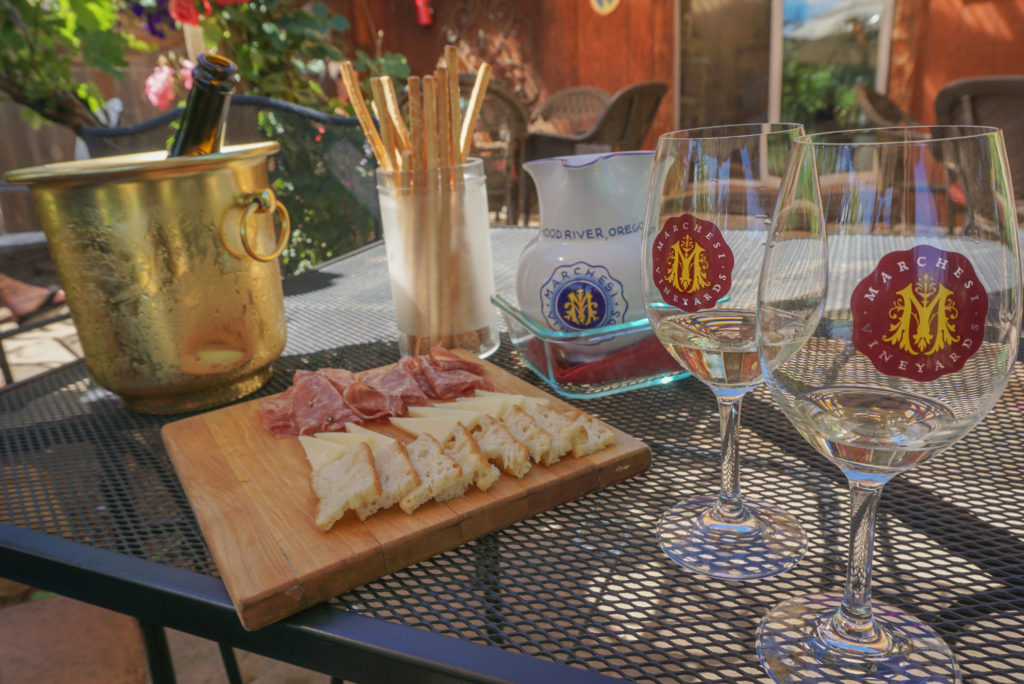 Although not technically on the Fruit Loop, Solera Brewing Company in Parkdale is a wonderful place to enjoy a cold beer and bask in the views of Mt. Hood. The beer wasn't anything remarkable to me, but the views Mt. Hood and the general ambiance will be something that I definitely won't forget. There is a BBQ place in Parkdale across the street that smelled really good. So if you go there and try the BBQ, please let me know how it is for next time!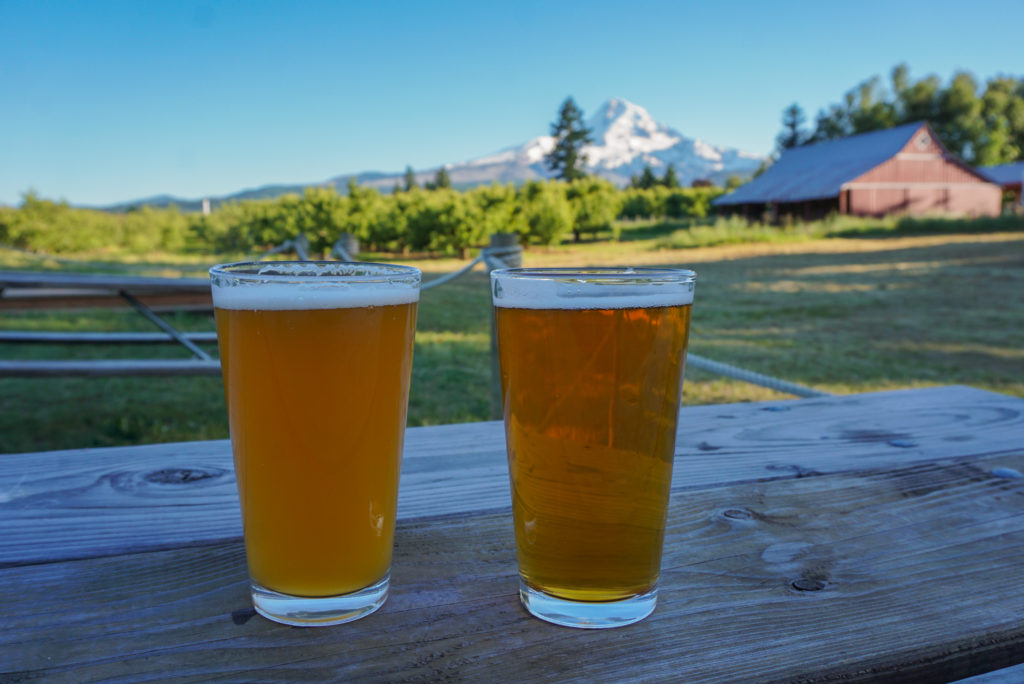 There are so many other great stops along the Hood River Fruit Loop that we didn't include in this post for you to explore. If you've been to Hood River and have experienced the Fruit Loop, tell us below in the comments what your favorite stop was!
Pin this for later: