To be honest, we never thought we'd be here. We never imaged adoption as the way we'd grow our family. In fact, we find ourselves envying the couples who say they've always dreamt of adopting and knew in their hearts that it was their calling.
That's not us.
We feel compelled to begin sharing our story with full transparency because it really helps in telling the incredible journey we've been on that has led us here today. And we're really proud of where are.
We've found confidence in our story and don't want to pretend to be anything we're not or feel or write/say anything just because we think we "should". We (okay, Lindsay still struggles) are becoming more comfortable with imperfection. Life is messy. Nothing is perfect.
More than anything, we have a deeper faith than ever and fully believe that everything works out just the way it's supposed to in God's perfect timing and according to His perfect pan. We love opportunities in life that push us out of our comfort zone because they typically lead to the most beautiful rewards and incredible growth either way.
So being here today…ready and eager to accept a child into our life in a way that we'd never imagined feels so, so right.
But again, it hasn't always been that way.
It was a long journey to get here…
As a little girl, Lindsay was the type of child that liked to have a plan – a perfect plan. She knew exactly what she wanted to be when she grew up and more than anything she wanted to be a wife and a mom and dreamed of how and when it would happen.
For awhile her plan for life was working out great. She became a Kindergarten teacher like she'd always hoped and worked hard to achieve. She also found Dan, her soul mate, and after 5 years of traveling and adventuring together (including living abroad for 4 months in Costa Rica right after we got married), we began building the "American dream".
We bought a house in the suburbs and were finally feeling stability in our finances and careers. The only thing left was that mom piece, which is where Lindsay's perfect little plans fell apart.
Our battle with infertility
After two long and tiring years of struggling to conceive and doing fertility testing, we received the unexpected news that Dan is unable to have biological children. He was diagnosed with Sertoli-Only Cell Syndrome, a rare condition in which his body does not produce the cells necessary for sperm production. And even after continuing forward with fertility treatments using donor sperm, we kept running into the same dead end. At the time, we felt like our plans for our life together came to a screeching halt. Meanwhile, we also unexpectedly lost Lindsay's only brother at a young age, so the grief was very heavy.
In that season of loss and pain, we were desperate for a solution or "road map", if you will. But little by little we began to find purpose in our pain and believe deeply that God had a greater plan for us. We felt like we could either continue feeling stuck at this dead end, or pick our heads up and find an alternate path – a "detour". The choice for us was clear.
Detour #1: A big move
We fell in love with this perspective of a life detour. It gave us hope that while one road had closed, there was another one waiting for us that we believed could offer new, exciting opportunities and we were eager to embrace it. While it was a bit terrifying to walk away from those perfect plans, with no clue what was ahead, we went for it anyway and haven't looked back since. You can read more about our mindset shift in this post: From Dead End to Detour.
With this shifting mindset of a detour, we felt the need for a physical shift as well. We knew that in order to fully accept this new perspective, we needed a big change. We were also struggling to sit in this suburban home that we had bought with the purpose of growing our family in. It was a constant reminder of the pain. Besides, we had both grown up and lived in Colorado our whole lives and thought a change of scenery would be good for us.
So, in a similar fashion to how we chose to move to Costa Rica right after our wedding, we picked a spot on a map, packed our lives up, and found ourselves across the country in Raleigh, NC. This move was quite scary, though. Our entire family lives in Colorado, and we're both extremely close to our families. Costa Rica was more of an extended adventure, but Raleigh felt more like it had the potential to be a long-term commitment. Still, we felt a stirring in our hearts and knew we had to listen to it.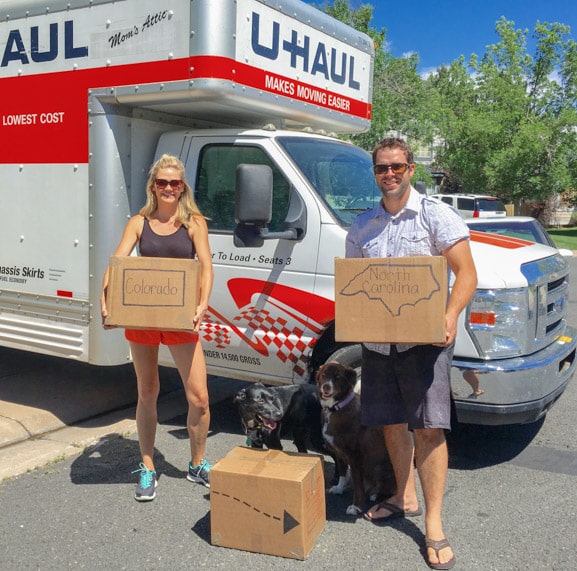 The blessings came almost immediately – we made enough money on the sale of our home to pay off all our debt and Dan's company allowed him to work remotely, which we didn't even realize at the time was going to be a critical part of our "detour".
While we loved Raleigh, we quickly realized that it wasn't the solution we'd hoped it would be. Our pain and our feelings of uncertainty about our future followed us! Surprise, surprise! On top of it all, Lindsay was extremely unhappy with her teaching job. All the reasons for wanting to be a teacher were being stripped away by of the demands of school performance measures and other politics. She was stressed, her health was suffering, and that was carrying into our marriage and her personal life. But the thought of quitting was absolutely fear-inducing (read the full-story of Lindsay quitting her dream job). Lindsay felt like she was facing an identity crisis: "if I didn't want to be a teacher anymore and couldn't be a mom, then who was I?"
During this time we were taking frequent road trips along the east coast, an area of the U.S. we hadn't spent much time exploring. On these road trips, we'd find ourselves feeling happiness we hadn't felt in years. We felt alive! We were connecting more than ever and there was something about being on the road in new places that made us feel like we could breath again.
We'll never forget one day walking around Lake Lure in North Carolina and looking across the water and seeing an Airstream. It spoke to us. Lindsay took a photo of it and spent the entire drive back home trying to convince Dan that we should get an RV and travel around the country full-time.
Detour #2: RV life
Little by little that crazy idea became a reality. Dan's job would support us as we transitioned and we kept telling ourselves we didn't have anything to lose but the experience of a lifetime to gain. We weren't confident about much of anything in our lives at the time but we were 100% confident in our love for travel and adventuring together. So we hit the road in April of 2017 with no idea what we were doing, but a whole lot of excitement and faith.
Fast forward to today, two and a half years after hitting the road, and we've achieved some of our biggest life goals, both personally and professionally. Lindsay wrote and self-published a book (www.FollowYourDetour.com/book), we turned our blog into a business, started other side businesses to support our travel lifestyle, ran a half-marathon, sky dived, and are using our passion to inspire others to follow their own detours.
More importantly, we've found peace in not having a plan in life. We've learned that it's not about the destinations you go, it's about who you become along the way. We value the struggles in life because they help you grow and we believe that they present you with detours that can turn out to be greater paths than you could've ever imagined.
Our first two years of traveling, we would continually check in with each other regarding our feelings of having children. Every time we'd have these talks, we'd certainly cry and feel all the emotions, but in the end we'd both agree that we were so happy traveling and learning and growing together that we were okay waiting. We'd made the decision to not make a decision until something felt right.
But, as we come up on another year of travel, things have changed…
Detour #3: Adoption
That hole in our hearts has resurfaced and that longing for a child is back.
The more we traveled, the more we learned about ourselves and the world around us, and the more our perspectives changed.
Our adventures became less about our "bucket list" or taking photos, and more about the people we were meeting and the connections we were building, the beliefs we were gaining about life and the way we want to live it. We've become passionate about collecting experiences, living simply, making a bigger difference in this world, and doing what makes us light up rather than what we feel we're supposed to do. We've become dedicated to living intentionally, rather than just going through the motions.
We've seen many families on the road with young children and it was so inspiring to us to see parents not only continuing to travel despite what additional challenges traveling with children can offer, but the opportunities they were gifting to their children. Knowing what traveling teaches us as adults, we can't imagine the learning that takes place in young minds. It has made us excited to combine our love for travel with our lifelong desire to be parents.
We can't wait to share the beauty of this world with our future child. We realized that all the things we hope to instill in our children have nothing to do with genetics. In fact, we feel the past few years have prepared us more than ever to be incredible parents. We care much less about whether our children have my eyes or Dan's athletic ability. It doesn't matter whether they look like us, "fit in" with us, or where they come from.
Our children will be raised to be compassionate, accepting and tolerant of people and places that are different than what they're used to, and will know without a doubt that they can do anything they dream of. We're grateful for our detour and for the way things turned out because we would have never learned such valuable lessons otherwise and may have never been prepared to offer such lessons to our child.
You could say adoption chose us, as our greatest "detour" of all.
Follow along with our adoption journey!
We'd love to have you be a part of this exciting process. We can't imagine going through it without the love, support, and encouragement of our friends, family, and readers! Here's where you can start:
Check out our Adoption Page for ways to get involved and support us!
Subscribe to our newsletter for updates
One way you can support us now is by purchasing a copy of Lindsay's book, Follow Your Detour.
It shares more about this pivotal moment in our life of embracing a detour and the life-changing journey it took us on. More importantly, it offers guidance for YOU to follow your own detours. So, if you're facing your own dead end, if life hasn't gone the way you planned, we hope the book can offer you some encouragement and strategies for moving forward on a new path and finding a new you!
Share your advice, encouragement, or words of wisdom with us below in the comments! 🙂