Manuel Antonio may be the definition of natural beauty. The surrounding rainforest, the idyllic beaches with picturesque rock formations, and astonishing views make Manuel Antonio one of Costa Rica's most popular tourist destinations. And if that's not enough – perhaps you'll be enticed by these cuties –  since you're sure to see plenty of them!
6 Can't Miss Activities in Manuel Antonio
Manuel Antonio National Park
The most popular attraction in Manuel Antonio is the national park. Manuel Antonio National Park is home to abundant wildlife, hiking trails and one of the top beaches in the world. Without a doubt, you will see white-faced monkeys, butterflies, raccoons, and you might just catch a glimpse of a howler monkey, toucan, or a sloth.  Hire a guide to help you explore the park, or go on your own wildlife expedition. If interested, you can book a guide through any hotel or you can hire one right by the entrance of the park. Remember that the park is closed on Mondays so plan your trip accordingly. At the time of this writing, the park entry fee is $16 for foreigners.
Spend the day at the Beach
The public beach has soft sand and features picturesque rock formations just offshore. The water is normally calm with smaller waves making it a decent place for first time suffers. (More experienced surfers should go an hour south to Playa Dominical or north to Playa Hermosa or Jacó.) There are plenty of activities that can be done at MA beach – parasailing or tubing, but it is equally as enjoyable to sit back, relax and soak up the Pura Vida.
This beach is one of our favorites beaches in Costa Rica any time of day, but, it's especially beautiful at sunset. We love the way the sun silhouettes the rock formation and lights the sky with incredibly vibrant color displays!
Horseback ride to Nauyaca Waterfalls
The Nauyaca Waterfalls are located about 45 minutes from Manuel Antonio. The waterfalls are absolutely fantastic, and the tour that takes you to them is excellent. There are two, tiered waterfalls that fall into a refreshing swimming pool. The taller of the two falls is nearly 145 feet tall and the smaller is 65 feet. The tour includes horseback riding to and from the waterfalls, time to swim in the pool (and jump off the waterfall), and lunch at the animal sanctuary. This tour was one of the most fun activities that we did in all of Costa Rica and a must do while in the area.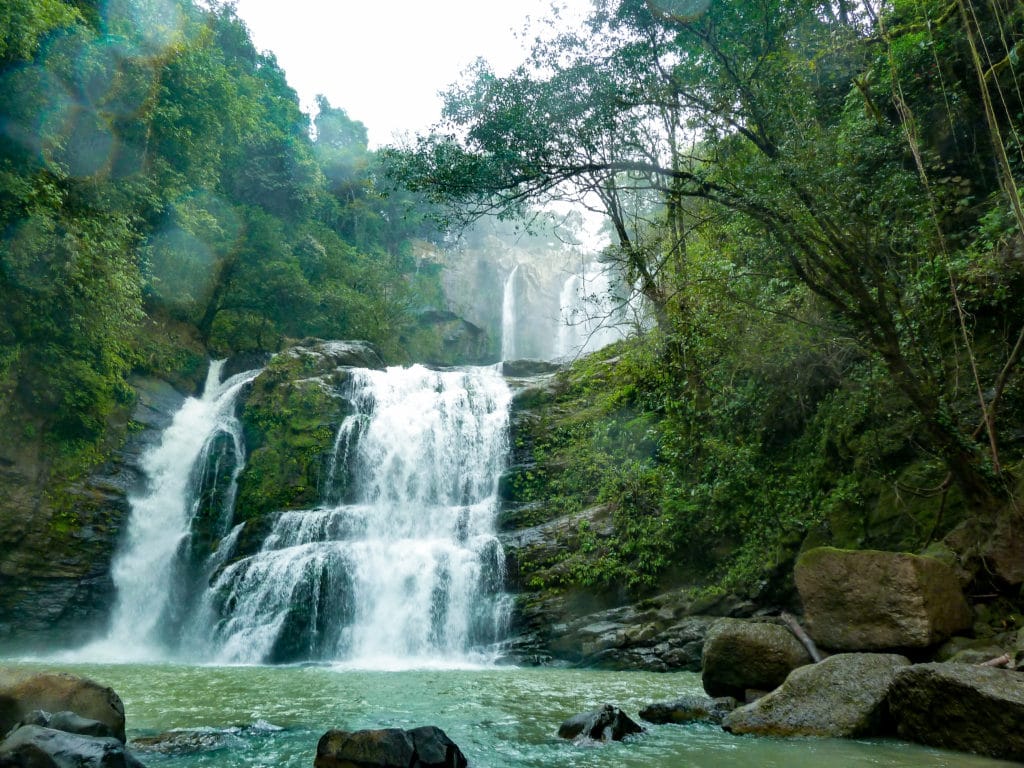 White Water Rafting
There are many companies in the area that offer whitewater rafting tours. The Savegre river meanders through the jungle and the scenery is beautiful. The rafting was not as intense as some of the rafting that we have done in Colorado, but it was enjoyable. There were periods where the river was calm enough that our guide actually encouraged us to jump in the river and float for a while.
Zip Line at El Santuario Canopy Adventure
You can't go to Costa Rica and not experience the thrill of zip lining through the jungle. We recommend going with El Santuario Canopy Adventure. They feature the longest zip line in Costa Rica and Central America – it's over 4,300 feet long! The surrounding finca (estate in Spanish) is largely untouched and brilliant, bustling with native vegetation and wildlife. Most importantly, the staff at El Santuario is terrific and they will work tirelessly to ensure that you have an amazing and safe experience. The tour includes transportation, zip lining, and a Costa Rican lunch.
Visit Quepos and Watch the Sunset at Parque Nahomi
Head to Quepos, a small, bustling Costa Rican town full of unique charm. It is the town at the bottom of the hill that you pass through on your way to Manuel Antonio so you can't miss it. We lived in Quepos and grew to really love the city. The town feels more "authentic" since Manuel Antonio is essentially a resort town. There's a lot to take in in Quepos so it's worth walking around and exploring for a couple of hours. Most importantly, check out the new marina and don't miss the sunset at Parque Nahomi.
How to get to Manuel Antonio
By Car
Manuel Antonio sits on the central Pacific coastline south of Jaco. Located approximately 2.5 – 3 hours drive from San Jose, it's easy to get to by car. The roads are well paved it's pretty straightforward from San Jose or Liberia. Probably, the most tricky part is getting through the town of Quepos, but there are signs and your GPS should have no problem :). Keep in mind that some of the highways in Costa Rica require drivers to pay a cash-only toll. Drivers should always keep some Colones available. If you are not renting a car, there are many private transfer options available throughout Costa Rica.
By Air
You can fly into the Quepos airport, which is located about 20 minutes from Manuel Antonio. Nature Air flies into Quepos (and all over Costa Rica for that matter) and flights aren't too expensive.
By Bus
It's been years since we did this, but there is daily bus service between Manuel Antonio or Quepos and San Jose. The bus departed from Coca Cola Bus Terminal in San Jose and the tickets were around $8.
IMPORTANT: Coca Cola Bus Terminal is located in what is known as the Zona Roja. This part of town is notorious for crime, especially theft and is often directed at tourists. For many tourists, the station is a hectic and confusing place, Pay attention to your belongings at all time. Read this for more information about this bus station. As for the bus ride, overall it was a fine experience. It can get a bit crowded if you get on a bus marked "collectivo" as the bus will pick up additional passengers along the way. You should always opt for the "directo" bus which will go from point A to B without making any stops for passengers. Click here for more information about buses in Costa Rica.