Bangkok is one of the world's most interesting cities. It's bustling, loud, fast-paced, and full of energy. Its food scene is terrific, the streets are full of life, it has world class shopping and one of a kind nightlife. It's a city of contrasts, to say the least. Huge modern skyscrapers blend with both ancient temples and run down or abandoned buildings. Bangkok welcomes more visitors each year than any other city in Thailand so it is clear that people agree that Bangkok is a place not to be missed.
If you are planning on visiting Thailand, most likely you will pass through Bangkok arriving to or departing from the country. How long you will want to stay in Bangkok will largely depend on your interest as well as how much time you have in Thailand. Some people see Bangkok as nothing more than a hold-over destination as they make their way to Thailand's fabulous beaches. Others love to spend significant time eating, partying or shopping to their heart's content in the country's capital.
For us, we felt that three days on our way out of the country were plenty. Bangkok is a huge city and there is so much to see and do that I know we barely scratched the surface. None the less…
What Do in Bangkok With 2-3 Days

Take a day trip to the floating market
Floating markets have long been an integral part of Thai society. Due to the region's low lying elevation and marshy landscape, small waterways were often the most efficient way to travel. Naturally, commerce started occurring on the waterways and the floating market was born.
Today, most floating markets are geared towards tourists rather than for the locals. Don't let that fact keep you away, though. Sometimes you just need to be okay with doing something that is really "touristy" because it's just good old fashion fun. There are several floating markets that can be visited from Bangkok, some closer, and others a little farther away.
We visited Bangkok's most famous and largest floating market, the Damnoen Saduak Floating Market. It was a pretty long trip from Bangkok, but it was totally worth it. It took 1.5 to 2 hours to get there. By chance, we arranged a taxi to take us to the market and back. The taxi driver picked us up the night before and during our conversation with him, he offered to drive us to the market the next morning. We agreed to go with the taxi driver because he made it very convenient for us.
There are other ways to get to the market such as tours or public transportation. With a tour, all of the details are taken care and you know your costs up front which can be a good thing. This tour gets pretty good reviews on Viator and might be a good place start.
As for the market, it was truly amazing. The market bursts with color and old world charm. The market is made up of canals that are lined with vendor "stalls". In addition to the stalls, there is a central area where you can get out and shop on foot and/or eat amazing food!
The most unique aspect of the market is the plethora of boat-based vendors. They will paddle right up to your boat and entice you with something amazing; maybe sticky rice with mango or some other souvenir. There was so much good stuff, we could have completely stuffed ourselves. The floating market was an unforgettable experience and something that we would highly recommend. Don't forget to bring your negotiating hat, everything can be negotiated.
Have dinner or a cocktail with a view
Bangkok has no shortage of fantastic places where you can see an amazing view of the city. Don't go to Bangkok and not visit at least one place where you can grab dinner or a drink and take in the world-class skyline. We have always been suckers for great views so we visited three amazing places with incredible sky views that we absolutely loved. Although these are definitely tourist traps, they do provide an unforgettable experience! You must visit at least one of them while in Bangkok!
Sky Bar is probably the most famous rooftop bar in Bangkok due to it being featured in the Hangover Part 2. With its enormous golden dome, the Lebua at State Tower is a signature sky scrapper in Bangkok. Sky Bar is on the 63rd floor and sits over 800 feet above the ground. The 360-degree views of Bangkok are absolutely stunning.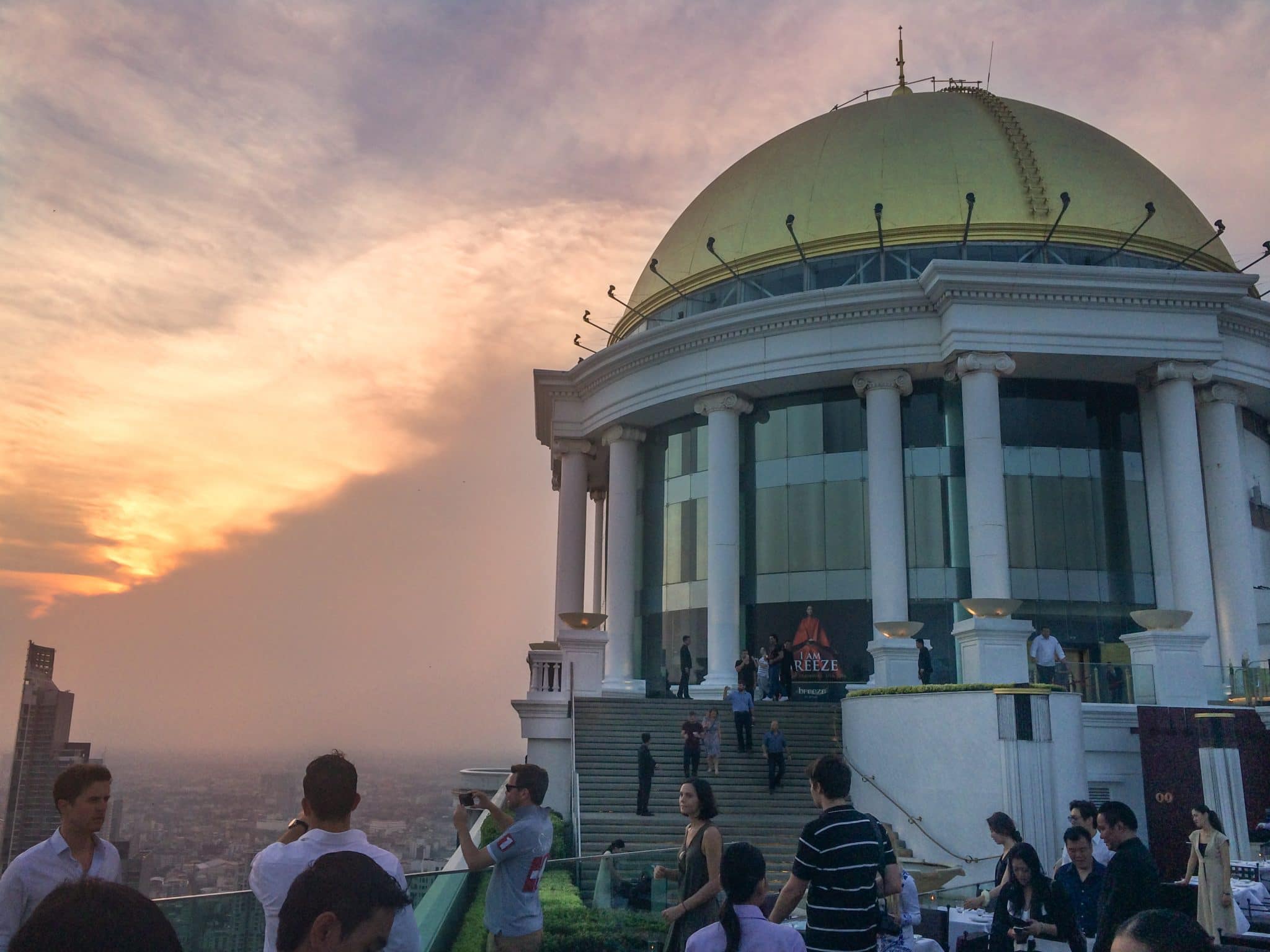 The golden dome is imposing and every detail feels luxurious and refined. Sky Bar shares the space with Sirocco, a high-end restaurant that has won many awards. Sky Bar about a 10-minute walk from the Saphan Taksin BTS. While truly impressive, there's a couple of things that you should know before going to Sky Bar:
Dress code – Men are not permitted to wear sleeveless shirts, shorts or sandals.
Expect a crowd – Sky Bar is a very popular place. We went for sunset, which was amazing, but with all of the people it can be difficult to move or snap that perfect photo/selfie 🙂
You're going to pay for the view – We only ordered two cocktails (the Hangovertini) and we spent nearly $40.
The restaurant guests have it better – Sky Bar Patrons are restricted to the Sky Bar platform. There are no tables to sit at and with the crowds, you can feel a bit like a canned sardine. Patrons of Sirocco, however, are treated to similar views while having the opportunity to dine al fresco up on the 63rd floor. If you are celebrating something special, it's probably worth looking into the five star restaurant for a magical evening.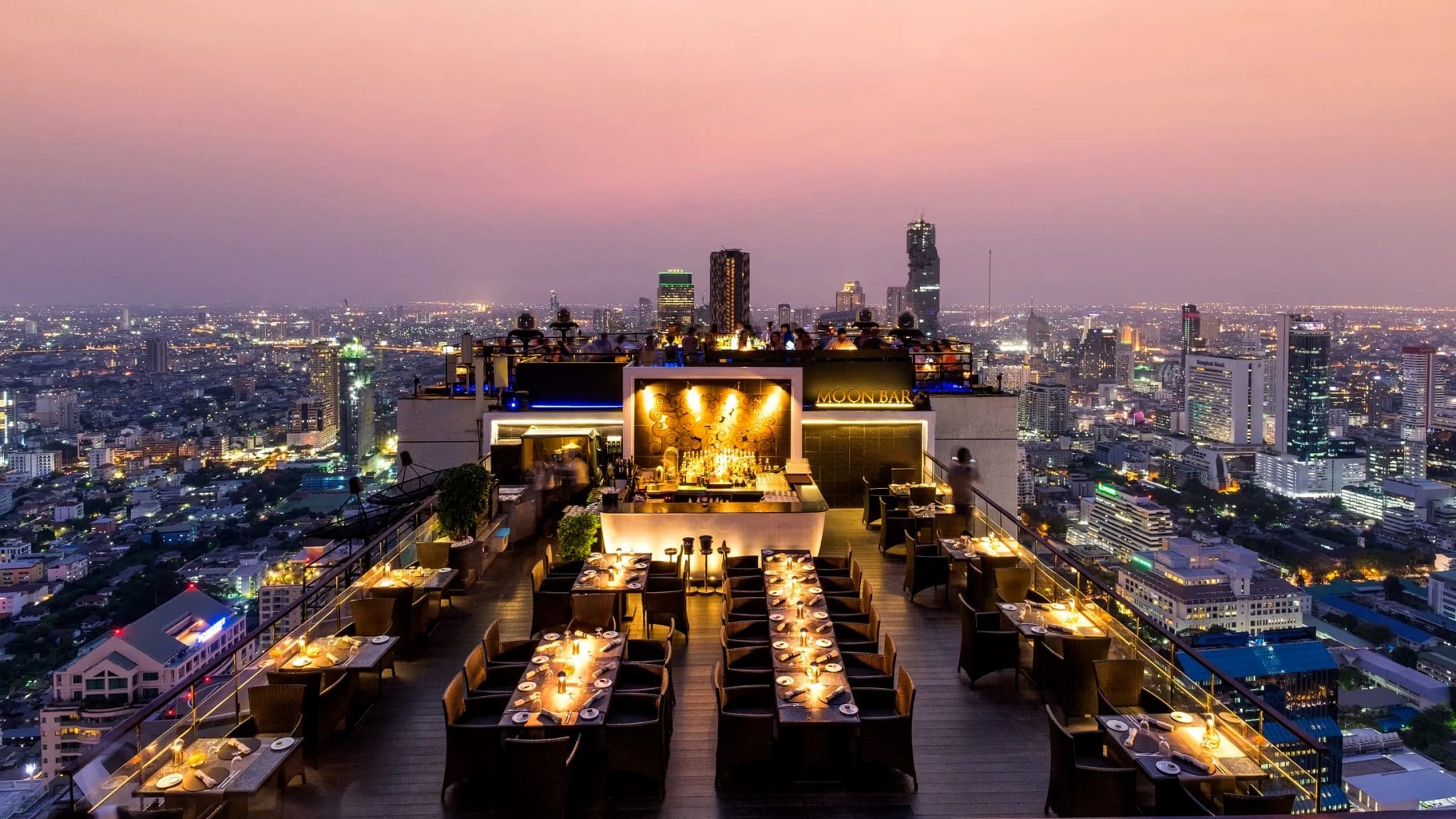 We enjoyed Sky Bar so much that we decided to check out Vertigo and Moon Bar as well. Vertigo and Moon Bar was fantastic; the atmosphere was great and the views were breathtaking. Unlike most other skyline bars, Vertigo is on the roof of the building and there is absolutely nothing that can block your view in any direction.
Vertigo is located on the 61st floor of the Banyon Tree Hotel. Like most skyline bars in Bangkok, there is a dress code and space will be limited due to its popularity. We actually liked Vertigo a little better than Sky Bar because there were a few tables in the bar area that you might be able to get a seat at which was really nice. Being able to sit down made the experience more relaxing and ultimately more enjoyable.
*Tip – Call ahead to make sure that they are fully open. Since they are an open air restaurant, they do close the rooftop when there are weather concerns.
Long Table is a Thai fusion restaurant that has fantastic food, great views, and prices that are more reasonable than Sky Bar or Vertigo. We made reservations for sunset on the outside patio (to us, this is a must, the food is good but being outside puts the cherry on top). The sunset views were truly incredible. This place is fantastic for dinner or drinks – they actually have a happy hour with 2×1 drinks from 5-7 pm. The food was really good, the service was great and overall, it was a perfect experience. Long Table is located in Sukhumvit in the Column Tower Apartment.
Eat, Eat and Eat
You should take the opportunity to eat and eat often while in Bangkok. Really, you should do this anywhere in Thailand, but you will seemingly encounter amazing food on every corner in Bangkok. There are many high end, world class restaurants that serve innovative and delicious food. Conversely, there are an uncountable amount of street vendors serving traditional Thai cuisine that are sure to please. One evening, we came across a woman selling fried chicken strips that looked and smelled soooo good. She couldn't speak any English and we don't speak Thai. Something definitely got lost in translation as she gave us a ton of friend chicken! We only wanted a small snack and we ended up with enough fried chicken for three days! Either way, the chicken was fantastic and we ate as much as we could.
Get lost at the Chatuchak (Jatujak) Weekend Market
If you have spent any time in Thailand, you know that Thailand has tons of temples and markets. While fabulous, after some time, both the temples and markets can start lose some of their appeal because they can all start to look the same. The Chatuchak Weekend Market is different, though. The sheer size of the place physically separates it from the others. It massive.
The market covers 27 acres and features over 15,000 vendors selling products from all over the country. There is everything from food vendors to antique woodworkers. The stuff that you can find at the market is different than most other markets that we'd visited. Roughly 70% of the shoppers are actually Thais and not tourists so that might be why the reason. If are in Bangkok over a weekend, make sure to visit the Chatuchak Market.
The Chatuchak market is easy to access from public transportation. From the SkyTrain, get off at the Mochit station and walk a couple of minutes to the market. Just follow all of the people and you can't miss it. From the MRT, the closest station is the Kamphaen Phet station.
Explore Khao San Road
Khao San Road has long been a popular destination for backpackers and those looking to let loose. The street (and general area) is comprised of bars, discos, hostels, restaurants and souvenir shops. Our thought was that you could have whatever time you want to have on Khao San Road… basically, whatever you could desire, you can probably find on Khao San Road.
The party scene of Khao San Road is not really our thing anymore, but we did enjoy strolling down the street and simply taking it all in. The atmosphere is electric! For us, we actually preferred Soi Rambuttri (and Rambutrri Alley) which runs parallel to Khao San Road. Soi Rambuttri is filled with nightlife but appeared to be a notch or two down on the intensity.
Conclusion
Bangkok truly is a city of contrasts, which makes it a very special place to visit. It may not be everyone's cup of tea, but for those that are fascinated by the culture and energized by the chaos of a city, then Bangkok is sure to please. Either way, in our opinion, anyone visiting Thailand should try to spend at least two to three days in the vibrant capital city.
Click here to pin this for later! And be sure to check out our other Thailand pages!