Disclosure: Some of the links contained below are affiliate links. This means that if you make a purchase, we would receive a small commission (at no cost to you). Keep in mind that we won't put anything on this page that we don't personally use or know to be valuable!
Our Route
Our Destinations
Click the destination to be taken straight to that section of the post.
Crater Lake Resort – Fort Klamath OR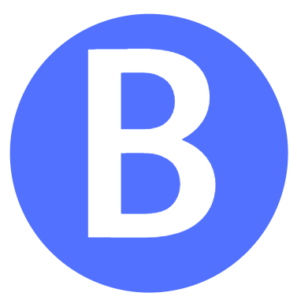 Bend-Sunriver RV Campground – Sunriver, OR
Bridge RV Park and Campground – White Salmon, WA
WHERE WE STAYED AND WHAT WE DID
Crater Lake Resort – Fort Klamath, OR
If you're planning to visit Crater Lake National Park with or without an RV and need a place to stay overnight…look no further! Seriously. We really loved the adorable Crater Lake Resort. Our fifth-wheel backed up to a stream and beautiful scenery, the resort had SO MANY ACTIVITIES (as Will Ferrell would say!). In one afternoon we played pickleball, we canoed, and then we reverted back to our elementary school days and saw how high we could swing in their tree swings. We didn't even feel like we needed to leave the RV park, yet one of the most amazing national parks is less than 30 miles away!
The surrounding beauty of Forth Klamath and additional activities that the area has to offer will make you wish you were staying months! The resort owns the adjacent ranch and rodeo arena and we got lucky that the rodeo was the very weekend we were there. Up the road is tons of river access and water sports rentals, and lots of places for picnics. And if you're like us and love views of the countryside, livestock, and rustic barns, you'll be sticking your head out the window with your Sony Alpha a6000 Mirrorless Digital Camera with 16-50mm Power Zoom Lens
">camera the whole drive to Crater Lake National Park!
As for Crater Lake National Park, research the best time to visit, unlike us. We had no clue that early June would be a little too soon in the season to explore the park. It was still very snow packed and in fact, still SNOWING. Part of the road that goes around the lake was still closed for winter and we were actually there right before a snowstorm (yes, in JUNE!). We barely got a glimpse of the lake through the dense fog. Oh, and it was freezing cold! So perhaps, July or even August would be a better time to visit! However, it's truly a beautiful site and a place that we will definitely return to some day.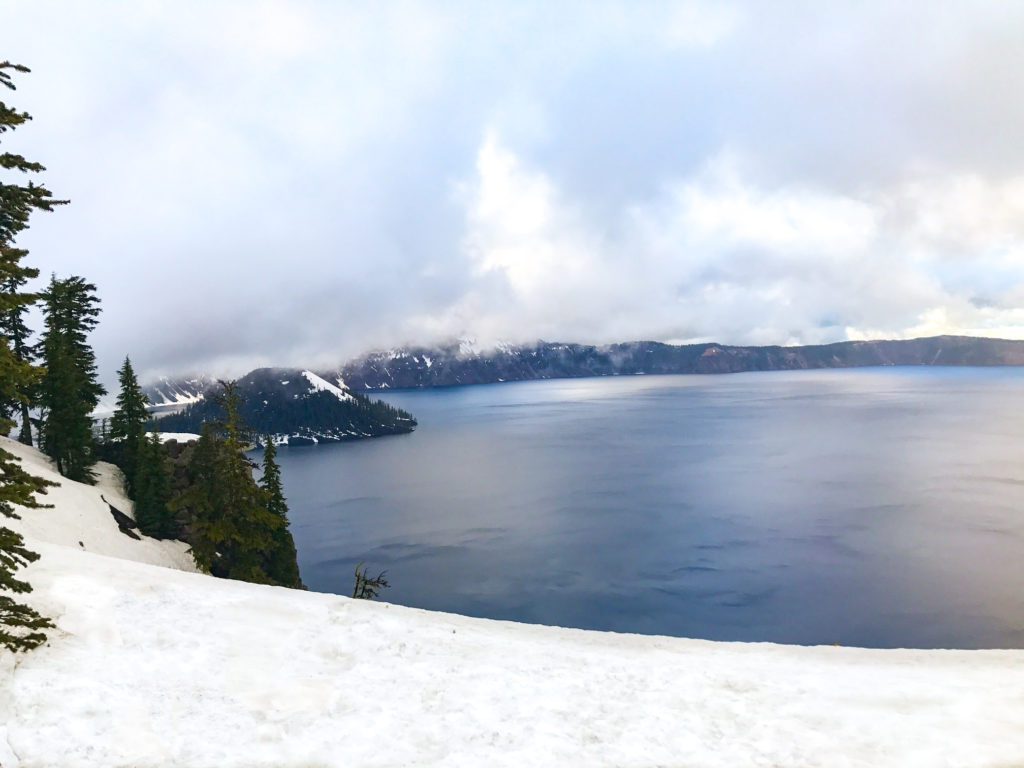 Bend-Sunriver RV Campground – Sunriver, OR
We weren't planning to visit Bend, but it seemed like once we hit the west coast, everyone was talking about it. So we adjusted our route to fit it in and now we're those people who talk about it all the time! It's an outdoorsy folks dream land! Whether you hike, fish, bike, ski, drink beer (it counts as "outdoorsy" if you're sitting on an outdoor patio, right?), kayak, etc…the Bend area has it all. 
Overall we enjoyed our stay at Bend-Sunriver RV Campground. There aren't a whole lot of RV Park options in the Bend area, and this one happened to accept the Passport America discount, making our week long stay super affordable. It definitely has more of a campground vibe and it's a really large park. You won't be assigned a spot as its first come first serve, so you'll have to drive around to choose a spot that works for you and your rig. We didn't particularly enjoy this added stress, but in some ways, it was nice to choose (we like to be close to the showers and we were able to pick a spot that was easy to back into).
The spots are really spacious too, and the park has some pretty cool amenities and activities. They have 2 pools, a hot tub, a mini golf course, various equipment rentals, and tons of events (BINGO, breakfast socials, etc…we enjoyed that they have church service every Sunday too!). What we weren't pleased with was the distance to Bend. Although it was only 30 minutes, we found ourselves spending most of our time in Bend, so that drive became a little bit of a hassle for us.
Speaking of Bend, we loved every minute we spent there. We enjoyed and recommend the following activities:
Get on the Deschutes River.
Don't just look at it, get on it! Whether you prefer to stand up paddle board, kayak, float, fish, or surf…take advantage of this awesome river. And yes, we said surf. The Bend Whitewater Park in the Old Mill District features a section of the river that has a man made river break that is perfect for river surfing. Read more about it here. We aren't that adventurous so while we enjoyed watching the surfers, we opted for stand up paddle boarding. We couldn't have found a better place to rent from than Tumalo Creek Kayak & Canoe. The Deschutes is right in their backyard, so you'll walk inside and be on the river in no time. The staff carries your equipment right to their dock, making it super easy to take off. Tumalo Creek also happens to be situated on an awesome part of the river. Within minutes you are floating through downtown. You'll float under a pedestrian bridge where you'll see people watching you and wishing they were doing what you're doing. Don't be those onlookers…go rent some gear. Tumalo Creek even offers a shuttle service for tubing. So if you aren't very talented at water recreation (like someone else, cough…Dan!…cough!) you can just plop into a tube and sit back and relax.
Go fishing.
If you know us, you know we love to fly fish. So when we heard that the Deschutes River alone offers 252 miles of fishable waters, we couldn't get there quick enough. Not to mention the nearby Crooked River and Metolius River. If you're a lake fisher, there are more lakes in the area than we can even begin to name!
Walk around and explore downtown Bend.
Don't get too wrapped up in the outdoor activities that you miss out on Bend's adorably quaint yet lively downtown scene. It's packed full of delicious restaurants with trendy atmospheres and appealing patios. While you're down there, you'll see Cowboy Ryan offering up carriage rides. Face it, you've been biking or hiking all day and you're tired of exercise so let him chauffer you around the area and give you some cool history too. You don't just stay downtown, but you also get to ride past the beautiful Mirror Pond and into a nearby neighborhood with beautiful homes. We recommend making a reservation on Cowboy Carriage ahead of time, as lots of people just happen to see him downtown and want a ride, so his schedule fills up quickly! You'll be riding in class on white leather seats pulled by his beautiful horse named Roman.
Drink craft beer at world class breweries.
Bend isn't called "Beer Town USA" for nothing. It's also home to The Bend Ale Trail, the "largest beer trail in the West". So hop on your bike and go to as many as you can! We sure enjoyed ourselves. Our favorites were: Sunriver (amazing food!), Crux, 10 Barrel, GoodLife, and Bend Brewing Company (go at night as they have an awesome outdoor space with live music).
Visit Tumalo Falls
While you have the option to hike to the falls, you can also just drive right to them! Either way, go see it! From the photo, you'll see how beautiful it is!
Bridge RV Park and Campground – White Salmon, WA
You'll notice the Bridge RV Park and Campground is actually in Washington. It's right on the other side of the bridge that connects Oregon to Washington and we found it to be a super convenient location to quickly access the best spots in Hood River. Just be aware that every time you cross the bridge, you'll be charged a fee of $1.00 so have cash available. We should also mention that Hood River is our absolute favorite city ever. We tend to exaggerate, but not this time. We've been there before and wrote about it in this post, 5 Unexpected U.S. Cities You MUST Visit This Year, and it is the only city we knew we had to revisit when we hit the road in our RV. While we have tons of great suggestions for activities in that post, we were also able to do the following new activities during this recent visit.
Experience the Hood River Fruit Loop
If you like picking your own fruit, feeding alpacas, lavender farms, and drinking craft beer with the best view of Mt. Hood, then you must spend a day on the Fruit Loop. We loved it so much, we wrote a separate post about it so go read it here for more information.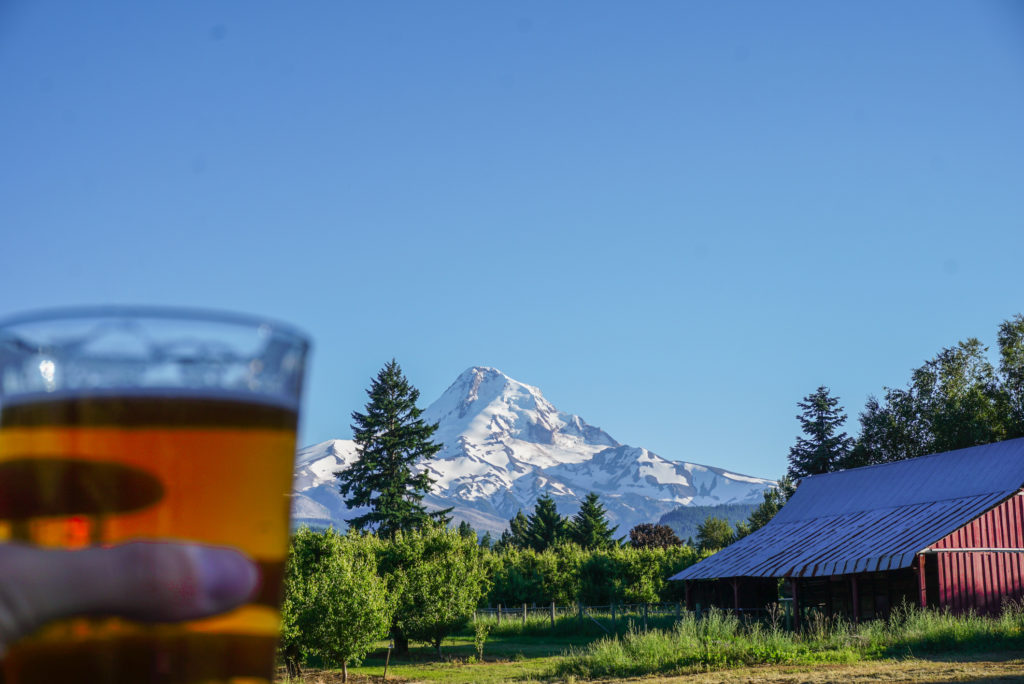 Hike Tamanawas Falls.
This was a perfect hike for us. It was only a 30-minute drive from Bridge RV Park and the 3.4 miles (roundtrip) trail was easy and scenic nearly the whole time because you're hiking right along the water. The falls are definitely worth it too! You can climb up behind the waterfall for a unique view and cool photos! You might want to check the trail conditions beforehand. When we were there, there had recently been a rockslide near the end of the trail. It wasn't unpassable but required you to climb over large boulders, which may not be possible for everyone. We managed just fine even though we had to carry the dogs at some points.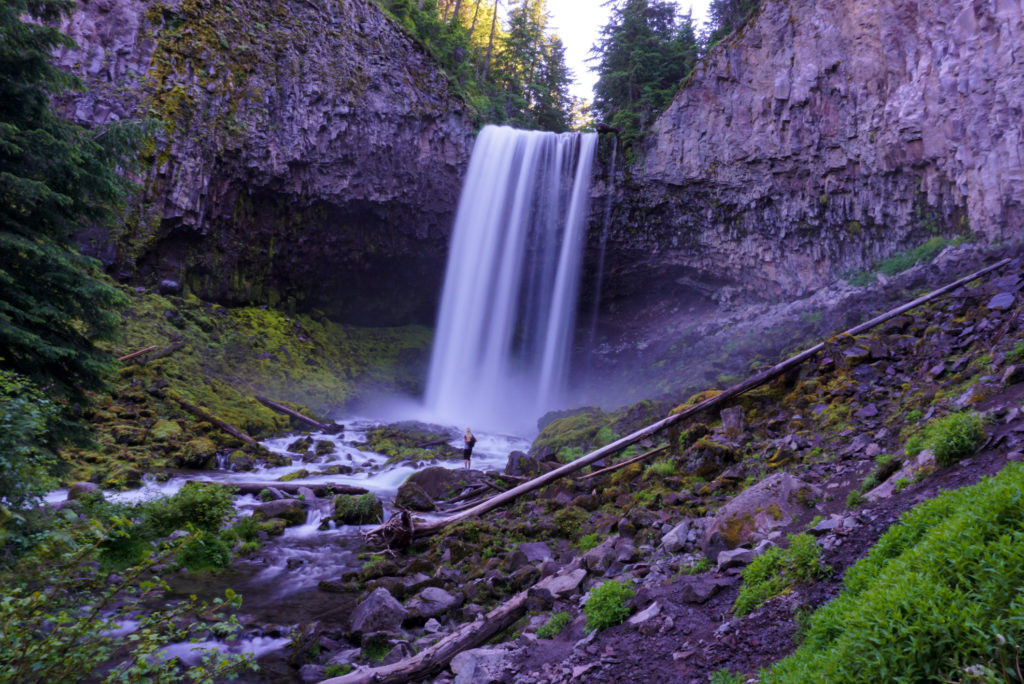 Go to the hospital? A surprising spot to see the sunset.
One of the first things we do when we arrive at a new destination is search for the best spots to watch the sunset. So when the receptionist at the RV park told us to go to the Skyline hospital for sunset views, we thought he was crazy! But as it turned out, it was a great spot after all. It gives you more of an elevated view of the gorge since the hospital sits up the hillside. So, if you happen to trip and fall while trying to capture the perfect sunset photo, you'll be in the right spot!
Take a day trip to Portland.
I know what you're thinking. One day in Portland is NOT enough, we know. But one day in Portland is better than none. We had actually already been to Portland but couldn't be so close and not go back. There are amazing things to do there and the drive between Portland and Hood River is truly breathtaking (stop at Multnomah Falls if you have time…it's right off the highway!). But we were happy just riding bikes in waterfront park and grabbing a donut at the famous VooDoo Donuts in between brewery stops! On our way back to Hood River we stopped at Cathedral Park which is underneath St. Johns Bridge. We were so impressed by the stunning architecture. It's definitely worth checking out!
Want to book a spot at one of these RV parks and campgrounds?
We have saved hundreds of dollars using our Passport America discount and still get to stay at awesome RV parks! Check out the membership below!
Need other accommodations?
If you're not an RVer and plan to visit any of these areas, we would highly recommend using Hotels.com. We use them every time we book a hotel room, get the best rates, and have earned several free nights with their awesome rewards program.