Something Unexpected
A little over two years ago, my wife Lindsay came to me with a crazy idea. She thought we should get rid of everything and move into an RV so that we could travel the country full-time.
I'll admit, the idea sounded pretty cool, but I was slightly worried my wife had gone off the deep-end. Didn't she remember that we had just packed up our entire life and moved from Colorado to North Carolina only six months prior? Had she all-of-the sudden forgotten about that little thing called a job that she went to nearly every day? RVing the country was a nice thought, but I was worried she had lost it.
Little did I know that was only the beginning.
Something major was about to happen to my wife, and in many ways, it's all RVing's fault.
The RV Journey Begins
A couple of weeks went by after she brought up the full-time RVing idea and she hadn't mentioned anything more about it. I assumed that she'd moved on.
In secret, however, she was doing research on everything RV and had found an RV podcast, The RV Entrepreneur Podcast to listen to during her commute to and from work. One day, she asked me to listen to the podcast and talked about how younger, non-retired folks from all over the country (and world) were living in their RVs while making money from the road.
What can I say? It all sounded amazing, too good to be true, in fact. It was like listening to Billy Mays talking about the wonderful cleaning power of oxygen: it was captivating and exciting. Within a couple of episodes, I was hooked.
The next couple of months were a complete whirlwind. We went all in on our dream of traveling full time and in a few short months, we'd packed our lives away into storage, sold everything that we could, and hit the road as full-time RVers.
It Started Happening
While preparing for and handling the logistics of moving into an RV, I started to notice it. There were a lot of challenges to overcome to make the RV dream a reality, and I felt like it became more noticeable with each challenge we overcame.
But, once we'd hit the road, it became undeniable. Something had happened to my wife. The girl I'd been with for the last ten years was somehow different, she was changing right in front of me. It was still her, but it was her, somehow… improved.
She had a bright spark in her eyes and a new way about her. It's hard to explain, but somehow RVing was turning her into an even better version of herself.
She started doing things she'd never done before. She was learning new skills and doing work she'd never imagined herself doing. She was excelling and her confidence was growing by leaps and bounds It seemed like there was no challenge too big or too great for her.
Before the RV, she was content and happy. She took things for how they were and tried her best to not complain.
But now, her dreams were growing and rising up from all directions like balloons at a hot air balloon festival. She felt that if she could handle the uncertainties and adventures of RV life, she could do anything she wanted with her life.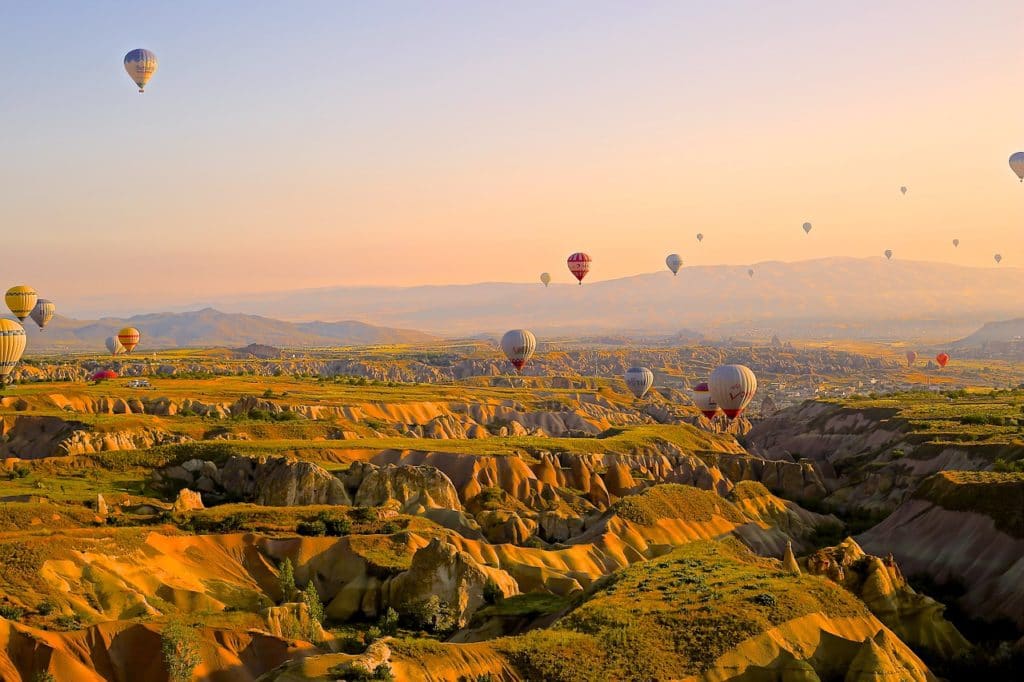 Now, every day she was conquering her fears and casting out self-doubting beliefs that had held her back for so long. Other people started to notice the change, too. They started calling her things like "entrepreneur" and "coach" and telling her that she was "inspiring". None of that seemed to matter much to her though. She was busy climbing mountains, chasing sunsets, running half marathons and loving on the people that she came across.
You see, once we moved into the RV, a force was unleashed in her that couldn't be stopped.
It still hasn't stopped. If I am honest, it hasn't stopped for me either.
It Could Happen to You
I've learned that what happened to me and my wife has also happened to a lot of other people.
As it turns out, going full-time RV is a great way that it can happen, because it is what happens when people transform themselves by taking risks and going after their dreams.
It's a life-force the arrives once you push past your boundaries and comfort zone – when you expand your horizons.
Regardless of what you see on social media, no matter how glamorous the RV lifestyle or #vanlife may appear, pursuing this life takes great courage. It's not easy to tell your family and friends that you are willingly seeking out an alternative, and often times uncomfortable lifestyle. It's not easy to downsize or to navigate all the different challenges that having a home on wheels can bring, but it is worth it.
For us, and for many others, it's not worth it because of the places we've been, the hikes we've done or the photographs we've collected along the way.
It's worth it because of it. Because of who we've become and the ways that we've grown as women, men, husbands, wives, sons, daughters, mothers, fathers… people.
Be careful. If you're considering the full-time RV lifestyle, it may happen to you, too. You may find that what started out as a dream of traveling to see the country, may just end up being something so much more.
It certainly has been for us.
Daniel McKenzie
Dan is a near Colorado native that loves to experience new places, cultures, and adventures. He considers himself a pretty laid back kind of guy and loves to enjoy a refreshing beverage on a patio.