When we were originally planning our Thailand trip, we were mostly excited for the incredible beaches. We only put Chiang Mai on the itinerary because we wanted to visit a specific elephant sanctuary. Turns out, though, Chiang Mai was our favorite part of the whole trip! You simply cannot go to Thailand without experiencing this cultural wonderland and enjoying its abundance of activities and hospitality.
The city is located in the northern part of the country, which is distinctly different than the southern part. The history, culture, landscape and even food are all different. It's an ancient city with the historic center being surrounded by walls and moats.
It's a modern city, too, with trendy areas and large shopping malls. Lastly, it is a spiritual city. There are over 300 temples in Chiang Mai and the surrounding area and all make their mark on the feel of the city. Basically, it's a wonderful place that you absolutely must visit while traveling in Thailand!
6 activities and recommendations for Chiang Mai!
1. Shop and Eat at the Night Bazaar
We were lucky to be staying at a hotel within walking distance to the Night Bazaar that is along Chang Klan Road. We walked around the market every night because there is just so much to see!
The market is full of vendor stalls that are clustered around permanent shops and restaurants. It has a big variety of items, including clothes, souvenirs, jewelry, art, and lots of knock off brands of watches, sunglasses, and purses. The night bazaar is open every day until midnight You can definitely haggle the prices, which can be a fun experience in itself.
2. Be an Elephant Trainer for a Day at Patara Elephant Farm
Our experience at this Patara Elephant Farm was one of the most memorable moments of our lives. Please do your research on ethical elephant tourism in Thailand before you plan any tours, and because elephant experiences are so popular, you'll need to book your visit well in advance (I'd say at least 6 weeks if not more!). We were extremely pleased with and impressed by Patara Elephant Farm. You not only get the unforgettable experience of caring for an elephant for the day, but they also educate you on these amazing animals.
Patara cares for the rehabilitation and reproduction of elephants in a very humane and caring environment. We were paired up with our very own elephant and a trained guide. We fed, bathed, walked, rode, and played with them. The trainers were very friendly and helpful. Ours took TONS of photos so we could just enjoy our time and not worry about a thing. At the end of the day, they gave us a CD of photos and videos from the day for FREE! We honestly had a perfect day and can't say enough good things about Patara!
Note on elephant tourism. We felt it was very important to only experience these magical animals in a safe and ethical way. Abuse of elephants is rampant in Thailand. We found many articles that indicated Patara was a safe and ethical and that its goal is conservation and rehabilitation. We've also seen some articles that claim the opposite. We've read that any riding of elephants is harmful to the elephant, and we've also read that as long as it is bareback, then it is no problem. Frankly, we don't know what is the whole truth and what to believe. All we can say is that animals didn't appear mistreated and the workers seemed to genuinely care about their well being during our visit. Certainly, any time there is profit at the expense of an animal, there are going to be questions about the animal's well being and treatment. Our recommendation is to do you research and act in accordance with what you believe to be true when experiencing these marvelous creatures.
3. Become a Master Chef at a Thai Cooking School
Whether you enjoy cooking or not, do yourself a favor and take a cooking class in Chiang Mai! You won't regret it. Besides the elephant experience, this was our favorite activity of the trip. There are TONS of great companies offering cooking classes, but we loved our experience with Asia Scenic Cooking School.
We started off by walking as a group to a nearby market. The lady instructor walked us through the market and showed us the most commonly used ingredients in Thai dishes. Once back from the market, we started cooking! We chose an appetizer, an entree, and a desert. There are several options to choose from so not everyone will cook the same thing. This was nice because if you made friends, you might get a taste of a bunch of different things. Honestly, the food that we made in the class was as good or better than anything else that we had while in Thailand.
4. Get Trendy on Nimmanhaemin Road
This road on the west side of the city near the foot of the mountain is modern, chic, and full of young people. It's probably due to its proximity to Chiang Mai University. Packed within about half a mile or so, are all sorts of coffee shops and tea houses, bars, trendy eateries, live music, art and craft shops, and clothing boutiques. Our favorite spot was Beerlab because of its large selection of beers from all around the world and it's awesome patio. After several days of drinking nothing but Singha and Chang beer, it was nice to get a craft beer (even if it was way more expensive!).
5. Taste the Local Fare at Chiang Mai Gate (South) and Chang Pheuak Gate (North Gate) Food Stalls
In Thailand, you'll have to forget your past experiences or opinions about street food. There's really no better way to enjoy the local cuisine than from the food stalls. We ate street food for at least 1 meal every single day.
The Chiang Mai Gates (South Gate) is one of the largest gatherings of food stalls and also one of the closest and most convenient to get to from the main tourist area of town. The food stalls at South Gate are open every night and have something for everyone, including lots of noodle stalls, stir-fried dishes, sweets and desserts, curries, and soups. You can also get fruits, veggies, and meat here during the day. You can take a walking food tour, in which a local will take you around and help guide you on a culinary journey. We didn't have time for a food tour, but heard they are a lot of fun!
The Chang Pheuak Gate (North Gate) is smaller and a little bit less touristy than the Chiang Mai Gate. You might encounter vendors that do not speak or understand much English and the dishes might be a bit more adventurous. If you've watched Parts Unknown with Anthony Bourdain, you will likely want to visit the North Gate. The lady with the cowboy hat can be found at the North Gate serving up an amazing concoction of pork, rice, broth and egg! It was as delicious as Mr. Bourdain said that it would be!
6. Visit a Buddhist Temple
Wat Sri suphan: Chiang Mai's Silver Temple
In search of another night market on the scooter, we were pleasantly surprised and fortunate to stumble upon this shimmering temple. The Silver Temple had just finished being completed while we were visiting. In fact, while we there, a ceremony was taking place in celebration of the temple's renovation completion.
The entire temple is covered in silver (technically, the exterior and interior are covered in zinc and alloy, and the real silver is saved for the holy images) and while it glitters from the sun during the day, it is even more beautiful at night when it is lit up. Be aware – women aren't allowed inside due to the Lanna belief that entering may deteriorate the holy objects buried within. Even still, there's plenty of intricate detail depicting the life of Buddha on the outside to enjoy!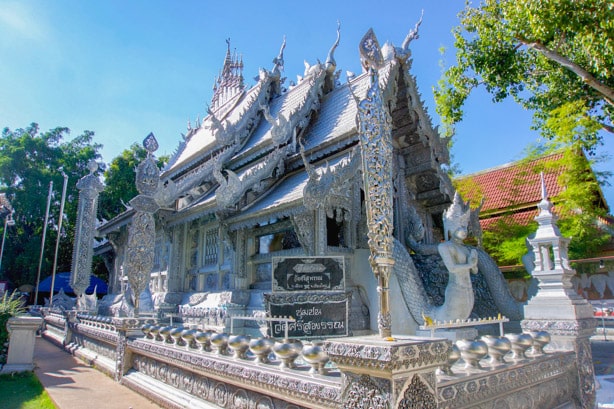 Wat Phra That Doi Suthep (Doi Suthep)
Doi Suthep is probably the most popular temple in the region. Sitting atop Mount Suthep, Doi Suthep is a really interesting place to see. The golden-spired temple is beautiful and the emerald Buddha are cool.
For us, the centerpiece was the serpentine stairs that lead from the bottom of the road to the temple. The temple is a working monastery so try to catch the monk's procession where you can bring them offerings. The monk is a highly regarded figure in Thai culture and it is neat to get to see the community bestow them with gifts and offerings. We missed the procession but we were able to catch a few monks on our way out that were kind enough to take the gifts that we brought for them.
Doi Suthep is about a 25 minute drive up the winding mountain road from the city center. We took a red songthaew which was very convenient, albeit not very comfortable. We just flagged him down as he drove by. Lucky for us, there were no other passengers so he took us straight there and waited for us while we saw the temple.
Conclusion
Chiang Mai was one of our favorite places that we have ever been. We didn't have big expectations and perhaps that is why. Or, the more likely reason is because it is an amazing place that holds tons of wonder and historical charm. Its surrounding scenery is beautiful and there is something that allows Chiang Mai to penetrate your soul. Hopefully, you're inspired to book your own trip to Chiang Mail and experience these 6 activities for yourself.
Click here to pin this for later and be sure to check out our other Thailand pages.