Krabi is Province of Thailand that includes many popular destinations such as Ao Nang, Railay, Ko Lanta and Ko Phi Phi. The scenery and beaches in this part of the country are incredible. The food is amazing and the people are welcoming! It is home to several national parks, which makes it a well-known area to adventurists for its diving, snorkeling, sailing, kayaking, etc. Regardless of your passions, you can find it! Don't worry if you are short on time. There is plenty to see and do, even on a quick visit.
Here are the best things to do with 3 days in Krabi, Thailand.
"Home base" in Au Nang
As with Phuket, we found it best to choose a "home base" but explore as much or as little as you wish.
Au Nang is the center of tourism in Krabi and the most developed resort town in the region. It's also the main departure point for many of the longtail boat tours that take trips to other nearby islands and beaches such as Railay or the Phi Phi Islands.
The Au Nang beach is nothing special so don't spend time there, especially considering you are so close to other amazing beaches. However, off the beach is where the longtail boats line up, waiting to depart, which makes it a good place to capture that popular photo that you just can't take enough of!
The majority of our time in Au Nang was spent taking boat tours to other popular beaches. When we first arrived, we were under the impression that we could walk up to a boat, haggle the price a bit, and be on our way. We viewed the longtail boats as water taxis in a way, but that was not the case at all, so perhaps they have changed the way they manage the tours now.
To get on a longtail boat, you must first buy tickets at the stands located at the either end of the beach. There you have a choice between several standard offerings (private boat vs. group rides, length and destinations). The important thing to know is if you choose the most affordable option, which is just a simple ticket for a round trip ride to one beach, the boats won't leave until it is full or close to full. They do not run according to a schedule. Therefore, expect a wait to depart and again when you want to return. A good idea is to split the cost of a private boat with a group of people (ask around at your hotel, perhaps, if you aren't traveling with a group).
Take a Longtail Boat to Railay Beach
Railay beach is one of Thailand's most well known and highly photographed beaches. Although only accessible by boat and navigable by foot only, there are still plenty of amenities and accommodations within the 4 different parts/beaches of the peninsula so it by no means feels remote.
We took a day trip Railay's main beach, and although it was pretty crowded, we really enjoyed the tranquility it still provided. The beach is absolutely gorgeous because of its turquoise water surrounded by dense jungle and dramatic limestone cliffs.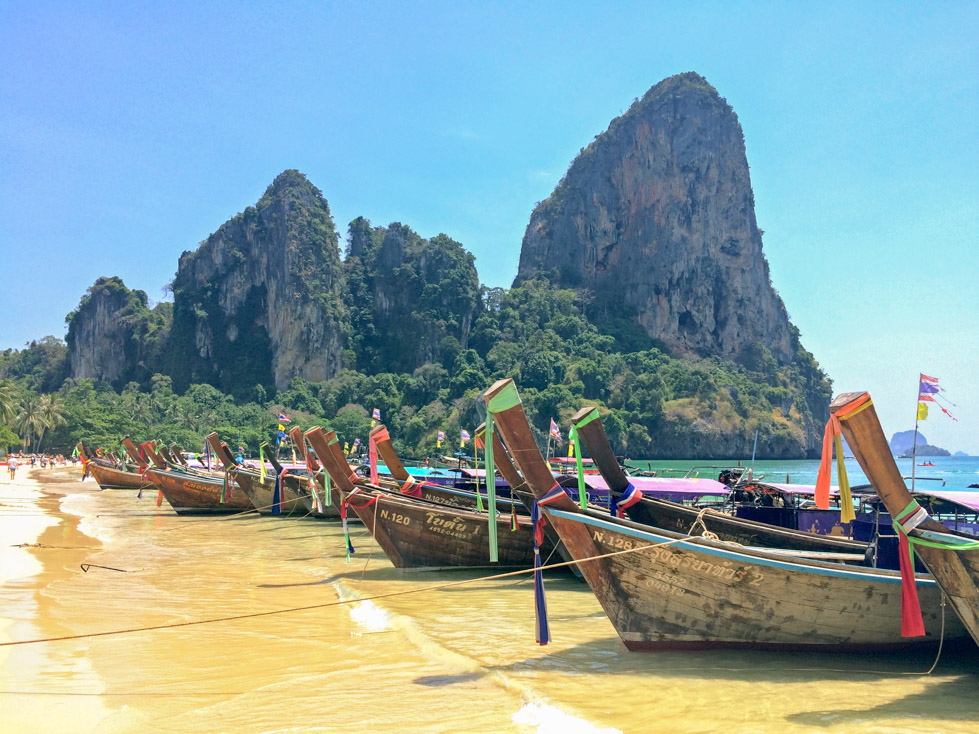 Take a Longtail Boat to Phra Nang Cave Beach
Well known for it's shrine honoring a princess goddess containing lots of wooden, hand carved and painted penis's of all sizes, you'll want to take a quick visit to this intriguing site. It is said that fisherman visit the cave in belief that their offerings will bring them success and safety, and the phallic shrine is also believed to help with fertility.
Along with the shrine, you'll enjoy yet another beautiful, peaceful beach with a breathtaking view of the Andaman Sea. The cave is also famous for its wonderful stalactites and stalagmites.
Our favorite part about the beach was that it was a little more low-key, less crowded, and offered a variety of food cooked and served from boats! It was so fun to walk along the water and check out the different menus and watch them cook your delicious Pad Thai right there from the boat! It also allowed for quick beer service!
Visit Ko Phi Phi Islands
This group of 6 islands are postcard perfect and offer the ultimate tropical paradise getaway. Phi Phi Don and Phi Phi Lee are the largest and most well-known of the islands. The Thai population of Phi Phi Don consists of more than 80% Muslim, so if your definition of paradise involves a tropical cocktail like ours does, you'll only find alcohol served at some restaurants and convenience stores, but not all. Phi Phi Lee became more popular when they filmed parts of the movie "The Beach" featuring Leonardo DiCaprio there on Maya Bay.
The main beach of Maya Bay is stunning with its smooth white sand, crystal clear water, and colorful, exotic coral and fish. Thousands of tourists visit this beach every day, making it very crowded, but even still, nothing can distract from its incredible beauty. You won't be able to put your camera down! The other 4 islands that make up Ko Phi Phi are enjoyed either as a quick stop or viewed from the boat passing by slowly. In fact, 2 of them are just limestone cliffs rising from the sea with no landing spots. However, they do offer great opportunities for diving!
*Unfortunately, do to hyper-tourism, Thai authorities shut down Maya Bay in June of 2018. It is unknown when or if this beach will reopen.

Watch the Sunset at Peak Bar at Aonang Cliff Beach Resort
Since part of Au Nang is situated along the limestone cliffs, you can find some great spots with ocean and sunset views. We enjoyed a beautiful sunset and evening at the Peak Bar located in the Aonang Cliff Krabi Resort. Although not as popular as Lae Lay Grill, for our money, the Peak Bar is the place to go for a wonderful sunset view and a cold drink. The Peak is located on the top floor of the Panorama Wing, is open to the public for happy hour daily.
Experience the Krabi Town Weekend Night Market (Walking Street)
We couldn't get enough of the night markets in Thailand, which was really the only reason that we went to Krabi Town. The Krabi Weekend Night Market on Maharat Soi 8 (behind the Vogue department store) was possibly our favorite night market in all of Thailand. The merchandise was pretty much the same as the others but the atmosphere was not quite as hectic or crowded as the Phuket market, which was made it more enjoyable for us. Also, there was an outdoor area with plastic tables, kids activities, a stage, and lots of food stalls that made it a little easier to relax and enjoy the food. Click here to get an idea of what foods you can expect.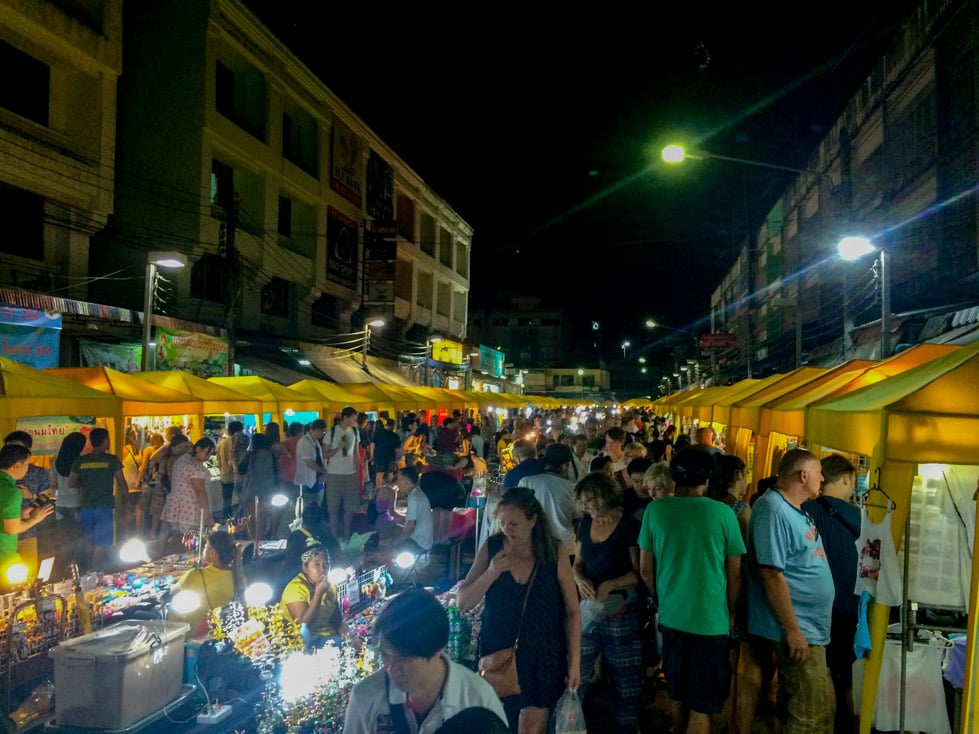 If you are staying in Au Nang, we recommend that you take a taxi or a tuk-tuk to the night market. It is about 35 minutes away.
Conclusion
We only had a couple of nights in Krabi so we did not get to do everything we wanted, but we really loved our time. From the dream worthy beaches to the exciting night markets, we found Au Nang and Krabi to be extremely enjoyable.
Click here to pin this for later and be sure to visit our other Thailand pages.