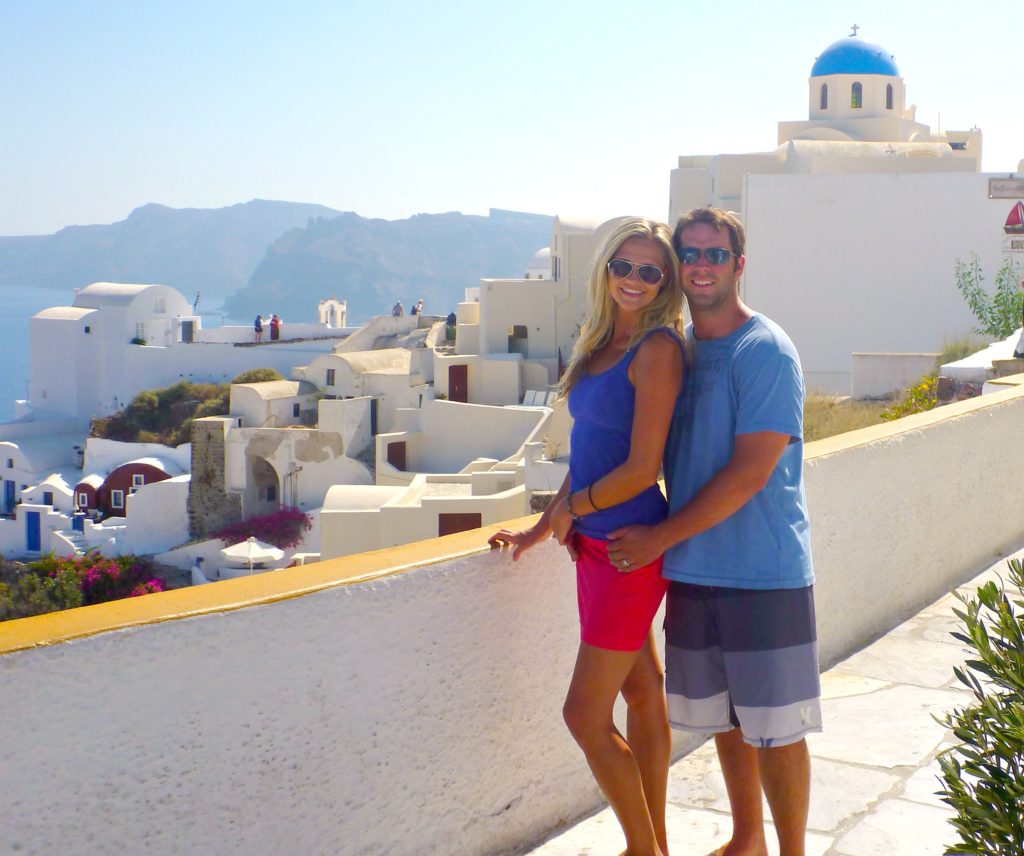 Santorini is the largest island of a circular archipelago in the southern Aegean Sea, southeast of Greece's mainland. It is most known for its heavenly photos of white buildings with blue rooftops set upon cliffs overlooking an endless sea. Just looking at photos of Santorini makes you feel like you're in a dreamland. Being there, you feel that way even more and you'll be pinching yourself the moment you arrive.
Where We Stayed
We stayed in Imerovigli, which is a town located between Fira and Oia, and we absolutely loved it. We stayed at Prekas Apartments and couldn't recommend it enough. The staff was incredibly welcoming, the view was exquisite, and with only a few apartments, we felt like we had the whole place to ourselves! You can't beat this breakfast view from our patio. The pool was really great as well!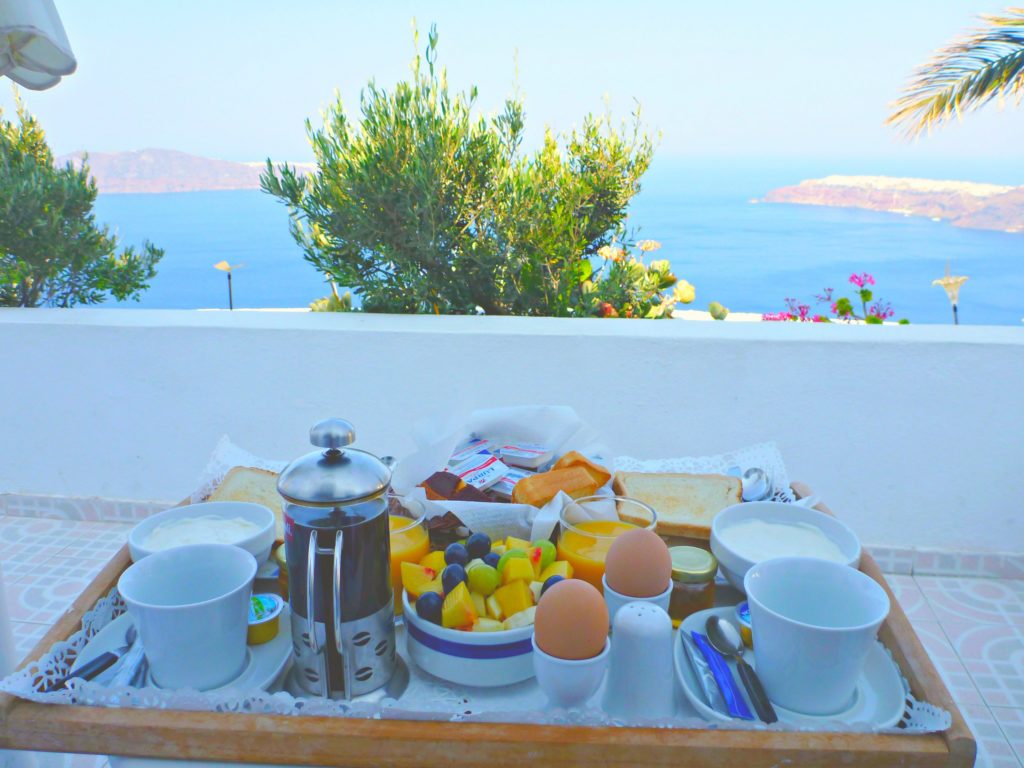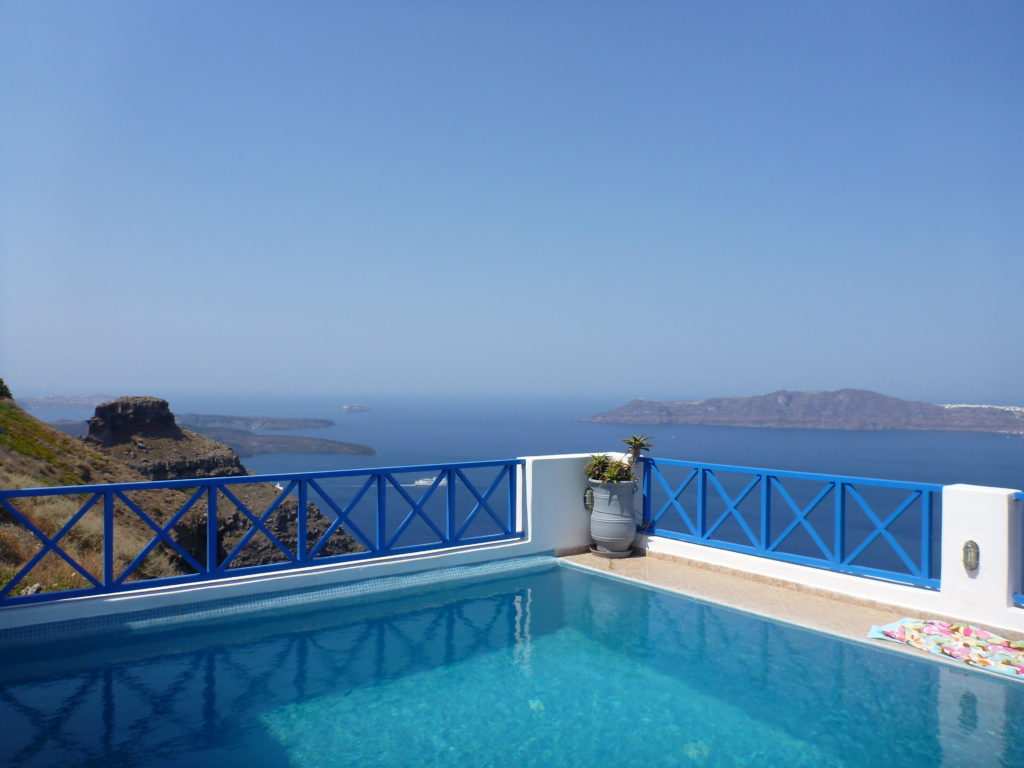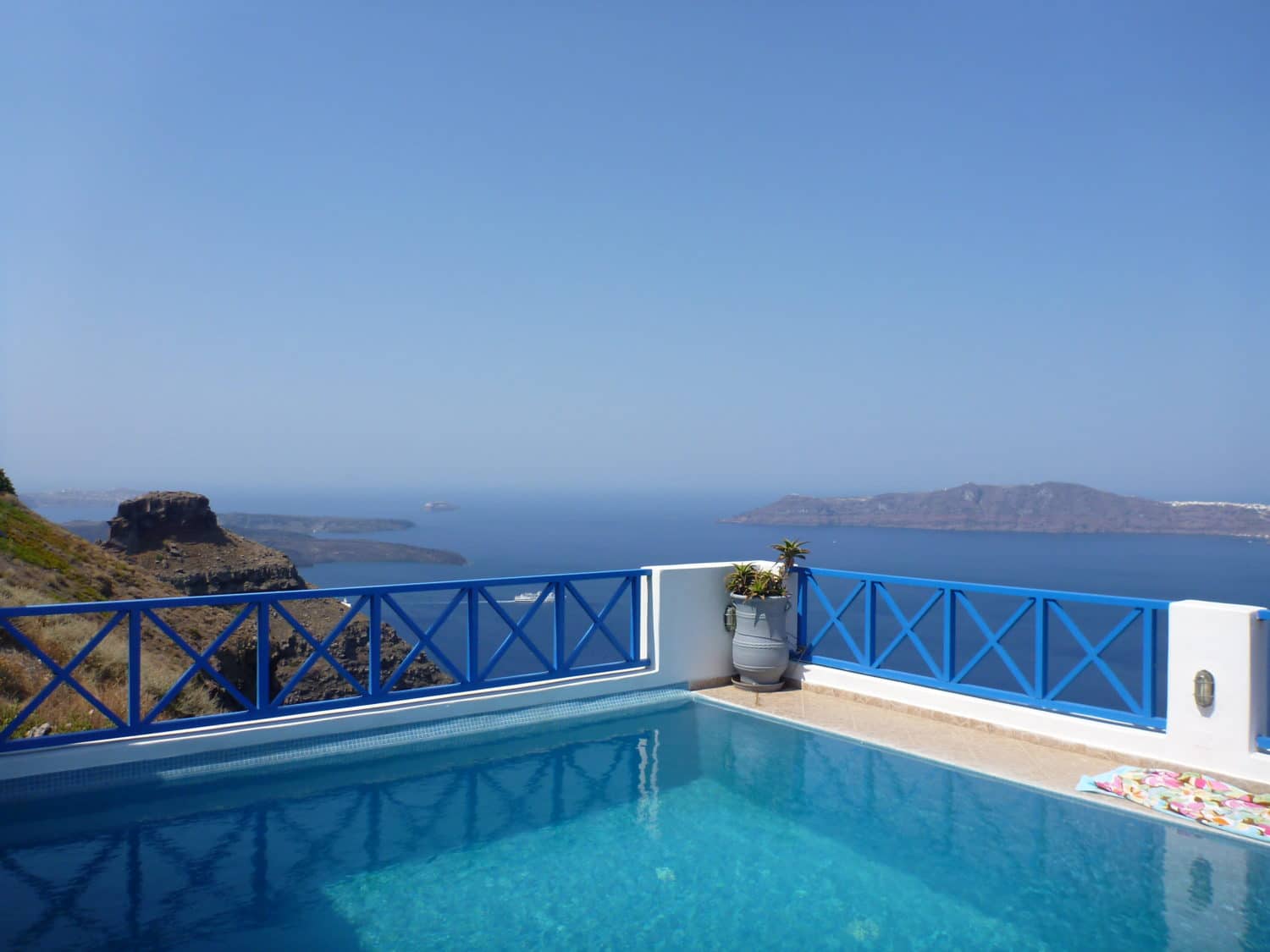 Deciding Where to Stay in Santorini
There's a lot of hype surrounding the towns of Fira and Oia, but we found Imerovigli a better place to call home during our stay. In our opinion, Imerovigli offers all the same great views of the Aegean without the crowds that its neighboring towns have. Oia has stunning views, sunsets, and excellent dining, but overall felt extremely overcrowded. We recommend going there for a sunset dinner (arrive early to beat the crowds) and shopping. Oia also offers different scenery for incredible photo ops too. Make sure you snap the famous photo of the windmill if you can get through the crowds. There's also lots of spots to take an awesome photo of the beautiful pastel colored buildings along the cliff, like the one we took below.
Fira, the capital of the island, is a popular choice for visitors due to its excellent accommodations, central location, great restaurants, and amazing views. But again, for our money, we felt Imerovigli was the better choice because Fira is highly congested with traffic and tourists. Fira is walkable from Imerovigli, which is convenient but is also a great activity in itself. While it only takes about 20 minutes, it probably took us an hour because of all the beautiful views and photos we had to take. We walked all around and then enjoyed a great lunch with stunning views but didn't spend too much time in Fira because of the crowds.
Imerovigli has lots of great restaurants too and offers more of a quaint, laid-back vibe, which was refreshing for us. Wherever you decide to stay, we HIGHLY recommend paying the extra money for a room with a patio/balcony and a view of the caldera. We literally wasted hours just sitting on our patio or by the pool taking in the view. Actually, that's the main reason to visit Santorini in the first place. It will be well worth the price!
Getting Around Santorini
While there are buses and taxis, the best way to get around the island is by renting a scooter or ATV. The roads are narrow and it can be a little intimidating at first, but you'll quickly get the hang of it. Having a scooter allowed us the freedom to go where we wanted, when we wanted which was great! We were able to explore almost the entire island in one day!
7 Things to Do in Santorini
Sit Back and Relax
There is a lot to do and see in Santorini, but make sure that you allocate time to simply relax. The views of the caldera are absolutely incredible. Everyone's seen pictures of Santorini, but I promise you that it is WAY better in real life and you'll want to simply soak it in.  You'd be wise to sit back, grab your favorite beverage, get something to read and let the time pass! In the spirit of relaxing, many of the hotels offer world class spa's where guest can be pampered for ultimate relaxation. We didn't partake in this, but I can only imagine that it would have been great!
Eat fresh, delicious Mediterranean food
Santorini has no shortage of excellent dining options. Honestly, there is a pretty good chance that you will enjoy wherever you decide to eat while on the island. Sometimes we research and seek out a restaurant based on reviews, and other times we just find a place where the environment matches our mood. Typically, if there's a great view, there's a good chance that's where we'll go. So, while on the island find the type of restaurant that suits you best and go there… chances are good that you'll love it. There are two places that we went that we do recommend, though:
Bella Thira in Imerovigli – We walked to this restaurant from our hotel. The restaurant doesn't have a great view but does have really good food and a more quiet, authentic atmosphere.
Taverna Santorini Mou – This is a popular place to visit for tourists of all types – the restaurant/bar proudly showcases all of the celebrities that have visited. In fact, the owner showed us a binder containing photos of him with Jennifer Aniston and Greenday that were taken during their visits. We especially enjoyed the atmosphere at this tavern. The live music, the way they engage with the guests, and the funky decor, made it such a fun and memorable experience.

Taverna Mou is a fun place to go – loved the live music!
Watch the Sunset Every Single Day
Every night we were in Santorini, there were sunsets like we've never seen. I think half of the photos we took there were sunset photos. You'll have plenty of chances to snap gorgeous sunsets, but don't forget to stop and enjoy them with your eyes too! Whether you're at a fancy restaurant, sitting on your private balcony, scooting along the road…there's no doubt you'll enjoy several unforgettable Santorini sunsets. We sure did!
Visit Ancient Thira
This antique city can be reached from a winding road starting at Kamari and leading you up the Messavouno mountain. The drive up to the top is the best part of visiting Ancient Thira. With every curve, you'll get a different view and when you arrive at the top, you won't believe the beautiful sights of the coastline. The limestone ruins are fascinating too, but the views and ride up were what we enjoyed most.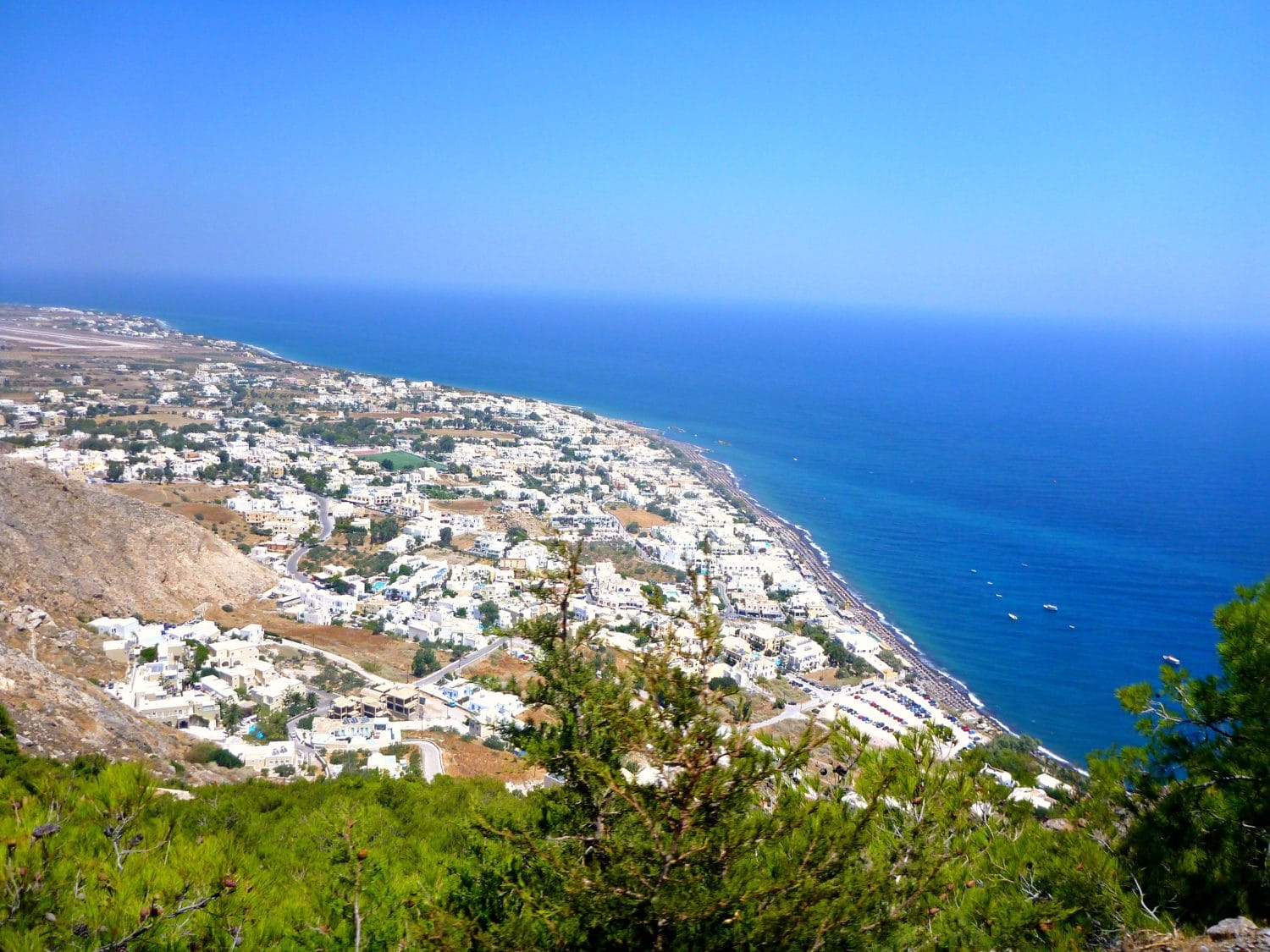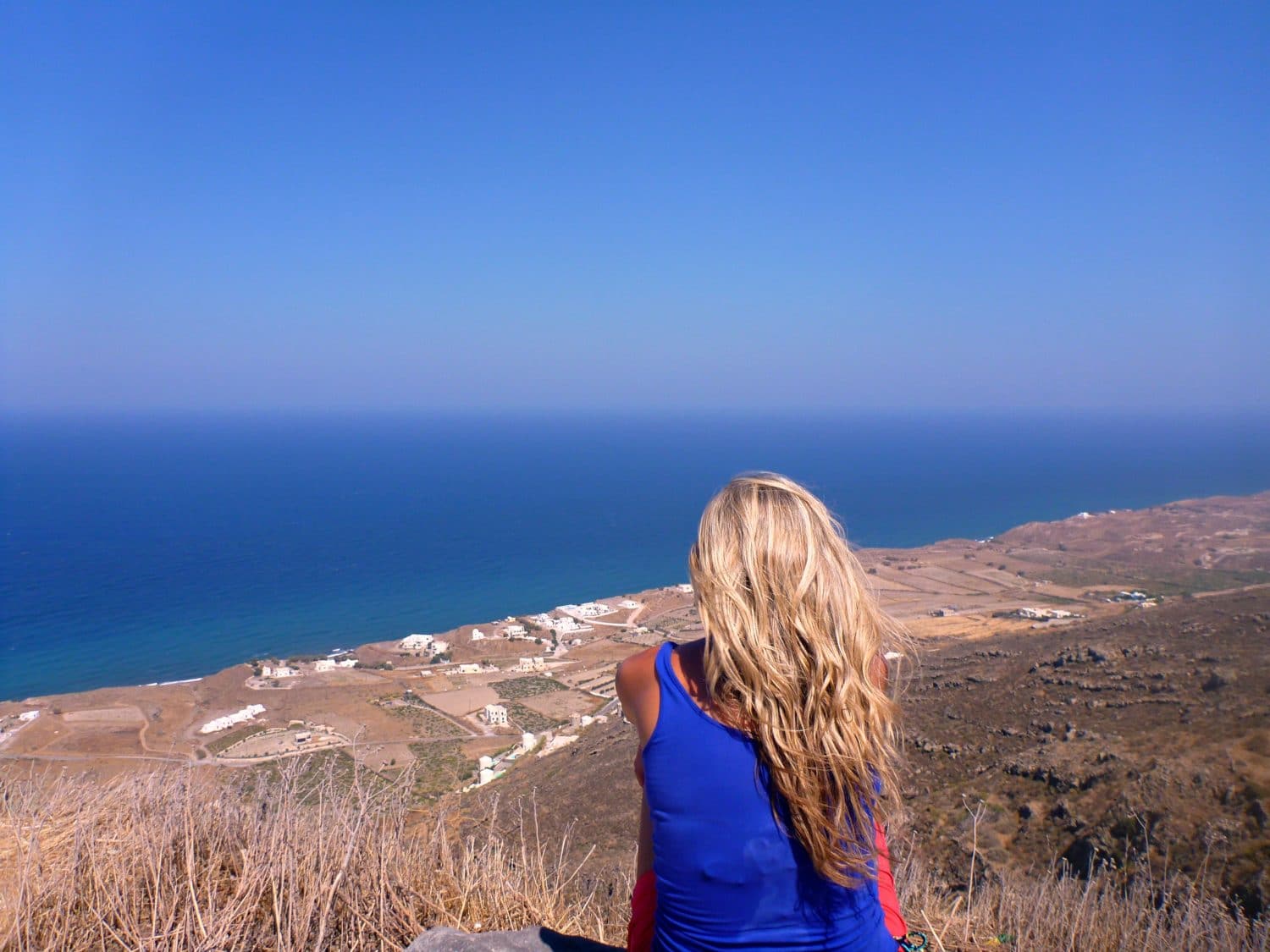 Go to the Beach
The volcanic history of Santorini has led to the formation of its unique beaches. While riding around the island on our scooter, we discovered Kamari Beach and Perissa Beach. We loved the unique black sands of these beaches. Both of these beaches feature the enormous rock called Mesa Vouno that rises from the water and are convenient because they are on the way to Ancient Thira. We stopped and walked along the rocks in the water, checked out the shops and restaurants along the boardwalks, and soaked up some sun under a tiki umbrella.
Kamari, being one of the larger beaches on Santorini, had many luxury resorts and amenities. We liked Kamari because it felt very different from the rest of the island and was its very own hip beach town. But again, this leads to more crowds and congestion. We also enjoyed the more easygoing Perissa beach.  Our favorite part was eating lunch steps from the beach and enjoying our favorite part of Greek culture – gyro! We ate at Poseidon restaurant and loved the friendly staff, ocean view, delicious food, and ice cold beers! It was one of the moments in our travels that has really stuck with us, and for whatever reason, we reminisce about it often. There are lots of other beaches in Santorini that we didn't get to see that you may want to check out.
Visit a Winery
We didn't have enough time for this, so we can't say too much about it. However, wine is an important and interesting part of Santorini's history.  Santorini's indigenous white grape varieties and volcanic soils make its vineyards and wine production truly unique. We wish we could have learned more about Santorini's winemaking tradition! This site offers a good overview of the different wineries, as well as a helpful map to guide you in deciding which one you'd like to visit. Cheers!
Go to Ammoudi
Ammoudi is the small but charming port village of Santorini. It has a very little beach area in the Caldera and is accessible by car or foot via a long (200 plus) stair trail along the cliff below Oia's town center. Donkeys are also used for transport up and down the steep narrow trail. We simply drove down and walked around for some photos but didn't stay long. There are a few great taverns if you'd like to sit and enjoy watching the boat tours come and go. Many water excursions also depart from here.
Whatever you choose to do in Santorini, rest assured you will love it. Interested in seeing more photos from Santorini? Check out our Santorini Gallery!
Save this page for later!