Oh Porto, where do we begin? Porto immediately stole our hearts for so many reasons. After driving through and spending time in the Algarve, we decided to fly to Porto from Faro, which was convenient and affordable. We were very fortunate to find an amazing VRBO rental in the heart of the Cais da Ribeira Porto district, which is located on the waterfront and in the city center. Side note: the owner of the apartment picked us up from the airport (extra charge) and made sure we had everything we needed (even a bottle of port wine) to enjoy our stay. This type of hospitality seems common in Portugal, which is one of the reasons it's one of our favorite places.
There is so much to see and do in Porto! As you explore, you'll come across tons of charming streets, plazas, churches and other various places. You could literally spend the entire day walking around (or taking the trolley buses) and getting "lost" in whatever interests you the most (food, shopping, museums, architecture, cafes, bars, etc.).
However, if you don't want to just wander without a plan, here are our top 9 recommendations for what to do in Porto!
You're Gonna Love these 9 Porto Travel Recommendations
1. Learn Everything About Port Wine in Vila Nova de Gaia
Vila Nova di Gaia is the district directly across the Dom Luis Bridge and is home to the incredible port wine caves. You can take the light rail or a taxi across the bridge, but we walked because we wanted to enjoy the view from standing in the middle, looking over the river.
No trip to Porto would be complete without devoting a day to the wine caves and learning about the important history of port wine to the area. Of course, drinking it is nice too 🙂 .
The Portuguese are so proud of their port wine and it is a huge part of whats makes Porto unique. Even though you can get port around the world, there's nothing like the experience of touring the wine caves and sampling wines within the walls of the the port house.
There are many different cellars or caves in Vila Gaia – go to as many as you can! They are all beautifully different and have their own unique atmospheres. Just be sure to check their website for hours, as they all tend to close fairly early and do their last tour even earlier.
At each cellar, you can do a tour, or just enjoy tastings paired with chocolates. We chose to go to Ramos Pinto, Croft, and Taylor and had different experiences at each.
Vila Nova de Gaia is also terrific spot to watch the sunset because the view from this side of the river looking across at the lively Cais da Ribeira, is breathtaking.
2. Grab a Meal at Café Majestic
Enjoy a cappuccino and a quick bite at the Majestic Café, which is rated one of the top 10 most beautiful cafes in the world. It's said that J.K. Rowling spent a lot of time there while writing Harry Potter, which makes sense because it is definitely magical. There is also lots of great shopping surrounding the café, both on Rua Santa Catarina and its surrounding streets.

3. Shop at Mercado Bolhao
After leaving the café, be sure to check out Mercado Bolhao. This small, old, and kind of "shabby" market just down the street. It's filled with fruits, vegetables, meat, and great souvenirs.
4. Go to the Top of Clérigos Tower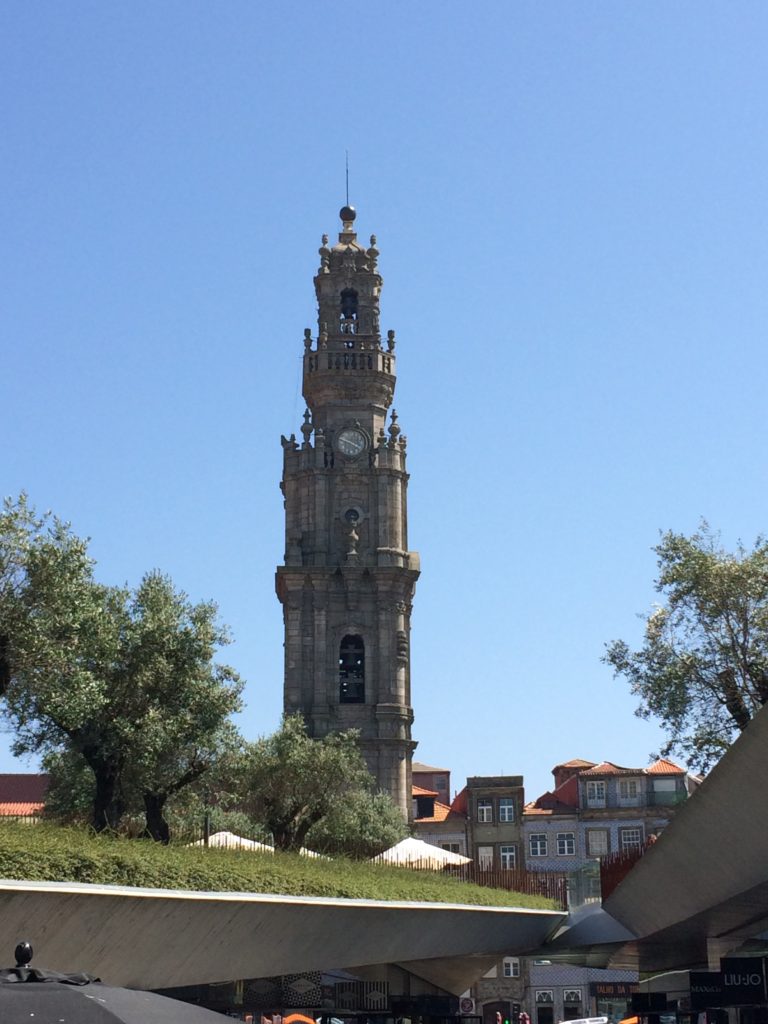 From the market, you can walk to the Clérigos Tower (which is less than a half a mile walk), stopping at shops along the way. This baroque style bell tower is located in the back of The Clérigos Church. The tower stands 76 meters tall and is the tallest structure in Porto.
The views from the tower are incredible and offer a spectacular view of the city.
To get to the top, you must climb a fairly steep and narrow but not too difficult spiral staircase. Once you get to the top, the views will totally be worth it! There is a fee to climb to the top.
One of our favorite parts of visiting the Clérigos Tower was the park that was located directly across from it called Praca dos Clérigos. The park is on top of a 3 story building! The green grassy roof filled with olive trees is a great place to relax, rest your feet, people watch, and take in the sites while sipping on a drink from the small nearby café.
5. Walk Along the Cais da Ribeira
The Cais da Ribeira is packed with cafes, shops, bars, and restaurants. You can't visit Porto without walking along the river and taking in the beautiful site of ships going by on the River Douro. There are also many restaurants and shops along the upper walkway, which has original medieval city walls.
Many homes have been built on and along these walls, like the apartment we stayed in. If you get a chance to stay in one, you won't regret it. We spent several hours sitting in the window sill sipping on Super Bock Stouts or port wine and watching the street come alive as the sun was setting while listening to the live music coming from restaurants, and watching people enjoying the beautiful atmosphere.
6. Experience the Livraria Lello Bookstore
Livraria Lello is around the corner from the Clérigos tower. This is not your average bookstore! It is one of the oldest bookstores in Portugal, was rated the 3rd best in the world by Lonely Planet, and is another favorite spot and place of inspiration for J.K. Rowlings.
Unfortunately, do to Instagram, the word is out on this place. To help control the crowds, the bookstore now charges an entrance fee and you have to have a voucher to get inside.
The stunning staircase and stain glass windows are worth facing the crowd for, however. Make the most of your time there; grab some coffee upstairs and soak in the intricate beauty.
7. See Another Part of the City in Foz
Foz is a great place to take a stroll by the sea, or spend some time on the beach if the weather allows. This district of Porto has a good variety of ocean-front bars, cafés, clubs and restaurants. The waterfront at Jardim do Passeio Alegre on Avenida D. Carlos I is a great place to begin a walk. This is an elegant garden surrounded by palm trees, sculptures, and two mini-golf courses.
The avenue eventually becomes Avenida do Brasil, which begins to have more of a resort look, with it's big houses, beaches, and cafés. The beaches aren't conducive to swimming because of the rocks, but it's a fun place to escape from the city.
If you're walking along Avenida do Brasil, you will also come to the Pergola da Foz, which is a romantic promenade of cement columns. It's a great spot to enjoy the view of the Atlantic ocean, and probably an excellent place to watch the sunset! It's also a great spot to get a cool photo for social media!
Another great spot in Foz is Parque da Cidade, the largest park in Porto. This park is a great spot for a picnic and you'll find lots of people there exercising, playing sports, or just enjoying friends and family. The park is filled with trees, wide open grassy spots, and lakes with ducks. It's another great spot to escape the city and relax in nature.
8. Take a Day Trip to the Douro Valley
There are several ways to get to the Douro Valley from Porto. You can find lots of tours that will take you via boat or bus or a combination of both.
You will pretty much need a full day, but can also spend more time if you'd like. We rented a car and drove ourselves because we were told is was one of the most beautiful drives in the world, and it definitely was! Driving ourselves saved us some money since tours were a little pricey, and it also allowed us to pull off at any time and take in the incredible views, which we did often. But driving yourself also comes with the extra stress of navigation, and I'd imagine the view from a boat on the river is unbelievable! You just have to do what suits your time, budget, and preference.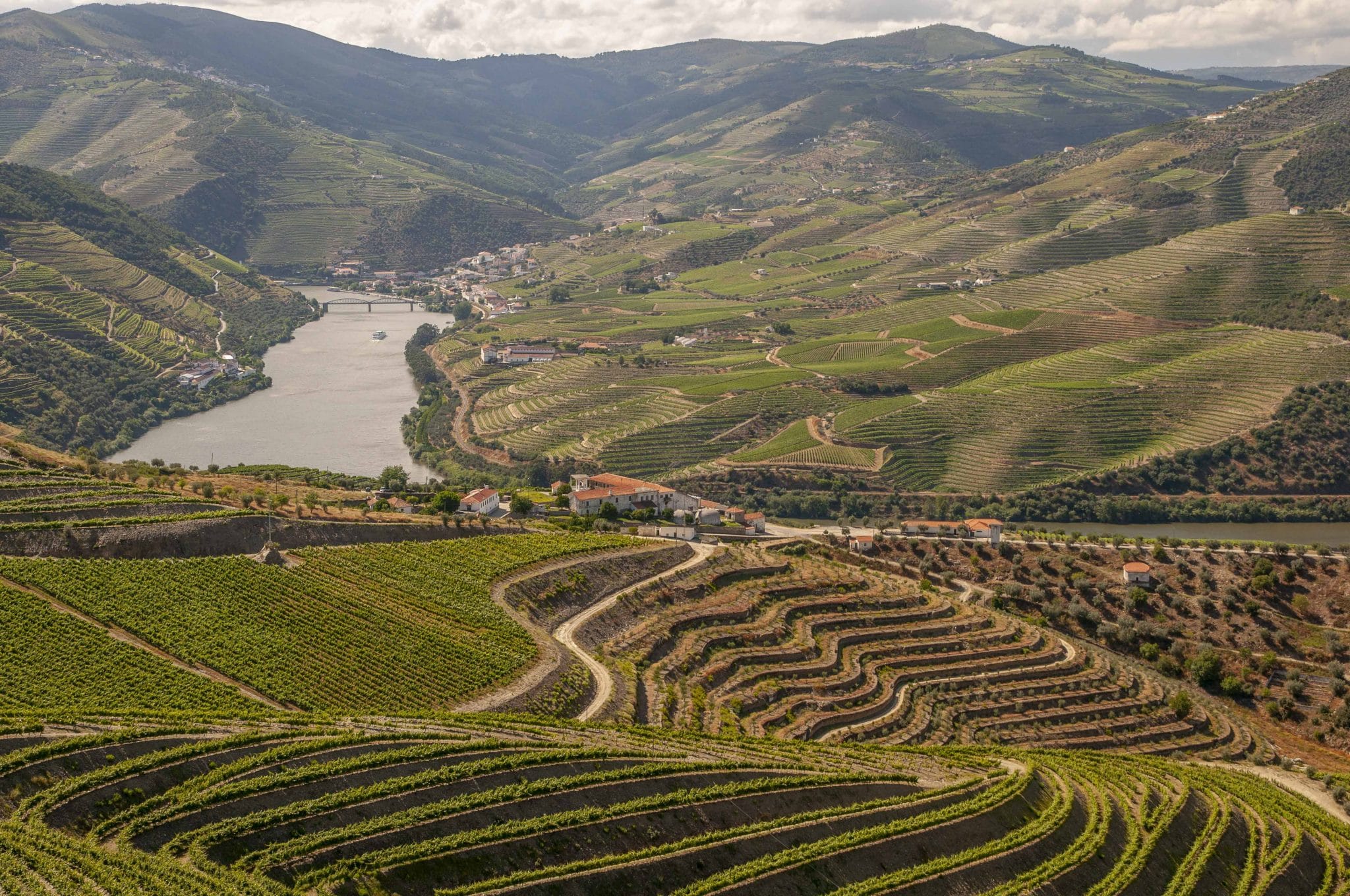 There are also lots of vineyards or quintas to choose from in the valley that are open to the public. These quintas are where the grapes are grown that are used primarily for port wine.
We chose to tour the Quinta do Panascal, home of Fonseca ports and were very happy with our visit. We felt it was a great beginners or introductory guide to port tasting. The view was unforgettable and it left us wanting to go to more vineyards, which we unfortunately didn't have the time for. So again, you have to decide on the length of your trip, and research the different types of vineyards based on your own preferences.
9. Experience the Local Fare
Sande de Pernil (Pork Sandwich) at A Casa Guedes
A Casa Guedes is a local gem that was a major highlight of our trip. The 'main event' is a slow-roasted pork and cheese sandwich served on toasted bread. Its simple, cheap and absolutely delicious! They offer a sandwich and a Super Bock Stout combo, which is a real crowd pleaser! Check out there Facebook page here. Don't be surprised if there is a line or a challenge to find a place to sit because it was very popular with the locals!
Pastel de Nata (Custard Tart) and other Portuguese Baked Goods
Pastel de Nata is widely available around Porto. And, it's a good thing too, because you may find yourself wanting them throughout the day! These sweet, egg custard pastries are simply delightful. Dan has been dreaming of Nata since the day we left Porto!
Portuguese Francesinha and Vinho Verde
Francesinha means "little Frenchie" in Portuguese and is the Portuguese response to France's croque-madame. These decadent sandwiches come in lots of forms around Porto, but the gist of it is a meat filled sandwich, topped with cheese and fried egg and then smothered in a beer-based sauce. Traditionally, french fries accompany as a side item. It's pretty much heaven in the form of a sandwich if you ask us!
Conclusion
Porto is a wonderful city and a great place to visit. There's a gorgeous waterfront for strolling and leisurely passing the time. There's centuries of history and beautiful architecture. The people are warm and friendly. There's a tangible pride that the residents exhibit and traditions and customs they hold on to dearly. It's well connected to the rest of Europe as well as all of Portugal. All in all, Porto remains one of our absolute favorite destinations. We hope you'll enjoy these 9 recommendations for things to do in Porto. Safe Travels.
You might also like…
Sunshine and Views: 7 Activities for a Perfect Time in Santorini, Greece