When preparing to move into an RV to travel in full-time, one of the challenges you'll face is deciding what to bring in the RV. It is minimalism at it's finest. The entire process – selling items (sometimes even your house), putting other items in storage ("we will need that someday!"), putting aside what you want to bring in the RV and then cutting that in half…and in half again. It ends up being much more difficult than you anticipated. 
We Googled, asked the advice from other full-timers, and went back and forth on a lot of items. Yet, we still made some mistakes.
In fact, after 3 months of being on the road, we are back home in Colorado for several weeks and eager to do some major switches on what we brought and what we should have brought!
So we decided to write a post to help any newbie full-timers out there who are in this very same struggle! Here are our tips:
1. You don't need as many RV supplies and tools as you think!
We immediately began researching the tools and RV supplies we were going to need. We were clueless. We bought everything and anything someone or some website would suggest.  You don't want to get caught in a bad situation and not be prepared, but we definitely over did it. While
some things are definitely needed
,
be cautious about the things you could easily just buy while on the road if you absolutely needed them, especially if your space is limited.
What about tools? One of the biggest mistakes that we made was how many tools we packed in the RV and truck! We are so tired of hauling around a bunch of stuff that we don't ever use. Sure, you are going to want/need your basic tools e.g. screwdrivers, drill, pliers, hammer etc, but do you really need every socket that's ever been created? Do you really need a laser level (yes we brought one of those for some reason 🙂 )
2. Consider where you plan to stay/park most of the time.
If you plan to "boondock" as often as possible, there are going to be things you'll need that you wouldn't necessarily need while staying at RV parks.
For boondocking, you might need more "camping supplies"
, such as coolers, lanterns, outdoor tables, etc. We found ourselves staying at more RV parks than we had originally planned (partly because we didn't know some important things to look for when purchasing our first RV, which inspired this post –>
DON'T Buy an RV Until You've Read These 5 Tips!
).
However, we also discovered that RV parks might be more our style anyway! So we will be trading in our coolers and camping supplies for other items we discovered we'd enjoy having. Dumping the things we don't use will now free up space for bonus items like a propane fire pit (many RV parks don't allow any other kind of campfires, which we didn't know!), a hammock, and golf clubs!
3. Treat yourself to the comforts of home.
We all have those items that are our staples. You'll sit there and try to justify whether you should or should not bring them along. Our advice: BRING THEM! Make room for them. Make it work! If they make your life easier/better, they deserve to make the cut. You don't even have to justify it. We are so happy we chose to bring along these items that we love and have used for years, even though some of them may seem unnecessary when your space is limited.
Disclosure: Some of the links contained below are affiliate links. This means that if you make a purchase, we would receive a small commission (at no cost to you). Keep in mind that we won't put anything on this page that we don't personally use or know to be valuable!
Dog hair…enough said! But this vacuum is lightweight, fits nicely under our futon/couch, and yet powerful!

OXO Barista Brain Coffee Maker

Warning: this coffee maker will turn you into a coffee snob and may ruin your ability to drink average coffee at your local breakfast joints, family's houses, etc.
No really, it will change your coffee game. Sure, we could've thrown a smaller, more practical coffee maker in the RV but our mornings would never be the same.

Don't even bother using the OXO coffee maker without using it's perfect companion. You won't be getting the full benefits of the coffee maker if you don't grind your beans every morning. Does this take up extra kitchen counter space that you already don't have? Sure does! But it's worth storing it in one of the awkward, hard-to-reach overhead storage compartments and pulling it out every morning, we promise!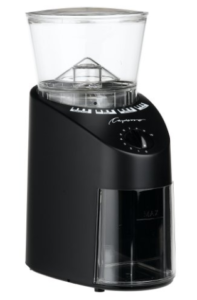 Okay, this item really does make sense for an RV! This machine does it all! You can make juice, smoothies, pastes, sauces, baby food, HOT soup and beverages, chop veggies, and last but definitely not least…it blends the perfect margarita (our favorite!). So one machine that does several jobs, regardless of how bulky it is, is totally worth the space!
This item is pretty self-explanatory. We don't watch much TV but we also aren't
that
crazy. Although our lives are completely different than most our friends and family, we still like to be a little "in-the-know" about popular shows. Many people prefer the Apple TV (which we also have) but we like the Amazon Fire TV Stick because we are
Prime Members
and can therefore also stream TV and movies from the Prime app.
Okay, we want to know…
What are the items YOU had to bring along in your RV and aren't afraid to admit it? We love swapping favorite products with friends! Also, if you need more tips or suggestions for what to bring along in your RV, feel free to send us a message. We're here to help.