A couples trip to… Amsterdam?
When you think of Amsterdam, the first thing that might come to your mind is one big party. Long famous for the Red Light District and for legalized marijuana, many travel to Amsterdam to let their hair down and have a good time. That's certainly one way to experience Amsterdam, but the city offers so much more than that.
Charming flower-lined canals, beautiful architecture, artisan cheese, and luscious public green spaces are just some of the "other" things that Amsterdam offers. Truly, this enchanting city is a perfect destination for couples. If you're looking for a romantic getaway, be sure to consider Amsterdam and the following activities that we highly recommend.
Disclosure: A huge thank you to the Anne Frank House, Your City Bike, Mike's Bikes and Leemstar Cruises for helping us enjoy Amsterdam to the fullest! While we received complimentary or discounted services from these companies, all opinions expressed on this site are our own.
Top Activities for Couples in Amsterdam
Rent Bikes and Explore the City on Two Wheels
It will only take you a few minutes in Amsterdam to see that bikes rule the road. The city has a robust biking infrastructure making biking the best way to explore the city. In addition to being a good workout and fun (and an adventure all on its own, more on that in a bit), traveling by bike is probably the most efficient way to get around the city.
We got our bikes from Your City Bike and had a wonderful experience. The shop was conveniently located near the Jordaan neighborhood and it was easy to find. The owner was great! You could instantly see that he loved Amsterdam and enjoyed helping others discover the beauties of the city. He spent a lot of time with us making sure that we were comfortable with the bikes and gave tons of great recommendations for things to do. Our bikes were almost new and very well maintained. We loved the convenience of having a bike to travel and sight-see on our own schedule.
Take a Bike Tour Into the Countryside
Speaking of biking, it was great to have a bike as a mode of transportation and for the freedom it provided. However, riding a bike in a crowded, unfamiliar city can be stressful. There are so many other bikers our that it was a lot of work just staying out of their way! Then mix in cars, trams, buses, and pedestrians, it was kind of crazy!

So, after a day of adventuring on our own, we decided to take a more leisurely, guided bike trip out into the beautiful countryside. We went on a half-day bike tour with Mike's Bike Tours and we loved it. We really enjoyed the beauty of the countryside, the authentic Dutch windmills, and the stop by a local farm that specializes in cheese and clogs! It was a fun way to see a different side of Amsterdam, which we really enjoyed.
Cruise the Canals
Amsterdam has over 100km of canals and 1,500 bridges, most of them adorned beautifully with flowers or lights. The canals of Amsterdam make the city unique and can leave you feeling like you are walking around an elaborate movie set. Simply walking along the canals is enjoyable, but actually getting on the water and seeing the city from the canals is magical.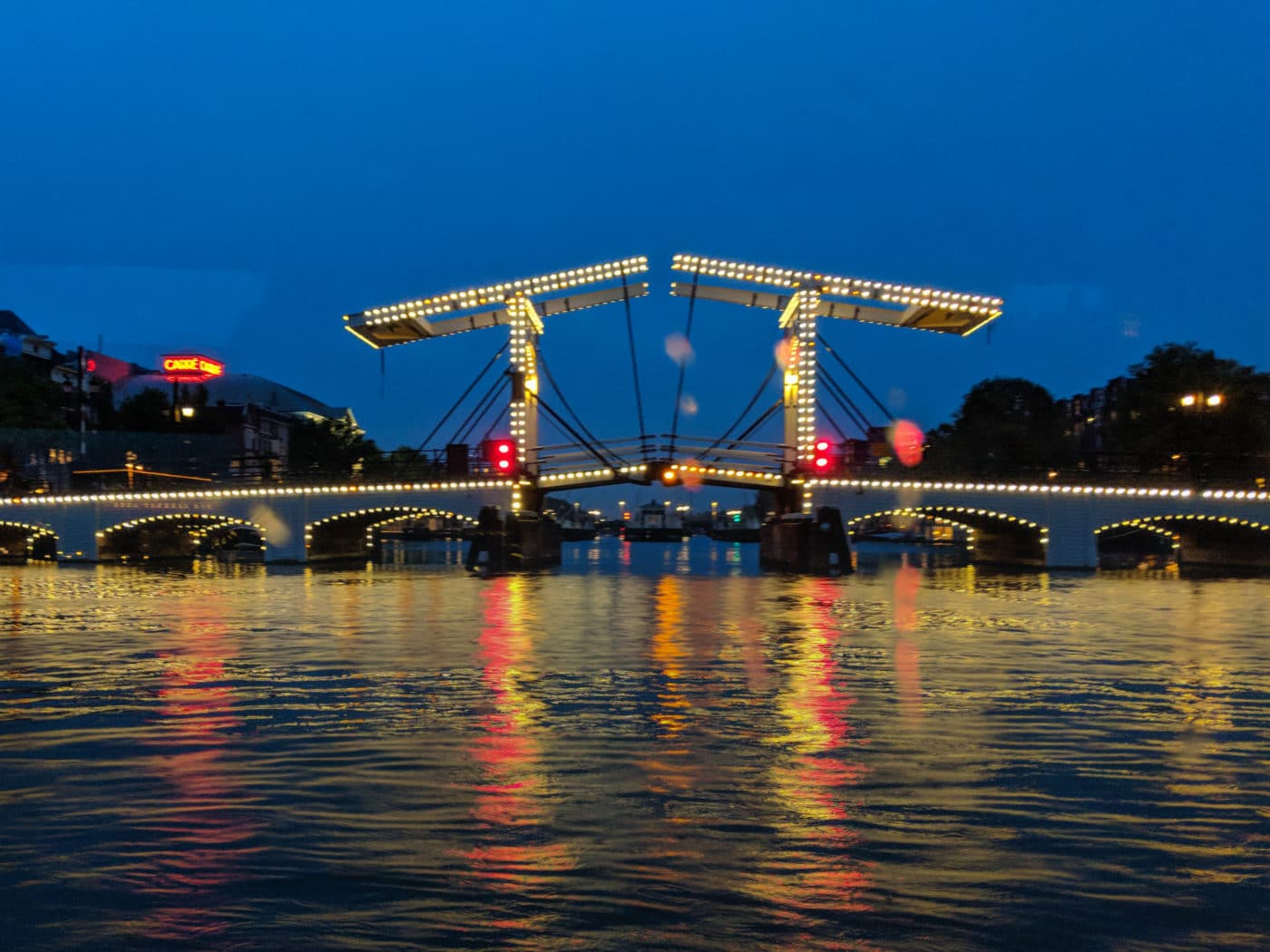 There are many canal tour operators to choose from, but we are glad we went with Leemstar Cruises. The boat was a little smaller then some of the others we saw cruising up and down, but this allowed for a more intimate and personal experience. It was raining during our cruise, which made the city lights twinkle and glow. It was so romantic!
The captain/owner is from Amsterdam and actually lives right along the canals. He shared tons of information with us and answered all of our questions. Taking a canal cruise is a great way to experience Amsterdam in a new light.
Get Outside at Vondelpark
Vondelpark is Amsterdam's most popular park and a can't miss activity. It's a huge park and a great place to exercise, play soccer, have a picnic, relax with friends, or just people watch. Be sure not to miss the spectacular rose garden!
The Anne Frank House
You shouldn't go to Amsterdam and not visit the Anne Frank House and Museum. What makes this museum so special is the museum is the actual house that Anne Frank and her family hid from the Nazis in for over two years.
The self-guided tour walks you through the life of Anne and her family, as well as those that risked everything to keep them safe. The journey through the museum elicits many emotions. It is horrifically sad and reminds us of the worst of humanity while at the same time showing us how kind, brave and compassionate people can be. Even while on a couples trip, the Anne Frank House Museum needs to be on your to do list.
Drink Amsterdam's "best" Beer
The Heineken Experience is one of Amsterdam's most popular activities, but we had a local tell us to skip it in favor of going to "Amsterdam's best brewery".
Brouwerij 't IJ is a wonderful brewery that serves up delicious beer in a really cool setting. The brewery is located at the base of a windmill and specializes in organic craft beers. They have a terrific patio and the prices are very reasonable. After a long day of riding bikes and sightseeing, there's nothing better than enjoying a cold beer on a beautiful patio with the person you love.

Take a Selfie With the I Amsterdam Sign
No couples trip to Amsterdam would be complete without capturing a shot with the iconic letters, right? Right. Head to the back of the Rijksmuseum, a national museum close to the Van Gogh Museum to get the perfect picture (well, on nice days it's so crowded with people that you probably won't get the perfect picture, but it's still fun J ).
The letters sit behind a wonderful reflection pool, which is great to put your feet in on hot days (or ice skate on in the winter). The letters are fun and iconic, but this area is also fantastic for just watching the day pass by. Grab some food at one the cafes, relax in the grass and enjoy watching all the other people trying to get the perfect picture!
Conclusion
Amsterdam is a great destination for couples and there is so much to do. Hopefully, this list of ideas has inspired you to take your own romantic getaway to the Venice of the North.
You Might Also Like…