Phuket is an extremely popular tourist destination in Thailand. There are picturesque beaches, rainforests, high-end luxury resorts and everything in between. It is important to know that Phuket is a province that consists of the island of Phuket along with 32 other smaller islands.
If you decide to visit Phuket, you'll need to choose the specific area that you'd prefer to stay in. The island of Phuket is the largest island in Thailand so there are many options for places to stay. However, the whole island is very accessible and easy to travel around by bus, taxi, tuk-tuk or scooter/car.
There are lots of nice, very affordable hotels and resorts to stay at that can offer lots of beautiful views and amenities all over the island. We stayed at the Andaman Cannacia Resort, which was great, but don't make the mistake of staying only at your hotel. Get out, sight see, and experience a little of the wild side and Buddhist culture of Phuket.
7 Fun Things to Do in Phuket, Thailand

1. Catch Some Rays at Kata Beach
We chose to stay at Kata Beach because it is a beautiful beach and it is more relaxed than nearby Patong Beach. There's still plenty of places to enjoy yourself during the evening, but the energy level is definitely turned down a notch, which was good for us.
During the day, it's easy to find the perfect spot under a palm tree to post up and enjoy the beautiful white sandy beach and clear water. Kata's great beach for families, but also for surfing and other typical water activities. Along the beach you'll find lots of great restaurants and cafes/bars to enjoy food and drink along the beachfront. Along the main road you'll also find lots of souvenir shopping, great food stands, and friendly locals. Kata beach has everything you could need for the perfect beach day or beach vacation.
2. Experience Patong Beach
Patong refers to both the beach and that town that is the main tourist spot on the island of Phuket. You may or may not be going to Patong for its wild reputation, but regardless of what you are looking to get into when the sun goes down, it's an experience you don't want to miss.
There are two main areas of Patong: Bangla Road and Paradise Complex. To put it simply, Bangla Road is more geared for the straight community and Paradise Complex is known to be a global GLBT destination. Both have a very "Vegas on steroids" feel and offer a plethora of nightclubs, bars, shows, and just about everything you can imagine! While the party scene isn't our cup of tea anymore, we really enjoyed watching others partake in it and seeing this fascinating part of the Thai culture.
There's also lots of shopping, food stands, and excitement outside of Bangla Road that are better suited for families and more low key travelers who still want to experience the nightlife without the craziness!
3. Visit Wat Chalong
Of the 29 Buddhist temples of Phuket, Wat Chalong is the largest and considered to be the most important. It is also conveniently located on the way to the Big Buddha, another tourist favorite. The tower in the center of the temple consists of three levels. The bottom two levels house statues of Buddha along with detailed wall and ceiling murals that display the life and teachings of Buddha. At the top of the tower is a large viewing deck, which is a great spot to catch a view of the Big Buddha and capture a photo of the temple grounds.
There are other buildings on the grounds where the majority of the Thai Buddhists come to pray. You can have the opportunity to participate if you'd like. We were very startled and unprepared for the loud explosions and bangs that occasionally go off outside the temple. Turns out these are firecrackers being set off as a way to show gratitude and make merit to Buddha. So don't freak out like we did at first! And of course, remember to be respectful in any temple you go to. Remove your shoes, dress appropriately, speak quietly, etc.
4. Get Up Close and Personal with Big Buddha
Simple put, you'll need to visit Big Buddha. Seen from almost anywhere in Phuket, you can't miss this 45-meter tall dazzling statue sitting atop one of the highest points on the island. It's one of the top visited sites, and you will be amazed by the sheer size of it.
The incredible, 360-degree views from the hill are a nice bonus. The drive up may feel like a bit of a tourist trap, at times though. You'll see elephants on the side of the road chained up and doing tricks or offering rides for money.
It's important to be aware of the controversy that surrounds elephant treatment in Thailand before supporting any tourist activities involving these gentle and intelligent giants. You can read about our experience at Patara Elephant Farm in Chiang Mai, if you're looking for an ethical way to interact with elephants. The Big Buddha is still under construction so there may be some parts of it that are not available, but either way, it's a must-do activity while in Phuket.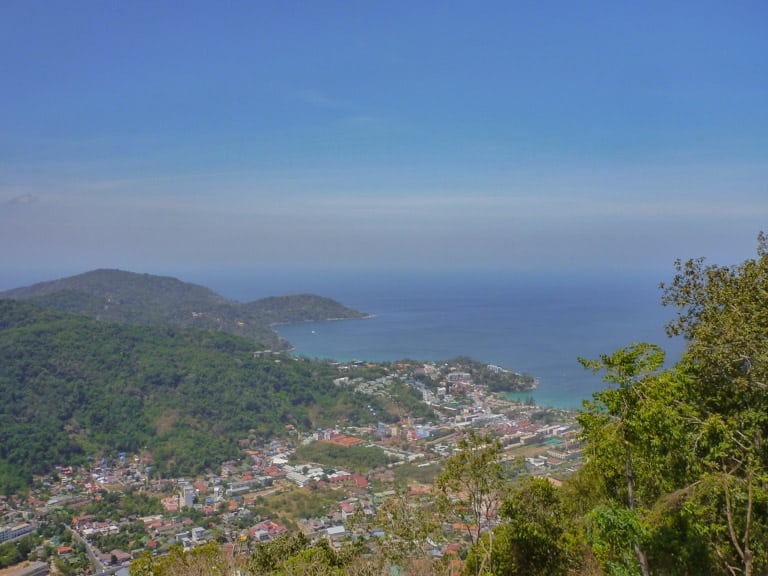 5. Historical Phuket Town
Phuket Town is the largest town in Phuket and the economic hub of the island. We felt it was best to visit Phuket Town at night to enjoy it's night markets, colorful lights, and vibrant nightlife. The Phuket Weekend Market, for example, should not be missed. However, there are some beautiful European-style buildings in "Old Phuket", plenty of temples, museums, shopping malls, and even a golf course should you chose to visit Phuket Town during the day. Phuket Town is also where you will need to go to take a ferry if you're planning to go to other islands or other parts of Thailand along the coast.
6. Pick a Night Market
There are a few different night markets to choose from. It just depends on what hours and location works best for you and when you are visiting (some are only on the weekends). Just ask your hotel receptionist or check out this website that we found helpful.
The night markets were one of our favorite things about Phuket. They are a great place to barter for beautiful souvenirs and enjoy the most incredible (and cheapest) food you've ever eaten. You'll want to get a little of everything at each food stand because there are SO many amazing foods to try. You really never know what all you'll find (karaoke, most likely) at a night market. It's just a super fun, inexpensive way to spend the night!
7. Watch the Sunset at After Beach Bar
We always recommend going somewhere to watch the sunset no matter where you are. But, when in Phuket or Kata Beach, we absolutely recommend going to After Beach Bar. The bar is nestled along the side of a winding road that heads up from Kata Noi Beach. The place has a cool reggae vibe and offers stunning views of the Andaman Sea. We only had apps and drinks, but the food was as good as the views!
Rent a Scooter
Renting a scooter can be a little intimidating but it's a great way to explore the different sites on your own timeline and save money in taxi prices. We highly recommend it as it allows you to easily get from one place to another. Even with a scooter, the island is a lot bigger than it appears and certain journeys may require a taxi ride. For example, it took us an hour to get from the airport to our hotel in Kata Beach!
Conclusion
There's plenty of reasons why Phuket is one of Thailand's most popular tourist destinations. Beautiful beaches, wonderful food and plenty of opportunities to experience Thai culture are just a few. Phuket is also very accessible due to its international airport, which makes it easy to travel to other popular Thai destinations like Chiang Mai, Bangkok or Krabi.
Click here to pin this for later and be sure to check out our other Thailand pages.