This is a review of our experience camping at two different KOA campgounds. This post is part of a paid partnership with Kampgounds of America (KOA) to help spread the word about their Behind The Yellow Sign RV Giveaway going on now through May 31, 2018! However, all opinions about KOA in this post are our own. 
---
We had the opportunity to stay at two different KOA campgrounds this month. We had stayed at a KOA campground in the past and have seen KOAs all over the country during our RV travels over the past year. KOA campgrounds definitely have a reputation for not only being in prime camping locations, but also offering amenities and well-kept grounds.
Our very first KOA camping experience was at the Buena Vista, Colorado KOA. They had an on-site pizzeria that delivered right to your RV! That was all it took to win us over, but the views from our site helped too. It was a great first impression for us, so we were thrilled when we got the opportunity to work with KOA for this project.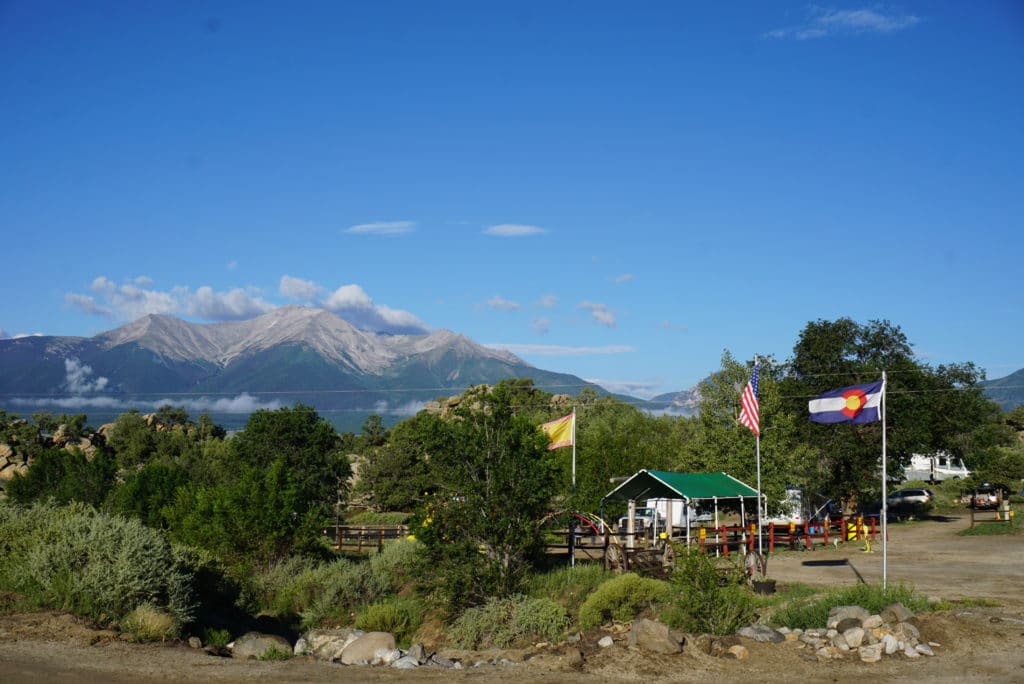 When choosing the KOA location to stay at while promoting their RV giveaway, it was honestly a tough decision. They have a long list of campgrounds that have won Founder's Awards and President's Awards. We had always wanted to stay at the Lakeside KOA in Fort Collins, Colorado for one major reason…private hot tub RV sites!! But, we were ready to start heading west for our summer travel plans, and we decided on Moab, a camper and adventurer's paradise.
While making arrangements for our time in Moab, we discovered a city along our route that we had never heard of, despite living in Colorado nearly all our lives. We found it while looking for great fly-fishing spots to stop at as we drove towards Moab. Apparently the very week we would be driving through, Cotopaxi was having a hatching on the river that was offering great fly fishing conditions.
Sure enough, as we looked for accommodations in Cotopaxi, we discovered there was a KOA campground right along the Arkansas River. Before we knew it, our family wanted to join us for the weekend to celebrate my Dad's birthday! Everyone loved the sound of the campground for it's accessibility to the river, plus the amenities it offered. So, that's how we ended up booking a reservation at the Cotopaxi, Colorado KOA.
Our time at the KOA in Cotopaxi, Colorado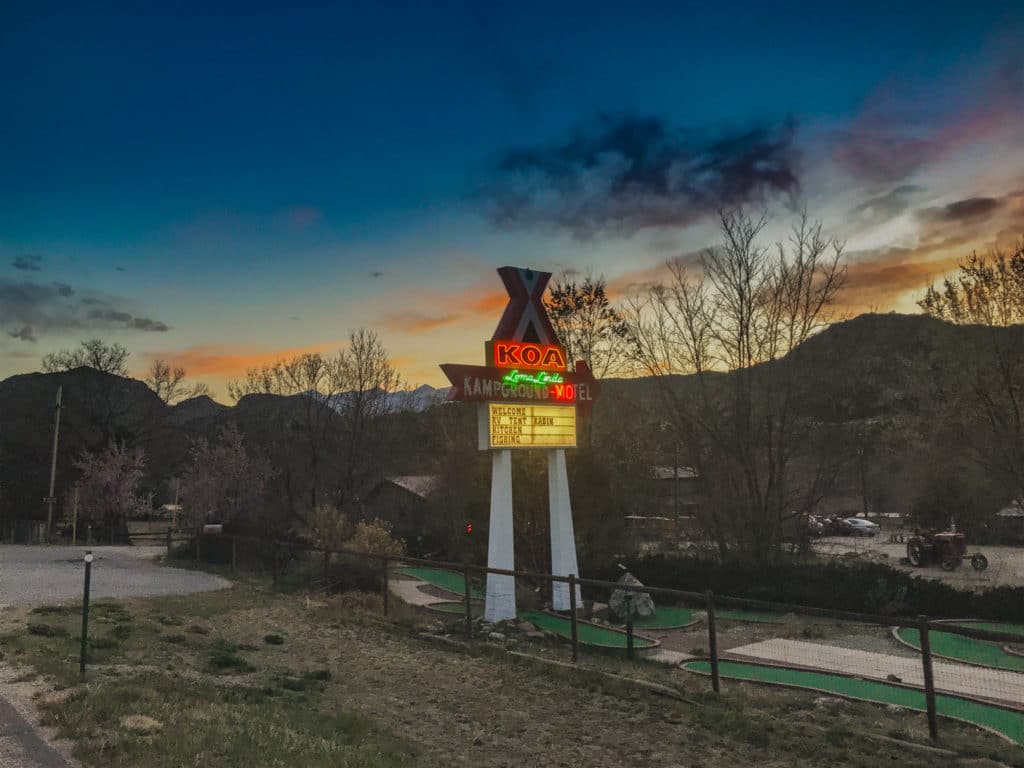 The whole "gang" had such a great time at the Cotopaxi KOA! Everyone brought their RVs and the staff placed us right next to each other. My sister's family, who doesn't have an RV, rented a cabin instead and loved it because they didn't want to sleep in a tent or have to stay off site. We love that KOA's offer cabins to accommodate those without RVs. Plus, they are such charming and cute little cottages and have porch swings!
We did plenty of fly fishing and it was great because the river was a short walk from our RV's. We got to teach my dad to fly fish for the first time, which was really special for his birthday! My sister's kids probably had the best time of everyone, though. They played on the playground from the moment they woke up until the sun went down. They had so many other fun family activities that we were all exhausted by the end of the day. There was pottery painting, hay rides, and miniature golf…oh my!
Check out our gallery of photos from the trip!
Cotopaxi sits nestled between a canyon, making the scenery absolutely beautiful. You get glimpses of some of Colorado's most famous 14ers behind the canyon walls, peaceful river sounds, and stunning sunsets! The drive into town the evening we arrived was an unforgettable sight.
The only downfall, is that there is no cell phone service in the canyon and the WiFi was pretty weak. This was fine for us on the weekend because we were busy having fun with the family all weekend, that we didn't need our phones. We were able to use our WeBoost, though, come Monday morning, to boost our signal enough to work (and even stream a movie Sunday night, which was shocking!)
Another unique part of our stay at the Cotopaxi KOA was that it was their anniversary weekend. So, we got to celebrate with them by having cake and ice cream and discounted rates! We'll never turn down sweets and saving money, so we were happy campers. Overall, it was a great experience and a KOA we would definitely return to someday!
The Moab KOA, though!
As always, we were sad to say goodbye to our families and continue on the road without them. But, the moment we checked into the Moab KOA, our frowns turned upside down real quick! The first thing you see when you pull in are the stunning views of red rocks backed with snow peaked mountains. It's breathtaking and the most welcoming vista!
They must've placed their brand new pool and hot tub by the entrance on purpose too because it stole the show from the views once we pulled up to the front office! We're always a little weary when a campground has a pool because usually they aren't the type of pools you want to sit back and relax beside, let alone jump into. But this one…wow!! It's resort quality and we wanted to spend our entire weekend poolside.
The first thing we noticed was how friendly the staff was! They allowed us to receive a package in the mail, which can be a problem for us living full-time on the road. When we checked in, the package was waiting for us and one of the maintenance guys delivered it to our site for us! They even gave our dogs treats and let us move to a different RV site that had a better view than the one we had reserved. But, in all honesty, every site has a good view…we were just lucky to get a great view.
We weren't expected to face a real struggle while staying at the Moab KOA, though…
Once we got our RV set up and settled into our site, we immediately felt this pressure. We had 2 of the best National Parks in the nation nearby, a popular state park, and miles and miles of rocks, trails, and dirt roads waiting for us explore. Our jeep was nearly begging us to jump in it and take it off road! So what's the struggle? This campground was too good to leave!
Coming from springtime in Colorado and the unpredictable weather it brings, we were craving sunny days and all we could think about was that pool! So we decided, that the parks could wait and we would enjoy everything the KOA had to offer. We did sneak away for one quick nearby drive in the jeep to Sand Flats Recreation Area. But the rest of the weekend was spent relaxing at our site in the hammock, playing with the dogs in the on-site dog park, walking along the land behind the campground, meeting other campers, utilizing their laundry facility, and enjoying dinner under the stars, then soaking in the hot tub before bed. It was perfection!
Check out our gallery of photos from the campground:
We were bummed to leave, and wished we would have extended our stay! I bought a shirt from the gift shop to remember our time spent there. As we were leaving, we looked at each other and agreed that it was one of our top 5 favorite campgrounds we have ever stayed at.  
Happy Kampers
Moving forward, if we have another opportunity to stay at a KOA along our RV travels again, we will absolutely jump on it. And with over 500 KOA campgrounds across the U.S., it's very likely we will! We feel confident, based on these experiences, that no matter which KOA we stop at, we will have a great stay. If you're planning an upcoming camping trip, we definitely recommend checking out their list of campgrounds and reserving your stay!
Don't miss KOA's exciting giveaway!
We can't wrap this up without reminding you to enter their giveaway!! In fact, you should enter EVERY DAY until May 31, 2018 to increase your chance of winning.
Here's what you could win:
A Keystone Passport ROV
(MSRP $19,800)
A $500 KOA Gift Card
$1,000 Cash
So what are you waiting for? Who wouldn't want that awesome prize! You can read the full details and official rules here! Good luck!