In honor of National Park Week, we put together a list of our favorite national park merchandise. So if you're as national park obsessed as we are, you'll love these items for yourself. Otherwise, they make great gifts for the national park lover in your life.
The best part is that proceeds from some of these items will go to educational programs for the national parks. So you'll be showing your support for the parks while also getting some awesome merch. Win win!
Disclosure: If you purchase any of the products on this page, we will receive a small commission.
1. Collectibles
A true national park lover keeps track of the parks they've visited. Without having proof or at least an Instagram photo, you didn't really go there, right? These collectors items aren't your traditional boring coins but will be a great reminder of your travels and memories.
It's so fun to go into the visitors center and stamp your passport. It's exactly the same feeling of collecting real passport stamps when you visit different countries. The stamp even has the date so you'll always remember when you visited! You can purchase a passport on Amazon or from eParks.
When we first started our quest to visit all the U.S. national parks, we wanted to collect something in addition to passport stamps. We loved the pins because they are small and unlike stickers, can be used for years to come and moved around. However, we had no idea what to pin them to! This map solves that problem and can then be used to display somewhere in your home. Such a cool idea! Grab one on Amazon or on eParks.
Don't forget to collect the pins to go on the map!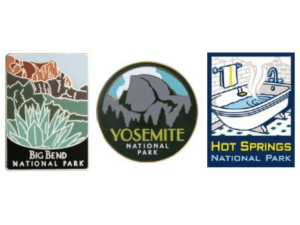 Everyone needs a good coffee table book and there's nothing more beautiful than photos of national parks to brighten up a room. Your guests will get sucked in to flipping through pages and pages of stunning landscapes and interesting facts. These books will inspire anyone to start planning their next trip to a national park!
This book by National Geographic is a comprehensive travel guide to recreation areas, trails, historic sites, nature hikes, seashores, camping, and campgrounds. It's considered the ultimate travel planner for all things national parks, filled with stunning photography, maps, history, and facts on the entire national park system. It's available on Amazon.
A celebration of the 100th anniversary of the National Park Service, this book showcases the very best of National Geographic's photographs, combined with history about the parks and breathtaking panoramas of the National Parks. Grab your copy from eParks or Amazon.
You can only play Candy Land and Scrabble so many times before losing your mind. Parents, here are some fun national parks board games to mix up family game night! It's like bringing the outdoors inside your home and fun for all ages, including adults. A fun way to familiarize kiddos with the park names and locations, and get the whole family excited to visit!
Both entertaining and educational with simple game rules for the whole family to play! You'll learn the geography of the major national parks as well as many educational park facts printed on the game cards, all while enjoying the beautiful game board! Click here to purchase on Amazon or eParks.
Take an adventure across the USA while exploring famous National parks and their animals in their natural habitats. Learn unique facts about the parks as you collect each one! Perfect for junior rangers. Available on Amazon!
You can buy, sell and trade ionic national parks like Yellowstone and the Grand Canyon in this national park themed version of the classic game Monopoly. The game features over 60 national parks and even includes matching animals to the parks they inhabit to make it educational and fun! Click here to purchase on Amazon or here to purchase on eParks.
You don't have to wear ranger hats and badges to show your support for the national parks. More and more trendy and stylish apparel is popping up in national parks gift shops across the country. It's a practical souvenir that you can actually wear to remind you of your favorite parks and the memories you made there!
Perfect for men and women, these stylish hats have breathable mesh material in the back and an adjustable strap to fit all sizes. They have collectible patches from each of the parks embroidered on the front. They also come in a variety of great colors! Available exclusively from eParks.

We are obsessed with these vintage style t-shirts. We love the bright colors and unique design. They come in different fits for men and women and even have sweatshirts and long sleeves available. Wear your support for your favorite national park! Click here to purchase one on Amazon.
These posters would make any room look better and brighter! We love the classic design and having these hang in your home (or RV!) where you can see them often will take you right back into the beauty of each park. eParks has the classic style posters and Amazon has a variety of different types.
Visit eParks.com for more awesome national parks merchandise! eParks is the official online store of America's national parks. Proceeds from purchases help fund vital interpretive and educational programs in the national parks.
Tell us your favorite national park in the comments!
Pin This Post For Later:
Check out these related posts: