Glacier National Park was at the top of our RVing bucket list when we hit the road. The photos of this park speak for itself. You'll see in this post why it's in our top ten list of favorite national parks! If you're planning a trip to the park, we hope this post can help you plan.
Where to Stay
We didn't spend nearly enough time in Montana and while Glacier National Park was definitely a highlight of our first few months on the road, we can't wait to go back and see what else Montana has to offer. We had limited time and had to hurry back home to Colorado for family obligations and events. So you'll see our main focus this trip was exploring the national park.
Columbia Falls RV Park and Campground – Columbia Falls, MT
Columbia Falls RV Park was a perfect home base for exploring not only Glacier National Park, but we also really enjoyed the quaint city of Columbia Falls and were only 10 miles from the popular and beautiful resort town, Whitefish, MT. So when we weren't exploring the national park, we were floating in Whitefish lake, fishing in the South Fork Flathead River, and enjoying the festivities at Columbia Falls' Thursday night farmer's market. There are tons of locally owned restaurants and shops. We really enjoyed the beer and food at Backslope Brewing and had a great sandwich for lunch at Laurie's Deli, which were both down the road from the RV park.
Columbia Falls is near the west side of Glacier National Park. We had no clue that it can take 3 hours (or more with traffic and frequent stops) to drive through the entire park on Going to the Sun Road. While there is a quicker route if you take US 89 and Hwy 2, Going-to-the-Sun Road is known as one of the most beautiful drives in the world, so you'd be missing out if you chose the alternate route.
That being said, we quickly discovered that we weren't wanting to drive 5 hours round-trip in one day to explore the east side of the park. We decided to cut our stay at Columbia Falls short a day and stay at a different RV park closer to the east side, because we weren't willing to miss out on that area.
Johnson's Campground and RV Park – Babb, MT
In order to enjoy the other side of the park without a 5 hour drive in one day, we stayed at Johnson's Campground in Babb. There really wasn't anything too special about this RV park, other than its proximity to the east side of Glacier National Park. However, Johnson's Campground and RV Park did have both mountain views and views of nearby Saint Mary Lake, and that made up for the extremely close spots.
There are campgrounds inside the park, but unfortunately the only sites that weren't already booked had length restrictions that our fifth-wheel didn't meet. Side note: this is one of the many reasons we switched RVs. Next time we might consider bringing a tent and camping inside the park for a day or two to avoid having to move the RV. But whatever sacrifices you have to make during your time here, are completely worth it!
It's extremely difficult to "sum up" the unbelievable beauty of Glacier National Park. There are hardly even words to express the vastness of the mountains and jaw dropping views. Here are our favorite hikes and attractions in the park.
What to See
Going-to-the-Sun Road
Known as one of America's most beautiful roads, you'll want to give yourself plenty of time when driving through the park to fully enjoy Going to the Sun Road. While it can have heavy traffic during the summer, just embrace the experience and be sure to pull off as often and as safely as you can to enjoy the views! Be sure you're aware of the road's closures and vehicle size restrictions.
Lake McDonald
It's not just another lake, we promise. Go early in the morning or at sunset (actually go twice like we did!) and you will witness the mirror like water. The reflection of the mountains in the water aren't nearly as visible during the middle of the day because of the wind and activity on the water.
Another beautiful characteristic of the lake is the colorful pebbles that lie underneath and all along the shore. Have a picnic here, take a nap, skip rocks, or get on the water…whatever suits your fancy. It's a quick stop off the road on your way into the park so be sure to at least pull off and take a peek!
Hidden Lake
This hike is a must, in our opinion. There's a reason it's heavily trafficked in the summer. You have the option to hike the entire 2.75 miles to the lake shore or just hike 1.35 miles to the viewpoint, making it a perfect hike for all ability levels. Plus you can check out the visitors center, stamp your national park passport, and buy some souvenirs.
You're sure to see mountain goats and maybe even bighorn sheep there too! Be sure to check the trail status though. We were there in early July and the trail was still completely snow-packed. By the time we reached the view point, we were exhausted from trudging through the snow and struggling to avoiding slipping and falling, so we stopped there. Don't let the snow stop you though, it was fun and still very warm! It added to the beauty too!
Avalanche Lake
Avalanche Lake is one of the most popular hikes in Glacier National Park because its convenient, relatively easy, and leads to a gorgeous lake! We enjoyed it because it was close to town, a quick hike after the work day, and since we went in the evening, the trail wasn't crowded and the lake was quiet and calm. This is yet another lake in the park that offers an amazing reflection where you can't quite tell where the mountains end and the lake begins!
Grinnell Lake
Grinnell Lake is one of the most photographed areas in the park so be sure to catch a glimpse of it's crystal blue water and Grinnell Glacier. The trail is closed beyond the lake in early summer due to snow, so we weren't actually able to see the glacier but the hike was still plenty beautiful. We loved this hike for so many reasons.
We chose to purchase tickets to ride a boat across both Lake Josephine and Swiftcurrent Lake rather than hike the entire distance. We recommend making reservations for the boat ahead of time. This shaves a good 3 miles off the hike and also gave us a chance to enjoy a different perspective, meet some fellow tourists, and hear some interesting information about the area and bears from the boat drivers.
Speaking of bears, we did encounter a grizzly so be sure to carry bear spray, hike in a large group if possible, and be LOUD!! The hike is easy and so worth pushing past your fear of running into bears. We've never seen water that color and felt water that cold!!
We only scratched the surface of this incredible park and can't wait for a return. There are so many great things to do in Glacier National Park, it's truly a bucket list destination that you have to see to believe.
Have you been to Glacier National Park? We'd love to hear your tips for visiting in the comments below!
Pin this post for later: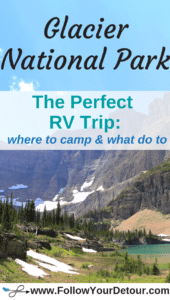 Check out these related posts:
A First Timer's Guide to Visiting Big Bend National Park
5 Must-Do Activities in Acadia National Park