A couple of weeks ago, we posted about how much fun we had during our time in Buellton, CA. We described it as a "hidden gem" because we had never heard of it before, and it turned out to be amazing! Fast forward a couple weeks and here we are again. This time we visited Paso Robles, CA and we were absolutely blown away! Nestled halfway between Los Angeles and San Francisco in the Salinas River Valley, Paso Robles is the perfect destination for a relaxing weekend getaway! The area is most famous for its wine production, but the town also is home to hot springs, incredible views and vistas, breweries, farms of all sorts, and the Mid-State Fair. The city was the perfect combination of rustic and modern. The countryside and scenery transform you to an earlier, simpler time. Yet, the proximity of shops and restaurants offer all of the modern conveniences. We thoroughly enjoyed our time and highly recommend it to anyone. Paso Robles, or simply Paso as the locals call it, is so rich in beauty and charm that you may seriously never want to leave!
Here are our top things to do while visiting Paso Robles, hope you enjoy!
Explore the Wineries
Paso Robles is home to over 200 wineries, producing over 40 varietals. It goes without saying that wine is the main attraction. The wine business in Paso Robles has grown significantly over the last 30 years and has earned some of the industry's most prestigious awards, but yet, the area and the vineyards have maintained a relaxing, down-to-earth feel. We talked with several people that visit the region regularly and they all said that was the main reasons they prefer Paso Robles over Napa. We don't know for sure, but we can say that we loved the laid-back, straightforward vibe that we encountered at the wineries that we visited.
Take a Tour on the Wine Line
With so many wineries to choose from, a popular way to explore them is via an organized tour. We had the opportunity to visit 4 wineries in one day using the region's only hop-on, hop off wine tour company, The Wine Line and we had a great experience! Lindsay and I normally prefer to avoid tours and do things on our own, but The Wine Line was great because it removed all of the things that we normally don't like about tours – being stuck with a group of people you don't know and being on a schedule. On The Wine Line, you choose your route, choose the wineries that you wish to visit (they partner with over sixty wineries in the region), and they will pick you up, shuttle you to and from the wineries and then return you back to where you are staying. If you want to stay at one place longer, simply tell the driver and he will return for you in about an hour. You are in control of which wineries you visit and for how long you'd like to stay. We loved that we were in control of the day and that we had a safe way to travel around while drinking wine all day!
Note: The Wine Line provided our tour free of charge in exchange for us mentioning them on our site, but our opinions are 100% our own and honest.
Our Favorite Wineries in Paso Robles
There are so many wineries in Paso Robles to choose from. You'll want to do you own research before heading out. Here are 5 wineries that we really enjoyed! When it comes to visiting wineries, we prioritize beautiful outdoor spaces and views over anything else, and these places did not disappoint.
Hands down our favorite winery that we visited. Croad has beautiful grounds, amazing views, and they have something called Kiwi Hour. Kiwi Hour is basically a New Zealand twist on happy hour and from 2pm-3pm daily they offer 50% off all glasses of wine. So, yeah, it's pretty awesome!
We enjoyed a bottle of rosé and a wonderful lunch on the outdoor patio of this winery. Both the wine and the food was good and we loved the atmosphere on the patio. There was plenty of shade if wanted, or you could bask in the sunshine!
Located off Adelaida Rd about twenty minutes from town, Daou Vineyards is spectacular and worth every minute of the drive. The grounds are beautiful and the views are indescribable. The property sits high above the surrounding valleys and offers visitors 270-degree views that are stunning. It's expensive, but the wine, service, and atmosphere were excellent. We absolutely recommend a visit!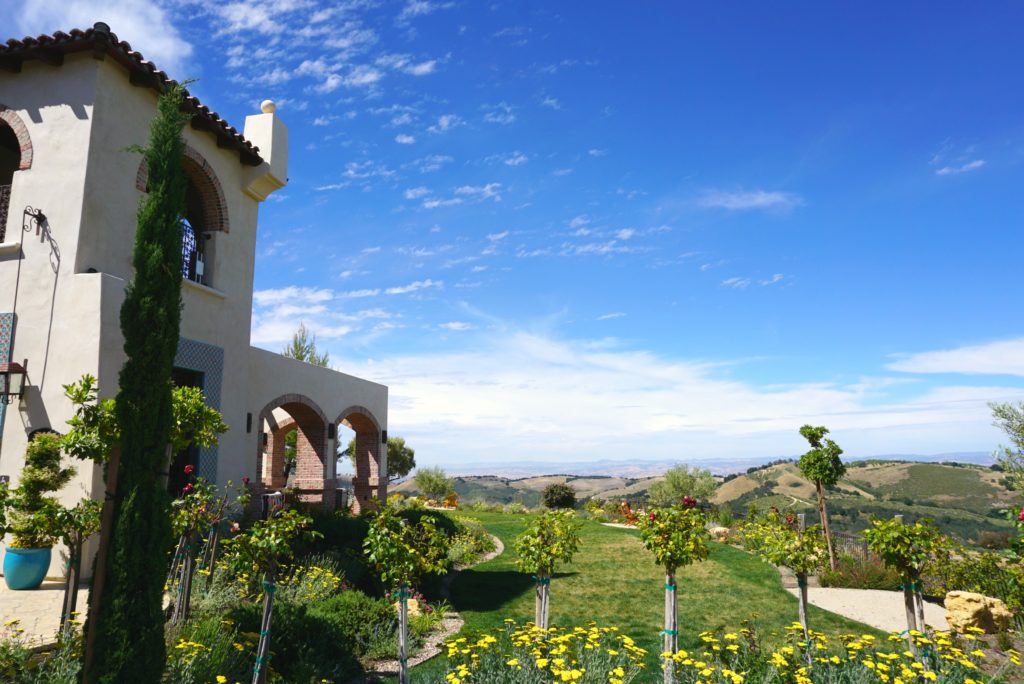 We went to Castoro for the wines and not for the view! Castoro produces so many different types of wine and they might offer the best tasting in town. $5 for any 7 wines from their huge list! Every wine that we tried was great and the staff was terrific!
What we loved about Doce Robles was just how small and laid back it was. When we pulled up, two dogs rushed to greet us and we immediately felt welcome. Doce Robles has a nice outdoor area to sit back and relax after finding your favorite wine during the tasting.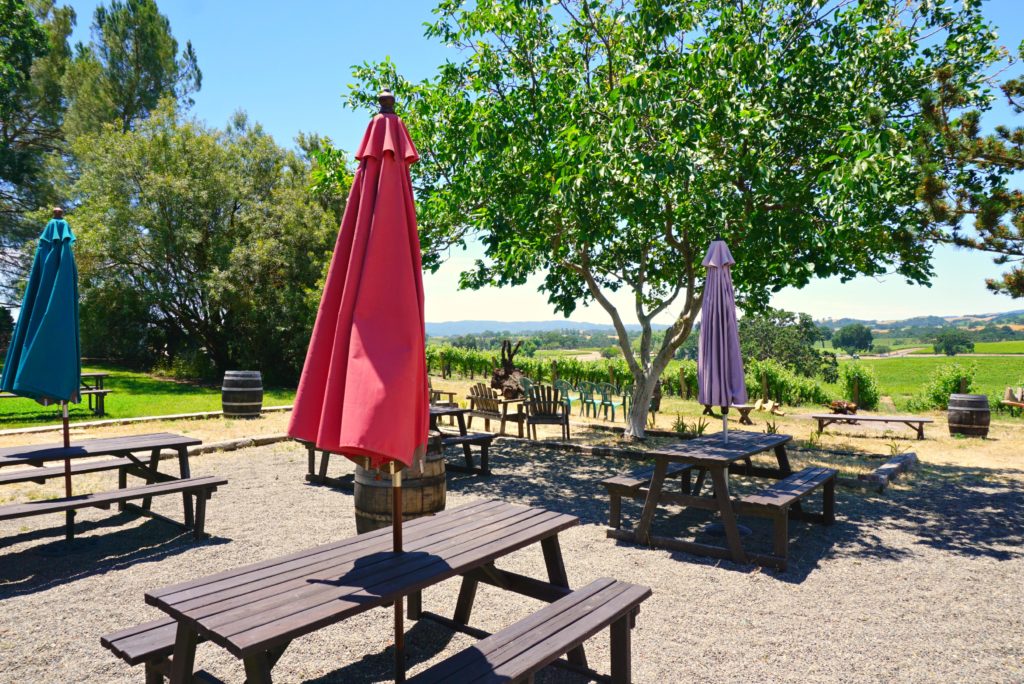 Relax and Soak in the Beautiful Scenery.
The calm, serene atmosphere combined with the wine, will force you to relax in Paso Robles. Take plenty of time to sit back and unwind while you enjoy the valley and vineyard views in every direction you look. One way Lindsay enjoyed relaxing was at River Oaks Hot Springs Spa. She was really impressed with the area surrounding the spa, which is nearby the River Oaks golf course (convenient for husbands to enjoy while their wives get pampered). While the spa offers a variety of services, Lindsay was given a complimentary hour soak in one of their outdoor mineral springs tubs. Each private tub has its own unique view and Lindsay was happy that her tub overlooked the vineyard and a beautiful oak tree. The only thing that would've made the experience better, in her opinion, was to have both of us enjoying the tub during sunset! Next time we will make that happen!
Note: Although Lindsay enjoyed this service free of charge for a mention in our blog, all opinions are her own.
Experience Charming Downtown
Downtown Paso Robles is small, but that should not stop you from visiting. Centered around the beautiful City Park, downtown offers tasting rooms, ice cream shops, cute restaurants and plenty of shopping that are easily enjoyed on foot. We spent the majority of our time in the park, which was extremely well maintained and clean, people watching and walking with our dogs. Not far from the park is an Italian restaurant called Buona Tavola that is adorably charming and known for its excellent food.
Don't Forget the Beer Scene!
Although wine is the headliner for Paso, the beer scene is a wonderful opening act. Firestone Walker has a major facility that attracts lots of visitors.
We especially loved an area called Tin City, which is a fun, commercial warehouse district. BarrelHouse Brewing was one of the best breweries that we have ever been to. Every beer that we sampled was good, but it was the atmosphere and the outdoor space that made it such a memorable experience. BarrelHouse has a huge space, both indoors and out. The outdoor space features an area for yard games i.e. corn hole, a nice water pond and fountain, lots of picnic tables sitting under strung lighting, and a stage that local artists perform on during the weekends. It was very relaxing and inviting and we really loved it!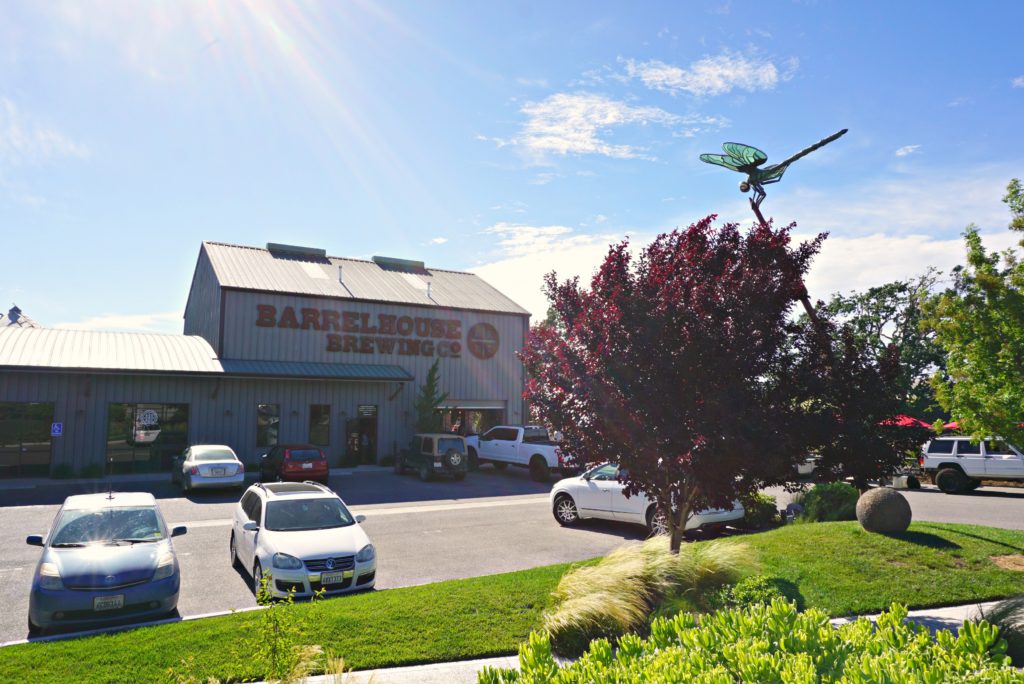 Other Suggested Activities.
The following are activities that we did not experience for various reasons, but we will definitely check out next time we are in the area.
Ravine Water Park. A family-friendly water park with a wave pool, lazy river, water slides, and private cabana rentals! It's also conveniently located across the street from the Wine Country RV Park!
Lake Nacimiento. We drove by this 18-mile long lake and wished we would have known about it sooner. It would be a great place to spend the day on the water, but we plan to camp there next time we are visiting Paso Robles! The lake is situated in the Santa Lucia mountains and the water is so blue…we can't wait to spend time there!
Vina Robles Amphitheatre. This venue would be a fun place to catch a summer concert! They have a good variety of artists that play there so maybe time your trip accordingly.