We recently announced our exciting news of becoming full-time RVers. We've received so many different reactions from our loved ones. But mostly, everyone just wants to know WHY and HOW we made such a decision. We will tell you more about that in later posts. But truthfully, we have always dreamed of the idea of full time traveling. Keyword: dreamed. We didn't believe it was actually a possibility. We thought it was only something you could do when you retire. Then that idea started to change one day when I came across a podcast that literally changed my life. It's called the RV Entrepreneur and is hosted by Heath and Alyssa Padgett. Heath and Alyssa are young newlyweds who gave up society's idea of the "American dream" and decided to live in an RV while traveling and working in every state. You should check out their website to hear more about their awesome journey.
I began listening to the podcast religiously. It was addicting for me. There was episode after episode of full-time RVers of ALL ages who were finding ways to make a living to support the lifestyle. That's when a lightbulb went on for me. "If these people can do it…so can we!", I found myself constantly saying. The more I listened, the more I wanted to make this dream a reality.
Then one day on the podcast, Heath announced that they would be hosting an RV Entrepreneur Summit in Fredericksburg, TX at the incredible Jellystone Park Camp Resort. I distinctly remember calling Dan and telling him about it, and without much thought, we purchased the tickets. Committing to going to the summit was our first step to committing to making this lifestyle happen, so we were thrilled.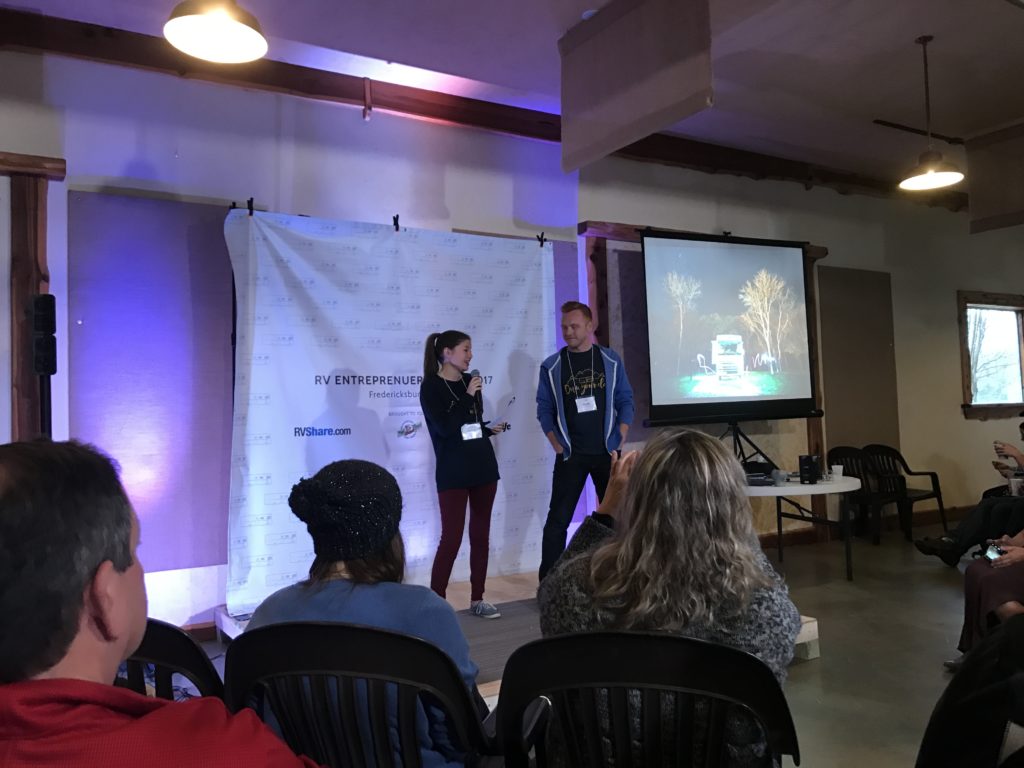 We really didn't have any expectations for the Summit. We knew it would be a great way to meet people, learn about RV life and ways to make money on the road, and well, we knew we would have a great time in any place considered "wine country". We originally thought it would be awesome to have the summit be our launching pad for our new RV life. Unfortunately, we had a lot of steps to take first though (like quitting a job, moving across the country…ya know, nothing major 😉), and we ended up having to fly out to the summit. But in great timing, we happened to find the perfect 5th wheel and purchased it the night before we left! So being at the summit with at least an RV purchased made it all the more motivating.
Once we actually arrived at the summit, we were strangely nervous. Neither one of us are extreme extroverts and while we wanted to share our story and promote our blog a bit, it's completely unnatural for us to really "put ourselves out there". We really were out of our comfort zone, but I've been working on stretching myself so I knew it was going to be a great opportunity. Plus, we knew we were going to have to start getting used to this feeling.
The first night couldn't have been better because of all the amazing people we met and instantly bonded with. Couples, families, and even solo travelers of all ages and backgrounds. The interesting thing was that many of the people we met were also in the planning stages of becoming full-time RVers. We really thought we would be the only people who weren't yet on the road. So I am being fully honest when I say that everyone we chatted with at the summit had a different perspective and inspired us in a different way. I never could have anticipated the power of being in the same room with like-minded people who are aspiring and living out a similar dream. 
Here's a brief rundown of the Summit and what we learned:
Key Speakers (The ones that we were able to attend. There were other great speakers that we, unfortunately, couldn't attend because of our travel arrangements 😔 )

Joe Hendricks: Photographer extraordinaire and all-around awesome guy. He and his wife travel full-time in their Airstream with their adorable little boy Austin. Joe also held a night photography workshop that we were so fortunate to attend. We can already picture ourselves outside our 5th wheel till the wee hours of the night trying to get the perfect night shot! Our favorite part of Joe's talk was that he kept reminding everyone to keep their purpose in mind. It's not about "if" life on the road will get tough, it's "when". So being mindful of your purpose will keep you moving along and powering through the bumps in the road. He also shared the most heartwarming slideshow of his families travels, reminding us to take every photo opportunity. Someday we will be able to look back on the memories and smile. If you're interested in night photography, he will be hosting workshops throughout the U.S.!

This is the photo Joe took while teaching us light painting. He's so talented!

Bryanna from Crazy Family Adventure: Bryanna called her and family weird before anyone else got the chance to. Their blog name says it all! This family of 6 plus 2 dogs live in a 23ft Winnebago!! Bryanna was super inspiring because she kept encouraging everyone to just "go for it". She didn't sugar coat RV life, but also made it seem like the greatest lifestyle even among the craziness they must feel every day. If you have children and are considering the full-time RV life, you MUST check out their blog! They also have awesome travel recommendations.
Travis and Melanie Carr from Escapees RV Club: Travis and Melanie's presentation was extremely helpful as they shared all the ways that RV clubs can be tremendously valuable to RVers, both full time and recreational alike. They encouraged RVers to be proactive in order to get the most out of a membership. RV Clubs can offer members tons of useful services like mail forwarding, domicile assistance, community meetups, RV maintenance and parts discounts and more! Another amazing part of having Travis and Melanie at the summit was that they gave away two free memberships to Escapees RV Club – and guess what? I actually won one of them! I am pretty sure this is the only thing I've ever won in my life! I was pumped as you can see in the picture. We are so thrilled to be a part of the Escapees RV Club. What a great resource it will be for us newbies! 
Eric and Brittany Highland from RVWanderlust and The Austinot: This power couple gave an amazing presentation on the power of social media marketing. In addition to being incredibly inspiring (both have so much passion and energy) they shared tons of applicable information about best practices for social media marketing for your business. Eric, Brittany and Caspian (#babynomad) are full-time RVers that left a lasting impression with us. They're not only rock star bloggers, but the Highland's also own and run Knektion, which specializes in providing online marketing for small businesses. If you're looking to increase your online marketing presence, definitely check them out!
Jill Sessa from Ultimate WP Help: Jill is a life-long traveler with an infectious personality and spirit. She shared great stories of her travels (i.e. riding across America on a Vespa) as well as how she used her passion for people and travel to fuel her business's growth. Jill's company has grown on customer referrals, largely in part to Jill's commitment to having a personal relationship with her customers. She showcased that your business does not have to follow conventional norms. She has made it a point to ensure that her business not only meets her personal needs, but it has changed and transformed the lives of those that work for the company. She was truly inspirational!
Mike and Crissa Boyink from Ditching Suburbia: Mike and Crissa have a really amazing story as their family ditched suburbia for a different life. By living in an RV, they have chosen a simpler life, filled with quality family time and enriching experiences. What Dan and I really took away from their presentation was their commitment to the lifestyle. Although they have endured challenges over the years (they were even going through truck problems during the summit 😔 ) they still remain committed to their lifestyle because they believe it's worth it. Everything they have gained from their years of living in an RV is worth more than going back and having a more "traditional" life in the suburbs. They have exchanged their work on various camps and farms for both money and free "rent" and in turn gained a wealth of knowledge and experiences for both themselves and their two children. This message was really inspiring for me and made me feel good about the detour that we are taking in our own life!

All the cool free stuff we received during the summit!

General Takeaways

We are not crazy or alone: It was amazing to be surrounded by people that really understood why Dan and I are pursuing this dream. As we have been transitioning to this lifestyle, we have encountered many people that simply don't understand why we would want to live full time in an RV. That's totally OK, but it was really energizing to be around people that "get it".
It is possible: One of the major fears about trying out this lifestyle is whether or not it is possible or sustainable. Meeting people from all walks of life that are successfully living and running their businesses out of an RV was both motivating and comforting.
Full time RVing is not a full-time vacation – there will be challenges but it's totally worth it: All of the full-time RVers that we met told us it was 100 percent worth it in the end. Whatever "sacrifices" there are in pursuit of this lifestyle are seriously outweighed by the rewards and benefits. This message got us so excited to get on the road and start realizing our dream. Honestly, I wish we were ready today!

Cheer's to an experience we will always remember and people we will never forget!
The RV Entrepreneur Summit was a tremendous experience! I am so happy that we attended and I am extremely grateful for the wonderful friends that we met. A huge thank you to Heath and Alyssa for putting the whole thing together. I am already looking forward to the next summit and encourage anyone reading this to attend as well!
Even if you are not an RVer, this summit showcased how powerful it can be to meet up with passionate and like-minded individuals. Regardless of your interests, lifestyle or business pursuits, go out and seek similar events because they are extremely powerful and will help fuel your passion. Make sure to follow the RV Entrepreneur site for future information. See you on the road!