One of the best things about living a travel/location independent lifestyle is the freedom that you have. In fact, the freedom to choose how and where to spend your days is probably the number one reason that people strive for this lifestyle.
But, with great freedom comes the potential to fall into many unhealthy habits!
Without question, the most challenging aspect of living in our RV for over two years was trying to maintain a healthy lifestyle.
When you travel full-time and are constantly experiencing new places and adventures, it is easy to feel like you're on vacation 24-7. While that's a great feeling, it's not conducive to building good habits and staying healthy on the road.
With this in mind, it is really important to have strategies in place for self-care so that you are able to sustain your travel lifestyle.
5 Tips for Self-Care While Traveling
The tips below can help you to build healthy routines, stay in shape, and make the most of all of that freedom!
1. Establish a Morning Routine
It may seem strange or even paradoxical to think that a consistent routine is one of the keys to staying happy and healthy on the road. After all, most people seeking the freedom of a travel lifestyle are looking to escape the day-to-day routine and monotony of "regular" life.
The key is to create routines that work for you and your health rather than against it. Oversleeping, skipping breakfast, working through lunch, then only having the energy to watch TV all night is the type of routine that works against you. Conversely, waking up early, meditating, eating a healthy breakfast, reading or journaling, and then working out is a routine that promotes well being.
Countless authors, entrepreneurs, and athletes have lamented the importance of creating healthy rituals, especially a mourning routine – so much so that entire books have been written about the subject!
During our first year in the RV, we had no routine and it started to take its toll. We found it difficult at times to focus on work or play. We would wake up unmotivated and it started to seem like we had less desire to even do things that we loved. Since our days had no structure and were constantly changing, things always felt a bit chaotic.
We knew we needed a change if we wanted to make this lifestyle sustainable. We got serious about a morning routine after listening to The 5 Second Rule by Mel Robbins and it had a profound effect on our happiness and state of mind.
We had more energy, got more work done and found ourselves getting the most out of the places we were visiting. The proof was in the pudding for us and our morning routine has quickly become one of the most important things we do whether we're traveling or not.
Want to read more about the power of a morning routine?
Here are some great resources on the life-changing power of a morning routine.
The 5 Second Rule by Mel Robbins
The Miracle Morning by Hal Elrod
Win the Morning, Win the Day by C.W. Straaten
You Are a Badass by Jen Sincero
Atomic Habits by James Clear
2. Prioritize Exercise… No Matter What
There's a strong connection between your physical strength and your mental strength. It's no secret that you feel more energized and confident after a good sweat session. Overall, the benefits of exercising carry out into so many other areas of your life.
For many, though, keeping an exercise regimen while traveling is extremely difficult. How many times have you packed your running shoes or your workout clothes for that vacation or business trip only to return home with them never leaving your suitcase?
To go from "vacationing" to a sustainable travel lifestyle, however, you need to find a way to make exercise a priority and something that's easy to do no matter where you are in the world.
For us, we found that the best way to incorporate exercise into our travel lifestyle was to remove anything that could be seen as an excuse. We decided to join Beachbody OnDemand which allows us to access hundreds of workouts on our phones or computers. This provided us the freedom to work out where ever we were and removed the problem of needing to find a gym.
Whether you join an online gym membership, join a national gym or simply commit to hiking or running, getting exercise is vital to your overall health.
Want a step-by-step plan for getting healthy on the road?
Check out this post:
A Step-by-Step Guide to Getting and Staying Fit and Healthy on the Road
3. Have Your Cake and Eat it Too
Don't take that too literally…
We all know that a healthy diet is critical to maintaining a healthy weight and lifestyle. Counting calories, meal prep, and portion control are all great strategies. But, the moment you start traveling, a lot of your healthy habits can go right out the window.
Trying new restaurants and enjoying the local cuisine, indulging in alcoholic beverages and desserts are all a part of experiencing a new destination. There's a million other reasons (excuses) that make it so easy to choose the convenience of eating out, such as no access to or a tiny kitchen, not enough space for food storage, travel days, etc.
But there are ways that you can strike a balance between enjoying the pleasures of traveling without packing on the pounds.
Here are some ideas:
Split a meal with your spouse or travel buddy.
Just try an appetizer, then cook dinner back at home.
Visit the local farmers market for a fun experience and pick up the ingredients to cook your own "local" dish.
Enjoy the scenery while having a healthy picnic instead of going to a restaurant.
Commit to eating out at only the places you really want to try and that are unique to the destination you're visiting, rather than just eating out for the convenience.
4. Don't Forget About Routine Health Care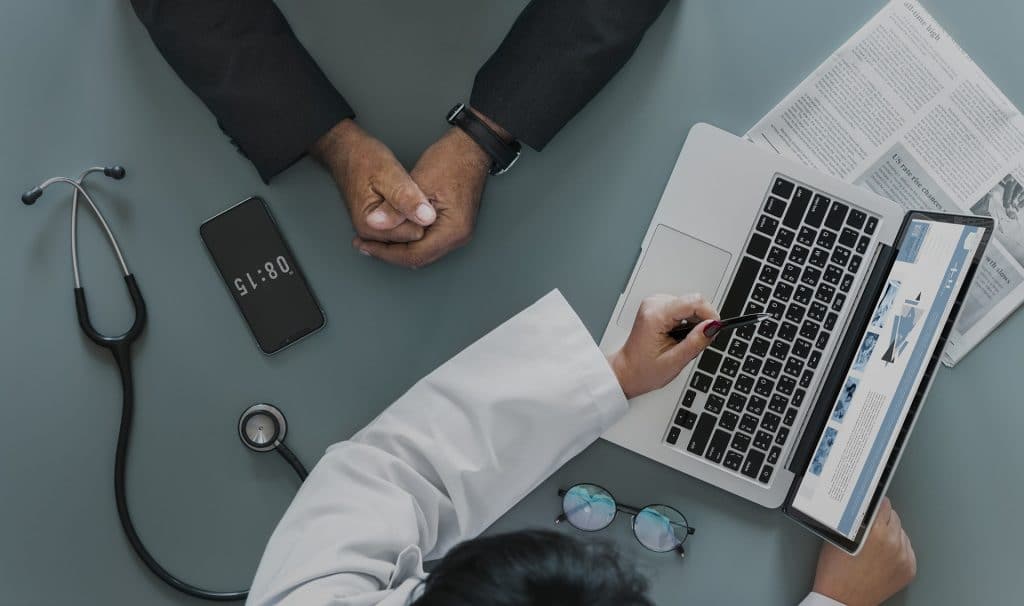 Exercise is great for maintaining your health, but it's also important to stay up to date on routine medical care. There's no amount of bicep curls or push-ups that will clean your teeth or check your blood pressure. Maintaining routine medical care is essential for the prevention and early detection of disease.
Receiving routine medical care can be a challenge for those living a life of travel. Regardless of whether or not you maintain health insurance, which is its own challenge, it can be difficult to see healthcare providers because you'll likely be a new patient. Most doctors want to see you and establish a patient relationship before they'd see you for anything else.
These factors can not only make it costly to get service but can also make it nearly impossible from a logistical standpoint. Perhaps you can't wait three weeks to be seen by the doctor because you will be in another country or state by then.
Regardless of these realities, it's important to create space to stay current on routine medical care. A great way to accomplish this is to establish a home base that you can return to each and every year (or more regularly, if needed) for enough time to take care of these items. This allows you to create a relationship with the providers and will make scheduling appointments easier.
Additionally, it often makes sense for travelers to look into health care or insurance supplements. These programs are great because they can reduce the dependency on a primary care physician through programs like telehealth and prescription drug services. RV Health is a great example of a supplement program that is the perfect compliment for those traveling within the U.S.
5. Stay Mentally and Spiritually Healthy
A travel lifestyle can bring countless benefits and opportunities. Exploring new places, meeting new friends, and blowing past your boundaries to learn new things and experience personal growth can turn into daily occurrences.
Traveling itself, however, may not be enough to sustain your mental and spiritual health. Many travelers long for the community and refuge they easily found in organizations and activities before their travel lifestyle.
At the end of the day, you know yourself and what brings you up and what brings you down. If you find joy or comfort in a church or bible study, make sure to find something suitable for you on the road. There's a group or community out there for everyone and for everything. Is mountain biking your spiritual refuge? Travel to places that allow you to enjoy your hobby and ask others to join you!
Doing the things you love and supporting yourself with people of shared interest is important when you've committed to the travel lifestyle for the long term.
Hopefully, these tips have given you some ideas for how to take care of yourself while traveling.
What other tips or advice do you have?
We'd love for you to tell us in the comments below.
Related Posts: