A you dreaming of a beach vacation in the Algarve?
Ever since we saw pictures of the sandy beaches with blue/green water back dropped against beautiful rock formations, we knew we had to get to Portugal. But with so many miles of coastline, and so many places to choose from, how do you choose where to stay? We chose to stay in Lagos and use it as a "base" to see much of the surrounding area.
Lagos, a Home Base With Lots to Do
Lagos, Portugal is a is a charming, historic city that offers tons of fun activities. Lagos played a major role during the Discovery Age due to its location and its shipyard. In fact, sadly, it was one of the most important cities in Europe at the time because it was the center of the European slave trade.
Today, however, the city is important for better reasons. Lagos bustles with excellent restaurants, vibrant nightlife, an enchanting city center and lots of souvenir shops. Oh, it also has some beautiful beaches!
Lagos is large enough to be the center of your holiday plans, but convenient enough to serve as a great home base for those travelers looking to get out and explore the surrounding area. As with all things Portugal, we absolutely loved this town and would recommend it to anyone.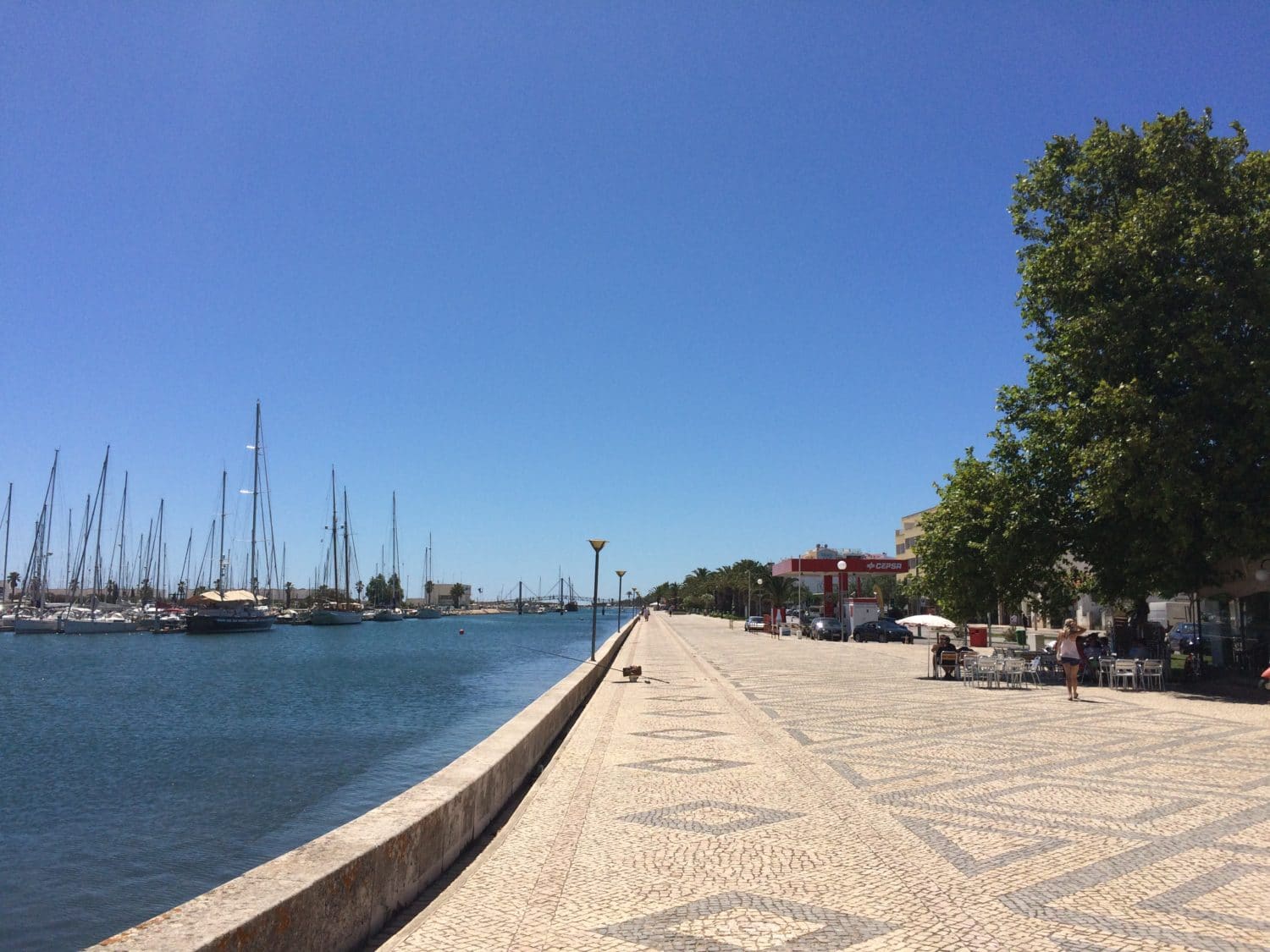 Top Activities / Things to Do in Lagos
Walk Around Old Town Lagos
The first thing we did in Lagos was visit Old Town, which is full of cute shops, restaurants, and bars. Old Town has a scene for everyone. Whether you were wanting to party, have a romantic night, or quality family time, you can find it in Lagos.

The city is surrounded by a medieval stone wall (parts of the wall are still visible), paved with marble pedestrian streets with beautiful designs, and filled with a blend of old and new Portuguese culture.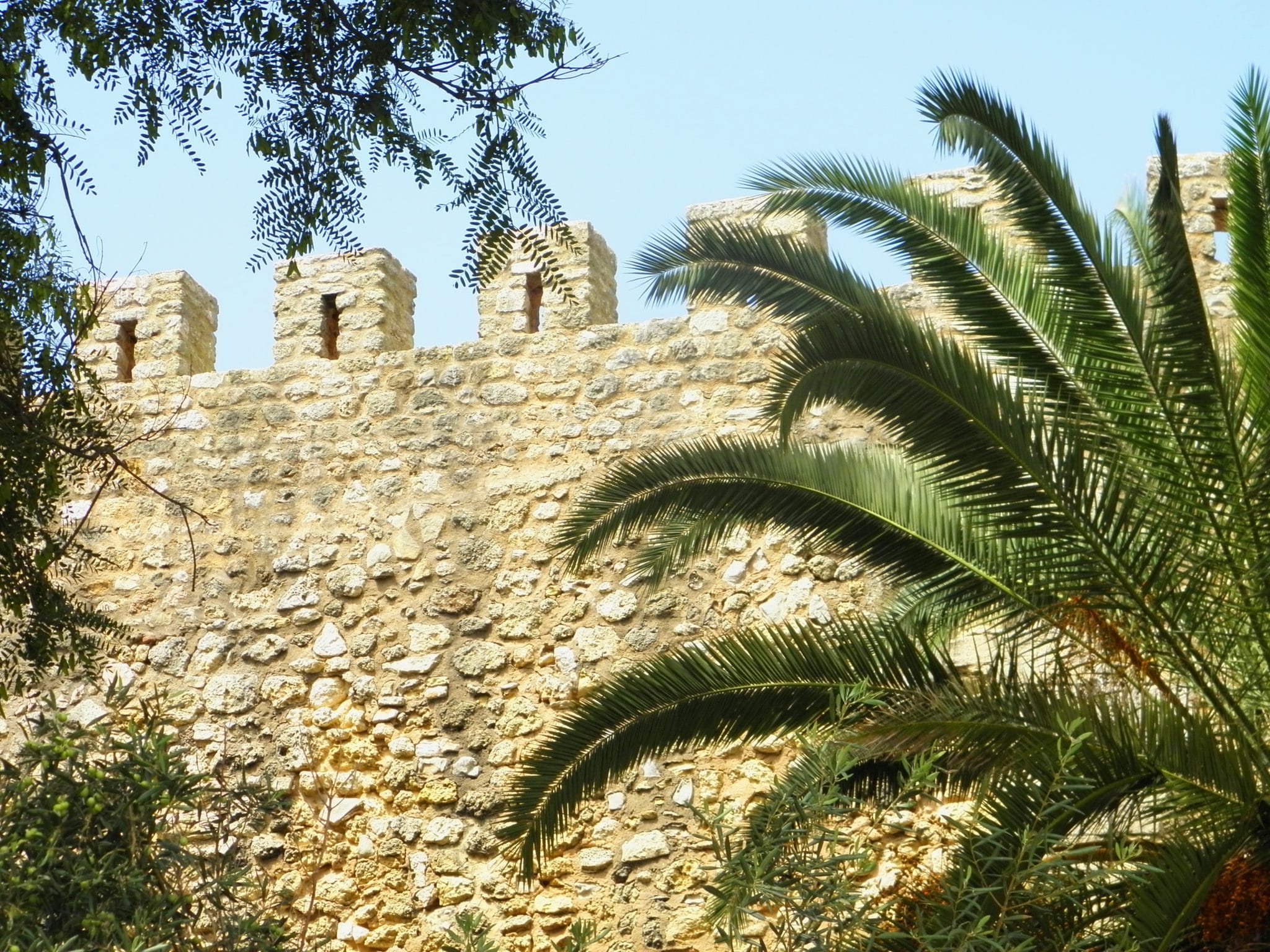 You can easily spend a whole evening just walking around! Yes, WALK, DO NOT DRIVE, the roads are narrow and impossible to navigate. Just trust us :).
Enjoy the Lagos Beaches
The primary reason visitors flock to Lagos is to enjoy the sunshine and the wonderful beaches. Lagos has several public beaches within city limits. It is also a great launch point to visit other amazing beaches dotted all along the Algarve. Every single beach we saw in the Algarve region was absolutely stunning. Here is a quick summary of Lagos's beaches that we visited.
Praia Meia
Praia Meia is the main beach in Lagos. It's HUGE with miles of beautiful white sand and blue water. There are plenty of opportunities to rent chairs and umbrellas or engage in a water activity i.e. kayaking. There is beach front food options as well. Plenty of parking available should you choose to drive.
Praia Dona Ana
was under construction, but closest to our hotel and still very beautiful. From the shore, you can easily catch a boat ride to Ponte de Piedade (shoreline formed of cliffs that have been carved into rock pillars, natural tunnels, and hidden grottos). The boat ride is 30 minutes long and will take you through all the beauty so be ready to snap lots of pictures and videos. It's truly incredible!
Camilo Beach
One of our favorites because of its picturesque staircase down to the beach. It's small and very Instagramable. Therefore, it definitely gets crowded, but the staircase alone makes this beach a must see.
It became fun just to stop at every single beach we came across because they all offered their own gorgeous rock formations and different vibes. And every single one was simply stunning in its own unique way!
Watch the Sunset at Ponte de Piedade
Many people choose to get to Ponte de Piedade by boat, but we decided to drive. To get there, drive on N125 towards Ponte de Piedade. When you arrive at the lighthouse, there will be plenty of car parking.
From there you can walk down a long stairway directly to the water and take in amazing views of the rock formations.
But to see the sunset, you'll want to walk across the road to the other side of the point. You can walk right up to the cliffs overlooking the ocean, sit, and enjoy. There was no one else around when we went and it was really beautiful.
Go to the "End of the World" & Visit a 15th Century Fortress

Cape St. Vincent is the southwestern most point in Portugal (and mainland Europe). It's about 40 minutes drive from Lagos and is home to one an imposing and important structure; the Cape St Vincent Lighthouse. The lighthouse that was was once believed to be the "end of the world" sits atop a cliff that jetties out of the water, nearly 250 feet below. The lighthouse is incredible beautiful, but also extremely functional as it stands guard over one of the busiest shipping lanes in the world. The light beam is so powerful that it can be seen from nearly 60 miles.
Not far from the St. Vincent Lighthouse is Fortaleza Sagres, a 15th-century fortress built to protect the town and harbor of Sagres. While most of the fort was destroyed in 1755, plenty still stands today that visitors can experience.
Walking around the fortress gives visitors access to great views of the cliffs and is worth visiting if headed to the lighthouse.
Where to Eat
We ate at Nah Nah Bah, which had awesome burgers and a fun, energetic reggae vibe with good drink specials. Don't be surprised if there's a wait, it's a tourist favorite!
Our favorite meal, however, was at Casa Do Prego. They had just recently opened when we were there, but they have quickly climbed up to the 3rd best restaurant on Trip Advisor, which isn't surprising because of the delicious food, reasonable prices, adorable atmosphere, and incredibly friendly owners!
Getting to Lagos from Lisbon:
Many international visitors will come to Lagos through Lisbon.
We took a bus from Lisbon to Lagos through Rede Expressos. Eva and Rede Expressos operate buses from the Sete Rios bus station, about 15 minutes from the Alfama District. The bus takes about 4.5 hours and costs 19 euros for a one-way ticket. You can buy tickets at the station or online.
We would recommend purchasing online in advance and you can print off your tickets at the station with your reservation number if you don't have access to a printer at your hotel (although, usually the receptionists are very helpful with this).
We then rented a car when we got to Lagos, which allowed us to explore the many sites and beaches and then drive on to Albufeira. We absolutely recommend that you rent a car if you are going to be in the Algarve for any amount of time. It is easy to get around and having a car will allow you to visit all of the beautiful beaches on your own schedule!
Conclusion
Laid back vibes, Portuguese hospitality and some of the most beautiful beaches on earth are just a few reasons why a trip to the Algarve is a one-of-a kind experience. Lagos is a great place to stay because it has a lot to do, offers great amenities, and is located nicely to visit other parts of the area. We're sure you'll absolutely love your say in Lagos.