Let me start by saying that every single beach that we saw in the Algarve region was absolutely stunning. We only saw a tiny handful of all the wonderful possibilities though. There are over 150 beaches in the Algarve region.  It became fun just to stop at every single beach we came across because they all offered their own gorgeous rock formations and different vibes. And every single one was simply stunning in its own unique way! Therefore, this page is dedicated to ranking the best beaches in the Algarve that we personally visited. No matter which beach is best for you, you should start planning your trip to Algarve as soon as possible!
1. Praia da Marinha
Praia da Marinha was the most incredible beach we've ever seen and our favorite spot in the Algarve! As you approach the staircase down the beach, before heading down, walk along the top of the cliff until you find the breathtaking views of the beach from above that are seen in our photos. We literally could have stayed in this very spot all day long. There are picnic tables nearby, and we wished we would have packed a lunch to sit and eat while enjoying the view.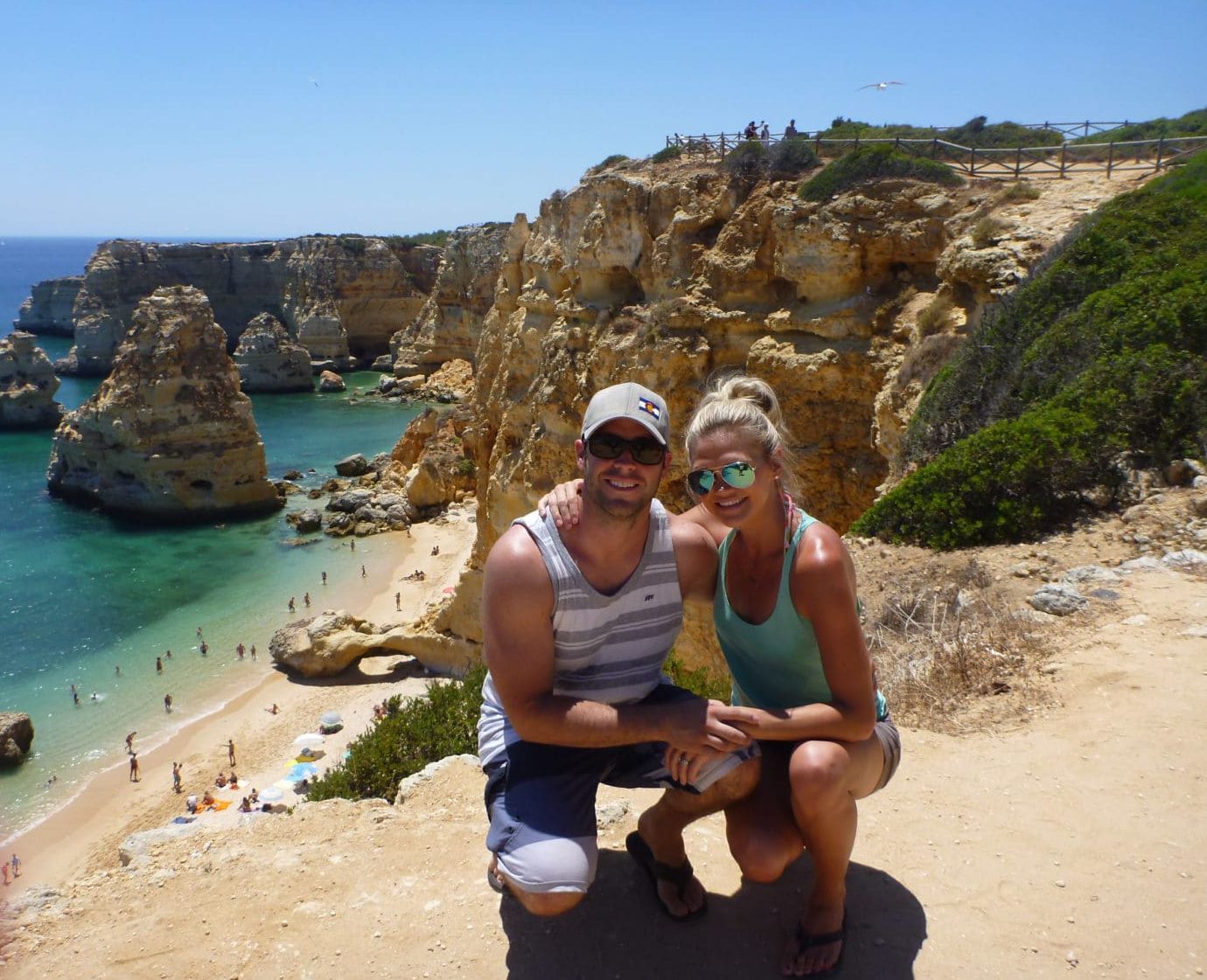 Marinha is one of the beaches from where you can access the Benagil Sea Cave or Cathedral Cave.  There are boat tours available that can be booked right from the beach. They do get crowded so you may have to book something several hours in the future. Also, there is a cafe on the beach that serves food and drinks as well as renting kayaks. We chose to rent a kayak and took ourselves to the Benagil Sea Cave and around the other grottos.
2. Praia do Camilo
Camilo Beach was one of our favorites because of its picturesque staircase down to the beach. It's small, so it definitely gets crowded, but the staircase alone makes this beach a must see. There are no amenities (food, restroom) at this beach but it is a wonderful place to play in the water and indulge in the awesome rock formations.
3. Praia do Beliche
Beliche beach is near Cape St. Vincent. As with the others, it is a  beautiful beach! What makes this beach so nice is that it is very large and feels wide open. While we were there, it was much less crowded than some of the other beaches. Also, a plus for us was the availability of food and drink at the little restaurant. We simply sat back, had a beer and enjoyed the views of the blue water!
 4. Meia Praia
Meia Praia is the main beach in Lagos. Meia is a  beautiful beach with a very long stretch of white, soft sand. Meia is extremely accessible with lots of parking and super convenient for those staying in Lagos. The water is calm and you can pretty much do any beach activity that you could think of. It easy to rent chairs, umbrellas, or grab a meal right on the beach. Definitely, a beautiful beach that you could spend all day at!
5. Praia da Dona Ana
Although Dona Ana was under construction while we were there, it still was very beautiful. One great thing about the beach is that from the shore, you can catch a boat ride for 12.5 euros per person to Ponte de Piedade.  Ponta da Piedade is shoreline formed of cliffs that have been carved into rock pillars, natural tunnels, and hidden grottos. The boat ride is 30 minutes long and will take you through all the beauty so be ready to snap lots of pictures and videos. It's truly incredible!
6. Praia dos Pescadores
Fisherman's beach (Praia dos Pescadores) is the main beach in Albufeira. The best part of this beach is the proximity to Old Town Albufeira. It is rare that you can spend all day at the beach and then walk through a tunnel to the all of the restaurants, bars, and shops that Old Town offers. That aspect of the beach is amazing!
7. Praia de Benagil
Benagil was also a great beach, just a bit small. We enjoyed relaxing there and Dan found a little path along the cliffs to hike up and enjoy views from. A major attraction of Benagil is that you can easily access the famous Benagil Sea Cave from the beach. As with Marinha, you can take a boat tour or rent a kayak to visit on your own. The Cathedral Cave is wonderful and is something that should not be missed if you make it to Benagil or Marinha. Note: Parking was a bit tricky though because there was either street parking along a VERY steep hill or parking from a lot and having to walk up and down that same hill.
8. Praia do Zavial
Praia do Zavial is another great beach, close to Sagres.  If you're looking for a good area to body board or maybe surf, this beach might be for you. It was SUPER windy when we went so we didn't stay long but that made for good waves. The beach feels secluded as it is harbored by rocks on both sides. There's a small parking lot and a restaurant/cafe at the entrance of the beach which could be a good place to grab a refuel after some body boarding!