Today we can't help but reflect back to a year ago. This time last year, almost to the very day, is when we made the decision to become full-time RVers.
It's hard to believe it's been a year. It's incredible to see how much we both have grown as individuals, in our marriage, and as professionals. We truly believe that RVing and the lifestyle is what contributed to that growth.
Here's the story of how it all began.
It was the last week of October of 2016. Lindsay was teaching Kindergarten at a school in Apex, North Carolina. It was our fourth month living in Raleigh. After receiving some heartbreaking news regarding our dream of starting a family, we got a wild idea to try a new city! We had both lived in Colorado our whole lives and we desperately were searching for a fresh start somewhere. So we followed that detour.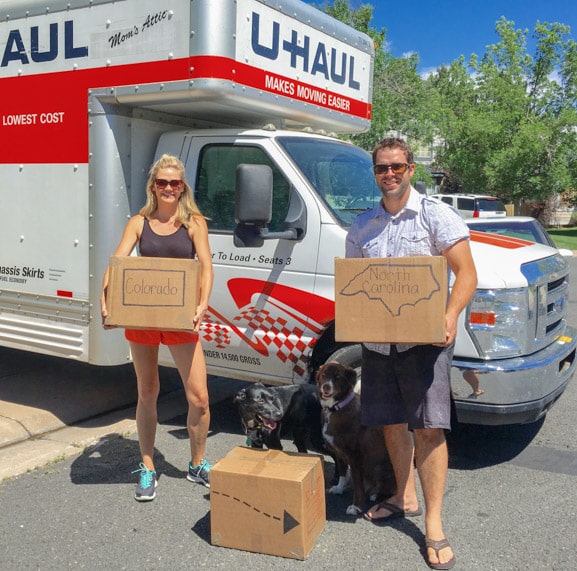 We loved Raleigh! In addition to enjoying everything the city had to offer, every few weeks we would take road trips to other nearby cities. Within 6 months we had traveled to Hilton Head Island, Savannah, Washington D.C., and all over the beautiful state of NC. Exploring new U.S. cities quickly became our new favorite thing to do. In the past, we had done most of our traveling in other countries.
We decided to take a weekend trip to the Smokey Mountains and rented an adorable cabin in Brevard, North Carolina. It was one of the most incredible weekends we had ever had together. We went to Looking Glass Falls, slid into freezing cold water on Sliding Rock (watch the video), hiked to the views of Chimney Rock, walked around Lake Lure (and imagined the filming of Lindsay's favorite movie, Dirty Dancing), drove through tunnels of changing leaves on the Blue Ridge Parkway (you can watch that video too), and more!
No matter how much fun we had, there was always something in the back of our minds. Sunday would come and we'd have to drive back home to Raleigh. We'd be back to "reality".
Unfortunately, at the time, we didn't like our "reality". It consisted of Lindsay working long days plus a long commute and occasionally bringing home work. She was stressed, unhappy, and burnt out with teaching for many reasons.
Meanwhile, Dan had finally found a job he was happy with. He was able to work remote and loved it. But, he was lonely and would be so eager to get out of the house when Lindsay got home. However, she was too tired, too defeated, and could barely pull herself together to exercise, walk the dogs, and help with dinner.
Our quality time together was limited to the weekends. So we would make the most of them with these road trips. Lindsay's joyful spirit would creep out for two short days…she'd laugh, relax, let go, and live. But, then the week would start again.
There was a moment during our weekend in Brevard, North Carolina where Lindsay said, "I don't want to leave. I can't handle the thought of going back". We had so much uncertainty in our life at that time. Were we going to continue building a life in Raleigh? Should we buy a house and put down some roots? Were we ready to explore alternative options for having a child? Should we just take another international trip to avoid it all?
The only thing we were certain about was that we felt most alive and an internal happiness we could hardly describe when we were on these road trips. We got to be together, away from the stress, and do all our favorite activities. We got to bike, hike, fish, visit breweries, take the dogs along with us, experience new places, meet new people. Our time was ours and we could spend it however we wanted. We could live.
During our drive home from the mountains that weekend, we started yet another conversation about whether or not there was any possibility that we could travel full-time. Ever since we lived in Costa Rica for 4 months when we first got married in 2010, we had dreamed of doing something similar again. We had considered backpacking through Europe, but we couldn't bring the dogs.
That's when we got the thought, what if we could road trip the U.S. full-time? I think the rest of the conversation went something like this: "We could stay in Airbnb's for weeks at a time…but again, the dogs…not every rental allows pets". "And what about all our stuff? It would get old having to live out of suitcases". "That could also be pretty expensive".
Coincidentally (or not), during one of these recent road trips, Lindsay had stumbled upon the RV Entrepreneur Podcast, by our (now) friend Heath Padgett. She had listened to a few episodes of interviews with people of all ages who were living, traveling around the country, and working from their RV.
RVing full-time was something we had shared with each other that was a retirement dream of ours. We both had agreed that once we had worked our whole lives away and weren't as physically able to do the outdoor activities we love…we would go for our dream! Sounds pretty crazy and funny when you say it that way, right?
During the next few weeks, we kept playing with this full-time RV idea. We listened to more podcast interviews, read blogs of people who weren't retired. Young couples like us, even, who were living our dream.
Then our fears set in…
Lindsay: "We couldn't do it…I would have to quit my job. I've worked my whole life practically to be a teacher. Teaching was always my dream. What would people think of me?"
Dan: "My company would never be okay with that. Plus I've never even camped in an RV before, let along own one. How do you even drive those things? I was terrified driving our moving truck across the country! We don't know anything about RVing"
Lindsay: "Our families would think we were crazy! How would we tell them? They'll think we're so irresponsible."
Dan: "Could we even afford it? How much does it cost?"
Lindsay: "We literally just moved to Raleigh. We would be total failures to not last at least a year! We just paid tons of money to move all our stuff across the country. Now we're going to sell it?"
Dan: "We just signed a lease for our apartment!"
The fears kept coming, but we just couldn't shut out the idea. Then we heard about the RV Entrepreneur Summit that was coming up. We figured it wouldn't hurt to go and just investigate the lifestyle a little more. We could talk to real people who are doing it and see how they made it possible! So we bought tickets, on a whim.
Once we made the decision to buy tickets to the Summit, we both agreed that we were going to start working towards our dream of becoming full-time RVers. That's when we starting making a plan.
Since Lindsay would need to finish out the school year and we were locked into a lease with our apartment, we planned on staying in Raleigh until the beginning of July. That would give us time to go through our belongings, sell things, buy an RV, and learn everything there is to know about RVing. We'd be on the road in nine months.
Nine months starting feeling like an eternity for Lindsay, though. Two months later over Christmas break in Colorado, our family could sense her unhappiness with her job and the eagerness we both had for this new dream of ours, which they were surprisingly very supportive of. They could also see the anxiety she had over trying to survive the next seven months of the school year being so unhappy and stressed. They asked us tough questions, like why we had put this timeline on ourselves and what were we waiting for?
Whether they know it or not, our family helped us realize that happiness can't wait. Dreams can't wait either. Life is too short to spend any amount of time miserable and wishing for something different.
So we did it. We decided we were going to make it happen as soon as humanly possible.
Here are the steps we had to take, which seemed nearly impossible at the time:
Lindsay went back to work after Christmas break and resigned that very day. You can read more about that in the post she wrote, Why Quitting My Dream Job Was a Part of Following My Detour. It wasn't easy but it was one of the greatest life lessons for her.
We asked our apartment office if we could sublease our apartment. They agreed and we found the perfect people to take over our lease. It took awhile to find people we trusted and required us to pay a few hundred dollars each month to make the deal more desirable, but it worked out.
We sold nearly everything except a few furniture items and important keepsakes. Then we hauled those belongings back to Colorado so they could be stored near our family.
We bought a truck, sold it, then bought a different one…all in one month. That's a story for a different time.
We bought a fifth wheel and learned how to use it and tow it. We also did a quick and easy remodel on it and transformed it into a cozy home!
Dan told his company about our decision and they were completely supportive.
We attended the RVE Summit and it was awesome (read more about it here). We made incredible friends and networked, which led Lindsay to a variety of work opportunities. She is now earning almost half of her salary as a teacher with a Master's degree in only 8 months.
We started a blog to document this detour, our love, our travels, and more than anything to inspire others along the way. We've even been able to monetize it to help fund our adventures! We feel so blessed.
On April 8, 2017 we hit the road! Not without a struggle and a few mishaps, but it was completely worth it. Fast forward to today and the decision to become full-time RVers was one of the best decisions we have ever made. It has allowed us to create the exact life we had been dreaming of. We have the flexibility to be anywhere for however long…even if that means being home with our family in times of need or for special occasions, which is priceless.
And now…
We get to travel full-time…and bring our dogs along! It's given us more time to be together and do more of the things we love. We're no longer stressed and living for the weekends. In many ways, it feels as though our life has just begun.
So if you are unhappy, dreaming of a different way of life (whether it's full-time RVing or not), we hope our story of why we decided to become full-time RVers helps you in some way. Don't wait. Make it happen. Forget your fears. It IS possible. You deserve it too. Life is short. Your happiness matters. You aren't stuck. Just do it.
Can we help you? Do you relate to this story? We'd love to hear from you and connect with you! Leave us a comment below or email us!
Pin this post for later: