*Disclaimer: This post is part of a content series sponsored by Camping World. All opinions are our own.
RVs nowadays are like tiny homes on wheels. Whether you're using an RV for occasional camping trips or living in it full-time, there are a variety of ways you can make it cozy and comfortable. Making your RV feel more like home can go a long way in helping you enjoy your adventures to the fullest.
We have lived, worked, and traveled full-time in three different RVers over the years. We've learned that choosing the right RV for you is equally about buying the right make and model as it is about making the interior fit your needs.
In this post we will share five ways that we have improved our RVs so that no matter where we roam, we always feel at home.
1. Decorate
It may feel silly to decorate an RV, especially if you're just using it a few times a year. But, decorations can make all the difference in how a space feels and the happier the environment, the happier the camper.
When it comes to decorating a small space, though, less is more. You don't want it to feel cluttered and you also don't want to have to spend a lot of time securing items before you travel. Keep it simple by putting a few things on the walls with command strips and hooks, adding some throw pillows to your couch and/or dinette, and even tossing in an area rug to make it feel warm and inviting.
Plants are also a great way to add some life and warm energy to the RV. Again, don't go overboard and don't be afraid to use faux plants so you don't have to worry about a mess if they tip over or keeping them alive since your environment may be constantly changing.
A few knick-knacks can be cute, too, especially if you can quickly take them down and keep them safe in a basket when you're in transit. Family photos are great for making it feel homey and having a piece of your loved ones with you when you travel.
2. Remodel
The word remodel will either excite you or completely terrify you depending on your skills and personality type. For us, we aren't big DIYers and when we remodeled our fifth-wheel we only did projects that were quick and inexpensive.
However, all over social media you will see people who have completely gutted RVs and transformed them into beautifully designed homes on wheels. We'll leave it up to you on the level of remodel you feel comfortable taking on.
There are a few simple projects that can make a huge difference in your RV, regardless of the level of remodeling you choose to do. Replacing the furniture that comes standard in an RV is probably the most effective and making the space most comfortable for you. You may choose to upgrade the mattress or sofa or completely swap out some furniture to make space for an office. There are lots of ways you can make it your own.
Of course, if you aren't afraid to do some more work, painting the interior is a very popular thing many people do to make an RV feel more cozy like home. RVs often come with dark brown walls and painting them white can make the space feel bigger and brighter. You can even paint cabinets, add wallpaper, and add curtains after removing valances to bring your own personal style into the unit.
3. Bring Your Favorite Items From Home
It's funny how sometimes the littlest things bring us a lot of comfort. That may be a sentimental item that was gifted to you or a gadget that just makes your day to day life easier or more enjoyable.
These items are so different for everyone. But there were a few items we brought on the road with us that we considered to be luxury or bonus items. One was our specialty coffee maker. Bad coffee makes for a bad day so no explanation needed there. There were a few other gadgets that we loved having on the road with us, too, such as our Vitamix blender for smoothies and our full size vacuum for keeping the pet hair and dirt under control. Our rule is, if it fits in an organized, accessible, and safe way and makes you happy, bring it!
For you, it may be items that allow you to enjoy your hobbies, like an instrument or crafting supplies. Or maybe, like us, it's important for you to stay fit and healthy on the road so you bring exercise equipment like weights and yoga mats. If you have children traveling in the RV with you, allow them to bring some of their favorite toys or a game console. While RVing is about living simply and being outside and exploring, there's nothing wrong with also having comfort items that ensure you're a happy camper. You have to find the right balance.
4. Keep it Organized
If you plan to spend a lot of time in your RV, organization is critical. If your stuff is all over the place or hard to find, you'll likely feel cramped and frustrated, which can no doubt ruin your adventures.
You don't have to be a neat freak or a professional organizer to make the most out of your storage space in an RV. Luckily, they make a lot of different products to help you. The key is making sure that everything you bring has a space that is big enough for the item and easy to access. It's easy to just start filling your storage compartments with items until they are full, but we learned the hard way that you don't want to over pack or else you'll have to pull ten items out just to get to one. Just because the space is there, doesn't mean you have to fill it.
Here are a few of our favorite RV storage and organizational products you can quickly put in your RV to help you stay neat and organized with your belongings.
*Use code FOLLOWYOURDETOUR10 for 10% off your purchase of $99+ on Camping World's online store*
Storage Tubs, Bins and Baskets
These are a must for RVs. They allow you to maximize the cabinet space you have and store items so that they are safe and accessible. Use them anywhere you possibly can in your RV! You'll need a wide variety of sizes and types of tubs and baskets, as some will go in drawers and cupboards and others might go in the external storage compartments of your RV.

Shop storage tubs, bins and baskets on Camping World's online store
Closet Solutions
Clothes and shoes can be some of the hardest items to keep neat and organized. Especially dirty laundry which tends to pile up since you'll likely be doing laundry less often in your RV. We've used and love the following items to keep our closet and RV bedroom tidy.
Shop Here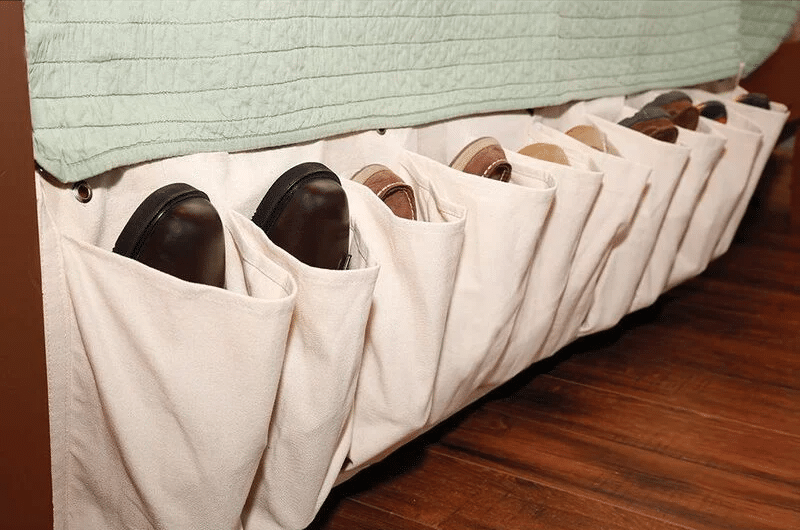 Shop Here
Other Miscellaneous Organizational and Storage Products
There are so many things out there to help you not only organize your belongings, but even create more storage space in your RV. These are a few ingenious ways of maximizing your storage and/or solving a unique organizational problem.
Shop Here
Shop Here
Shop Here
Shop Here
5. Extend your living area to the outdoors
One of the many benefits of RVing is being able to spend more time outside. So it's a win-win if you can extend your smaller living quarters to the outdoors and enjoy added space along with comfort in the great outdoors.
Having a cozy patio area takes the RV experience to the next level. We've seen some RVers with impressive campsite setups that allow them to enjoy being outside even in harsh weather conditions.
Photo by Michael B. Stuart on Unsplash. Here's a checklist of items for setting up a great space outside your RV. Each item is linked for your shopping convenience.
Outdoor RV Gear List:
Closing
One of the most important things you can do after buying a new RV is adding your own special touches to make it feel more comfortable and livable. It can completely transform the way you feel in your RV and truly turn it into your home on wheels. It's sure to make you a happy camper!
Pin This Post For Later:
Related Posts:
6 Quick & Easy Remodel Projects That Transformed Our RV Into a Home!