*Disclaimer: This post is part of a content series sponsored by Camping World. All opinions are our own.
Most people think of the open road and traveling across the country or maybe weekend camping trips when they think of an RV. But RVs aren't just for recreation anymore.
We've seen RVs being used in a variety of creative ways. There are so many uses for RVs that purchasing one is worth the investment, even if you don't travel in it often.
If camping and road tripping is your thing, great! But here are some alternative ways to use an RV.
Home Sweet Home
This one is the most obvious, but many people choose to use an RV as their primary residence. Whether you find a great year-round RV park that you love and allows full-time residents or own a piece of land, RV's have come a long way and make excellent homes if you choose to be stationary instead of travel.
Living full-time in an RV can be much more affordable than paying a mortgage or even renting in many major cities. We've met many RVers who choose to live in an RV as a way of paying off debt and/or meeting their personal savings goals.
Fifth-wheels especially make great homes since they can offer a bit more space. You can even do some simple projects to make an RV feel more like home if you desire.
Vacation Home
So maybe you don't want to make an RV your full-time residence, but they can make perfect homes away from home. Many people can't afford the dream of owning a vacation home, but having an RV parked in a destination you love makes it possible.
An RV vacation home can be wherever you want, whether it's a quick drive from home or a longer flight across the country. Maybe you love taking annual trips to the beach in California or your family visits Disney World frequently. Wouldn't it be great to have a second home there so you can avoid the expense of a hotel room? Saving money may even mean you can stay longer.
You could also have everything you need already stocked in the RV so you don't have to worry about the hassle of packing and hauling luggage. You could set it up to truly feel like home with all the comforts you love and need, including adventure items that typically are too big to bring in the car or on a plane.
To use an RV as a vacation home you have a couple options. All across the country are RV parks that allow people to purchase a site. That way, you can park your RV there year-round and come and go as you please. Then you'll also have access to all the amenities that RV parks can offer, like pools, laundry, general stores, etc.
Another option is to buy some land where you're allowed to park your RV instead of building a home. You can even get water, electricity, and sewer to the property so you have everything you need, just as you would at an RV park.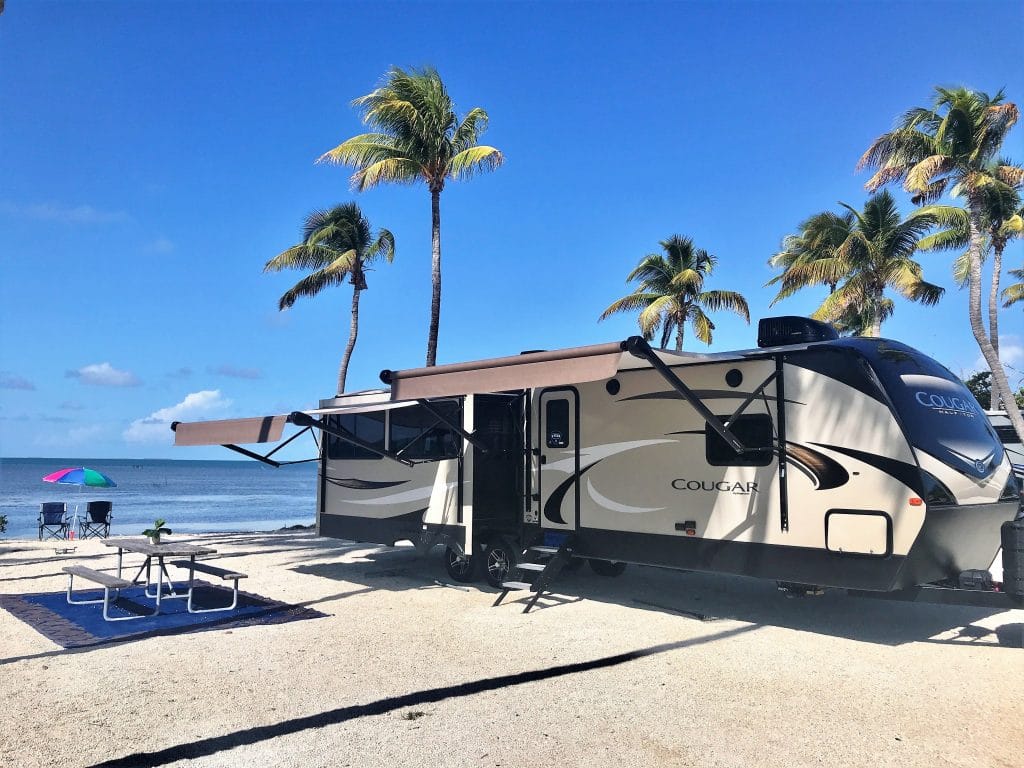 Tailgating
Whether you're an avid sports fan or concert goer, RVs are perfect for tailgate parties. You can host your friends and family and have a comfortable space for everyone to gather before the event. Having your RV in the parking lot can eliminate the need for hauling coolers, canopies for shade, and having to use those questionable porta-potties.
Not only will you have access to your kitchen for cooking up some delicious snacks and storing your drinks, but many RVs even have outdoor kitchens. In fact, some even have outdoor TVs so you can pull out your awning, set out some chairs and enjoy tailgating in luxury.
If the weather doesn't cooperate, you and your crew can take cover and continue the party indoors. And when the event ends, you can even host an after party! RVs can make tailgating way more convenient and fun than the bed of a truck or trunk of a car.
Temporary Housing
There are so many different reasons that one might need temporary housing. In fact, we all discovered a new reason recently with the outbreak of Covid-19. Families were using RVs to quarantine and found it a comfortable way to have separate living quarters away from their family to avoid the risk of spreading the virus.
But there are lots of other examples of why you may need to use an RV for a temporary living arrangement. Perhaps you are doing a remodel on your home or even building a brand new home. Living amidst construction isn't enjoyable and sometimes not even possible, so having an RV parked right outside can certainly help in the meantime.
Sadly, it's not uncommon for people to completely lose their homes or have severe damage to their homes in natural disasters. Wildfires, hurricanes, you name it – RVs are excellent for emergency housing. Being displaced from your home can be a real inconvenience and also very expensive, and in these situations, having an RV can ease some of that burden.
Guest House
Not only can an RV make great additional housing for you, but it can also offer your friends and family a comfortable spot to stay as well. It's tough to justify purchasing a home big enough to have a guest room if it only gets used maybe once or twice a year. But hosting your loved ones may still be important to you. Or, lets say your house isn't quite large enough to host your entire family for the holidays. Either way, having an RV right outside can serve as an extension of your home.
Events like weddings or family reunions are another great example for needing accommodations for guests. Sometimes having a free place to crash makes an event like that more possible for a loved one to attend, since financial reasons can often be a barrier for people making special trips.
Not to mention, your guests may even prefer to stay in your RV. They can have access to their own bathroom and kitchen, and enjoy the added privacy it can offer.
Business
Starting a business is a dream for many people, but the costs and limitations of purchasing or renting commercial property can sometimes keep them from going for it. With the rise in popularity of food trucks, RVs are now popping up in cities as a variety of businesses.
We've seen everything from RVs being home to barber shops, clothing boutiques, coffee shops, dog groomers, and even bars! With some creativity and design, it's amazing what you can fit inside an RV and it can actually attract customers since it's unique and trendy.
Even if your business doesn't necessarily need a space for clients or customers, an RV can be a perfect solution for artists, musicians, content creators, etc. who need studio space outside their home to operate their business. You'll have space to spread out your products, peace and quiet for recording and creating, or whatever else you may need.
Side Hustle
You may not be able to use an RV for a full fledged business but there are a couple ways you can turn it into a profitable side hustle. That's right, people are actually making money just by owning an RV these days.
The first and easiest way you can make some extra money from your RV is by renting it. Lots of people like to "try before they buy" or just want to take an RV road trip but don't want to invest in one of their own. You can simply rent it privately to people you know or use an RV rental platform to advertise it and rent it to strangers. The thought might scare you at first, but these platforms provide coverage for your RV while it's being rented.
If you only use your RV a few times a year, renting it is a great way to make some extra cash when you aren't traveling in it. Or on the flip side, you can short-term rent your house as your side hustle while you travel or stay in your RV. This has been a great way for us to fund our travels.
Office Space
No, we're not talking about the hilarious movie from the 90's here. But if you're worried about getting moved to the basement or getting your stapler stolen like Milton from the movie, then here's a great option for you (haha).
In all seriousness, people are working from home more than ever. Yet, the struggle to balance work life with home life is real. Remote workers need a separate space away from family and distractions to ensure they can stay focused and productive.
If you've recently found yourself working from home and are tired of sitting at a card table or at your kitchen counter, consider using an RV as an office. It's yet another great way to serve as an extension to your home.
Be sure to read our tips for finding and maintaining a remote job on the road.
Conclusion
There's no doubt that having an RV as a way of traveling and finding your freedom on the road is awesome. But, they can serve as much more than that, too. If you've been debating whether or not to purchase an RV, perhaps this article can help you see the possibilities it can offer!
Pin This Post For Later:
You May Also Like…