*Disclaimer: This post is part of a content series sponsored by Camping World. All opinions are our own.
When most people think of camping, they picture scenes of secluded forests, picturesque mountains, lakes, and maybe even a bonfire on the beach. Traveling by RV is a great way to see and experience many things, not just epic outdoor adventures.
For example, hot springs and camping seem to be a match made in heaven! We absolutely love soaking in hot springs, and we love it even more when RV parking is not only possible, but is either onsite or extremely convenient. Check out this list of amazing places to consider for your next RV camping adventure!
11 Hot Springs Perfect for RVers
Lava Hot Springs is a charming, quaint town nestled in the mountains and conveniently located about 35 minutes southeast of Pocatello, idaho. What makes these hot springs unique is that there are two separate facilities. The Olympic Pool is a great place to take the kiddos on a hot summer day. There is an Olympic size indoor swimming pool, an indoor splash pad and a huge outdoor pool – all fed by Lava Springs odorless mineral waters. The outdoor pool area is much more than just a pool, however. They have multiple diving boards (including a few very high diving platforms) and water park worthy water slides! Both kid and adults can let loose here!
For us, once the sun went down, we headed four blocks down the road to the Hot Pools. The Hot Pools are your typical hot springs and provide the perfect setting for total relaxation. A few things that stood out to us where the size of the pools and the extremely hot temperatures. With all the room, it was easy to find our own little section of the pool for peaceful, private soaking. Additionally, the pools were really hot. One of the pools was 112° F. Even better, these mineral pools don't have any odor… no sulfur smell at all!
Where to Camp
There are several campgrounds in the area, but we chose to stay at one of the two KOA's due to the location. We stayed at KOA Wes, which was directly across from the outdoor pool. The sites were well kept and the location was convenient, even though getting into the RV park was a bit difficult. Overall, staying at the KOA made it easy to enjoy Lava Hot Springs.
Strawberry Park Hot Springs are located about 20 minutes from downtown Steamboat Springs and a must do while in town. The hot springs themselves are well off the beaten path (although easily accessible). When you're at the facility, it feels like you've found your way to a secluded mountain oasis.
The hot springs have several large pools with different temperatures and lots of nicely landscaped places to sit. What we love about Strawberry Park is how they keep things looking very natural, while at the same time creating really amazing soaking pools. There is very little lighting (perfect for starry nights), so if you come at night, bring a headlamp. But, be aware, we've heard (never seen it ourselves) that clothing is optional once nightfall hits!
Where to Camp
Strawberry Park does have several lodging options onsite, but unfortunately nothing for RVers. However, there is a KOA in Steamboat Springs that is open all year, which makes it the perfect place to stay during any season.
Colorado has a lot of entries on this list but Pagosa Hot Springs might just be our favorite. The Pagosa Hot Springs are unique because they feature 25 individual pools rather than a few larger pools. The pools range in size and temperature, allowing all guest to find the perfect soaking pool for their mood. The pools are fed by the Mother Spring, which is the world's deepest geothermal hot spring and claim to have great healing powers.
For guests looking to take their relaxation to a new level, be sure to get a massage from the on-site spa. Additionally, there are several bars and restaurants available serving up the perfect snack or beverage, making it really easy to spend the entire day at the hot springs!
The last thing that makes Pagosa one of our favorites is that the pool grounds are located directly in downtown Pagosa Springs and on the banks of the San Juan River. During the summer months, you'll enjoy the energy of folks passing by, shopping and dining as well as tons of tubers having a great time floating the river. It makes for wonderful people watching.
Where to Camp
Unfortunately, there is no RV parking at the hot springs. But, there are many great spots to park/camp in the area. We really enjoyed our stay at Pagosa Riverside RV Park. The campground is located a quick 6 minute drive to the hot springs. They also have a really beautiful fishing pond onsite and some hiking trails. Oh, and it is right on the river making it a great place to fly fish or to simply enjoy a Colorado mountain sunset.
Ouray, while lesser known, is one of the most spectacular places in Colorado. Ouray has many titles – "Switzerland of America", "Outdoor Recreation Capitol of Colorado", "Jeeping Capital of America", "National Historic District" just to name a few. With its location in the heart of the San Juan Mountains at the beginning (or end) of the Million Dollar Highway, it's safe to say that Ouray is pretty special. And the Ouray Hot Springs are no different!
The Ouray Hot Springs are right on the edge of the downtown area, making them a must visit while in the area. The springs are wonderfully landscaped and are simply the perfect place to enjoy the sweeping mountain vistas. There's an adult only pool as well as a section perfect for kids with a water slide and a rock climbing wall.
Where to Camp
There are several RV campgrounds only minutes from the Ouray Hot Springs. We found that we preferred the close proximity and riverside location of Ouray Riverside Resort. Located only .3 miles from downtown, it is easy to walk to just about anywhere, but especially to the hot springs!
5. Boquillas Hot Spring – Big Bend National Park, TX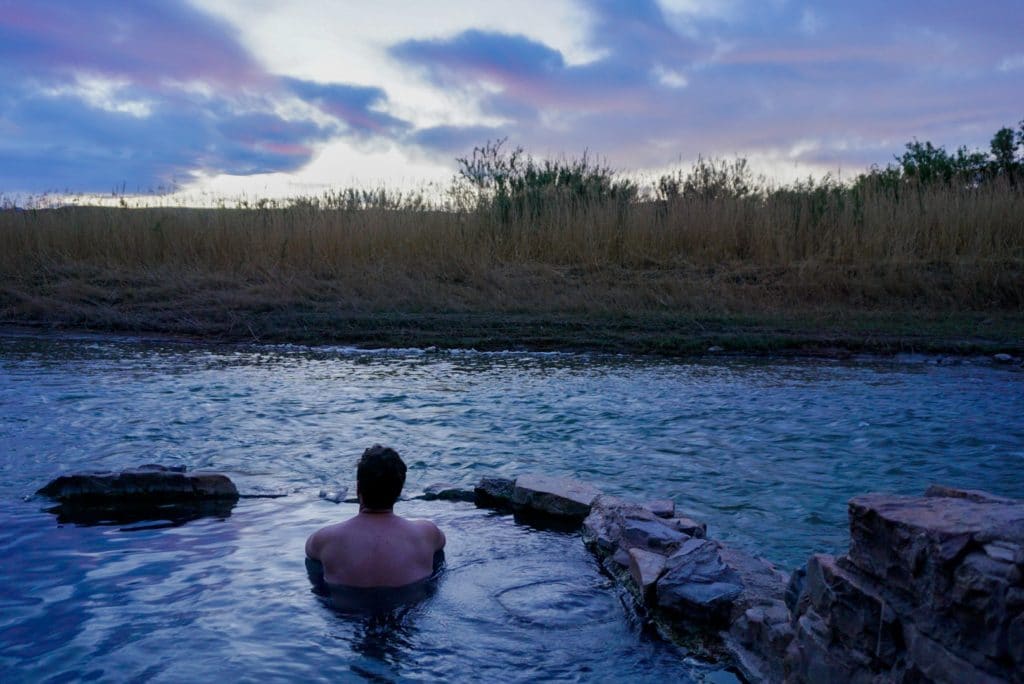 These geothermal hot springs are perched on the edge of the Rio Grande in Big Bend National Park. They are 105 degrees year round and are the perfect spot to relax after a day of hiking and exploring the park. To access the hot springs, you'll need to walk the half a mile trail from the parking lot that's located off Hot Springs Road. The trail is fairly flat and easy, though, and you can enjoy ancient pictographs on the walls leading to the hot springs.
Sunrise is the perfect time for a soak in the hot springs, especially during high season, because during the day it is too hot and the springs get crowded at sunset. We suggest arriving at the trail while it's still dark out to have plenty of time to hike the trail and be in the hot springs as the sun is coming up.
Where to Camp
There are four spots to camp inside Big Bend National Park — three of which are park-operated campgrounds and one RV park that is run by private owners. Rio Grande Village Campground is your best option for visiting the hot springs because it's closest, and trust us, Big Bend is a huge park! Plus, it is the only campground that allows you to run your generator for specific hours during the day, which is necessary during the hot summer months.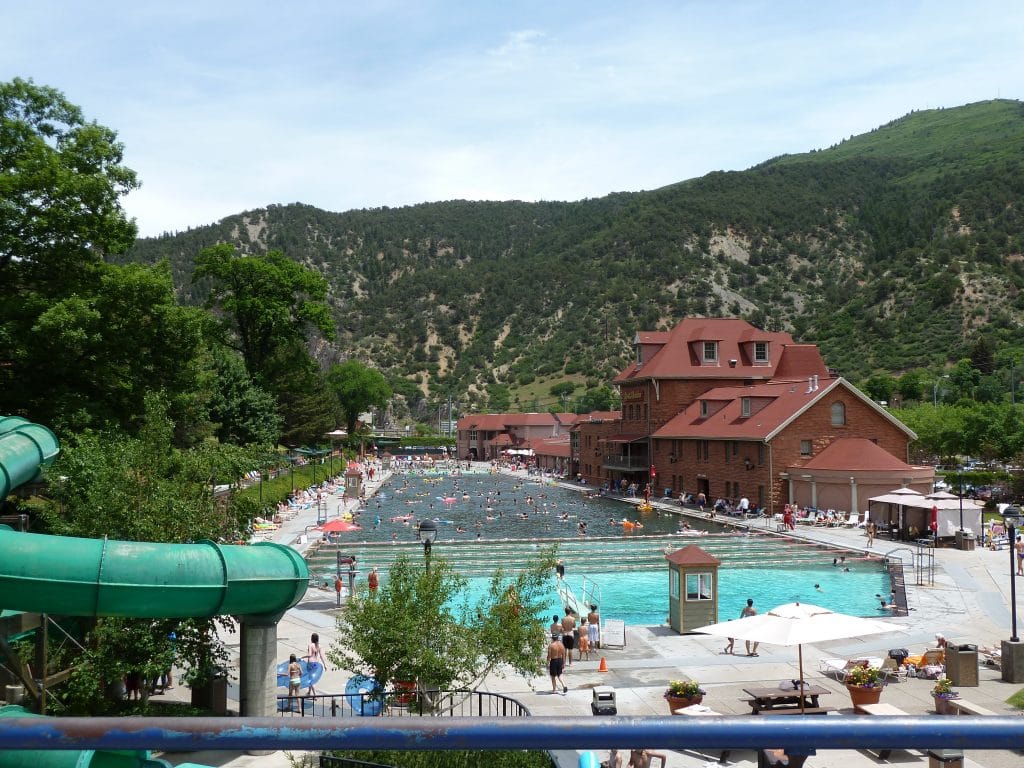 Glenwood Hot Springs is the world's largest hot springs and one the most iconic and popular tourist attractions in Colorado. Since 1888, the healing waters have been welcoming guests from near and far!
The hot spring pool is enormous and has different sections with different temperatures. There is a water slide, a lap pool and lots of space to hang out and relax. With on-site food and beverages, you can enjoy a full day without needing to leave. However, if you want to leave, the hot springs are located only minutes from downtown Glenwood Springs. You can take the pedestrian bridge across the highway and enjoy many local restaurants, breweries and shops.
Where to Camp
RV parking is not available at the hot springs like some of the others on this list, but you can still park your RV close by. Glenwood Canyon Resort offers some really nice riverfront sites and is only three miles from the hot springs!
We decided that we'd rather stay a few minutes outside of Glenwood and we really enjoyed our stay at the Glenwood Springs West KOA in Silt, CO. The KOA is only a 20 minute drive into Glenwood Springs. It was also more economical than staying right in town, which made it a great choice for us.
Mystic Hot Springs are the most unique hot springs that we've been to. Unlike most traditional privately owned hot springs, Mystic does not feature large soaking pools, but rather intimate soaking tubs. Antique tubs fill with continuous warm, mineral-rich spring water and provide a memorable soaking experience. There is certainly a utilitarian feel to the hot springs. There's no perfectly manicured landscaping, no restaurant or bar to grab a snack. It's simply the main spring pool and the more desirable tubs. The goal here is to connect with nature in a personal way.
We booked our soak for sunset and very much enjoyed watching the sun go down in our private soaking tub. It was definitely a quirky place and an experience that we'll never forget.
Where to Camp
Mystic Hot Springs has their own RV campground, making it a great place to visit in your RV. The campground is no frills and really doesn't offer any amenities, but makes for a really convenient and affordable place to rest after a day in the tubs. Just remember that camping and soaking passes are sold separately. Be sure that both are available for the day that you want to go as one without the other would be a waste.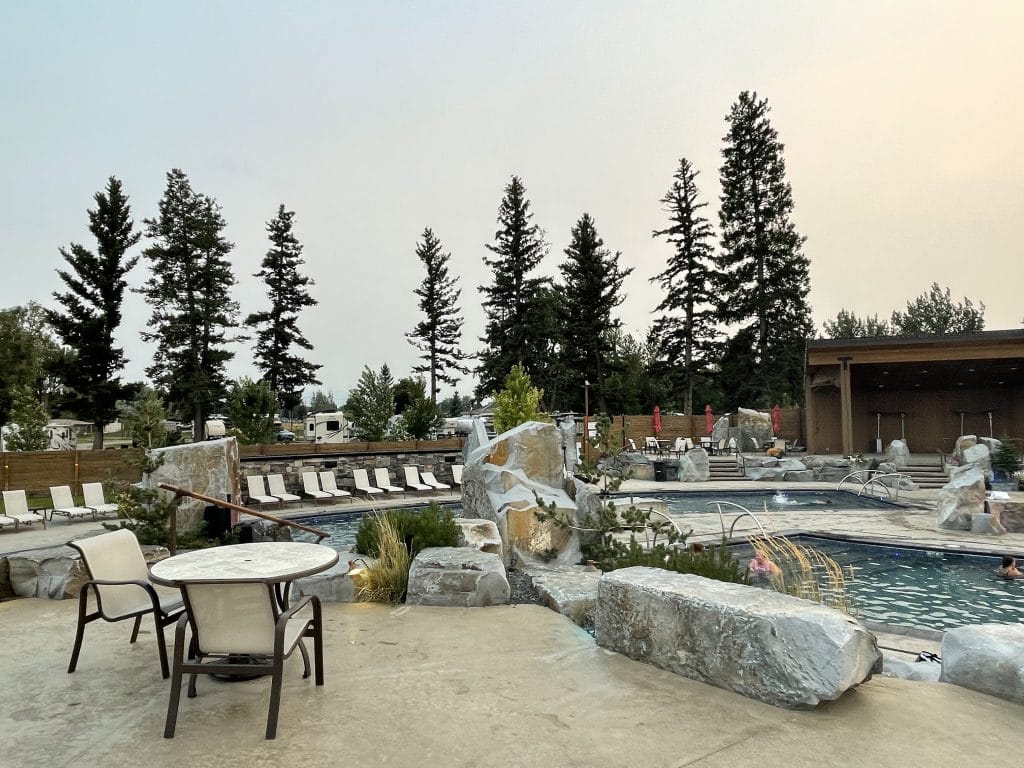 One of our favorite places to visit during the summer is Bozeman, MT. On our last trip, we came across Bozeman Hot Springs and spent four wonderful nights there. In fact, it made us fall even more in love with Bozeman!
Bozeman Hot Springs features twelve pools ranging in temperature. Some of the pools are inside and some are outside. Having the ability to be inside or outside is a great feature since the weather can be limiting at times. The outdoor pools are amazing and where you'll likely want to spend most of your time. The outdoor area is well landscaped and a great place to hang out with friends. During the summer months, the hot springs even has live music. Listening to great music while soaking just can't be beat!
Where to Camp
You can camp right on-site as Bozeman Hot Springs has its own campground and RV resort. The RV park is clean, very well taken care of and a two minute walk from the hot springs. While the rates are higher than you're likely used to paying, the nightly price does include admission to the hot springs and a free continental breakfast. In five years of traveling the country in our RV, I don't believe we've ever stayed at another RV park that offered a free breakfast, so we were pleasantly surprised!
If you're going to visit the hot springs, and you're traveling by RV to the Bozeman area, then it is a no-brainer to stay at the Bozeman Hot Springs Campground and RV Resort.
These aren't just your typical hot springs – Ojo Caliente is one of the oldest natural health resorts in the country. And also the only hot springs in the world with four different types of mineral water – including lithia, iron, soda, and arsenic. They have 12 different pools, including private pools you can rent that feature a fireplace. We enjoyed sunbathing by the main, large pool during the day and then soaking in the smaller, hotter pools at night while stargazing.
Ojo Caliente Mineral Springs Resort & Spa offers a variety of spa services for total rejuvenation. You can enjoy massages, skin care therapy, and restorative body therapies. It also has a wine bar and lounge and an award winning on-site restaurant. The food is made with farm-to-table ingredients from the resort's very own two acre "Ojo Farm".
Where to Camp
It's hard to believe that such a nice spa and resort would also have an attached campground! Camping there will put you steps away from all the pools and amenities – now that's what we call "glamping". The campground is nestled in a cottonwood grove, offering lots of shade, the sites have hookups and you can also access hiking/biking trails. Campers get a 20 percent discount on access to the mineral springs, plus extended soaking hours.
Yellowstone National Park has so many incredible geothermal features that you might forget about a little ole hot spring. While there are some hot springs that you can soak in inside the park, we recommend that you make your way to Yellowstone Hot Springs. The hot springs are located 8 miles north of the north entrance to Yellowstone National Park, making them a great place to visit on your way into the park. Or, use the hot springs as your home base while you explore the entire Yellowstone area. After all the hiking and activities in Yellowstone, a relaxing soak at the day's end is necessary.
Where to Camp
Yellowstone Destinations operates a campground that is located across the street from Yellowstone Hot Springs making it the obvious choice while camping in the area. The campground only has 8 full hookup spots, however, so it is wise to reserve well in advance if you hope to stay there.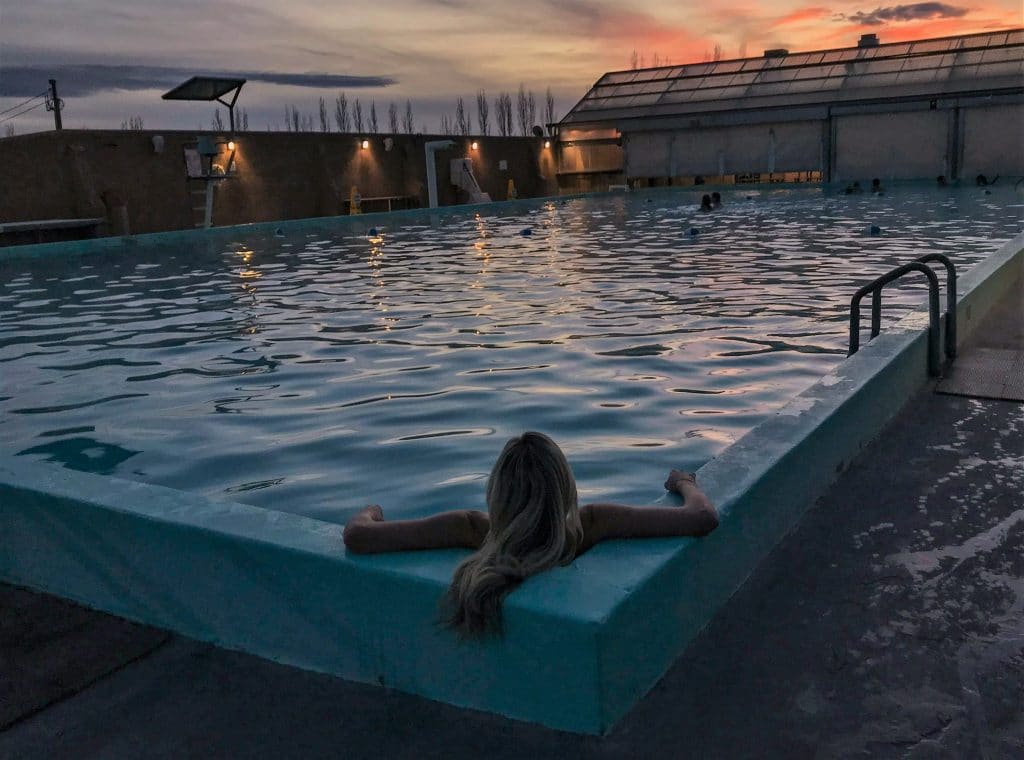 Sand Dunes Swimming Pool & RV Park is just about 30 miles from the Great Sand Dunes National Park, making it the perfect spot to soak your tired muscles after climbing the dunes all day! Their website describes themselves as "an oasis in the middle of the scenic San Luis Valley" and we definitely agree.
Whether you're looking for family fun or total relaxation, you'll find it at the Sand Dunes Swimming Pool. And don't be confused by the name, there's several hot springs pools on site. Their main family pool is 50 x 100, remains at 98 degrees year-round and features a diving board and a mini water slide! They also have a therapy pool that is between 105-107 degrees and located inside, ensuring that you can enjoy it no matter the weather.
Adults looking for a kid-free, relaxing environment will love The Greenhouse – an adults (21+) only area built in their 10,000 square feet greenhouse. The Greenhouse has 4 soaking pools at varying temperatures, a sauna, beautiful gardens, and even a beer & wine bar!
Where to Camp
The Sand Dunes Swimming Pool conveniently has RV sites and cabins right on-site and in walking distance to the pools. So after relaxing in the pools all evening, you won't have to go far to go to sleep!
They offer all the basic amenities that most RV parks offer, like laundry, showers, and a dump station. Be sure to have a meal at their on-site grille because the food is great, and stop by the gift stop for all your essentials, rentals, and even souvenirs!
Conclusion
We hope you have enjoyed this list of hot springs and are considering adding one or more of them to your next RV vacation plans. We've found that we love experiencing the incredible rest and relaxation that these hot springs offer. We love it even more when visiting these hot springs is easy to do while we travel in our RV, as it is our favorite way to travel.
Pin This Post For Later:
You May Also Like…