Disclosure: Some of the links contained below are affiliate links. This means that if you make a purchase, we would receive a small commission (at no cost to you). Keep in mind that we won't put anything on this page that we don't personally use or know to be valuable!
Covid-19 has completely changed the world as we know it. When it comes to travel, I think we can all agree that it may never go back to "normal". We see so many people considering RV trips as their preferred way to travel this summer. And we're wondering why it took a pandemic for people to consider planning an RV camping road trip! 🙂
We've traveled A LOT and RVing is our preferred way to travel for so many reasons. We are excited to see other's experience the freedom and benefits it can offer.
Since there will be so many newbies hitting the road this camping season, we figured we'd offer our best tips for planning an RV trip. We've shared a lot of tips for RVing in the past to help other's avoid the mistakes we made and learn from our experience after over two years of full-time RVing.
In this post, we'll combine those tips for an easy 5-step guide to planning the perfect RV camping road trip!
But First, Do You Even Have an RV?
That's the obvious place to start. But don't let the fact that you don't own an RV stop you from taking that epic road trip camping vacation you've always dreamed of. You have options!
You could start with asking around to friends and family if anyone has one you could borrow. Offer to pay them, of course, but many people just have RV's and campers sitting in a paid storage spot not getting used and they're happy to have someone get some use out of it. In fact, an entire company was built on this premise.
RVshare RV Rentals
We've all passed those RV storage lots with hundreds of RV's just sitting there waiting to be taken out on an adventure. RVshare did something about it.
RVshare created a platform where every day people who own RVs and don't use them but a few times a year can list their RV for people like YOU to rent. It's a win win – you get to take that RV road trip without investing in your own camper and they get to make a little extra cash!
RVshare is the largest online RV rental marketplace out there so you're sure to find the perfect RV that fits you and your families needs in a location convenient for you. There are thousands of rentals in every U.S. state. You can also choose to drive the RV yourself or have the owner deliver it right to your campsite for you. Pet friendly? No problem!
You'll also enjoy the peace of mind of having 24/7 emergency roadside assistance on every booking! RVshare also offers comprehensive nationwide protection. Their coverage extends through all 50 states and Canada for the RV renter, the RV owner, and the RV itself. Because of this, we're actually considering listing our RV now that we are no longer full-timing.
It's super easy to find a listing that's right for you. The website steps you through the entire process and booking is simple and fast. Get started with planning your RV road trip by searching for an RV to rent today!
Better yet, enter RVshare's giveaway for a chance to WIN $1,500 towards a rental plus $500 for expenses!!
Not Sure Which Type of RV to Rent?
If you aren't knowledgeable about the different types of RVs, you might get a bit overwhelmed. Here's a quick rundown:
There are three main categories of campers: motorized (these are the driveable kinds, often called "motorhomes"), trailers (these are the kinds that you tow behind your SUV or truck), and truck campers (these sit in the bed of a truck). Each category then has a wide range of models.
Motorized are broken into three classes: Class A (think bus!), Class C (think moving truck!), and Class B (think cargo van!). Trailers come in all shapes and sizes but mostly are broken into travel trailers and fifth-wheels. Travel trailers are towed behind the vehicle using a ball hitch whereas fifth-wheels are towed using a hitch that's installed in bed of a truck.
Lots of options! But it's not as hard to choose as you may think.
Choosing which type is right for you, your family, and your road trip will depend on a lot of factors. How many people are in your family will depend on the size you need, whether or not you have a vehicle that can tow will determine whether or not a trailer or truck camper is right for you, and your comfort level with driving versus towing will also impact your decision. Your destination, distance, and plans will also influence your choice as well.
We've written a few posts that may help:
Alright now that we got the most necessary step out of the way, let's get to the fun part of planning your actual camping trip once you've gotten an RV secured.
5 Steps to Planning the Perfect RV Road Trip
Step 1: Choosing the Destination
You may already have a bucket list destination in mind, or maybe you're needing some suggestions. First, we've shared A LOT of our favorite RV destinations. We don't just share where we went, we also share where we parked the RV, and the activities we enjoyed and sometimes even route suggestions. Be sure read through our archives of recommended RV destinations.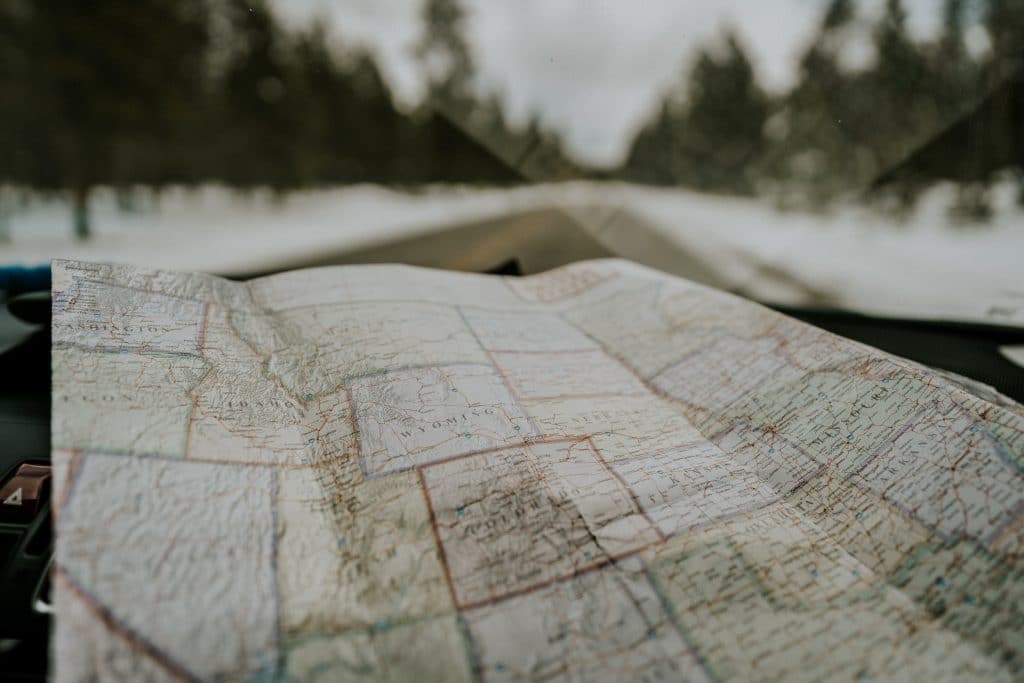 When determining a destination it's important to understand the objective of your road trip. Are you wanting to just getaway and spend more quality time with your family or spouse? RVing is a great way to reconnect, in fact, it had a huge impact on our marriage during our time full-timing. If quality time is your goal, consider finding a place to go "off the grid" a bit and surround yourself with nature.
But maybe you're planning an RV road trip for a specific reason like going to visit friends or family, attend an event like a festival or sports game, etc. Maybe there's a specific attraction you've always wanted to see, like the Grand Canyon or the Statue of Liberty (yes, New York city IS an RV destination). That's the beauty of RVing, the options really are limitless.
Whatever your reason, you'll want to consider the distance you're willing to travel and how much time you have for your trip. Of course, weather is a big factor as well, not just the weather in your final destination but the weather along your route and ensuring it's safe conditions. While we've done our share of winter RVing, it has it's challenges.
Lastly, if you're struggling to choose a destination, think about your hobbies and the things you enjoy. Are you an outdoor adventurist, a history buff, city slicker or country folk? Go somewhere where you can enjoy what the area has to offer, based on your own interests and preferences.
Step 2: Making the Plans
We know what you're thinking, "I know where I wanna go, but now what?". It's not as easy as just hopping in the RV and hitting the road. You'll need to route plan (newbie mistake #1 don't just type your destination into Google maps on your phone!! More on that below!), ensure you have a place to park your RV during your stay (there are restrictions!), and while spontaneity is great, you want to make the most of your time during your trip.
Our favorite resource for trip planning is our friends at Streets Wander. They created The Complete RV Travel Planner to help you get organized with your RV trip planning. The planner will guide you through finding your destination, reserving your campground, and checking off your bucket list! It's like being your own camping travel agent and you'll be SO glad you took the time to write (or type – it comes in PDF format too!) it all out.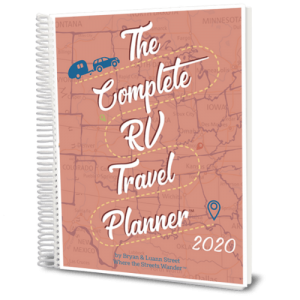 To make reservations or not to make reservations? That really is the question when it comes to campgrounds and RV parks. It's a personal preference because sometimes you want to be flexible or scope out a campground first before committing. However, we will say that with the increase of RVers they're expecting and the overall rise in RV travel we've seen in general over the past few years, we'd recommend it so you aren't caught in a situation where you have nowhere to park and rest your head for the night.
It's easier than ever to find the best spots to park your RV and call home during your stay. With the technology that's available today and especially these helpful apps, there's no shortage of resources. You can also check out our recommended list of RV memberships to save a lot of money on your stays.
There are also plenty of ways to find a free place to park! We'd suggest reading this post of ours:
Boondocking is an awesome and affordable option, too! "Boondocking" or "dry camping" is a term used for finding free public lands to park on and it can offer a really unique camping experience. You'll need to ensure you have the right equipment, know the right areas where this type of free camping is allowed, etc. You can get all the info in our Boondocking for Beginners Guide.
The most important thing to remember when it comes to RV trip planning is to be safe and to be flexible. There are plenty of things that can go wrong when it comes to RV travel and RV's in general. Road closures and detours, bad weather, breaking down, etc…there's a lot more that can go wrong than if you were to be flying somewhere.
It shouldn't scare you, it should just prepare you. You'll need to go with the flow a bit. You always want to ensure you're taking all the necessary safety precautions before and during your RV trip. We share several safety tips but one super important one to consider as you're making these plans is to share your plans and itinerary with a family member. Using the RV travel planner we mentioned above can help you easily do this.
Step 3: Preparing and Packing the RV
Now you're asking, "what do I need to bring?", right? Sure, you know how to pack for a camping trip. But packing for RV travel is a whole different ball game. You have the opportunity to bring a lot more than what you're used to when flying or driving your car, and you're basically bringing your home on wheels. But, you definitely don't want to go overboard.
First of all, RVs have weight limits and they're probably a lot less than you'd think. So overpacking can actually be dangerous. And just like with every trip you've ever taken, you never need quite as much as you think you do.
If you're renting an RV, you'll likely have everything you need to operate it and it's features (hoses, leveling blocks, generator, etc.). Otherwise you can check out our list of RV must-haves to help you know what items are essential to have packed in your RV before you take it out.
When it comes to more personal items, our general rule of thumb when it comes to packing an RV is that you only need 1-2 of everything you'll use (plates/bowls and other kitchen items, sheets, towels, certain clothing items).
We have a list of tips for packing an RV for full-time living that you may find helpful even just or a weekend road trip. A few of our favorite tips are:
Prioritize the fun stuff! The best part of RV travel is getting to do the things you love – whether that's outdoor adventure, playing board games with family, s'mores, or movie nights. Bring the things that will help you make the memories and forget the rest.
You can always go to a laundry mat to quickly clean clothes. Don't stuff the tiny drawers with clothes!
The key is to keep things organized for easy access using tubs and bins where possible. If your stuff is all over the place, it will make that tiny home on wheels feel extra tiny
Remember: just because there's space doesn't mean you need to fill it! And of course, make sure that whatever you bring is safely secured for travel. Which brings us to the other ways you'll need to prepare the RV.
Find a handy travel day checklist for your specific RV type. With a quick Google search you'll find plenty for free. But you don't want to miss an important step before hitting the road. Things like checking your tires and airing up, ensuring outside compartments are closed and locked, stairs are up, vents are closed – the list goes on – can prevent some unnecessary problems on your travel day.
Step 4: Hitting the Road and Getting There
Everything has led up to the very moment that you get behind that wheel and start the engine. It can feel a bit intimidating if you've never driven or towed an RV before or taken a long road trip. But you can prepare for your time on the road too!
As we already mentioned, the most important thing is planning your route. Do not, we repeat, DO NOT rely on Google maps to take you to your destination. Google doesn't know if you're driving a mini Cooper or a 17 foot tall semi truck. There are tunnels, windy roads, bridges, and more that you need to avoid depending on the size of your RV.
We shared a list of 30 must-have apps for RVers, and you'll need to download a few to help you navigate the safest route. There are also apps on that list to help you know which gas stations are along your route that can accommodate your rig size, rest stops for you to pull off at, locate campgrounds, and more!
Remember, most importantly, to stay safe. Don't drive too late to avoid drowsy driving, buckle up, avoid distractions like pets running around the camper, and do your safety check every time you stop and get back on the road.
But we also recommend making the drive FUN! The journey is equally important as the destination and what makes a road trip so special. Check ahead of time for roadside attractions you can enjoy along your route. Play road trip games and enjoy fun conversations (check out our friend's book "501 Questions: A Travel Game") and load up on your favorite snacks.
Step 5: Making the Most of Your Stay
You've made it to your final destination! The best part of the trip…now it's time to enjoy your hard work in planning and get the most out of your vacation.
There's a few rules to every camping trip. S'mores by the campfire are not optional (here's a tasty twist on the classic s'more that includes bacon!), it's always 5:00 somewhere, and it's perfectly normal to go three days without showering (but these body wipes might help!).
If you've never stayed in a campground or RV park before, we can't encourage you enough to get out and meet other campers staying nearby you. Walk around the grounds and strike up conversations, invite people to your campfire or to play game of corn hole, we promise you won't regret it. Camping people are good people and it's a fun way to make new friends near and far. We've met some of our favorite friends while RVing.
Remember to refer to those safety tips we shared, as many will help keep you safe at your campsite. We also share our tips for RVing with dogs because what's the point in a road trip if you don't bring along man's best friend. However, like with everything else, you'll want to plan and prepare ahead to ensure that Fido is happy and safe too! There might be times you'll have to leave your dog behind while you go adventure and you want to do everything you can to avoid any issues.
Our final tip for making the most of your camping stay is one we learned the hard way. It's a little thing called FOMO (Fear Of Missing Out). We used to try to fit everything there possibly was to do in an area into the few days we were there and it wore us out. Then we finally realized that one of the best things about camping and RVing is that it's such a laid-back travel style. Take the time to slow life down, lay in the hammock with a book, and just relax in nature.
We hope you find that you love RV road trips as much as we do! Be careful though, you may find yourself wanting to hit the road full-time like we did. If so, you know where to find all our best RV life tips! We even have a free 7-day email course you can sign up for to help you hit the road.
We'd love to hear about you!
Tell us about your favorite RV road trips and tips in the comments
Pin This For Later:
Related Posts: