As the full-time RV lifestyle becomes more and more popular and accessible, we get more and more questions. We love helping other's plan and prepare for RV life. So, we decided to compile and answer all our most commonly asked questions in one post!
The Most Commonly Asked Questions We Get Asked (click the question to be taken straight to the answer):
---
Why did you choose to live in an RV?
Determining your "why" is so important – it will keep you going when times get tough. There will be lots of sacrifices with RV life, but knowing and staying true to your "why" will make it worth it. The condensed version of our "why" is that we were living in the suburbs, in debt, living for the weekends, accumulating stuff that didn't make us happy, not able to afford to travel as much as we wanted…etc., etc., etc. But truthfully, it wasn't until we got the medical news that we are unable to have children together that we started reevaluating how we were living.
Our first leap was to move to a new city and have a fresh start. That took us to Raleigh, NC where we still just felt like something was "missing". During one of our many road trips from Raleigh, we realized the pure joy we had while traveling. Since Dan already had his remote job at that point, we recognized that it could actually be a possibility to travel full-time and an RV would allow us to bring our dogs, have our home, and make it more affordable.
So we made up our mind, took the necessary steps (which involved Lindsay quitting teaching, moving our belongings back to Colorado, selling nearly everything, buying an RV and learning how to even use it…the list goes on) and four months later we were on the road! If you want to hear more about the decision and transition for us, you can read the following posts:
The Moment We Decided to Become Full-Time RVers
Why Quitting My Dream Job Was a Part of Following My Detour
How RVing is Helping us Achieve a Greater Goal of Location Independence and Why It's so Important

What do you do for work?
We were really fortunate because Dan had a remote job before we jumped into full-time RVing. It's worth mentioning that Dan got his remote job as a software consultant by simply asking for the opportunity to work from home during his interview. The job wasn't posted as a remote position, but he asked anyway, and they agreed! They are also very supportive of our lifestyle since it has no negative impact on his work, availability, or productivity.
Lindsay's story is a bit different. She had to quit her job as a Kindergarten teacher and has sought out freelance work in order to replace her income. It's been a slow process and has required her to invest in learning new skills, networking, and marketing herself, but little by little she's built up a steady income. After only a year, she was making almost as much as she was as a teacher with a Master's degree!
If you want to hear more specifics on how she earns money and get her tips, you can read this post: How I'm Earning an Income While Traveling Full-Time (+ Tips for YOU!) If your job is closer to Lindsay's than Dan's, you may need to learn some new skills and push your boundaries, but you CAN find ways to make money on the road.
We continually meet people on the road who have found remote work in a variety of industries or have even started their own online business. If you're looking for resources and tips for finding remote work, we'd highly suggest our fellow RV friend Camille's Remote Work 101 Course.

Where do you work in the RV?
While we would have loved to do a renovation of some sort and build an actual desk in our RV, we weren't that brave. However, we've made do by setting up our little office everyday at the dinette booth. Our Winnebago Navion actually offers 3 different comfortable work areas.
The front driver and passenger seats swivel around and have a detachable table that can fit between them, which is Lindsay's favorite place to work. The detachable table also fits in front of the couch, which is another work space option. On Monday mornings, we've also been known to work from bed and sometimes when the weather conditions are just right, we can sit outside and enjoy fresh air and views! We truly can't complain about work anymore!
How do you choose the right RV?
First of all, there is NO perfect RV and you'll have to make some sacrifices. And, you may not know exactly what you want/need in an RV until you've experienced life on the road. Our first RV was not a great fit for us, but we didn't discover that until after several months of living and traveling in it.
We suggest making a list of your must-haves and also really considering how you plan to use the RV. If you want to stay parked for several months at a time, you may choose an RV that has more space. If you're like us and want to travel often and explore places that are a little more "off the grid", you'll probably want something smaller and easier to maneuver. We give all our tips and things to consider before you purchase an RV in this post.
What do you do for health insurance?
Fortunately for us, we receive health insurance through Dan's company, since he is a full-time remote employee for a Denver-based software company. This is a wonderful benefit for us, but we know this is an area of concern for many people when hitting the road.
A common thing we have heard is that Florida offers really good insurance plans if you are a FL resident. This is a major reason that many people choose FL for their domicile. Liberty Health Share and Medishare are good options, if you're in relatively good health with no major preexisting conditions.
A fellow RV friend of ours has a company called RV Health. It's not a replacement for health insurance but can be a supplement to it. It's only $25/month and you get 24-hour access to video chats with a doctor of your choice (within their network). They can write prescriptions too. The membership also helps give dental and vision discounts.

How do you get mail on the road?
We started out by having our mail forwarded to our parents house. However, this wasn't a great solution and it's not really fun asking family to sort through your junk mail. We were much happier when we decided to sign up for Escapees RV Club's mail forwarding services. They give you an address, collect your mail, and will forward it to you upon your request. They have different levels of service, too, and will even sort and scan your mail if you prefer. It's really the perfect solution and has been extremely helpful for us.
As for other packages, like receiving Amazon purchases, or important/timely pieces of mail, many RV parks and campgrounds allow you to receive mail. Just call and check with them ahead of time. You can also ask Fed Ex or UPS to hold packages for you or utilize Amazon lockers. Overall, it hasn't been too big of an issue for us.

What state do you use for your residency?
Choosing to change your residency, or "domicile" to another state is very common among full-time RVers, for various reasons. We decided to establish our domicile in Texas. South Dakota and Florida are also popular options because these three states have no income taxes.
Escapee's RV Club can help you change your residency by giving you an address and all the information and resources you need to obtain a driver's license and register your vehicles. We shared our experience with changing our residency, including a video with step by step instructions on how we did it, in this post.
How do you get internet on the road?
We have a dedicated hotspot with unlimited data from AT&T, and use our cell phones from Verizon as a back up. This works great for us because we find that between these two carriers, we can normally get a decent signal. We typically don't have problems staying connecting, but there have definitely been times where we were unable to stay at a certain spot because of the lack of signal – we find this to be common in National Parks.
Many RV parks and campgrounds offer free WiFi when you stay with them. However, the WiFi can be pretty spotty at most parks, especially when the park is full. If worse comes to worse, you can always find coffee shops, libraries, and other businesses who offer WiFi.
We recently got a WeBoost to improve the strength and speed of our cellular data and we couldn't be more happy with it. At one particular campground, we had zero service and couldn't even check our email from our phones, but after connecting the WeBoost, we were able to stream a movie!! The basic idea with the WeBoost is that you install a special, high power antenna which allows your devices to connect to a stronger, more reliable signal.
Another great resource for mobile internet information comes from our friends at Technomadia. They provide lots of free content, but you can also subscribe to their premium membership which offers even more information, including in-depth mobile internet guides, product reviews, insider tips, videos and field testing data. Definitely check out their RV Internet Resources page.

How do you decide where to go?
Like everyone, we have a general "bucket list" of spots in America we've always wanted to see and experience. We also want to chase warmer weather (because winter RVing can be quite challenging!) and certain areas are better and less crowded during specific months and seasons.
We love exploring the national parks and destinations where we can do the activities we love – fishing, hiking, and craft beer! It's nice to have a general "route" in mind when you set out, but also allow yourself the flexibility to change plans. There's been many times where locals will suggest "must-see" places that we had never heard of before. These tend to be our favorite spots, so we allow some wiggle room in our travel plans.
We love to share our routes and favorite destinations with our readers to inspire them to visit the places we have fallen in love with. So, if you ever need any ideas for where to go, what to do, and where to park your RV…check out our routes page (we're continually updating it as we travel to new locations) and our feature travel destinations.
How often do you travel?
We travel to a new location every week to 2 weeks. This is considered pretty fast, but we love getting to see as many places as possible. It can wear you down and the pressure to see a destination in 1 week can definitely be a challenge, but ultimately you have to find the pace that works best for you.
How often we travel often depends on our budget that month, as well. If we need to save money, we will stay longer to save on gas and get discounted nightly rates. It also depends on the location – some spots you can see in just a few days, whereas other's require weeks or even months to really experience. But how fast, far, and often you travel is fully up to you. There's no rules!

How do you save money on the road?
We love this question because we consider ourselves budgeting nerds and take pride in how hard we try to limit our monthly costs. We wrote an entire blog post on tips for saving money while full-time RVing that you can read by clicking here. The key is finding free and inexpensive places to park (boondocking and utilizing memberships that offer discounts on RV parks and campgrounds), enjoying free activities, and cooking in your RV rather than eating out.

How much does it cost a month to full-time RV?
Each month can vary depending on how often and far we are traveling and how much we spend on activities in the areas we visit. On average, it's currently around $3,000 per month for us for EVERYTHING (health/car insurance, RV loan payment, gas, food, entertainment and all other personal bills and expenses).
RV life is a considerably lower cost of living for us. It was even less when we had our older fifth wheel that we paid cash for. That being said, the monthly cost of RVing full-time can really be as expensive or inexpensive as you make it.
We wrote the following posts on the financial side of full-time RVing, if you are interested in a more in depth look:
How Much Does it Cost To Full-Time RV (+ a FREE Download): In this post, we breakdown exactly how much RV life costs us each month. We also surveyed 7 other RVers and had them share their monthly costs. These RVers are different from us – we surveyed a retired couple, an empty nester couple, a couple with a baby, a family of 6, and even a solo traveler. This will hopefully give you the best idea of what full-time RVing will cost YOU.
The Cost of Full-Time RVing: Affording a Life on the Road: In this post, we share common costs you'll need to consider before hitting the road. We also give a basic breakdown of the monthly expenses you can expect with RV life. This should give you a greater idea of whether you can afford to take your life on the road.

Do you get sick of each other?
Truthfully, no. But, we may be unique in that the more time we spend together, the better our relationship is. We know this isn't necessarily the case for every couple, though. Being in a small space, we feel, forces you to deal with any issues immediately…there's no "man cave" or "she shed" to escape to in order to avoid confrontation. You can always step outside and go for a walk and be in nature when you need some time to yourself, however.
But, we've found that RVing has strengthened our marriage because we are continually working towards a shared goal and purpose. We've established roles, work together as a team, and also spend more quality time together than we did when living in a house. Long drives on travel days allow for long talks and being overall happy in life means we're happy with each other too. To read more about how RVing has impacted our marriage and get tips for taking your marriage on the road, you can click here.
How do you find spots to park the RV?
We use a combination of resources and tools to choose where we park our home on wheels. We typically look on Google to find the parks and campgrounds (or free land) that are nearest to the activities and sights we want to enjoy in a certain area. Then, using the Campendium, Allstays, and Ultimate Campgrounds apps, we can check the reviews and see photos from other RVers to determine which spot is best.
We go into greater detail about how to find the best spots to park and offer helpful tips and resources, in this post. We also share more details about finding FREE spots to park in this post. Hope they help!

What are your favorite destinations?
That's our least favorite question because, honestly, there's something to love about everywhere you go. But, some of the most memorable spots for us have been traveling up the Pacific Coast Highway and stopping along all the California beach towns (especially Malibu – beautiful ocean view RV park and lots of FREE things to do!), Glacier National Park, Bar Harbor Maine + Acadia National Park, Big Bend National Park, and there's definitely something magical about the Pacific Northwest. Hood River, Oregon and Bend, Oregon are definitely two of our favorite U.S. cities that we've visited so far.

Do you have a washer and dryer?
Nope! And we don't miss having them all that much. Many RV parks and campgrounds have laundry facilities and to be honest, we've come to really love laundromats. They're cheaper and quicker, and sometimes we can just drive our RV right to the laundromat so we don't have to load up our laundry bags and haul them around. Plus, we can sit in the RV and work while our clothes are washing! Pro tip: always keep LOTS of quarters on hand!!

Don't you get lonely on the road?
We miss our families and friends back in Colorado constantly, but we don't actually get lonely on the road. In fact, we feel like RVing has offered us more of a community than we ever had in our suburban neighborhood. RVers and campers in general are super friendly. But there's a whole community of full-timers that are extremely welcoming, helpful, and have become like family to us.
We've connected with other full-timers in a variety of ways but mostly through social media. Lindsay wrote a whole post on finding community while traveling in an RV for Camping World's blog that you can check out here. We have met so many friends on the road that we truly believe will be a part of our lives forever.

What's it like RVing with dogs?
We love it and so do our dogs! They don't seem to miss their space all that much. In fact, in our old house, they would typically be right at our feet anyway! We make sure they have comfortable spots in the RV with their beds and take them out on lots of walks. They are more active with RV life then they ever were living in a house. They go on hikes with us almost daily and they love adventuring and exploring new places just as much as we do.
Our dogs love RVing so much, they wrote their own blog post about it, called "A Dog's View of Full-Time RVing". In the post, they share tips for keeping your dog happy and safe on the road. They also share their favorite must-have products to ensure they are happy campers (and therefore, so are you…happy tails, happy trails, right?!). So, if you are planning to RV with your dogs, be sure to read their helpful advice!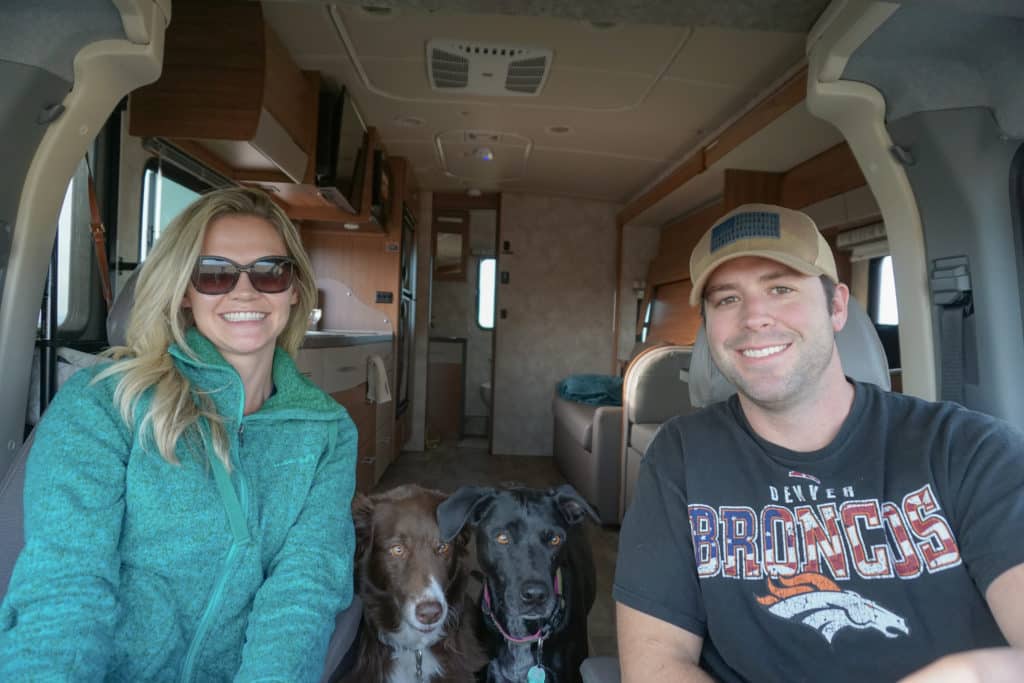 How did you get all of your clothes/stuff in the RV?
You quickly realize you just don't need as much as you think you do. You wash dishes immediately since the sink is so small and you don't have space for laundry to build up. So having 1 towel, plate, bowl, cup, etc. per person is just enough! The biggest challenge is making the best use of the little storage you have and ensuring that no space is wasted. Tubs, baskets, and various organizational products are your best friends!
We find ourselves wearing the same thing over and over again because we mostly wear things that are comfortable or our outdoor active wear. You really only need 1-2 of the essential clothing items (heavy coat, light jacket, swimsuit, jeans, etc.). But you definitely need to prepare for all weather types – we've found that the weather is never what we expect it to be.
You can get pretty creative with storage in an RV, too. We decided to take out the bunk that sat above our cab and use that area for storage instead. We each have a large tub where we keep clothes. We wrote helpful tips for packing an RV for full-time living in this post here.

Do you cook in the RV?
We cook most of our meals in the RV and rarely eat out – except on travel days for convenience or if there's a great restaurant we have to try! We don't consider ourselves "foodies", so we prefer to have homemade meals anyway and it saves a lot of money. We cook the same meals we used to cook in our house. It's a bit more challenging with less space and only having a convection oven and 2 stove burners, but you learn to adjust.
We do love our Instant Pot, because it eliminates the need for lots of dishes and is the quickest way to whip up dinner when we've been out exploring all evening after work. You can also find a lot of "one pot" recipes on Pinterest and Google that are perfect for RV cooking.
What is the best thing about living in an RV?
The travel, the simple way of life, and the freedom and flexibility. Traveling is our greatest pleasure so doing it full-time is a dream come true. Having the freedom to go wherever you want and stay however long you want is incredible. That also means we can come home at any time we want or need, which keeps us from getting home sick or missing important family events.
Working remotely means we have a much more flexible schedule. And all those household chores we use to have – yard work, upkeep, etc., no longer take up our free time. Overall, we have much more time to enjoy life and do more of what makes us happy.
Another benefit, is that it's a more affordable lifestyle. Most people, when they hear "full-time travel" they automatically assume its expensive and you have to be rich to afford it. But that's not the case with RVing and there are lots of ways to lower costs. We share more about this in the answers to the questions, "How much does it cost a month to full-time RV?" and "How do you save money on the road?".

What is the worst thing about living in an RV?
Coincidentally, the worst things about living in an RV are the same as the best things. While we love the travel, it can get exhausting, especially if you travel often. Sometimes you miss a routine or the comforts of home that an RV can't offer – like space or a bathtub!
You have to be really flexible, too. Things break often and travel plans can go awry and you have to learn to go with the flow. Lastly, in order for the lifestyle to be affordable, you have to have a strict budget and stick to it. You can't live like you are on vacation all the time – even though you kind of are!

Why did you choose a Class C motorhome?
We started RV life in a fifth-wheel and while we loved it and it had many benefits, we decided we didn't like towing and we wanting something shorter and more maneuverable. We didn't need as much space as we had originally thought and because we travel every 1-2 weeks, we wanted an RV that allowed for easier travel days.
We love our Class C because we can just hop in and go – no furniture to strap down, no hitching up, we have access to all our belongings (and the bathroom) while on the road, and it's much less stressful to drive. You can read more in depth about our decision to switch RV's in this post.
What are a few of your must-have RV accessories? What is one thing that you couldn't live without?
We share all our must-have items on our resources page, here. That list includes the basic items needed to operate the RV, such as wheel chocks, leveling blocks, and sewer and water hoses. But it also has some of our favorite additional accessories, like a generator, solar panels, etc.
Some of our absolute favorite items (we couldn't pick just one!) are:
We wrote about the 5 items that improved RV life for us in this post. We didn't purchase these items until about a year after being on the road and we wished we would have gotten them MUCH sooner!

What is something that you thought you'd use all of the time and never do?
Our exercise equipment, unfortunately! But nature is our gym these days.

What is the thing that you miss the most from your old life?
Lindsay: a bath tub and our king size bed!
Dan: my jujitsu gym and community, a garage, and a big comfy couch/recliner.

How often do you boondock (dry camp)? Is it hard? How do you find free spots?
We try to boondock as often as we can, however it's much easier on the west coast and some states just have little to no free camping spots. But, we have found that there are a lot of benefits to boondocking.
You obviously can save A LOT of money since the average cost for an RV spot or campground is around $20 – $30 per night. You also can find much more peace and quiet and have a lot of space to yourself. Some of the most scenic and serene spots we've stayed were on public land. It's also nice because our dogs can run around without a leash.
Boondocking isn't all that challenging if you have the right equipment and you feel comfortable driving your RV on unpaved and narrow roads. We added solar panels, got an additional water jug and generator, and may even eventually upgrade our batteries in order to make our RV more "boondock friendly". This has helped us tremendously. We wrote a Boondocking for Beginner's Guide with all our tips for camping off the grid and finding awesome free spots! You can read the guide here.
Do you ever feel unsafe?
We've truthfully never felt unsafe. It can be a little intimidating when boondocking somewhere that feels like you're out in the middle of nowhere, but as long as you are prepared and cautious, you'll typically be just fine. Most RV parks and campgrounds feel extremely safe as well and many will have gates that require a code to enter and exit for extra security.
Keep your doors locked, be aware of your surroundings, carry a gun if that makes you feel more secure (but be sure to know the laws from state to state), and just avoid areas that you don't feel comfortable in. We haven't had anything stolen from us, any problems with suspicious people, or even any animal encounters and haven't even heard of our RV friends having any either.
Is there a question you have that we didn't answer?
Leave it in the comments below and we'll get it answered as soon as possible!
If you'd like to receive this information, along with TONS of other helpful tips for transitioning your life to the road full-time…
…be sure to check out our FREE 7 Day Email Course "How To Get Started Full-Time RVing".