After living on the road full-time for over a year now, we've discovered lots of ways to save money on RV life costs. We hope these tips help you to lower your costs and make full-time RVing more affordable and achievable. If you're looking for a break down of how much it costs to RV full-time, consider reading the following posts:
How Much Does it Cost To Full-Time RV (+ a FREE Download): In this post, we breakdown exactly how much RV life costs us each month. We also surveyed 7 other RVers and had them share their monthly costs. These RVers are different from us – we surveyed a retired couple, an empty nester couple, a couple with a baby, a family of 6, and even a solo traveler. This will hopefully give you the best idea of what full-time RVing will cost YOU.
The Cost of Full-Time RVing: Affording a Life on the Road: In this post, we share every cost you'll need to consider before hitting the road. We also give a basic breakdown of the monthly expenses you can expect with RV life. This should give you a greater idea of whether you can afford to take your life on the road.
Here are our tips for saving money while living full-time in an RV:
1. Find free spots to park as often as possible
There are many apps and websites that help you find free RV spots across the country. We use Campendium, All Stays, and Ultimate Campgrounds most often for this. FreeCampsites.net has a good guide for finding free spots to park as well and gives a good explanation of your options for "dispersed camping" on BLM, USFS, County and City Parks, and more.
Also, for quick overnight stays, you can always park for free at Walmarts, Cabelas, Bass Pro Shops, and Cracker Barrels. Keep in mind though, that not all locations allow it across the country, so you need to verify ahead of time.
If you are hoping to find free camping as often as possible, consider reading our "Boondocking For Beginners Guide", where we share how to find the best free spots to park, tips for conserving water, getting power, and other helpful resources!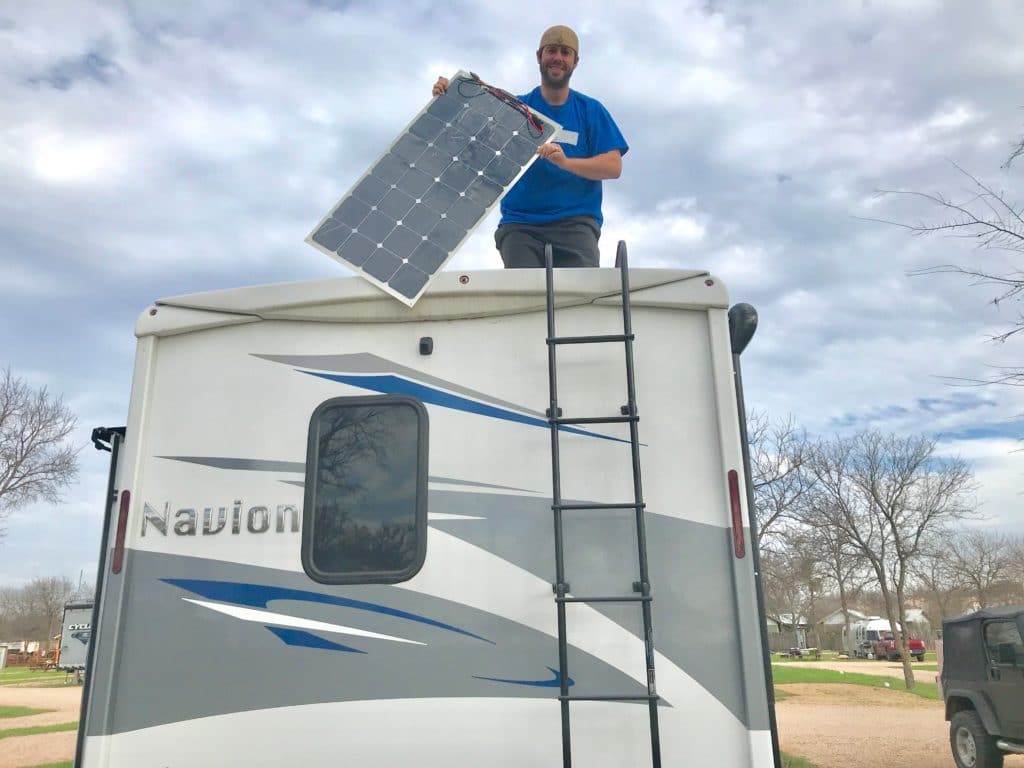 2. Utilize RV Memberships
The RV industry is full of memberships that help you save money on various RV costs. Their greatest benefit is discounted RV park and campground fees. If you want our list of the most popular memberships, their benefits, which ones we recommend joining (and even some discounts on memberships), check out this post: "RV Memberships: Which Ones Should You Join?".
3. Stay in one location longer
If you prefer staying at RV parks and campgrounds, another good way to save money is through extended stays. Most parks and campgrounds offer weekly or monthly rates, which reduces the nightly cost. Plus, you'll save on gas too!
4. Keep a Budget
We are constantly asked how we afford to full-time RV. We don't make a lot of money, we don't come from wealthy families, we simply just manage our money well and stay on top of our finances while living within our means. However, we could not do this without our budgeting habits and process. Budgeting helped us pay off our debt and save money so that the leap into a full-time travel lifestyle (with only one of us having a job at the time) wasn't quite as scary.
If you don't know exactly where your money is going each month, it's going to be very difficult to know whether or not you can afford to full-time RV. We started diligently budgeting 4 years ago and it completely changed our life. We not only got on the same page with our finances, but we discovered ways we were wasting money or could cut back in order to free up money.
We completely changed our habits with our money and its allowed us to achieve the lifestyle of our dreams. We've written all about our budgeting journey on the blog (including ways we freed up $600 a month and the budgeting process we use). If you're interested in reading more about how we manage our finances and budgeting tips, click here.
We honestly could go on and on and on about budgeting and we strongly believe that it's crucial to have a budget before you hit the road. If you don't have a budgeting strategy or tool that you currently use and find to be successful, we'd love to help. We actually created our own budgeting program called Finance Your Detour when we realized that money is the number one barrier that keeps people from achieving the RV life dream! If you want more information on Finance Your Detour, click here.
We know finances are sometimes a scary thing, but we hope we made them seem a little less scary in terms of affording the full-time RV lifestyle.
Do you have other tips for saving money while traveling full-time?
We'd love to hear them in the comments below.