As a Colorado native and near-native, we get asked all the time for great camping recommendations in the state. We decided to do some research ourselves and have explored many amazing spots so we could compile this list!
We've broken them up into three categories. You can click the categories below to be taken straight to that section of this post.
Free Public Lands ("boondocking" spots)
The Google map below will show you all the spots we recommend, so you can find the areas that are closest to where you live or where you'll be visiting.
Be sure to check out our post on finding the best and free spots to park your RV for more tips! And also our other recommended RV destinations for inspiration on where to camp all across the U.S.
RV Parks & Resorts
River Run RV Resort – Granby, CO
This brand new RV resort is so nice, we've already been twice since it opened and we'll likely go back every year. It lives up to it's claim as a "resort" and since it's so new, the entire park is in amazing condition. The grounds and sites are well kept and they have more amenities than most RV parks we've been to.
With a pool and several hot tubs, two on-site bars/grills, a mini bowling alley, an arcade, tons of outdoor fun (jumping pad, playground, pond for kayaking and stand up paddle boarding, dog park, etc.), and even more that we're forgetting, you hardly even have time to leave the park. The park is also so large that you'll want to rent one of the golf carts that they have available for guests.
But don't get too swept up in the amenities because there's lots to do in the surrounding area. River Run's location is another reason why we love it. There's so much to do in Granby all year long, including a visit to Rocky Mountain National Park, one of the most visited and popular national parks in the country.
Sand Dunes Swimming Pool & RV Park – Hooper, CO
This is truly a one-of-a-kind RV stay. Camping here will put you steps away from their amazing hot springs swimming pool and tubs! The RV sites themselves aren't much to write home about, but it doesn't even matter. The hot springs swimming pool is perfect for kids and even has a diving board and a mini water slide.
But it's not just fun for the kids, there's hotter adult tubs all around as well. In fact, don't miss the Greenhouse, a separate 21-and-up area that is literally in a greenhouse with multiple tubs of varying temperatures and get this…a bar! The pool's onsite restaurant is also delicious so you can literally spend your entire day there and never have to leave.
To top it all off, the Sand Dunes Swimming Pool & RV Park is less than 30 miles from the Great Sand Dunes National Park (hence its name!). So you can soak your tired muscles after climbing and exploring the dunes all day!
Tiger Run Resort – Breckenridge, CO
We're not sure there's anywhere else in Colorado where you can camp in your RV this close to some of the state's most well known ski slopes! Accommodations during winter ski season can be pricey, so why not bring your RV and try out some winter camping? Or if you aren't the ski or snowboard type, you can still enjoy Tiger Run Resort and the beauty of Breckenridge during the summer, too! It's one of Colorado's most popular destinations year round for a reason.
It's not just Tiger Run's location that makes it great, though. They have great amenities as well, including an indoor pool and hot tub, a fitness center, and even a business center for those who work on the road!
Palisade Basecamp RV Resort – Palisade, CO
Most people don't even know that Colorado has it's very own wine country. It's truly a unique hidden gem and this RV resort is perfect for exactly what it's name suggests – a basecamp! From the resort, you can bike around to all the different wineries, orchards, and Palisade also has a great little brewery we love. It also doesn't hurt that the owner of Palisade Basecamp RV Resort is super friendly and since recently opening the resort, he's continued to make updates and improvements.
We also can't forget to mention the 360-degree views you'll get while staying at Basecamp. And when you aren't sipping on delicious wine or eating their famous peaches, you'll have adventure waiting for you. With biking and hiking trails, the nearby Colorado National Monument and Grand Mesa National Forest, there's lots to explore!
We also love having the option to use our Harvest Hosts membership and parking at participating wineries for free. There are a few great options of hosts in Palisade! *Get 15% off of a Harvest Hosts membership using code HHFRIENDS15.
Steamboat Springs KOA – Steamboat Springs, CO
Steamboat Springs is another super popular Colorado destination, not only because it's known as "Ski Town USA" in the winter, but also in the summer for all things outdoor adventure! Staying at this KOA will put you close to the charming downtown Steamboat Springs, and everything else this area has to offer, including natural hot springs. In fact, you can hop on the free bus right from the campground and be downtown within minutes.
The campground sits right on the Yampa River so you can tube, fish, and cool off during the summer. And if you know anything about KOA's, you know they also have tons of great amenities for families, and this one is no different. They're in the business of making happy campers!
Fort Collins/Lakeside KOA – Fort Collins, CO
This RV park made our list of favorites for a few very important reasons. First, these three words say it all…private hot tubs! Yep, that's right, they have sites with their own private hot tubs and we're all about it. Next, pizza delivery! You can get pizza brought right to your RV door and do you know what you get when you mix those two things? PIZZA DELIVERED TO YOUR OWN HOT TUB! Need we say more?
The final reason we love the Fort Collins/Lakeside KOA is because it's located in the same town as our alma mater. Fort Collins is such a fun town for not just it's college students but anyone who visits. You can enjoy the Cache la Poudre River Canyon, which offers stunning scenery, and great opportunities for fly-fishing, rafting, kayaking, hiking, biking, and rock-climbing. And you won't want to miss nearby Horsetooth Reservoir, which we share more about later in this post.
Jellystone Park – Larkspur, CO
Have you ever seen an impressive water park like this at an RV park before? We sure hadn't and that's not all that this spacious 100-acre resort has to offer! It's the most family oriented campground we've been to and it felt like a kid heaven. They thought of everything, from big-screen movies in the park, live music, and weekly themes with contests and games that are fun for everyone! Our nephew even enjoyed decorating his own donuts one morning, which were a special delivery from Yogi Bear himself.
Jellystone Park at Larkspur is also one of the few RV resorts near Denver. In fact, it's sandwiched between Denver and Colorado Springs so you can day trip to either. So if you're able to pry yourself and your kids away from the award-winning resort, you're just over 30 miles from both the famous Garden of the Gods and our state's vibrant capital city!
Fun Valley Family Resort – South Fork, CO
Gather your entire family and book a fun camping trip or reunion at Fun Valley right now! It's the cutest family run campground and they cater to making sweet memories with your loved ones. We spent a weekend there with our family and it will likely be a place we continue going to for years and years.
There's just something so charming about this campground. They give you a "fun pass" when you check in, which you can use to pay for all the amenities they offer. They have several ponds for fishing, paddle boats, a walk up snack bar where we enjoyed daily ice cream, tubing and fly fishing on the river, and square dancing! While we were there in July, Santa Claus made a special visit in a fire truck and it was so cute to see all the kids on their bikes following close behind as he drove through the campground.
South Fork itself is also a beautiful area to explore and enjoy the outdoors. You can also quickly take a day trip to Pagosa Springs, another incredible Colorado mountain town with natural hot springs that go through its charming downtown.
Colorado State Parks
Cherry Creek State Park – Aurora, CO
There aren't a whole lot of options for camping in the Denver area, so it's nice to have two great state parks so close to the city. Cherry Creek State Park is super accessible, as it's right off the highway, and is convenient to downtown Denver. One of our favorite things about it is it's beautiful views of downtown right behind the reservoir. The 880-acre reservoir has a small beach area and is always full of boaters and has fisherman all around the banks. It's a very well kept park with lots of trails and picnic areas, as well as a great off leash dog park with water for the dogs to splash in.
Chatfield State Park – Littleton, CO
This is the other state park that is near Denver and is very similar to Cherry Creek. It's located a bit further west so you get even better mountain views and beautiful sunsets. Camping at Chatfield State Park is a convenient stop on your way to the mountains and has an even larger reservoir than Cherry Creek. You can enjoy all the water sports and activities your heart desires, while being close to amenities and city activities too. Chatfield also has an awesome off leash dog park with multiple ponds for dogs to swim in.
Horsetooth Reservoir – Fort Collins, CO
Full transparency, we've never actually camped at Horsetooth. Only because you have to make reservations very far in advance to even stand a chance, especially over weekends. Many of the campsites sit right along the water which is why it's such a popular spot to camp. Also, to be clear, Horsetooth Reservoir is a county park not a Colorado State Park, but it is attached to Lory State Park. However, the camping in the area is through the county, not the state.
While we've never camped here ourselves, we've spent time there on the water and hiking trails and it's a must-see. There always seems to be boat parties in the coves and the scenery with it's unique rock formations is breathtaking.
Lathrop State Park – Walsenburg, CO
You might question this recommendation as you drive through the sleepy little town of Walsenburg to get there, but trust us! This state park has spacious, well-kept sites and beautiful views of it's lakes with the Spanish Peaks in the background. Our family has been camping at Lathrop State Park over the 4th of July for the past few years and we love it.
While the lakes are smaller, you can still boat and fish and they have a decent (though rocky) beach area for swimming and floating. The park also has a golf course and even if you aren't much of a golfer, you can stop by the bar for a drink or two!
Mueller State Park – Divide, CO
When we get asked for recommendations on where to camp in our hometown of Colorado Springs, we find ourselves recommending either nearby Mueller State Park or Cheyenne Mountain State Park versus staying at any of the RV parks in town. While you're a bit out of the city with both parks, you'll enjoy your stay considerably more. Both parks are equally beautiful and will give you the feel that you're far in the mountains while still being close to all the local attractions and amenities.
The reason we recommend Mueller is because it will put you within a short drive to all our favorite tourist things to see and do while you're here. You'll be in middle of all the action – Pikes Peak, Garden of the Gods, Manitou Springs, the Crags rock formation, and even a quirky mining town with casinos called Cripple Creek. Plus, the camping sites and grounds, just like the other state parks, are very well maintained.
Lake Pueblo – Pueblo, CO
If you like boating, fishing, and amazing sunsets, you'll like Lake Pueblo State Park. Pueblo is in one of the more milder climate areas of Colorado so you can enjoy this state park year round. It's a fishing hot spot for Colorado with 60 miles of shoreline, but also offers great fly-fishing with its access to the Arkansas River below the dam. Lindsay's family has been camping there for years because of it's proximity to Colorado Springs, our hometown. But it's also become one of our top choices for spots to fly-fish.
St. Vrain State Park – Longmont, CO
We find ourselves staying at St. Vrain often, not necessarily because of the park itself but because it's a great spot for exploring Northern Colorado. It's very accessible and right off the highway so it's a great spot to stay for taking day trips to Fort Collins, Boulder or Denver. It's nice because the park is smaller than the other state parks we've shared. This gives it more of a quiet, peaceful and laid back camping experience. Yet the scenery is still very pretty with the mountain and lake views you get. And it still offers fishing and opportunities to get on the water.
Free Public Lands (Boondocking Spots)
For tips on boondocking, check out our Guide to FREE RV Camping.
Hendricks Flat BLM – Salida, CO
There's lots of great free and paid camping spots in the Salida area. You really can't go wrong, but this BLM spot just happens to be our go-to. It's easy to access and located right between Buena Vista and Salida, which are equally great so it's nice to enjoy both towns. We especially love this spot because it has convenient river access so we can fly-fish. You also can't find a spot that doesn't have great mountain views in this area!
Forest Road 852 – Bayfield, CO
This free boondocking spot sits up above Vallecito Lake, which is one of Colorado's largest recreational lakes, and as you can see, it's beautiful! You can enjoy water activities and hiking during the day and great star gazing at night. Not only is there plenty to enjoy right around the lake, but it's also only 18 miles from Durango and a day trip to Mesa Verde National Park.
The site was easy to access from the main road that goes around the lake and had plenty of space for multiple campers, especially those with vehicles that could clear the rougher terrain to get higher up the hill.
Washington Gulch Road Dispersed Camping – Crested Butte, CO
This dispersed camping spot offered some of the most incredible scenery of anywhere we've boondocked. The big blue Colorado sky, dramatic mountain views and then throw in wildflowers in the spring and I think we took about 500 photos in the three days we were there! We loved that there was a lot of wide open space in this area so you didn't feel crowded with other campers. It was only short drive to downtown Crested Butte and even had good reception.
Flat-Top Peach Valley BLM – Montrose, CO
This boondocking spot is basically a parking lot, but hear us out! The location is where it's at. Staying here will put you smack dab in arguably one of the most beautiful regions of the state. Not only will you want to check out Montrose, one of the fastest growing cities in Colorado, but you'll be within driving distance for a day trip to Ouray and Telluride, two of the most popular mountain towns.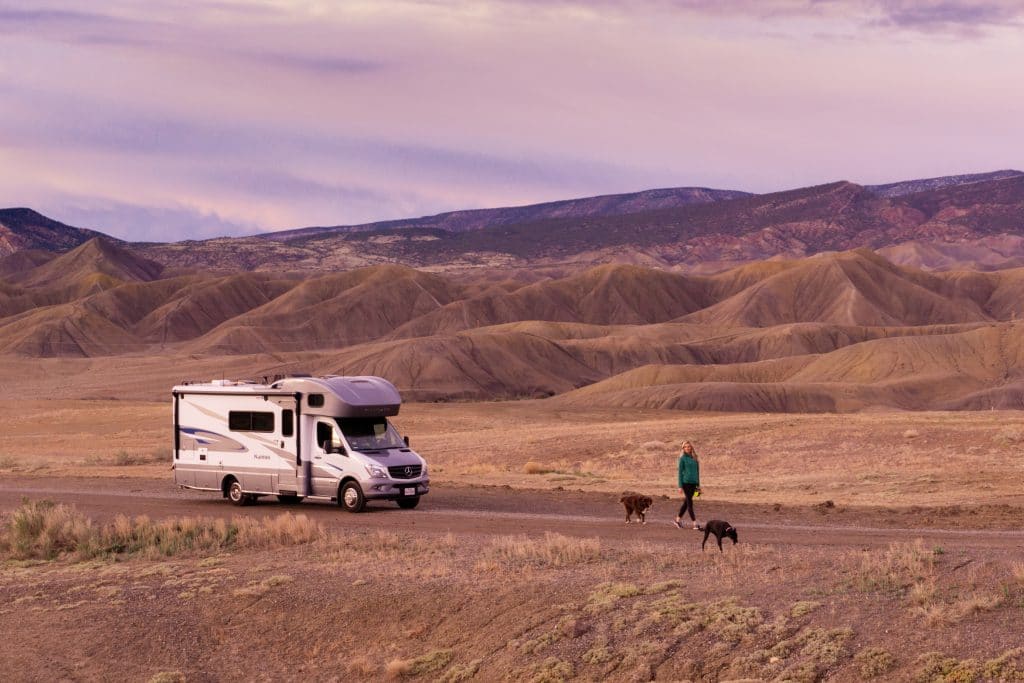 You'll also be super close to yet another awesome national park in Colorado – Black Canyon of the Gunnison. Just don't leave without taking a drive along the Million Dollar Highway and give yourself plenty of time pull over often so you can soak in the jaw dropping "million dollar" views. So yes, a free spot to park with all these amazing things to see and do, puts this average boondocking spot on the list!
San Luis State Wildlife Area – Mosca, CO
Technically, this state wildlife area is not free. You'll need a Colorado Fishing or Hunting License. But, the cost of a license is worth it if you plan to hunt or fish anyway. Plus the sites have electric hook ups! It's not too far from the Great Sand Dunes so the location is great as well. Every time we've been there, it's quiet and nearly empty so we've gotten sites with beautiful views of the lake and stunning sunsets almost daily.
---
There's still so much of our beautiful state we haven't taken the RV to and we'll likely be adding to this list often, so check back.
We'd also love any recommendations of places to RV camp in Colorado, so leave your favorites in the comments below!
Related Posts: