*Disclosure: Thank you to River Run RV Resort for hosting us during our stay in Granby, Colroado. While we received complimentary services, all opinions in this post are our own.
There are so many different styles of camping. Sometimes we prefer to take our RV off grid, where no one else is around and boondock. Other times, we treat ourselves to a really nice RV park and enjoy "glamping" at it's finest.
Our trip to Granby, Colorado was definitely one of those times.
Living in Colorado nearly our whole lives, somehow Granby had slipped off our radar as a vacation destination. But after only three days in the area, we were in love. The entire area surrounding Granby is not only packed full of stunning scenery of the Continental Divide, but also has a lot to offer in terms of adventure – all year long! It's just 90 minutes from Denver, making it accessible for a quick weekend getaway or an extended stay.
Where to Stay
As we mentioned, this was definitely one of those times we chose to enjoy a glamping experience. While there are several options of campgrounds, RV parks, and even national forest that you can boondock on, you'd be doing yourself a real disservice if you missed on our Granby's new and impressive River Run RV Resort.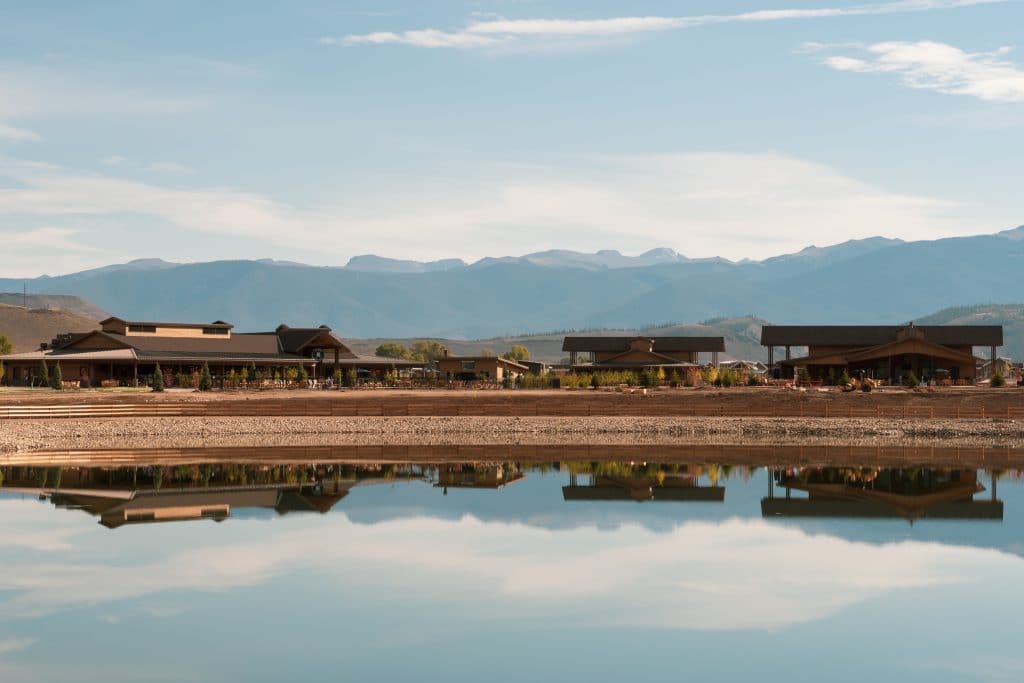 Yes we said resort. And while this term can often be tossed around lightly when it comes to RVing, resort is exactly what River Run is, in every meaning of the term.
Let's start with it's size. This is one of the biggest RV resorts we've ever seen. In fact, we needed (and loved having) a golf cart to get around to all the amenities, which are the highlight of the park so stay tuned for that.
Not only do they have rows and rows of RV sites, all with full hook ups, but they offer a variety of other accommodations. Along with tent sites, they have variety of modern, tiny-home looking cabins that can sleep 4-6 guests. By 2020 they will also offer guests opportunities for a unique glamping experience, including Airstream and covered wagon rentals, yurts, and adventure tents.
No matter how you stay, stay awhile because you'll be rewarded with so many amenities that it'll take you multiple days to enjoy them all. There's something for everyone in the family, from an on-site bar and grill and another tavern, to a mini-bowling alley and arcade, fitness center, luxury pool and three jacuzzis, a sport complex, playground with a jumping pad, dog park, and even a lake with kayaking and paddleboarding.
Yet, that's not even everything! You can view the full list of amenities on their website. But don't let the amenities keep you from exploring the surrounding areas. River Run RV Resort is the perfect launching pad for exploring some of Colorado's best sites.
What to Do
Lake Granby
Within minutes from River Run RV Resort, Lake Granby is the second largest body of water in Colorado and also one of the most beautiful, in our opinion. Whether you drive or walk around the lake or actually get on or in the water doesn't matter, just make sure you experience it and take lots of photos!
Outdoor Recreation
Because, why else do people come to Colorado? There's no shortage of open space, trails, and tours in and around Granby. Here are just a handful of suggestions, although there's much more!
Fishing
The Colorado and Fraser Rivers offer gold medal fly fishing. You can also have plenty of opportunities for lake fishing with all the nearby lakes and even ice fishing in the winter. Various species of Rainbow, Brown, and Lake Trout can be found in area, as well as Kokanee salmon.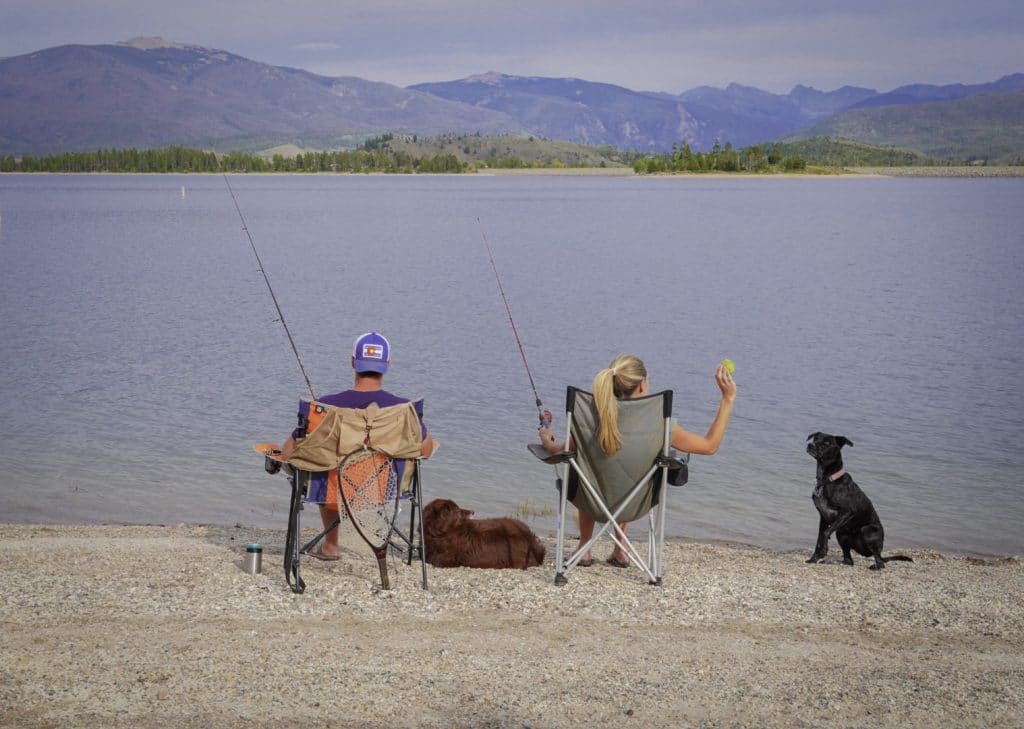 Mountain Biking
While we aren't mountain bikers ourselves, it's one of the most popular activities to do in the area. In fact, there are 600 miles of mountain biking trails in Grand County alone. You can find a list of the most popular trails, their difficulty level, and reviews on the MTB project website.
If you're a mountain biking enthusiast, you'll definitely want to check out Trestle Bike Park at Winter Park Resort. It's known as one of the country's leading mountain bike destinations.
Whitewater Rafting
A visit to Granby will put you within reach of some of the best whitewater rafting in the state. Whether you prefer to do a half-day float on the mightly Colorado with Class II rapids or experience Gore Canyon, one of America's most intense commercially rafted Class V stretches of whitewater, you're sure to have a blast! Check our Adventures in Whitewater or Mad Adventures for tour information.
Horseback Riding
Going on a trail ride was one of our favorite activities that we enjoyed while visiting Granby. You don't have to be an experienced horse back rider…we sure aren't. And you don't have to travel far, as there are stables just about ten minutes from River Run.
We recommend High Country – Trails. They have a variety of rides to choose from and on all of them, you're guaranteed to enjoy the beautiful scenery. On our quick one hour ride, we passed through meadows of grazing cattle, colorful changing aspen trees, crossed the Colorado river, and up to a beautiful overlook.
You can do anything from an hour trail ride to a custom ride up to 6 hours that even includes dinner. They also offer hunting and fishing and overnight pack trips! In the winter, they have dog sledding tours. If you go, say hello to Chester and Houdini for us!
Hiking
The Continental Divide Trail runs east of Granby and has multiple access points, allowing you to determine your distance. You could backpack for days or hike for just a few miles. There are obviously no shortage of hikes in and around Granby. The Monarch Lake Loop trail and Strawberry Lake are two of the most popular and within a 30 minutes drive from Granby. Check our AllTrail's list of the 10 most popular trails near Granby for more hiking inspiration.
ATVing and Snowmobiling
Bring or rent the OHV of your choice to Granby and you'll have 130 miles of scenic trails in the Arapahoe National Forest to ride through! The Idleglen OHV Recreation Area is a large off-roading space that encompases Stillwater Pass. During the summer and fall, these trails are perfect for taking your Jeep or ATV out and experiencing the rush of the Rockies. It's must less crowded during this time than in the wintertime, when Grand Lake becomes the "Snowmobile Capital of Colorado".
Granby Ranch
Granby Ranch is a family-owned resort with two mountains that offer 35 ski trails for all levels, six terrain parks, ski and ride school, rentals, and even lodging. So by staying at River Run RV Resort, you'll be within five and a half miles from a day of skiing or boarding!
Granby Ranch offers visitors adventure in the summer and fall months, too! With a private three-mile stretch of the Fraser River, you can enjoy fly fishing with a professional guide. Or, you may prefer their bike park, which accommodates bikers of all skill and thrill levels. Others may choose to soak in the Rocky Mountain views during a round of golf on their 18-hole championship course, which is consistently ranked as one of the top mountain golf courses in Colorado.
Rocky Mountain National Park
Just 16 miles from the RV resort is the entrance to the beautiful Rocky Mountain National Park. You'll witness some of the most spectacular mountain scenery in all the state. The park encompasses 415 square miles of towering peaks, forested valleys, trails, alpine lakes, wildflowers, and wildlife.
If you venture into the park, you can drive along the famous Trail Ridge Road all the way to Estes Park, another one of Colorado's most popular mountain towns. Trail Ridge Road is the highest paved road in any national park in the U.S., cresting at 12,183 feet. So, you'll feel like you're on top of the world!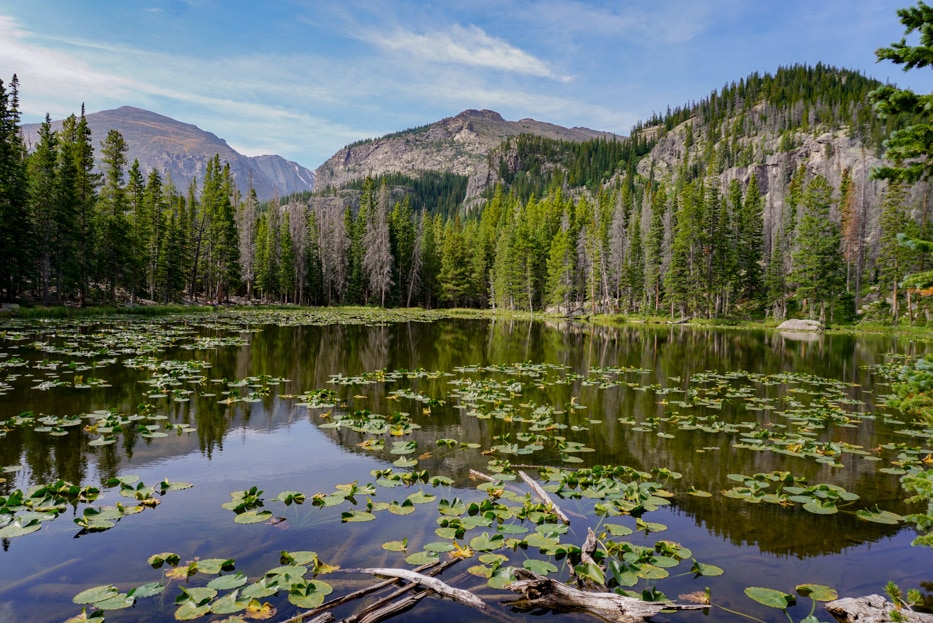 Hot Sulphur Springs
Historic Hot Sulphur Springs, Colorado boasts seven natural springs that have been flowing constantly for hundreds of years. With 21 mineral pools and baths ranging from 95 – 112ºF, and over 200,000 gallons of natural mineral water flowing every day, there's no need for chemicals, filtration, or re-circulation. It's a hot springs experience at it's finest!
Visit Other Nearby Mountain Towns
Grand Lake
Just 15 miles from Granby, Grand Lake is the largest natural body of water in Colorado. The Town of Grand Lake is called the western gateway to Rocky Mountain National Park. But it's known for much more than just that – it's home to the country's highest altitude golf course with grass greens, is considered the snowmobile capital of Colorado and is truly a paradise for outdoor lovers all year long.
Whether you get on the lake in a pontoon boat or kayak, or stroll down the historic boardwalk and enjoy the shops, restaurants, and galleries, there's something for everyone in Grand Lake.
Winter Park
With over 3,000 acres of award-winning terrain, Winter Park Resort is one of Colorado's most well known ski resorts and in fact, the state's longest continually operated ski resort. But it's truly a vacation destination year round. It has a vibrant, unique downtown, year round festivals and events, and summer activities with the longest alpine slide in the state and a scenic gondola ride. Additionally, Winter Park has a reputation of being the mountain bike capital of the U.S. Winter Park is just 20 miles from Granby, making it a great day trip option or the perfect spot to stop on your way in or out of town.
Colorado is full of incredible destinations and Granby is surely one to add to the bucket list. We hope you enjoy your own glamping getaway and have a memorable stay at River Run RV Resort while also exploring the many sites and adventures that are all around!
Have you been to Granby, CO?
What activities should we add to our list? We'd love to know your favorite things to do and see there. Add your recommendations in the comments below!