Badlands National Park in South Dakota is known for it's dramatic landscape, steep canyons, and unique rock formations. Parts of the park can feels a bit bizarre, like you're on a different planet. It is desolation at its finest, and there are areas where you can't see any signs of civilization for miles.
This is exactly why finding your own piece of land to camp on is the best way to experience the Badlands. This national park is a popular boondocking destination for RVers and we hope this post can help you plan your own unforgettable (and FREE!) RV adventure.
In case you aren't aware of the term "boondocking", it's the RVers word for dry camping with no hook ups for free on public lands. If you'd like to learn more about it, check out our Boondocking for Beginner's: A Guide to FREE RV Camping.
The spot
We wrote a whole post on how we find the best and free spots to park our RV, and the tools we share about are exactly how we found this amazing boondocking spot in the Badlands.
This spot is called either "Wall Dispersed Area" or "Nomad View Dispersed", depending on the tool you use. It's extremely easy to find and fairly accessible as long as the weather is good. More tips on that to come.
You'll find this BLM land just south of the city of Wall, off 240. The GPS coordinates are: 43.8898, -102.227 (to get directions to these coordinates, simply copy and paste them into Google maps).
The spot is great, not only for it's views but for serving as a base camp while exploring the park.
Tips for staying in this spot
We cannot emphasize enough how important it is to check the weather conditions ahead of time and often throughout your stay. Storms are known to blow into the area with little warning and it's not uncommon for these storms to bring strong winds, heavy rain and of course, lightening.
We actually experienced an intense thunderstorm shortly after arriving and just take our word for it, you DO NOT want to be parked right along this wall during one of these storms. Besides being terrifying, the rains will often wash out the roads, making it difficult to access.
This is becoming more and more of a popular and well known boondocking spot, so expect other RVs in the area and possible crowds during high season. If possible, we'd recommend going during the week to secure a spot. The sites can fit RVs of all sizes, as long as the road conditions are good. But, keep in mind, that you'll have the canyon on one side of you and the road on the other so you don't have a whole lot of space for spreading out and setting up a large outdoor area.
Oh, and prepare for lots of hungry mosquitos, especially during the summer! But that's nearly everywhere you go. Just have your mosquito repellent products handy!
Exploring the national park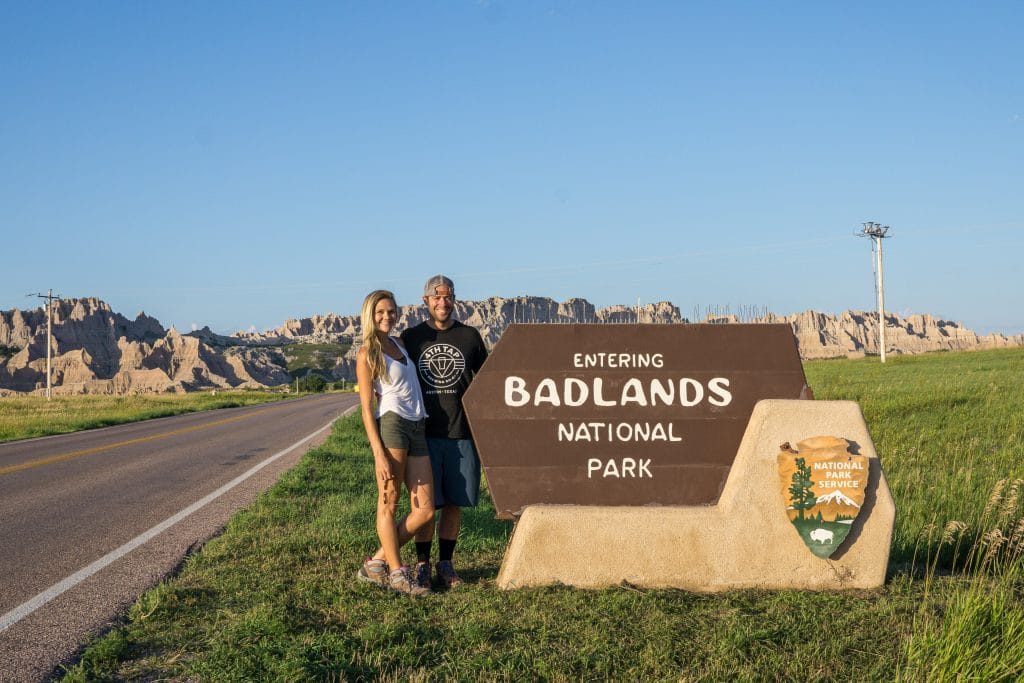 Once you get back on 240, you're less than a mile from the entrance to Badlands National Park! However, it will take you at least 40 minutes to get to Ben Reifel Visitor Center and a little over an hour to get to the White River Visitor Center. But let's be honest, it will most likely take much more time because you'll want to stop as often as you can for photos!
Luckily most of the hiking trails in the park are near the east side, which will make your drive time a bit shorter, but chances are good that you'll want to drive the entire length of the park. In fact, Sage Creek Wilderness Area, which is more towards the west side, is where you'll have the greatest chances of spotting buffalo, bighorn sheep, and antelope so you don't want to miss that. There are also so many great overlooks to enjoy along the drive.
Regardless of how much time you spend inside the national park, the good news is that there's plenty to enjoy and explore right outside your RV in this boondocking spot.
A must-do hike
If you choose to only do one hike in the area, we'd highly recommend The Notch Trail. You can get all the trail details from our favorite hiking resource, All Trails.
We loved this hike because it wasn't too difficult, and only being 1.3 miles in length, it only took us about an hour to complete. But the best part of the trail is how unique it is. You'll get to climb up a rope ladder, walk across giant boulders, and be rewarded with a beautiful overlook at the end. We even saw some surprising wildlife – a turtle and a frog!
Nearby attractions
There's no way you'll miss the billboards advertising Wall Drug Store on your way to the park. It's one of the most popular roadside attractions in the area so it's worth a visit. You can kill a lot of time wandering around the shops, reading about the history, eating ice cream, and of course getting your free ice water (which is what it's most famous for!). It's quirky and makes for a fun activity!
You'd also be making a mistake if you didn't pay a visit to Mt. Rushmore National Memorial, the Black Hills, and Custer State Park while you're so close. There's tons to explore in the area, so be sure to plan it all into your route! In fact, if you're on a national park kick, you can also check out Wind Cave National Park, which is just a bit south of Custer State Park and one of America's oldest national parks!
We hope you enjoy this awesome boondocking experience in one of our favorite national parks! If you're anything like us, you won't be able to put your camera down.
Let us know in the comments…
Have you been to Badlands National Park? What else can you recommend for our readers? Share in the comments below, or feel free to ask any questions about the park as well.
Want more boondocking tips and RV destination inspiration?
Be sure to check out our Boondocking Guide for Beginners and our RV Destinations Travel Map that we're constantly updating with new destinations! We also have a variety of tips on RV life, including a free 7-day email course for how to get started full-time RVing!
Related Posts:
Must-Have Collectibles and Merchandise For National Park Lovers